LinkTest™ Dual E1
The GL's LinkTest™ Dual E1 is a handheld dual-port tester for E1 and data communications (V.11 / X.24, V.24/RS232, V.35, V.36/RS449, EIA-530, EIA-530A) interfaces.
Brochure
Request a Quote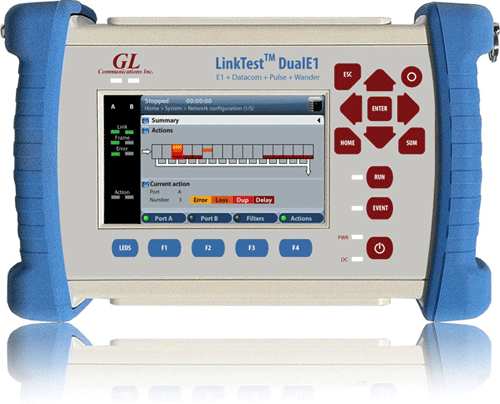 Overview
The GL's LinkTest™ Dual E1 is a handheld dual-port tester for E1 and data communications (V.11 / X.24, V.24/RS232, V.35, V.36/RS449, EIA-530, EIA-530A) interfaces. Port A is full featured 2048 kb/s interface. On the other hand, Port B usage is configurable (2048 kb/s TX/RX, co-directional, clock input). The LinkTest™ Dual E1 has an external DC input but it also has internal batteries. This makes this tester suitable for field testing applications.
With the support of a large range of software options for E1 services and sub rate multiplexing system, this handheld unit provides a scalable test solution for E1 and data testing. It provides a large, clear screen with a full set of physical layer tests for E1 balanced and unbalanced circuits including BERT, VF, round trip delay and signal level.
---
Main Features
Multi-interface capability: V.24/RS232, V.11/X.24, V.35, V.36/RS449,
Supports ITU-T G.711 encoding with A law, G.703 (E1 2.048 Mbit/s), G.704, G.703 co-directional
ITU-T G.821, G.826, and M.2100 performance analysis
Supported Line codes HDB3 (High-density bipolar with three zeroes), AMI (Alternate mark inversion)
Rugged, hand-held, battery operated, low-cost, and software upgradable design for field use
Carry out generation and analysis of both framed signals (as per ITU-T G.704) and unframed tests
Collection of call records from remote locations
CAS signaling generation and monitoring
Extensive error detection and alarm generation for detecting bit errors, frame errors, signal defects and anomalies
Error Insertion at physical level, frame level, and patter level Modes are Single, Rate, Burst or Continuous burst
BER patterns - PRBS 11, PRBS 15, PRBS 20, PRBS 23, All 1 or their inverted versions
VF tone generation and measurement, drop and insert
Frequency, clock slip, round trip delay, and signal level measurement
Jitter measurement as per ITU-T G.823 standard
Pulse mask testing as per ITU-T G.703 standard
Reports and generates all events to verify your circuit performance, including frequency level and other functions to ensure a healthy support of any customer applications
Reports can be generated in PDF and Text formats
---
Applications
The LinkTest™ Dual E1 tester is a simple to use, rugged handset, used for installation, commissioning and maintenance of digital networks. The unit is an excellent tester for network operators, contractors and enterprise users who have to manage fixed and mobile networks that are using E1 and Datacom backhaul circuits.
The main applications include digital voice and data testing, jitter measurement, wander measurement, and pulse mask compliance. It can be used for maintaining and troubleshooting PDH, Synchronization, and Datacom links. Upgradable software via an integrated USB interface is offered.
---
Operation Modes
E1 monitor – Analyzes life signals without disturbing the network. The monitor connection is suitable for performing non-intrusive monitoring
E1 endpoint – Emulates an E1 network terminating point. The endpoint connection is suitable for tests where the LinkTest™ Dual E1 tester has to replace a network node or a complete network
E1 through – E1 through mode is suited for unidirectional or bidirectional intrusive monitoring. The signal could be bypassed from the receiver to the transmitter without any modification but dropping/adding time slots to the signal, inserting events or modifying the FAS / NFAS and CAS time slots is also possible
Datacom endpoint – Generates and analyzes V.24/V.28, X.21/V.11, V.35, V.36 and EIA-530 datacom signals
Datacom monitor – Analyzes V.24/V.28, X.21/V.11, V.35, V.36 and EIA-530 datacom signals without disturbing communications between the DTE and DCE
Codirectional – Generates and analyzes variable bit rate co-directional signals compliant with ITU-T G.703
Analog – Generates a test audio signal in the analogue audio output
---
Testing Physical Properties
The LinkTest™ Dual E1 performs some basic testing that does not depend on the particular frame structure. These analogue tests include tone generation, frequency, attenuation (dB), frequency deviation (ppm) and round trip delay (RTD) measurements.
Voice Frequency Measurements
In Analog operation mode, the equipment accepts an analogue telephone signal in its audio input and measures its frequency and signal level as shown in the figure below. Users can configure a threshold for the analogue measurements. The received signal will be considered to be invalid if the set line objectives are not met. In the summary screen (SUM key), the line results are compared with their thresholds and aggregated to the global Pass / Fail indication. It also generates a test audio signal in the analogue audio output.

When the LinkTest™ Dual E1 is configured for receiving framed 2048 kb/s signals, it provides independent information about frequency and level for each time slot it using 'occupancy grid'.
Pulse Mask Compliance
Pulse mask analysis is available as per ITU-T G.703 standard for the Port A balanced and unbalanced inputs. The operation modes compatible with the G.703 pulse analysis are the E1 Monitor, E1 Endpoint and E1 Through modes.
Jitter Generation and Analysis
Jitter is a phase modulation added to the normal output signal. Jitter is defined as short-term variations of the significant instants of a digital signal from their reference positions in time. In other words, it is a phase oscillation with a frequency higher than 10 Hz. The LinkTest™ Dual E1 is able to generate and analyze (supported on Port A only) jitter to make sure that the phase fluctuations in network equipment outputs remain under the limits specified by the standards.
The jitter measurement obtains jitter amplitude (expressed in UIs) in a specific bandwidth present in the output port of a specific network equipment specified by the ITU-T G.825 (SDH) and G.823 (PDH), and Telcordia GR-253 (SONET) and GR-499 (T-carrier) recommendations for each rate in the PDH and SDH hierarchies.
Jitter generation is required to verify the ability of a network element to attenuate or amplify phase impairments.
Wander Generation and Analysis
Maximum TIE (MTIE) provides information about long term stability of a timing signal. Time Deviation (TDEV) is related with the phase modulation power spectrum and it can be used to identify different types of phase noise. The LinkTest™ Dual E1 measures and displays the current Time Interval Error (TIE), along with the frequency offset, frequency drift.
Wander generation can be used to stress network elements and see how phase modulation is accumulated as it is propagated through the network. The LinkTest™ Dual E1 generates wander in the Port A only. Users can specify the Sinusoidal Modulation waveform, peak-to-peak amplitude and frequency of the modulating signal.
Delay Measurement
The LinkTest™ Dual E1 is prepared to verity that the delay is under acceptable limits in Circuit Emulation Services (CES) or legacy E1 services. Delay measurement is also available over data communications interfaces and the G.703 co-directional interface. The operation modes that support the delay measurement are the E1 Endpoint, E1 Through, Datacom Endpoint and Co-directional. Round trip delay (RTD) is the aggregated delay computed in the forward and backward paths.
BER Test
The bit error ratio (BER) is the most basic performance figure for TDM circuits. The LinkTest™ Dual E1 is can analyze different kinds of test patterns and signals. Individual time slots can also be inserted and dropped to a secondary low speed interface (Port B only) for its analysis by an external equipment.
---
DataCom Testing
Add / Drop of E1 Tributaries to Datacom Interfaces
DTE + DCE for all operation modes
Capable of testing BER / Performance tests over datacom interfaces and logic analysis of datacom signals through datacom endpoints
Datacom monitor mode enables analysis of datacom signals between the DTE and DCE without disturbing them
No extra hardwares or adapters required
---
Specifications
E1 Testing

Standard

ITU-T G.703 compliant (pulse)
ITU-T G.823 compliant (jitter)
ITU-T G.704
Coaxial Pair Impedance: 75 Ohm BNC unbalanced
Symmetrical Pair Impedance: 120 Ohm RJ-45 balanced
Return Loss: compliant O.162
Receive Sensitivity: 0 dB to -43 dB
Receive Timing Range: 2.048MHz, data or clock, nominal and PMP -20dB
Additional balanced secondary E1 port 0 to -6dB, nominal and PMP -20dB

Ports

Port A: Unbalanced (BNC) 75 O and balanced (RJ-45) 120 O.
Port B: Balanced (RJ-45) 120 O.
External signal: Analogue (Port A only ), 64 kb/s co-directional (Port A only), Datacom interface
Bidirectional testing (E1 monitor, E1 endpoint, E1 through) by simultaneous operation of Port A and Port B

Input Modes

Operation: Terminal, Through and Monitor
Mux, Demux, Analogue
Configurable input impedance: nominal line impedance, PMP 20 dB, PMP 25 dB, PMP 30 dB, high impedance (> 1000 O)
Configurable input gain: 0 dB, -20 dB

Line

Bit Rate: 2048 Kbit/s - 3ppm
Codes: HDB3 / AMI
Unframed
PCM31: FAS / FAS+CRC4
PCM30: FAS+CAS / FAS+CRC
Internal Timing: 2.048 MHz - 25000 ppm
External Timing
Recovery from RX Timing (Loop Timing)
Configurable output frequency offset within 25,000
ppm around the nominal frequency
Multiple standard, non-standard PRBS, and user defined patterns

PRBS 9 (ITU-T O.150, O.153), PRBS 11 (ITU-T O.150, O.152, O.153), PRBS 15 (ITU-T O.150,O.151), PRBS 20 (ITU-T O.150, O.153), PRBS 23 (ITU-T O.150, O.151), PRBS 9 inverted, PRBS 11 inverted, PRBS 15 inverted, PRBS 20 inverted, PRBS 23 inverted, all 0, all 1
User configurable 32 bit word
Transmit Error Rate
Force Single Error: Bit, Frame, CRC, and BPV (Bipolar Violation)
G.826, G.821, and M.2100
RTD and VF tone generation
Tone (from 10 Hz to 4000 Hz, from +10 dBm to -60 dBm)
Alarms and errors count, and generation
Analysis
Analogue

Line attenuation (dB), frequency (Hz), frequency deviation (ppm), round trip delay (s). Analogue results include pass / fail indications

Defects

LOS, LOF, AIS, RAI, CRC-LOM, CAS-LOM, MAIS, MRAI, LSS, All 0, All 1

Anomalies

Code, FAS error, CRC error, REBE, MFAS error, TSE, Slip
Live and history LEDs for all Deffects and Anomalies

Modes

Single (anomalies), rate (anomalies), continuous (defects), M-single (defects), MN-repetitive (defects)

ITU-T G.821 performance

ES, SES, UAS, DM. ITU-T G.821 results include pass / fail indications

ITU-T G.826 performance

ES, SES, UAS, BBE (near and far end statistics). ITU-T G.826 results include pass / fail indications

ITU-T M.2100 performance

ES, SES, UAS, BBE (near and far end statistics). ITU-T M.2100 results include pass / fail indications

ITU-T G.711

Occupation map and time slot analysis: current code, maximum code, minimum code, average code, timeslot level and frequency
FAS / NFAS word analysis
CAS a, b, c, d bit analysis
Datacom

Interfaces

Smart Serial 26p DTE / DCE ports
V.24/V.28 async. (RS-232) from 50 b/s to 128 kb/s
V.24/V.28 sync. (RS-232) from 50 b/s to 128 kb/s
X.24/V.11 from 50 b/s to 10 Mb/s
V.35 from 50 b/s to 128 kb/s
V.36 (RS-449) from 50 b/s to 128 kb/s
EIA530 and EIA-530A from 50 b/s to 128 kb/s
Codirectional according G.703
Rate: 50, 60 bit/s, 1.2, 2.4, 4.8, 8, 9.6, 16, 19.2, 32, 48, 72, 128, 144, 192, 1544 kbit/s
N x 56 kbit/s (N=1 to 27); N x 64 kbit/s (N=1 to 32), up to 10 Mbit/s

Tests

DTE, DCE emulation and full duplex monitor
Test pattern generation and analysis over a datacom interfaces
Logic analyzer capability
Defects: LOC, AIS, LSS, All 0, All 1
Anomalies: TSE, Slip
Analogue: Line attenuation (dB), frequency (Hz), frequency deviation (ppm)
Jitter and Wander

Standard

Overpass ITU-T O.172
Compliance: ITU-T G.823
100% digital based generation and analyzer

Jitter Analysis

Closed loop phase measurement method. Reference frequency not required
Jitter level, tolerance, transfer
Event detection
Jitter measurement observation time: 1 s
Measurement selectable filters: LP (off - 100 kHz), HP (off - 20 Hz - 18 kHz)
Status indication: No clock, unlock, lock, out of range
Jitter measurement results: peak to peak jitter, positive peak jitter, negative peak jitter, RMS jitter, maximum jitter (user reseteable),hits detection and count (user selectable threshold)
Modulation frequency range: 0.1 Hz to 100 kHz (locking time 10 s), 1 Hz to 100 kHz (locking time 1 s), 10 Hz to 100 kHz (locking time < 1 s)
Modulation amplitude: 0 to 1000 UIpp (single range) (maximum aplitude depends on modulation freq.)
Modulation amplitude resolution: 1 mUIpp
Measurement accuracy: better than ITU-T O.172

Wander Analysis

Open loop measurement method. Ref. freq. required
Modulation frequency range: 1 mHz to 10 Hz
Wander sampling frequency: 50 Hz
Modulation amplitude: 0 to -1 s (single range)
Modulation amplitude resolution: 2 ns
Instantaneous: TIE, frequency offset, frequency drift.
Statistics results: TIE, MTIE, TDEV
Statistics range: 102, 103, 104, 105, 106 s
Built in, real-time statistics analysis

Jitter and Wander Generation

Modulation waveform: sinusoidal
Modulation frequency range: 1 mHz to 100 kHz
Modulation frequency resolution: 0.1 Hz (jitter), 1 mHz (wander)
Modulation amplitude: 0 - 1000 Uipp. Maximum depends on modulation frequency
Modulation amplitude resolution: 1 mUIpp or 1/104 configured value
Modulation amplitude accuracy: better than O.172
Smooth changes in range (10 Hz - 100 KHz)
Intrinsic jitter < 10 mUIpp
Pulse Mask

Pulse characteristics

Meets ITU G.703
PASS / FAIL function
Graphic display scope
Nominal 2.37V for Coaxial Pair 75 Ohm
Nominal 3.00V for Symmetrical Pair 120 Ohm
Dimension and Ergonomics

Dimensions

Weight

1.0 kg (inc. rubber boot and one battery pack)

Ergonomics

Display 480 x 272 TFT full color screen
IP remote control through attached Ethernet port
Export stored configuration and reports through attached USB port
Serial Port RS-232C
Operation time with NiMh batteries: 5h. (one pack) and 10h (two packs)
Operation time with LiIon batteries: 8h. (one pack) and 16h (two packs) fast recharging time
AC Power Adapter Input: 100 ~ 240 V AC, 50/60 Hz
Operating Temperature 0C ~ 50° C, Storage Temperature -20°C ~ 70°C, Humidity 5% ~ 95%
Soft LEDS: all events at a glance
---
Resources