Network Surveillance System
(Web based network surveillance system for IP, Wireless, and TDM Networks)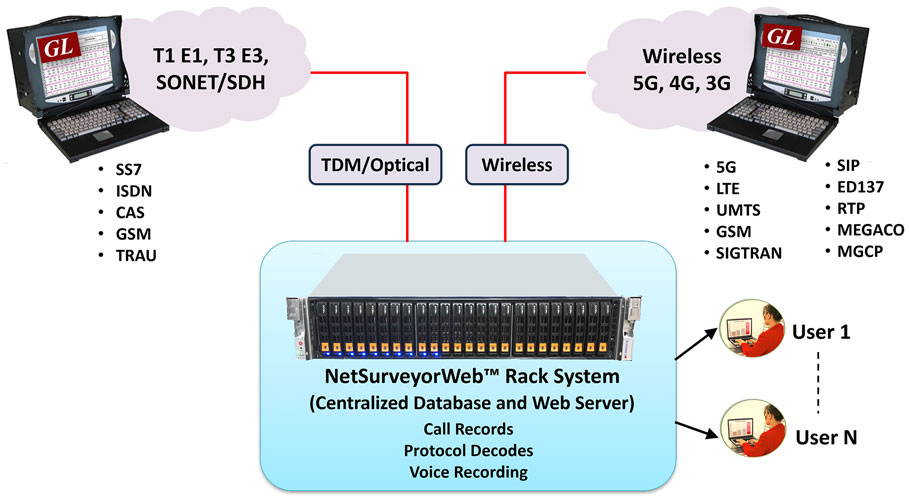 Click here to get more information on "NetSurveyorWeb™ Live Demo"
---
Overview
Any network operator, service provider, or equipment manufacturer must have the means to perform the capture and surveillance tasks remotely, automatically, and non-intrusively. Fortunately, the network backbone contains a wealth of information that can be monitored and collected to support these activities.
GL's Network Monitoring and Diagnostic Systems are web-based applications that facilitate display of CDRs by connecting to TDM, Optical, or IP probes through a web server for monitoring physical layer, signalling and traffic. Currently supported protocols include SIP, VoIP (SIGTRAN, SIP, H.323), SS7, ISDN, GSM, TRAU, and MAP. Support for additional protocols - IuCS, IuPS, LTE, and GSM A are coming soon.
GL provides a variety of solutions for network wide monitoring and surveillance solutions – Visit http://www.gl.com/networkmonitoring.html for more details.
GL's current NMS solutions using NetSurveyorWeb™ for VoIP and TDM networks are outline below:
IP Network Monitoring and Surveillance System (passive / non-intrusive) - SIP, RTP, H.323, SIGTRAN, MAP
Wireless Network Monitoring and Surveillance System (passive / non-intrusive) - GSM, UMTS, LTE, Diameter, IMS
TDM and Optical Network Monitoring and Surveillance System (passive / non-intrusive probes) - SS7, ISDN, GSM Abis, TRAU
Digital T1 / E1 Line Monitoring, Test, and Diagnostic System
GL's NetSurveyorWeb™ is based on a scalable and flexible architecture and is used in conjunction with GL's Protocol Analyzer probes to non-intrusively monitor from one or many testing locations. GL's protocol analysis probes feed data to centralized database (Oracle) in real-time for further analysis. The NetSurveyorWeb™ client application then locally or remotely facilitates to view records from the database using a simple web browser application.
Typical Applications
Comprehensive analysis from overall network health to detailed protocol monitoring
Call Detail Records, fraud detection and location, remote protocol analysis and troubleshooting, real-time signaling monitor, traffic optimization engineering, and statistics.
Determine actual call signaling routes to verify network functionality under all situations including congestion and loss of SS7 nodes.
Revenue and billing verification, alarm monitoring, intrusive testing.
Quality of service measurements, call trace and recording.
System Architecture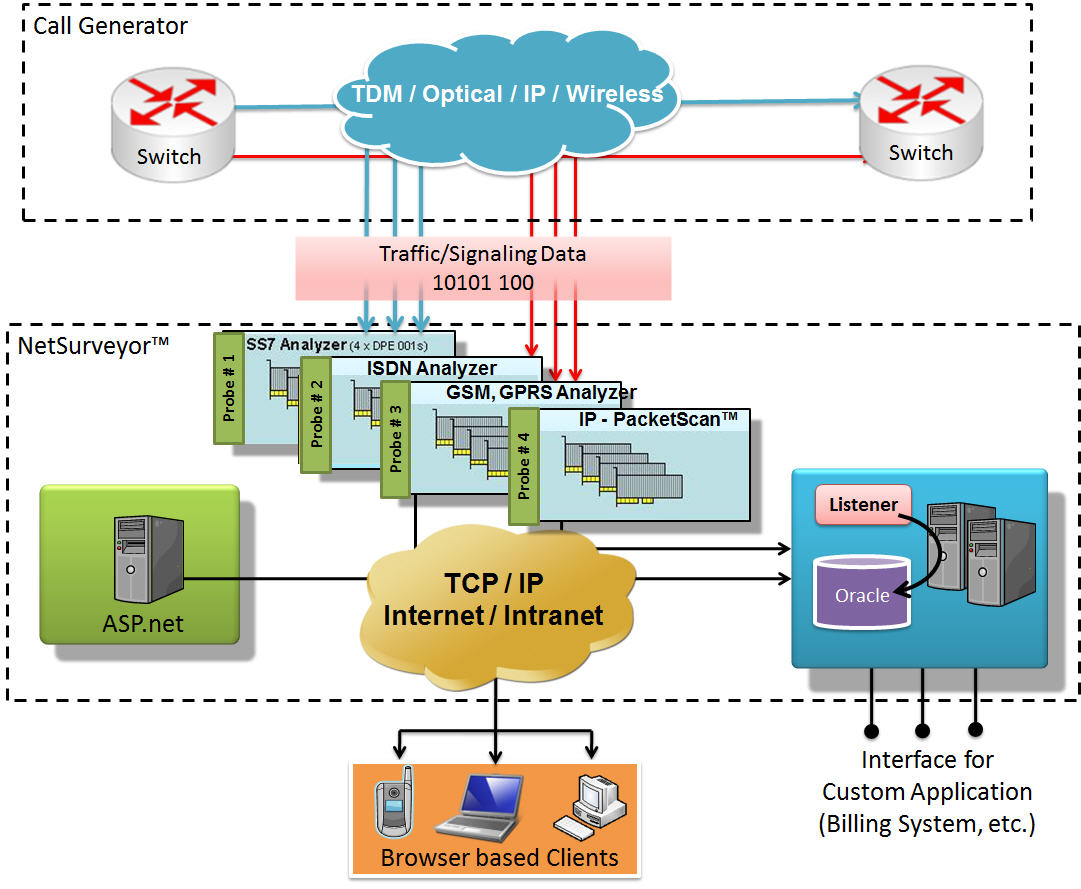 GL's NetSurveyor™ system has a three tier architecture. The first layer consists of GL's Protocol Analyzer Probes which are capable of tapping into live call traffic and non-intrusively capture signaling message summary and build CDRs. The second layer is the Database Store Layer where the captured data is stored. The last layer is the Data Access Layer where the data presentation logic is contained. Each of these components are briefly explained below.
Probe computers collecting layer 1 (physical layer), layer 2 (data link layer) and layer 3 (network layer) information. Probes can be T1 E1/T3 E3/ OC-3 STM-1/ OC-12 STM-4/IP.

Probe computers run protocol analysis applications along with the necessary hardware and software.
These probes could be controlled locally using the protocol analyzer application or remotely using GL's Client-Server application.
The analyzer hardware for TDM and optical networks can be connected non-intrusively in Monitor or Bridge Modes, or alternatively the data can be looped through the cards.
Multiple Link Sets per T1/E1 (through Digital Cross Connect Grooming) - multiple 64 kbps signaling channels per T1/E1 can be monitored simultaneously by grooming through a digital cross-connect - see diagram below.
Probes non-intrusively monitor physical lines of the network and forwards call detail records (CDRs), protocol summary, frame data in hex dump, and statistics to a central database.
Probes connect via TCP/IP to ODBC compliant real-time database loader.
Only precise and filtered data (user selectable) is collected into the centralized database.



Probe Types –
The PacketScan™ is a feature-robust Windows® based software tool that captures and monitors live IP traffic. In the VoIP world, it can monitor and measure SIP, H323, Megaco, MGCP, T.38 and video calls. In the Wireless network, it can monitor 2G, 3G, and 4G protocols such as GSM, UMTS, GPRS, LTE, SIGTRAN signaling over IP. A number of GL's PacketScan™ probes and/or,PacketProbes™ are deployed in remote locations across the network to passively monitor VoIP traffic.
PC based T1 E1 / T3 E3 / Optical probes collect physical and line level status and performance information. The Intrusive and Non-intrusive "probes" for TDM networks are deployed at strategic locations in a network. They can transmit and collect voice, data, protocol, statistics, and performance information. These probes can relay information to a central / distributed Network Management System (NMS).



Database Loader (Data Layer) – A listener application is co-hosted with the database server (SQL DBMS such as Oracle) running on the Data Layer. Interface between the probes and the database is handled by "Listener". The Listener will listen to the streaming data from connected probes, receives data, and feeds the data to DB server. Multiple probes can be connected via TCP to the Database Loader.

Provides load statistics and probe layer 2 status
Central control over probes to suspend or resume loading data to DB from connected probes
DB stores the data collected by the probes. Records are stored into a relational database (Oracle) using ODBC connection.
Listener is modifiable and supportable with MySQL.



NetSurveyorWeb™ Webserver (Data Access Layer) serves for data mining operations. The database could be accessed in real-time over the web using applications such as GL's NetSurveyorWeb™, or queried by customer applications such as a billing system or accessed by a reporting tool such as Crystal Reports, for aggregation and analysis of historic data. The NetSurveyorWeb™ is a user-friendly web-based client which accesses the results provided by the centralized DB through a web server. As depicted in the screenshot below, users can log into the central system locally or remotely to view the collected real-time and historic data including call parameters, layer 1 status display, as well as layer 2 and 3 analysis. Also available is the ability to filter the call records using a variety of filtering mechanisms including time/date, signaling and traffic parameters.
Main Features
Web Based UI

Access real-time and historic data remotely via browser based clients.
Interfaces with Oracle database
Web administration features to monitor the connected probe status, database loader status, alarms, and perform database maintenance
Multi-user support
Modular and distributed architecture is capable of theoretically 'infinite capacity'

Call Detail Records

Ability to customize column views with sorting capabilities for call detail records.
Easy navigation of records to display Previous or Next Hour, Day, Month, Year through navigation tool
Ability to export the call detail records displayed based on time filter or record index as PDF and CSV
Ability to play voice files for GSM and TRAU protocols
Decode SMS in different languages for GSM CDRs
Provides options to view CDR, Ladder Diagram, and Protocol Decodes of a selected frame in a single view.

Custom Filter

Customize Filters (Date, Time, and other call control parameters.
Apply single or multiple filters for data analysis; use logical operators between filters

Key Performance Indicators (KPI's)

Reports are displayed both in tabular and graphical formats; customize reports and graphs based on SQL queries.
Graphs provided for Call Completion Ratio, Link Name Message Counters, Time Duration Message Counters, and Disposition Count
Ability to export both graphical and tabular reports view as PDF

Link Configuration & Status

Provide T1E1 Layer1 details
Configure and identify the Link set, Probe Name, and Link Location
For each link per probe, displays the status of Sync Loss Alarm, Carrier Loss Alarm, and MTP layer
Historical icons indicate previous link errors of the probes which are rectified currently
Set various alerts to monitor the link status any-time and any-where

Alarm Alerts

Automatically alert users when "Calls of Interest" occur
Set alarm conditions and generate alerts of different types like email alert, visual alert, audible alert, or even log into tables for future analysis.
Provides database query methods to gather status, statistics, events, and results.

Measurements

Voice Quality (MOS, R-Factor)
Signal level, Nosie Level, and Echo
Delay Measurements (RTD, OWD)
Signalling Messages and Traffic Types
Call Duration and Call Volume
Call Status (Completed, Busy, Success, Failure)
Physical Layer Alarms (Link Status, Carries Loss, Sync Loss, ...)
KPI and Reports
Protocol Type
Supported KPI
Screenshots

VoIP SIP (SIP and H.323)

Answer Call
Call Duration
Listening MOS
Conversational MOS
Session Request Delay (Successful Calls)
Session Request Delay (Unsuccessful Calls)
Session Disconnect Delay
Failure Cause
Average Packet Loss


SIP KPIs

SS7

Call Completion
Disposition Count
Billing Duration
Message Counters
Link_MessageCounters



SS7 KPIs

T1E1 Layer 1



T1E1 KPIs

ISDN

Call Completion
Call Types



ISDN KPIs

LTE

Attach Delay
S6a Authorization Delay
Update Location Delay
Session Delay
UE Purge Delay
Delete Session Delay
Call Duration



LTE KPIs

GSM

Mapped Vs UnMapped
SMS
Top 5 SMS
Total CDRs on different links
Total SMS on different links

GSM KPIs

GSM A

Call Type (Location Update, Speech Call, SMS, IMSI Detach etc.)
Failed call types
Call Duration
Successful vs Failure Calls
Most Common Failures
Billing Duration
Total Billing Duration
Average Billing Duration in Sec

GSMA KPIs

TRAU

TRAU KPIs

IuCS

Answer Call
Call Duration
Listening MOS
Conversational MOS
Failure Cause
Average Packet Loss

IuCS KPIs

IuPS

Answer Call
Call Duration
Failure Cause
Session Request Delay (Successful Calls)
Session Request Delay (Unsuccessful Calls)
Session Disconnect Delay

IuPS KPIs

VoIP SIGTRAN

Success VS Failure Calls
Failure Call Stats
Release Call Stats
Total Billing Time
Call Types
Billing Duration
Message Counters

VoIP SIGTRAN KPIs
Functions
Call Data Records (CDR) View
The real-time data view provides visibility into each individual call. Each call can be investigated based on call control, signalling and traffic parameters. Flexible filtering can help organize and identify "Calls of Interest". The CDR view includes the following.
Frame Summary
Frame summary view provides summary of signalling data along with the decodes in the form of Hexdump.
Traffic Summary
This option is currently available only for IP calls. Each call can be expanded to reveal per stream RTP statistics. The RTP/audio parameters such as SSRC number, payload type, total packet count, missing / duplicate / reordered / discarded packet count or %, conversational/R-Factor , listening MOS/R-Factor, cumulative packet loss, Max/Min/Average values of Gap, Min/Max/Average values of jitter, Min/Max/Average values of RTD, and average inter arrival jitter are displayed.
Graph View for each call
This call flow graph allows easy verification of the messages exchanged and the status of the call.
Users can also select any messages and observe the corresponding decode message details in the decode view.
Merge View
This feature display Call Data View, Ladder diagram, and Decode message detail of the selected message in a single view.
Also, CDR view provides flexible options to hide the Detail View, Graph View, or Decode View as required in order to view the information properly.
Navigation and Search Tools
Navigate through records easily using Previous and Next Hour, Day, Month, and Year options as required. A particular call of interest can be searched using the Quick Search option.
Export PDF
Provides an ability to export current call data records view in PDF as well as CSV file formats. In addition, call data records along with the associated call-flows can also be exported in PDF formats.

Filter CDR

The call records can be filtered using Date/Time Filter criteria or by defining custom filter profiles. The Date/Time filter displays the call records based on Minutes, Hours, Days, and user-defined date range. The Display All option displays all the available call records. The Custom Filters provide options to filter call records based on various call control, signaling and traffic parameters.

Custom filter profiles can be saved and loaded with the click of a button. Single or Multiple Custom filters can be applied to perform deep inspection. Edit & update already existing custom filter profiles. Also provides logical operations to apply between parameters within a filter or multiple filters.
Alarm Settings
Trigger alarms and alerts whenever calls-of-interest occur, a network link failure is detected, or regularly at scheduled intervals. Directly access the pre-configured filter profiles or the KPI profiles to trigger alarms and alerts either when the custom filters conditions are passed, or send the pre-defined KPI report hourly, daily, monthly or yearly. Alert actions can be defined based on the output of the alarm conditions such as like email alert, visual alert, audible alert, SMS alerts, exporting data, setting alarm severity, or even log into tables for future analysis. Alarm Severity type can be set as Minor, Major, or Critical.
Flexible options are provided to save alarm filters as profiles, add, edit or delete the existing alarms, selection of user KPIs, and selection of Custom filters. Schedule alarms and alerts for hourly, daily, monthly, or yearly.
Email / SMS Alerts: Sends Email alerts for alarms. When the alarm condition set by the user is true then the data will be sent as an Email attachment in the PDF format for the given Email address. In case of SMS, a simple text message will be sent to the registered mobile.
Audible Alerts action will beep once for the particular time.
Graphs & Reports
Report provides an overall summary of the captured traffic over the entire network with the help of useful graphs. Such as Link Message Counters, Call Completion, Disposition Count, Billing Duration, and Message Counters
Reports are also available in the form of Bar Graph, Pie Chart, Dot Graph, or tabular format for each of the plotted graph.
Report Configuration
NetSurveyorWeb™ allows users to add new KPIs and customize the reports using Report Configuration feature. Generates customized reports and graphs based on SQL Queries.
Add / Import KPIS
This feature allows user to Add / Import the required KPI to the existing KPI group. This will avoid the user from creating the new KPI as it is readily available. Also, the add option will update the added KPI whenever the user who created this KPI does any modification. The import option will give full permission to the user to edit the KPI as required.
Buyer's Guide
Please Note: The XX in the Item No. refers to the hardware platform, listed at the bottom of the Buyer's Guide, which the software will be running on. Therefore, XX can either be ETA or EEA (Octal/Quad Boards), PTA or PEA (tProbe Units), UTA or UEA (USB Units), HUT or HUE (Universal Cards), and HDT or HDE (HD cards) depending upon the hardware.
| | |
| --- | --- |
| Item No. | Item Description |
| | Network Surveillance Software with Centralized Database Engine and Client |
| | T1 E1 Physical Line Monitoring Option for Network Surveillance - requires PKV170 |
| | ISDN Call Detail Record (CDR) Option for Network Surveillance - requires PKV170 |
| | Offline / Remote ISDN Analyzer |
| |  SS7/SIGTRAN Call Detail Record (CDR) Option for Network Surveillance - requires PKV170 |
| | Offline / Remote SS7 Analyzer - requires PKV170 |
| | Offline / Remote SIGTRAN Analyzer - requires PKV170 |
| | GSM (TDM or IP) & TRAU Call Detail Record (CDR) Option for Network Surveillance - requires PKV170 |
| | Offline / Remote GSM Analyzer - requires PKV170 |
| | Offline / Remote TRAU Analyzer - requires PKV170 |
| | VoIP (SIP, MGCP, Megaco etc.) Call Detail Record (CDR) Option for Network Surveillance - requires PKV170 |
| | Offline / Remote PacketScan Analyzer - requires PKV170 |
| | Network Surveillance Agent Toolkit |
| | Related Hardware |
| | tProbe™ Dual T1 E1 Laptop Analyzer |
| | Dual T1 E1 Express (PCIe) Boards |
| | tScan16™ T1 E1 Boards |
| | QuadXpress T1E1 Main Board |
| | OctalXpress T1E1 Main Board plus Daughter Board |
| | Portable USB based Dual T1 E1 Laptop Analyzer |
| | Universal HD T1 E1 PCI Cards |