PacketScan™ HD - Network Monitoring Appliance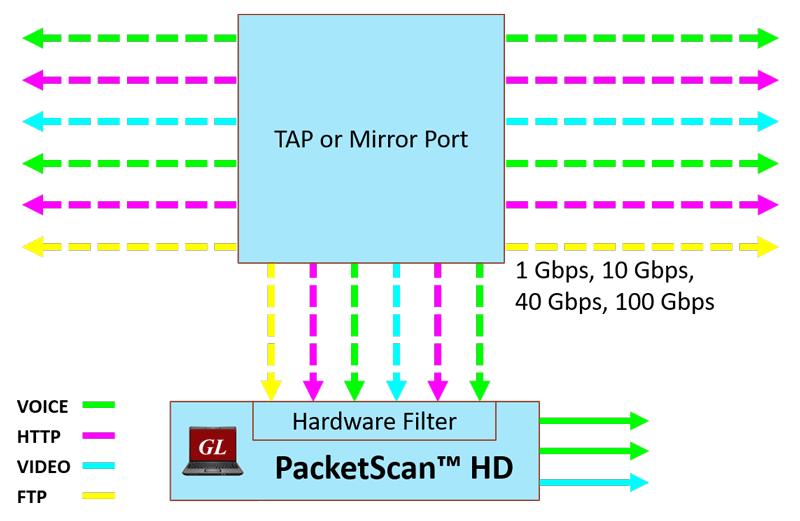 PacketScan™ HD Software Ver 7.1.13 (64-bit Only) is Available! | Download Now!
Overview | Main Features | Buyer's Guide
---
Overview

Capturing and analyzing high volume calls is increasingly important to Wireless Carriers, Internet Service Providers, and Equipment vendors to ensure that quality of experience does not degrade with call intensity, volume, or protocol. Load and stress testing are important to verify stability of IP network and network elements pre- and post-deployment. This requires an advanced network monitoring appliance which can capture and analyze high volume calls with traffic.

GL's PacketScan™ HD is a high density multi-protocol 2U rack mounted Network Monitoring Appliance w/ 4x1GigE (PKV120) and w/2x10GigE (PKV122) (Includes PKV100 online for temporary audio codec support) network interface cards that can capture and process high volumes of communication protocols over IP and Wireless networks.

PacketScan™ HD supports simultaneous capture and processing of up to 5000 Calls with duplex traffic at 1 Gbps to 10 Gbps. Almost all VoIP and Wireless protocols over IP transport layer, as listed below, can be captured and decoded for troubleshooting network problems.

PacketScan™ provides in-depth real-time and post-process data investigation with its Packet Data Analysis (PDA) feature. The PDA view assists in any comparisons that are to be made between the two RTP sessions. Packet Data Analysis (PDA) view displays call information in graphical format (Traffic Analyzer Call Quality Matrix- Summary View) as well as in tabular format (RTP Diagnostic - Detail View).

For more details visit Packet Data Analysis.

*Currently PDA feature is available only for SIP, H323, MEGACO, MGCP, GSMA, Skinny, and IuCS based calls. The PDA support for other protocols will be coming soon.PacketScan™ HD can work with NetSurveyorWeb™, a central monitoring system for a comprehensive view of network performance. It features rich graphics, ladder diagrams and CDRs (Call Detail Records). A web server is deployed in a central location along with an Oracle® database. A number of GL's PacketScan™ HD probes and/or, PacketProbes™ are deployed in remote locations across the network to passively monitor VoIP traffic.

For more capacity, PacketScan™ FB (Near-Realtime File Based Packet Processing Tool) will be offered in near future.




---
Main Features
As a Stand-alone tool

Ability to capture and analyze high volume calls with traffic. Process up to 5000 simultaneous calls with bidirectional RTP traffic from 1 Gbps to 10 Gbps rate
Capture real-time calls over packet network for infinite time
In-depth real-time and post-process data investigation using Packet Data Analysis feature
Flexibility to add any protocol field to the summary view, filtering, and search features.
Complex filtering and search capabilities to record all or filtered traffic into a trace file.
Consolidated interface allows access to all the important settings and auto-startup actions.

As a Single Point Packet over IP CDR Analysis System

PacketScan™ HD can work with GL's VoiceBand Analyzer (VBA) and Call Data Records (CDR) applications to generate Call Detail Records as (*.CSV files) along with voice files for each direction. The call detail records are used for further analysis using built-in tool in Excel® tools.

As a Probe with Central Monitoring System - NetSurveyorWEB™

PacketScan™ can send protocol fields, and call detail records, along with traffic summary of captured calls to a central database. NetSurveyorWeb™ displays the data from the database in a simple web-based browser, featuring rich graphics, custom search, report and filter configurations.

Supported Codecs

G.711 (a-Law and µ-Law), G.711 App II (a-Law and µ-Law with VAD)
G.722, G.722.1 (Wideband)
G.726, G.726, with VAD
G729, G729B (8kbps)
GSM, GSM HR, GSM EFR
SPEEX/SPEEX_WB (Narrow band/Wideband)
iLBC (20ms and 30ms), SMV
AMR/AMR_WB (Narrow band/Wideband) (requires additional license)
EVRC, EVRC0, EVRC-B, EVRC-B0, EVRC-C (requires additional license)

Visit Voice Codec webpage for more details

Supported Protocols

SIP, SIP-I, SIP-T, H.323, MEGACO, MGCP, Diameter, Skinny (SCCP)
LTE
SIGTRAN – SS7, ISDN
GSM A and Abis over IP
GPRS Gb and Gn over IP
UMTS IuCS and IuPS over IP
T.38 Fax and Video calls

Visit Supported Protocols for more details

QOS Parameters

E-model (G.107) based MOS/R-Factor scores
Media Delivery Index (Delay Factor: Media Loss Rate) for video calls
H.263, H.264 codec support

Traffic Handling

All traffic supported – Digits, Tones, Voice, Video, Fax
Segregation of IP traffic and signalling
Listen and Record RTP (Audio) streams
Record Video and Video QoS Statistics

Performance Metrics

Signaling, audio, and video QoS parameters for each call
Minimum, maximum, and average Round Trip Delay (RTD)
Inband (DTMF & MF) events, Outband events as per RFC 2833 or RFC 4733 events, RTP/RTCP packet count and reports per direction

Triggers and Actions

Filter the completed calls captures based on different signaling parameters and then specify a series of actions to be taken.
---
Buyer's Guide
Specifications are subject to change without notice.

Back to VoIP Analysis and Simulation Index Page