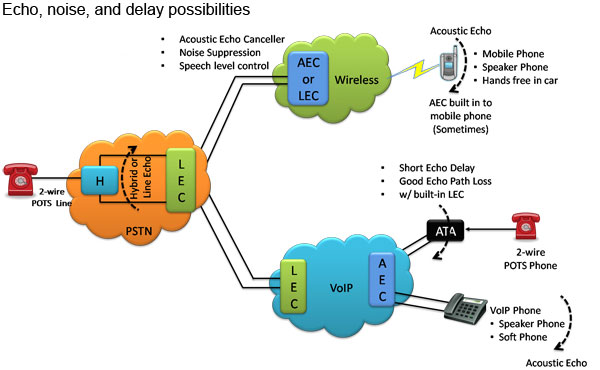 Overview
GL Communications has the broadest range of testing solutions for echo cancellers (EC). We also offer testing services for compliance testing per G.168.
Our hardware platforms for testing EC software can be PCIe T1 E1 Cards, or the tProbe™ T1 E1 Units, or Ethernet, or no hardware whatsoever.
Testing Services for G.168 Compliance - we can test, document, and certify your product. Call us at +1 301 670 4784.
---
TDM (or Analog) EC Testing Solutions
The Voice Band Analyzer (VBA) is an analysis tool for monitoring the quality of voice band traffic (including hybrid echo) over VoIP, TDM and wireless networks
VBA works in conjunction with GL's TDM, Packet, and Wireless non-intrusive capture products, such as T1 and E1 Call Capture and Analysis, VoIP PacketScan™, and GSM, CDMA, and 3G Call Capture Products. VBA instantly detects voice file captures and with appropriately installed analysis modules, monitors speech levels, noise levels, and hybrid echo. Other analysis modules such as ITU-T P.561, P.562, P.563, fax and modem analysis, and many others can be hosted as plug-ins.
The VBA application can also operate on pre-captured files. It supports A-Law, µ-Law, 16-bit PCM (Intel), 16-bit PCM (Motorola) and MS Wave file formats.
Required software VBA032 at each probe location and PKV170 Network Surveillance Software
Required hardware - 1U rack PC with sufficient hard disk for capturing over 10,000 calls (80 GB HD) for each VBA colocated with a probe
Additional hardware - T1 E1 analyzer platforms with Call Capture Analysis Software




User Friendly GUI Based Software that simulates delay, loss, double-talk, noise, and other impairments for all timeslots on T1 or E1 systems or analog interfaces - uses xx062 Echo Path Delay/Loss Simulation Software
Required software xx062 and xx020
Additional recommended software xx063, xx065, and xx066

A true EC that models the echo path characteristics including a graphical impulse response, echo path delay, echo path loss, and other useful statistics. Can be used to actually cancel echo in a live circuit
Uses xx066 Digital Echo Canceller Software
Record / Playback Software xx020
Additional recommended software xx062 and xx063

Allows intrusive and non-intrusive measurement of Echo Return Loss (ERL) and Echo Path Delay (EPD) - uses xx063 Echo Path Delay / Loss Measurement Software. This method of characterization uses correlative method and is not as accurate as xx066 software. Required software xx063, xx062, and xx020
Additional recommended software xx066
Alternative solution is a offline assessing tool for different echo types (sidetone, line, and acoustic echo) along with non-intrusive measurement of Echo Return Loss (ERL) and Echo Path Delay using GL's Echo Measurement Utility (EMU037). Recommended software are

For Mobile Phones - VQuad™ with Dual UTA HD
For TDM - VQuad™ with T1 E1 analyzer platforms
For 4Wire - VQuad™ with Dual UTA HD

Application Note - Measuring Delay and Loss Over Circuit and Packet (VoIP) Networks

Monitor Rin, Rout, Sin, and Sout signals in real-time, displaying signal power and the waveform amplitude - uses xx017 Real-Time T1 E1 Multi-Channel Audio Bridge. This solution is only available with our legacy PCI cards. Please call to discuss. Required software xx017 and SA026. Additional recommended software xx020, xx062, and xx066

GL's Manual Test Suite for testing compliance of ECs with G.168 provides the ultimate flexibility for almost any type of network environment and configuration. Tools are provided for thorough G.168 compliance testing including hybrid simulation, application of stimulus, capture of response, and graphical analysis of response. Required software xx020, xx065, xx062. Additional recommended software xx063 and xx066

User Friendly GUI to configure and run thousands of test cases for all possible variations of echo path loss, delay, hybrid filters, etc. Automatically provides test case -by- test case results in easy to understand "pass" or "fail"
Uses xx067 Automated Echo Canceller Testing Software - and includes xx019 Tx/Rx File Utility or xx600, xx610, and xx630 WCS components
Consult with GL design choices
Other recommended software

Delay Attenuate Software (xx062)
Echo Path Measurement Software (xx063)
Digital Echo Canceller Software (xx066)
Record / Playback Software (xx020)
Manual G.168 Compliance Test Suite (xx065)




Simple modifiable scripts to run each and every G.168 test - uses xx068 Semi-Automated and Scripted Echo Canceler Testing Suite - included are the following WCS components xx600, xx610, and xx630 and Matlab, C++, or LabView Clients
Additional recommended software xx020, xx062, and xx066

Automated EC Testing software can be used to verify compliance of developmental EC software to G.168 standards -uses a specially configured xx067 Automated Echo Canceller Testing Software

Simulate a real network with echo paths at one or both ends. Also simulate bulk transmission delay. Requires two dual T1 or E1 cards (4 ports) and xx062 and SA008a.

This software is designed to test the Acoustic Echo Cancellation of the following per G.167, including

Simulate acoustic echo into modules such as a Sound Card, a Mobile Phone, a Regular Phone, an IP Phone, or a Speaker Phone
Generate dynamic (changing) acoustic echo
Test acoustic echo cancellers in mobile phones and other signal processing devices
Acoustic filter types includes Static and dynamic kinds of Small Office, Medium Office, Large Office and room impulse response (RIR) generator based on room parameters)
Levels for pseudo speech, Echo path delays and losses

Dynamism is incorporated into DSP operators within our Windows Client Server (WCS) software, which allows real-time testing using DSP commands to perform functions such as Amplification/Attenuation, Delay, Filter, File Tx/Rx, Logical operations, Echo Cancel, and so on.
Automated AEC testing concepts are implemented within the software for various End to End Applications (Mobile & TDM) scenarios

Stimulus / Simulation all Digital (TDM Applications)
Stimulus / Simulation all Analog (Mobile Phone Applications)

The following components are either required or recommended
---
VoIP EC Testing Solutions
The Voice Band Analyzer (VBA) is an analysis tool for monitoring the quality of voice band traffic (including hybrid echo) over VoIP, TDM and wireless networks
VBA works in conjunction with GL's TDM, Packet, and Wireless non-intrusive capture products, such as T1 and E1 Call Capture and Analysis, VoIP PacketScan&trade, and GSM, CDMA, and 3G Call Capture Products. VBA instantly detects voice file captures and with appropriately installed analysis modules, monitors speech levels, noise levels, and hybrid echo. Other analysis modules such as ITU-T P.561, P.562, P.563, fax and modem analysis, and many others can be hosted as plug-ins.
The VBA application can also operate on pre-captured files. It supports A-Law, µ-Law, 16-bit PCM (Intel), 16-bit PCM (Motorola) and MS Wave file formats.
Required software PKV100 and VBA032 at each probe location and PKV170 PacketScanWEB - Network Surveillance Software
Required hardware - 1U rack PC with sufficient hard disk for capturing over 10,000 calls (80 GB HD) for each VBA colocated with a probe
Additional hardware - PC for PKV100 PacketScan™ Software

This solution permits testing ECs from the IP side for general performance and compliance to G.168. It is applicable to testing ECs within Gateways or ATAs (Analog Telephone Adapters). Uses PKB100 - RTP Toolbox™ software and PKB105 - G.168 Manual Compliance Test Suite with GLC View software.
When testing ATAs, echo path delay (EPD) and echo path loss (EPL) may not be controllable due to being embedded in the ATA or Gateway.




This solution permits testing ECs from the IP side for general performance and compliance to G.168. It is applicable to testing ECs with Gateways or ATAs when there is a T1, E1, or 4-wire analog interface at the TDM side. In this case, and due to the T1, E1, or 4wire analog interfaces, the echo path loss (EPL) and echo path delay (EPD) are full controllable with the delay / attenuate software
Uses the following components:

PKB100 - RTP Toolbox™ software
PKB105 - G.168 Manual Compliance Test Suite with GLC View software
Any of the T1 E1 analyzer platforms
Delay Attenuate Software (xx062)
Record / Playback Software (xx020)
Manual G.168 Compliance Test Suite (xx065)
Additional recommended software xx063 and xx066

Uses GLC View to manually analyze and verify G.168 compliance

This solution permits automatic testing of ECs from the IP Side, but some special conditions apply. It requires that Rout and Sin be available thru the IP interface. In general, this solution may not apply to most ATAs and Gateways. However, if Rout and Sin are available thru the IP interface, than full compliance testing of the EC and complete simulation of the EPD and EPL is possible
The following components are either required or recommended

PKB100 - RTP Toolbox™ software
PKB067 - AutoECTest - Automatic G.168 Compliance Test Suite
PKBxxx - RTB Toolbox™ Server software and Command Line Software

Automated testing of all G.168 cases
Echo Path Loss (EPL), Echo Path Delay (EPD), and hybrid dispersion fully controllable in T1 E1 card
Use of RTP ToolBox™ (PKB100) and Client-Server (PKB110) for automation on IP side
Use of Windows Client Server (xx600, xx610, and xx630) for automation on TDM side
Any of the T1 E1 analyzer platforms
Use of Windows Client Server (xx600, xx610, and xx630) for automation on TDM side
Automatic procedures are very similar to the procedures provided at Fully Automated EC Compliance Testing per G.168 for TDM systems
Test ECs in Gateways

This solution permits automatic testing of ECs from the TDM side, but in back to back Gateway configuration
The following components are either required or recommended

Any of the T1 E1 analyzer platforms for the TDM interface
xx067 AutoECTest - Automatic G.168 Compliance Test Suite with either Windows Client Server (WCS) software or Tx/Rx File Utility software
Other recommended software

Delay Attenuate Software (xx062)
Echo Path Measurement Software (xx063)
Digital Echo Canceller Software (xx066)
Record / Playback Software (xx020)
Manual G.168 Compliance Test Suite (xx065)
Additional recommended software xx063 and xx066





This software is designed to test the Acoustic Echo Cancellation of the following per G.167, including

Simulate acoustic echo into modules such as a Sound Card, a Mobile Phone, a Regular Phone, an IP Phone, or a Speaker Phone
Generate dynamic (changing) acoustic echo
Test acoustic echo cancellers in mobile phones and other signal processing devices
Acoustic filter types includes Static and dynamic kinds of Small Office, Medium Office, Large Office and room impulse response (RIR) generator based on room parameters)
Levels for pseudo speech, Echo path delays and losses

Dynamism is incorporated into DSP operators within our Windows Client Server (WCS) software, which allows real-time testing using DSP commands to perform functions such as Amplification/Attenuation, Delay, Filter, File Tx/Rx, Logical operations, Echo Cancel, and so on.
End to End Application Scenario- Stimulus RTP (Ethernet) / Simulation Analog or Digital (VoIP IP Phone Applications)
The following components are either required or recommended

PKB100 - RTP Toolbox™ software
PKBxxx - RTB Toolbox™ Server software and Command Line Software
---
For Voice Quality Test Solutions
Solution 1. Voice Quality Test Solutions

This software is designed to test the functionality of the voice enhancement devices per G.160, including

voice quality tests per P800/P861/P862
noise reduction tests
automatic level control tests
noise compensation tests

Test results are presented in easy to hear "audible" and easy to understand graphical formats
Required software xx067 and includes xx019 Tx/Rx File Utility or xx600, xx610, and xx630 WCS components
Also required VQT001 and VQT003. Consult with GL for design choices
Additional recommended software xx020, xx062, and xx066

Solution 2. Voice Enhancement Device Test Per G.160 and G.169 (Discontinued - please Contact Us for more info)
---
Active Voice / Noise Level Monitor
Solution 1. Active Voice / Noise Level Monitor

This application continuously measures

speech power levels,
noise power levels,
speech activity factor,
dc offset, and
long term average power

The application operates on all or selected timeslots, or on stored files. GUI applications provided with "basic software" that comes with the purchase of T1 and E1 Cards. Feature in WCS is provided with xx630.

Echo Canceller Testing Application Notes



Testing EC functions on VoIP Gateways
Echo & Propagation Delay Measurement System for Wireless and Landline Circuits
Measuring Delay and Loss Over Circuit and Packet (VoIP) Networks
GL's Echo Canceller Training Document
Echo Canceller Testing Using any of the T1 E1 analyzer platforms
Echo Canceller Test Configurations Using GL Products
An Architecture for Multi-Channel Echo Canceller Testing per G.168 Requirements
G.168 Echo Canceller Test Suite Document
How to Test an Echo Canceller with Analog Interfaces
How to Insert Echo Onto a Live Connection
---
Recommended Accessories and Training Packages
SA013 - T1 E1 On Site Training Class (not including travel or hotel)
SA021 - File Edit Software
SA026 - Adobe Audition Multitrack Sound File Viewing and Editing Software
SA048 - Goldwave Sound File Viewing and Editing Software
SA017A - RJ48C to RJ48C Straight Cable, 10ft. cable
SA017A - RJ48C to RJ48C Crossover Cable, 10ft. cable
SA008a - Handset Adapter with Handset
SA022 - Extended 1 Yr. Software Upgrades and Hardware Warranty, and Comprehensive Support for Basic and Optional Software
---