Voice Enhancement and Voice Quality Testing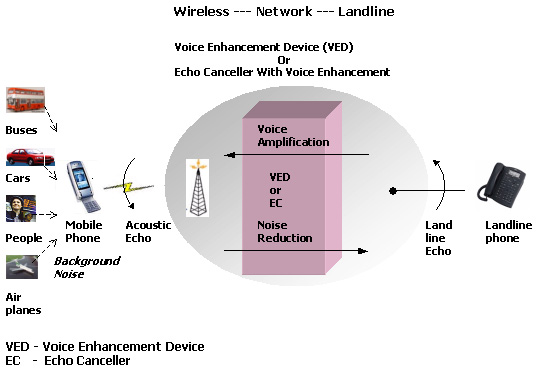 Overview
Voice Enhancement and Voice Quality Test software is designed to test the functionality of the voice enhancement devices per G.160, including the voice improvement tests per P800/P861/P862, noise reduction tests, automatic level control tests, and noise compensation tests. VQT (voice quality test) parameters, PESQ and POLQA are graphically presented to display test results.
There are four (4) tests needed to fully evaluate the characteristics of voice enhancement devices. These tests are:
NR (noise reduction) tests for the receive path,
NC (noise compensation) tests for the send path,
ALC (automatic level control) tests for the receive path, and
ALC for the send path.
The NR tests are designed in way that two VQT (voice quality tests) are performed. VQT1 is the voice quality test between the reference file, and the degraded file. Degraded files are obtained by added noise to the reference file. VQT2 is performed between the Rout (the voice enhancement devices improved signal) and the reference file. The NR performance is evaluated by comparing the VQT 1 score with the VQT 2 score.
The NC tests are evaluated by the Sout signal power versus the noise power signals.
The ALC tests are evaluated by the Sout (or Rout) signal power versus Sin (or Rin) power levels.
Sample Screenshots
---
Voice Quality Analysis Configurations
Resources
Please Note1: The XX in the Item No. refers to the hardware platform, listed at the bottom of the Buyer's Guide, which the software will be running on. Therefore, XX can either be ETA or EEA (Octal/Quad Boards), PTA or PEA (tProbe Units), UTA or UEA (USB Units), HUT or HUE (Universal Cards), and HDT or HDE (HD cards) depending upon the hardware.

Back to Echo Canceller Testing Solutions Main Page