T1 E1 Basic and Optional Applications
w/ Buyers Guide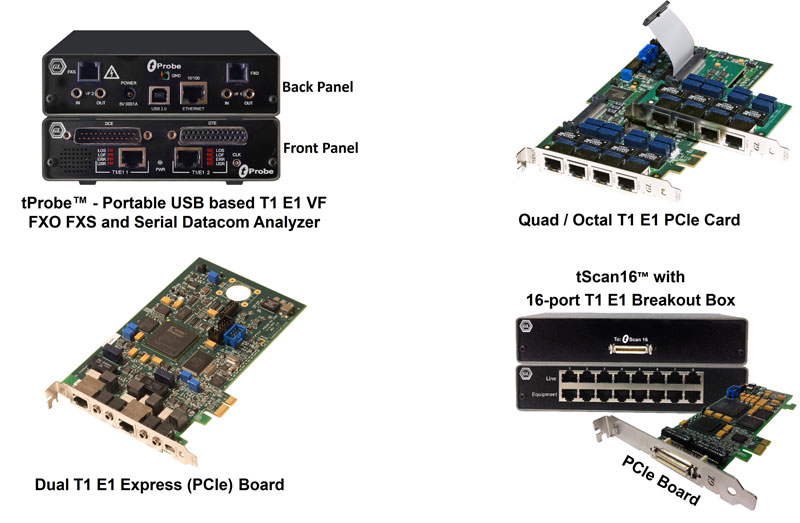 Latest T1 E1 Software Ver 12.3.8 (32/64-Bit) is Now Available | Download Now!

Basic application are included with T1 E1 Basic Software
---
Overview
T1 E1 carriers are still used extensively throughout the world for carrying large volumes of call containing both voice and data. Their popularity can be attributed to their high reliability, manageability and flexibility. The available digitized channels, 24 for T1 and 32 for E1 carry voice and/or data. Further, the channels can be used separately or they can be combined to provide higher transmission bandwidth.
T1 E1 testers are available in various form factors from portable, handheld, and rack-based platforms. Regardless of the form-factor you choose, GL's T1 E1 Test solutions provide a wide range of functionalities and testing capabilities. GL's versatile T1 E1 Analyzer Hardware portfolio is briefly discussed in this webpage - https://www.gl.com/t1e1testing.html. Here we discuss a wide range software supported in GL's T1 E1 test tools required for installing, commissioning and troubleshooting T1, E1, FXO, FXS, and Datacom lines.
Basic Applications (Included with T1 E1 Basic Software)
Optional Applications
Record/Playback Applications
Synchronous Trunk Record/Playback (or STRP)
GL's Synchronous Trunk Record/Playback (or STRP) application has both Record and Playback features that permits the user to synchronously record any type of traffic (voice, digits, and tones) on multiple complete T1 or E1 lines (trunks) with accurate timestamp. Playback of some or all of the recorded data permits the user to recreate the transmission exactly as it occurred.


Record / Playback Disk Files

This optional software permits the user to transmit and or capture any signal on T1 or E1 lines with GL's T1/E1 Cards or USB T1/E1 Units. Typical applications include transmission or capture of prerecorded video files, traffic loading applications and protocol analysis.

Record from multiple cards

This application permits capture of data being transmitted on (any one or both) T1/E1 cards to a file.

Automated Record Playback

The 'Automated Record/Playback (ARP)' application is an extremely versatile and rugged application incorporated in T1/E1 analyzer that makes it very easy for the user to run several transmit or receive operation tasks simultaneously.

Automated Continuous Capture

Automated Continuous Capture (ACC) allows users to capture different types of data (*.ala, *.ula, *.pcm, *.wav, *.ber) continuously into different files. Instead of capturing data from a card in one big block, it is possible to capture seamless chunks of data in files of the specified size, or specified time limit of capture.

Transmit/Receive File Utility

The Transmit/Receive File Utility allows transmission and reception of files to/from t1 or e1 lines with greater flexibility than the Record/Playback Software. The optional Record/Playback software runs as a feature under the T1/E1 GUI application software.

Multichannel BERT

MCBERT (MultiChannel Bert) provides on-line and offline measurement of correctness of data received on T1/E1 lines according to a repetitive pattern file.
Call Capture and Analysis
Windows Client-Server based Applications
WCS based various Simulation Modules (XX600 Included with Basic Analyzer)

Client / Server applications allow the user (with an appropriate client) to operate analyzers remotely, write scripts for automation, or provide multi client connectivity to a single T1 E1 VF Data analyzer. Almost every GUI application has a WCS counterpart. Now, Windows Client / Server available as a part of Basic Applications in T1/E1 Analyzer. GL provides sample-working clients in C++, VB, and TCL along with the server.

With additional licenses, WCS also supports transmission/reception of files/digits, Multi-channel BERT, CAS Emulation, DSP operations, Dynamic DSP capability, SA Bits/ FDL/ HDLC/ TRAU/ MC-MLPPP/ SS7/ ISDN TxRx/ Multilink-Frame Relay Emulation to name just a few.

Various protocol decode agent modules are supported by WCS application.


Fax Emulation


This optional software uses simple commands to transmit and receive the fax information as electrical signals through the T1/E1 (telephone system). The contents (text or images) are sent as a single fixed graphic image, converting it into a bitmap. The receiving end reconverts the coded image and creates a copy of the document. It supports almost all FAX standards such as V.17, V.27, V.29, V.33, and V.34.

MAPS™ ISDN Emulator, SS7 Emulator, GSM A Interface Emulator, GSM Abis Interface Emulator, MAP Emulator, CAS Emulator, APS Emulator, FXO-FXS, CAP Emulator, MLPPP Emulator

GL's Message Automation & Protocol Simulation (MAPS™) is a powerful Protocol Test platform-supporting a wide range protocols such as SS7, ISDN, GSM, CAS, APS, MLPPP, MAP, FXO-FXS, CAP and more. This message automation tool covers solutions for both protocol simulation and protocol analysis. The application includes various test plans and test cases to support the testing of a required real-time scenario. Along with automation capability, the application gives users the unlimited ability to edit messages and control scenarios (message sequences). "Message sequences" are generated through scripts.
Echo and Delay Test Solutions
Echo Mitigation System (Currently implemented in Octal T1/E1 Analyzer)

Echo Mitigation System (EMS) solution allows simulate transmission of test signals to an endpoint, receive the test signals from the other end, identify the parameters of the echo/delay/offset from the received signal, and then apply an echo mitigation process based on these parameters. EMS can be deployed on the backhaul system to eliminate the varying delay/echo resulting from different backhaul technologies used to transport audio through the system.
Protocol Analyzers and Emulators
Physical Layer Analyzer

The Physical Layer Analyzer application monitors the T1 E1 or T3 E3 Alarms in real-time, converts them to SNMP messages and sends them to the Network Operations Center (NOC). ON/OFF status in the Physical Layer Analyzer depicts the Alarm/No Alarm state respectively. SNMP DS1/DS3 Traps sent from T1/E1 or T3/E3 Physical Layer Analyzer can be monitored on the configured IP Address and UDP Port using any SNMP or MIB browser. When the alarm status changes, then SNMP Traps will be sent to the NOC.
Network Surveillance System
T1/E1/T3/E3 Probes are deployed in the field to monitor various protocols (including ISDN, SS7, GSM, CDMA, and others) and conditions. These probes can process protocol information at varying levels (intelligent software) to extract information of choice, export these information to a central database, and communicate with the NMS through TCP / IP. Data records are stored into a centralized database (Oracle) using ODBC. With the use of web server, the remote / local monitoring can be accessed using simple web browser interface such as NetSurveyorWeb™.
Digital T1 E1 Line Monitoring System
The NetSurveyorWeb™ for T1E1 Physical Layer provides an instant overall graphical view of the health of the TDM network with drill down to individual lines; secure access through WEB; remote monitoring and diagnostics to troubleshoot any T1 E1 line; and a central database and applications for controlling, collecting, and analyzing the information provided by the various probes.
For more details, visit Digital T1 E1 Line Monitoring System
Fax & Modem Analysis Software
GLInsight™

GLInsight™ is a state-of-the-art system that provides promptly processed information and analysis of data collected on IP and PSTN networks. Decoded results are analyzed on a per-network basis. Alternatively, data from two networks can be combined to provide additional insight into the networks' behavior.


Fax Analysis (FaxScan™ for 2-Wire, 4-Wire, & IP)

FaxScan™ is GL's command-line Fax decoder/demodulator application used to analyze the recorded voice band traffic (PCM stream & PCAP files) for Fax traffic. It provides analysis of the T.38 packets, T.30 frames, general call-flow indicators and decoded fax image in TIFF-F format. FaxScan™ is also available as a licensed module along with GL's Voice Band Analyzer (VBA) for processing 2-Wire or 4-Wire captures.


Fax Emulation

This optional software uses simple commands to transmit and receive the fax information as electrical signals through the T1/E1 (telephone system). The contents (text or images) are sent as a single fixed graphic image, converting it into a bitmap. The receiving end reconverts the coded image and creates a copy of the document. It supports almost all FAX standards such as V.17, V.27, V.29, V.33, and V.34.

Screenshots
With Basic Software:

For tProbe™, USB units
For Universal, and Octal Cards

Monitoring Applications

Intrusive Test Applications

With Optional Software:

WCS Modules:
Buyer's Guide
Please Note: The XX in the Item No. refers to the hardware platform, listed at the bottom of the Buyer's Guide, which the software will be running on. Therefore, XX can either be ETA or EEA (Octal/Quad Boards), PTA or PEA (tProbe Units), UTA or UEA (USB Units), HUT or HUE (Universal Cards), and HDT or HDE (HD cards) depending upon the hardware.
Item No.
Item Description
Platforms
XTE001
XUT001 XUE001
Dual T1 E1 Express (PCIe) Boards (requires additional licenses)
Dual T1 E1 Express Card Basic T1 Software (includes xx600, xx605)
Dual T1 E1 Express Card Basic E1 Software (includes xx600, xx605)
FTE001
ETE001
ETA001
EEA001
QuadXpress T1E1 Main Board (Quad Port– requires additional licenses)
OctalXpress T1E1 Main Board plus Daughter Board (Octal Port– requires additional licenses)
Basic Software for T1 (includes xx600, xx605) (zero dollar, but required with appropriate licenses)
Basic Software for E1 (includes xx600, xx605) (zero dollar, but required with appropriate licenses)
XX003
Timeslot Delay Loopback for T1 (Currently implemented in Octal T1/E1 Analyzer)
Timeslot Delay Loopback for E1 (Currently implemented in Octal T1/E1 Analyzer)
UTE001
UTA001
UEA001
SA000c
Dual Laptop T1/E1 Hardware USB Base Unit
Basic Laptop T1 Software (includes xx600, xx605)
Basic Laptop E1 Software (includes xx600, xx605)
High Stability Internal Clock Option
HTE001
HUT001
HUE001
SA000a
HD Universal Dual T1/E1 Card
HD Universal Card Basic T1 Software (includes xx600, xx605)
HD Universal Card Basic E1 Software (includes xx600, xx605)
High Stability Internal Clock Option
PTE001
PTA001
PEA001
SA000c
PTE015
PTE025
tProbe™ T1 E1 Base Unit
tProbe™ Basic T1 Software (includes xx600, xx605)
tProbe™ Basic E1 Software (includes xx600, xx605)
High Stability Internal Clock Option
w/ 2Wire FXO and FXS Optional Board
w/ Data Communications Optional Board for RS-232, RS-449, RS-422, RS-423, EIA-530,
V.35 Interfaces
Optional Software
XX010
Application Development Tool Kit
(Programmer's Guide)
XX018
Multi-Channel BERT Software
XX019
Transmit/Receive File Utility Software
XX020
Record/Playback File Software
XX021
FDL Software for ESF (T1 only)
XX022
DTMF/MF Detector & Generator Software
XX023
T1 A-law or E1 µ-law Software
XX051
Synchronous Trunk Record Playback
Call Capture and Analysis Software Options
XX031
Enhanced T1 / E1 Call Capture/Analysis Software
XX031
T1 or E1 Call Capture and Analysis Software w/ Traffic Activated Trigger Option
CDR032
Call Data Records
CMU031
Call Management Utility
Voice Band Analysis Software Options
VBA032
Voice Band Analyzer
VBA033
Two-Wire Echo Analysis for VBA
VBA036
Traffic Analysis for VBA
VBA038
Fax Demodulator / Decoder
Windows Client-Server Software Options
XX600
XX605
XX606
XX610
XX620
XX625
XX626
XX629
XX630
XX631
XX634
XX635
XX636
XX640
XX641
XX643
XX646
XX647
XX648
XX649
XX694
XX651
XX696
XX624
XX652
XX654
XX650
XX655
XX660
XX670
XX680
XX690
XX691
XX692
XX693
Basic Client/Server Scripted Control Software (Included with Basic Software)
Dual VF Tx Rx (Only for tProbe) (Included with Basic Software)
Pulse Shape & Jitter Measurement (Included with Basic Software)
w/ File based Record/Playback
Transmit/Detect digits (included with basic software)
w/ CAS Simulator
w/ SS1 Signaling Analyzer and Dialer
w/ISDN Emulation
w/ DSP Capability
w/ Dynamic DSP Capability
High Throughput HDLC Tx/Rx Test
High Throughput PPP Tx/Rx Test
High Throughput MC-MLPPP Tx/Rx Test
File based HDLC Record/Playback
File based HDLC Remote Record/Playback
w/ MTP2 Emulation
w/High Throughput TRAU Tx/Rx Test
Scripted ISUP Conformance Testing (MAPS™ SS7 Conformance)
Scripted ISDN Simulator (MAPS™ ISDN)
Scripted ISUP Emulation (MAPS™ SS7)
Scripted MAP Emulation (MAPS™ MAP)
w/ SA bits Encode/Decode
Scripted CAMEL AP Emulation (MAPS™ CAP)
Scripted FXO FXS Emulation using MAPS™ (MAPS™ FXO FXS)
Scripted CAS Simulator (MAPS™ CAS)
Scripted MLPPP Conformance Testing (MAPS™ MLPPP)
Inverse Multiplexing for ATM Emulation
MultiLink Frame Relay Emulation w/ Tx/Rx Test
w/ FDL
w/Multi-Channel Rx BERT
w/Traffic Classifier
SS7 Protocol Decode Agent
ISDN Protocol Decode Agent
Scripted GSM "A" Interface Emulation (MAPS™ GSM A)
Scripted GSM Abis Interface Emulation (MAPS™ GSM Abis)
Echo and Delay Testing Applications
XX003
Timeslot Delay Loopback for T1 (Currently implemented in Octal T1/E1 Analyzer)
Timeslot Delay Loopback for E1 (Currently implemented in Octal T1/E1 Analyzer)
XX062
Echo Path Delay/Loss Simulation Software
XX063
Echo Path Delay/Loss Measurement Software
XX065
G.168 Test Suite for T1 & E1 Echo Cancellers (Manual Testing Software and Procedures)
XX066
Digital Echo Canceller
XX067
Automated Echo Canceller Testing w/o VQT
XX068
Semi-Automated and Scripted Echo Canceller Testing Suite
w/ C++ Client
w/ LabView Client
w/ Matlab Client
PKB070
Audio Processing Utility
PKB080
Automated Echo Canceller Testing TDM-VoIP
PKB081
Automated Acoustic Echo Canceller Compliance Testing (Partial Tests)
AEC001
AutoEC Test Viewer
EMU037
Echo Measurement Utility (EMU) Software
Protocol Analyzers and Emulators
XX089
Protocol Identifier
XX090
OLV090
T1 or E1 Real-Time HDLC Analysis/Playback/Simulate Software
Offline/ Remote HDLC Analyzer
XX095
OLV095
E1 Real-Time SA Bit HDLC Analysis
Offline SA Bit HDLC Analyzer
XX100
OLV100
T1 or E1 Real-Time ISDN Protocol Analyzer
Offline / Remote ISDN Analyzer
XX105
T1 or E1 Real-Time ISDN Protocol Emulator
XX110
OLV110
E1 Real-Time V5.x Protocol Analyzer
Offline / Remote V5.x Analyzer
XX120
OLV120
T1 or E1 Real-Time SS7 Protocol Analyzer
Offline / Remote SS7 Analyzer
XX130
OLV130
T1 or E1 Real-Time Frame Relay Protocol Analyzer
Offline/ Remote Frame Relay Analyzer
XX135
OLV135
XX136
OLV136
ML-PPP Analyzer
Offline ML-PPP Analyzer
PPP and MLPPP Packet Analysis
Offline PPP and ML-PPP Packet Analysis
XX140
OLV140
T1 or E1 Real-Time GR303 Protocol Analyzer
Offline/ Remote GR303 Analyzer
XX142
OLV142
CDMA2000 Protocol Analyzer
Offline CDMA2000 Analyzer
XX150
OLV150
XX151
OLV151
T1 E1 Real-Time GSM Protocol Analyzer
Offline GSM Analyzer
w/Motorola Mobis Decode
with Motorola Mobis decodes
XX153

OLV153
T1 E1 Real-Time TRAU Protocol Analyzer
TRAU Traffic Playback
TRAU Toolbox™
Offline TRAU Analyzer
XX155
OLV155
T1 or E1 Real-Time GPRS Protocol Analyzer
Offline GPRS Analyzer
XX160
OLV160
XX162
T1 or E1 Real-Time ATM Analyzer
Offline ATM Analyzer
ATM BERT
XX165
OLV165
UMTS Analyzer
Offline UMTS Analyzer
Network Monitoring Software Options
PKV170

NetsurveyorWeb™ (Perpetual License, Unlimited Users/Nodes)
– Includes Oracle 11g Standard Edition One and Standard Server-Grade Computing Platform

PKV169
NetsurveyorWeb™ Lite
- Probe Level WebServer, PacketScan™, and Oracle 11g Express Edition;
PKV171
NetSurveyor Agent Toolkit
DCME Related Software Options
DC007
DCME Test & Analysis Software w/Desktop PC
DC008
DCME Test & Analysis Software w/Portable PC
Miscellaneous Software Options
SA026
"Adobe Audition" Software
SA048
Goldwave Software
SA021
File Edit Software
STE40
Mux/Demux Software
STE50
Sample Traffic Files
For more detailed information on software, see the Product List
Accessories
Recommended accessories for Dual Portable USB T1/E1 Units
Logistics
SH001
Shipping and Handling, Domestic - Card Only
SH002
Shipping and Handling, Domestic - System with PC
SH002a
Shipping and Handling, Domestic; Per System w/ Laptop PC
SH002b
Shipping and Handling, Domestic; For Rack PC
SH003
Shipping and Handling, International - Card Only
SH004
Shipping and Handling, International - System with PC
SH004a
Shipping and Handling, International; Per System w/ Laptop PC
SH004b
Shipping and Handling, International; Per System w/ Rack PC
SH005
Wire Transfer Charge
SH006
Extra Charge for Overnight Delivery - Domestic
SH007
Handling Charge Only
SH008
Certificate of Origin Charge for Shipments to Israel
LOC001
Letter of Credit Fee