Voice, Video & Data Quality Testing on All Networks
(VQuad™ - Dual UTA HD, VQuad™ Probe HD)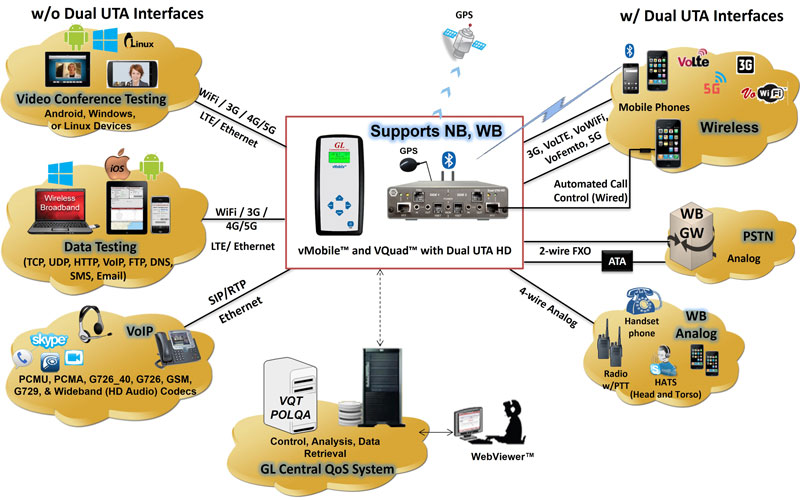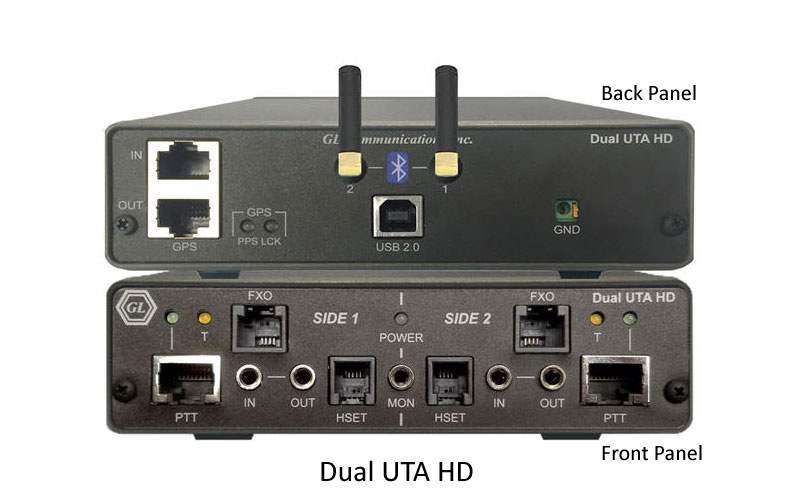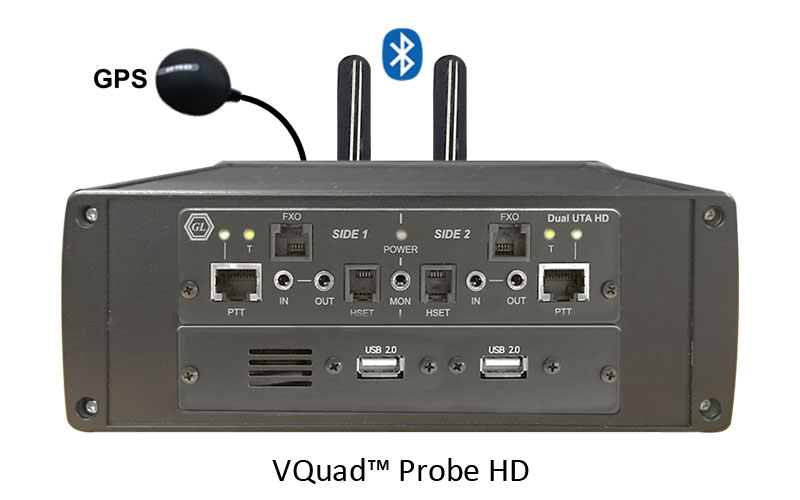 Overview
The VQuad™ software is used to automatically send and record voice, video, and data traffic from four different types of network (Quad refers to 4 network types: Wireless, VoIP, TDM, & Analog). The VQuad™ uses a universal adapter such as Dual Universal Telephone Adapter High Density (Dual UTA HD), or VQuad™ Probe HD that provides multiple interfaces for connecting to any communication device on a network. The VQuad™ with any of the above hardware allows to test variety of networks, including Wireless (Bluetooth®, Wi-fi, 3G, 4G, LTE, PTT Mobile Radio), VoIP, Analog, and TDM, practically allowing any end-point interfaces to be tested for voice, data, and video quality.
A single VQuad™ software supports up to 6 Dual UTA HD units, which means up to 12 telephony devices and/or 12 SIP User Agents in VoIP network can be controlled within a VQuad™. A minimum of two telephony interface types are supported per Dual UTA HD and all interfaces in the device may be configured together on a single PC. VQuad™ supports multiple tests to run simultaneously on devices connected to Dual UTA HD.
GL offers high-density VQuad™ mTOP™ Solution within which multiple Dual UTA HD devices can be stacked. Two-stacked 1U mTOP™ test instrument can accommodate up to 6 Dual UTA HD units, thus supporting up to 12 telephony devices. VQuad™ mTOP™ test solution - greatly reduces the licensing costs per device. A minimum of two telephony interface types are supported per Dual UTA HD and all interfaces in the device may be configured together on a single PC. VQuad™ supports multiple tests to run simultaneously on devices connected to Dual UTA HD.
In addition, GL launches mTOP™ Probe variant, which is an all-in-one self-contained test instrument. The latest VQuad™ mTOP™ Probe includes Dual UTA HD device combined with the PC in one single portable box. The comprehensive mTOP™ Probe hardware unit is designed for easier portability and convenient for field testing as it includes necessary PC interfaces along with Windows® 10 64-bit operating system and remote accessibility via scripting and remote desktop. There are no moving parts with the unit, so reliability and longevity are integral.

Dual UTA HD (High Density) includes support for Bluetooth® Wideband, FXO Wideband and SIP Wideband (ex: AMR WB), with which you can easily interface with any Mobile Device, FXO, or SIP devices supporting HD Voice.
Various associated applications (Voice Quality, Video Quality, Data tests, Echo and Delay tests, Fax tests, Voice Band Analysis) works with VQuad™ to provide "end-to-end assessment" with additional test and measuring capabilities. All the applications work in conjunction with the VQuad™ for automatically and remotely analysing the captured data and sending the test results to the central database. VQuad™ scripting allows for automated call control, and traffic simulation to conduct tests on Wireless, IP, PSTN and TDM networks. Different types of traffic supported includes - NB and HD Voice, Video, Tones, DTMF/MF Digits, Fax, and other Data (HTTTP, UDP, TCP, SMS, Email, DNS, Route, FTP, ….).
VQuad™ scripting can automate the Voice, Video, and Data testing from anywhere remotely controlling the mobile devices. GLNetTest solution optionally provides Video Quality Testing supported on Android, PC and Linux based clients (end points) and also provides Automated Data Testing on Mobile Devices (Android and Apple) and a PC internet connection.
The Dual UTA HD can interface with a mobile radio for voice quality testing, control of the Push-to-Talk (PTT) feature is available with the Dual UTA HD and the VQuad™ software. Directly before the audio file is transmitted the VQuad™ software will command the Dual UTA HD to enable the PTT on the radio. This feature makes the testing completely automated and hands free.
Enhanced VQuad™ with Dual UTA HD supports two methods of automated testing of mobile devices, Bluetooth and Wired Headset using GL's new cable, Smartphone with Automated Call Control (ACC). Through the VQuad™ script (or manual operation), calls can be setup and send messages using iPhone SIRI or Android Google Voice available on mobile devices. VQuad™ includes Text-to-Speech technology for automatically creating the necessary voice prompts required to work with Siri or Google Voice.
With WebViewer™, the results can be queried and displayed on a remote client PC using web based browsers. Customized consolidated view of the VQuad™, call control and test results along with the graphical report can be generated. The status of each node in the network can be monitored. The Results, VQuad™ Nodes, and the Devices can be plotted in the WebViewer™ Google Maps using the GPS co-ordinates saved in the database. The output results can be exported to txt, xls, or pdf files.
Features
Single-box Portable
QoSTesting Solution

Connectivity - Bluetooth® NB & WB, PTT, GPS, 4-wire Balanced I/O Interfaces on Dual UTA HD
Devices – Military/Mobile Radios, 4G/3G/Wifi Smartphones (iPhone, Android, Blackberry), Bluetooth® Headsets/Stereo/Car Kits, Wired Headset with Smartphone Automated Call Control (ACC)


Connectivity - Internal SIP cores within VQuad™ (SIP and H.323 Signaling - Does not require Dual UTA HD), 4-wire Balanced I/O, HSET Interfaces on Dual UTA HD
Devices – VoIP Phones, HATS


Connectivity - T1 E1 Interface facilitated through GL's T1 E1 Analyzer Hardware (ISDN and CAS Signaling - Does not require Dual UTA HD)
Devices – Digital Phones, PBX, Media Gateways over TDM network


Connectivity - FXO Interface on Dual UTA HD
Devices – Analog Phones, Media Gateway, PBX, ATAs over PSTN network


Platforms

On any PC including Rack/Tower, Laptop, Netbook, and Tablet

VQuad™ mTOP™ Rackmount [Two-stacked 1U mTOPs] supports up-to 6 Dual UTA HD units (i.e., 12 telephony devices connected simultaneously)

mTOP™ Probe unit along with necessary PC interface forms a portable test instrument convenient for field testing

Supports up to 12 SIP UAs in VoIP interface (does not require any hardware)

Works with Dual UTA HD, or VQuad™ Probe HD

VQuad™ Probe HD is a self-contained unit that includes VQuad™, Dual UTA HD and PC

Supports multiple tests to run simultaneously on all the devices connected to Dual UTA HD interface.

Outward and Port-to-Port Loopback of 2-Wire and 4-Wire interfaces with No Delay or up to 2000ms user-specified delays (Dual UTA HD only)

USB2.0 and USB3.0 capable

VQuad™ support for NB, WB and SWB sampling rates. Specify Sampling Rate per Dual UTA HD unit directly from the VQuad™ script

All of the communications within VQuad™ solution supports IPV4 and IPv6

Automation through Scripting

Complete automation with enhanced scripting and remote operation including traffic generation, call control, and automated scheduling of operations

Local VQuad™ can control remote VQuad™ systems to expand testing for an entire network.

Various commands are available for Call Control, Device Operations, File Transfer, Traffic Generation/Detection, VQT, Data Testing, Central Database Connections, and Remote VQuad operations

Call type identifier to report the type of Network (3G, 4G, LTE, 5G, PSTN, VoIP) on both the sides of the call

All results and events are automatically transferred to a Central Database

Remote support of VQuad™ using CLI (both Windows® and Linux) or VQuad™ API (both Windows® and Linux)

Remote Control and Monitoring using web based WebViewer™

Remote monitoring with result query and real-time statistics

Real-time status of entire network with ability to remotely access and control any node within network

Support for primary and secondary Central Database IP addresses for backup and redundancy.

Customization of result view and statistics graphs

Remote control of VQuad™, File Monitor, VQT, and Command Center nodes

Console view of NetTest and VQuad results and statistics graphics

VQuad™ results, events, node status, and devices can be plotted on google map within WebViewer™ with the user-defined co-ordinates (absence of GPS receiver connectivity)

Customized report generation and report scheduling for the user specified filters

File Monitor Utility

Transfers all the degraded files to analysis system

Supports connections to multiple nodes to handle network failovers

VQuad™ also reports File Monitor status to WebViewer™ using which the utility status can be monitored
Command Line Interface (CLI) for remote access
VQuad™ provides full support for CLI on both Windows® and Linux environment. VQuad™ CLI also supports both IPv6 and IPv4.
The VQuad™ Command Line Interface (CLI) is designed to remotely access various application functionalities and thus controlling VQuad nodes located at various destinations.
The VQuad™ Remote Access (Client) allows VQuad™ operations to be remotely controlled by one (or several) VQuad™ clients over a LAN, WAN, or Internet.
All Call Control functions, and traffic simulation functions are supported. These includes - Load Call Control Script Configuration, Load VQuad™ Master Configuration, Start Stop Call Control Script, Place Call, Answer Call, Disconnect Call, Set and Get Log Files, and many other operations. It also supports traffic functions such as Send and Record Voice Files, Transmit and Detect Digits, Send and Detect Tones, Send and Receive Fax, OWD/RTD Correlation, and Stop Traffic.
Windows® and Linux APIs for VQuad™ and VQT
GL has developed Windows® and Linux APIs for VQuad™ and VQT. Customers can now build custom, faster and cheaper applications using the features already available with GL applications. All important functionalities required to control VQuad™ and VQT remotely are available through APIs to ease the most complex application development activities.
The VQT API environment provides two-way traffic to the VQT server, ability to control the VQT server remotely and provides for instant feedback of VQT client actions.
The VQT functions that are generally available through APIs are listed below –
Connect/disconnect the client applications with a VQT Server
Automatically perform VQT with PESQ/POLQA algorithms
Start/Stop VQT Auto-mode operations
Capture individual VQT events to file in real-time
Retrieve the VQT Statistics
Load VQT auto measurement configuration files
The VQuad™ functions that are generally available through APIs are listed below –
Connect/disconnect the client applications with a VQuad™ Server and GL Listener.
Perform all general device configurations
Send and receive files on the configured devices
Load auto traffic configuration files and scripts
Perform call control functions (place call, receive call, disconnect)
Perform all traffic actions (send/detect tones/digits/files, send/record voice)
Perform voice quality, delay, noise, and echo measurements
Retrieve the all results and statistics
Monitor status of all remote VQuad™ nodes