Automated Analog (2-wire, 4- wire) Voice Quality Testing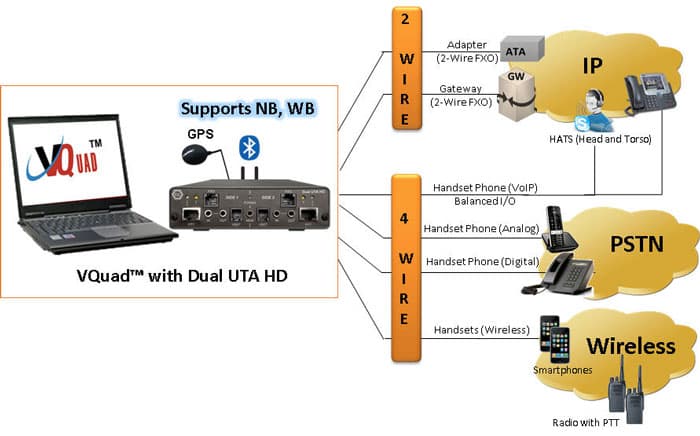 Overview
Assuring uninterrupted high quality voice within a network is critical irrespective of the type of network carrying the voice. Testing these networks can become cumbersome, time consuming and quite costly.
GL provides the solution for testing 2-wire and 4-Wire WB Analog interfaces using GL's VQuad™ and Dual UTA HD.
VQuad™ with Dual UTA HD provides a complete automated network testing solution. This includes 2-wire WB Analog FXO interfaces (RJ-11) and, when coupled with the GL VQT, provides the necessary voice quality measurement and analysis tools.
Dual UTA HD 2-Wire FXO and 4-Wire Analog supports both Wide Band (WB) and Narrow Band (NB). 2-Wire Analog FXO can connect to any 2-wire interface (PSTN, ATA, Gateway) anywhere. Dual UTA HD 4-wire Analog connects to Balanced (headset -mic/speaker), RJ22 (phone Handset), PTT (Push to Talk) connecting to any mobile radio (DoD, Emergency Services, Government) and to any mobile phone, the phone will recognize the Dual UTA HD as a headset.
The analog ports may be connected to any U.S or European PSTN and, using the user-friendly VQuad™ GUI, the user can place calls to any desirable number as well as answer incoming calls in a manual or automated manner. The product can be configured manually to send and record voice files or configured to automatically send/record multiple voice files to be used in the VQT algorithms. In addition, the VQuad™ can send and detect DTMF digits while the call is established. This allows two-stage dialing as well as path confirmation.
The VQuad™ with Dual UTA HD also adds the functionality for Round Trip Delay and One Way Delay measurements. The Dual UTA HD also support Echo measurements, multiple tone detection (including busy, fast busy, SIT), Caller ID detection and display, and Flash Hook. The Dual UTA HD FXO is fully user configurable and allows any type of connection and multiple stage dialing (including immediate connect for PBX systems). For more details, please visit Dual UTA HD.
---
Main Features
VQuad™ w/ Dual UTA HD in Analog interface
Two Analog FXO ports per Dual UTA HD (RJ-11 interface)
Manual or Automatic operation of traffic generation and full call control
Round Trip Delay and One Way Delay measurements as well as Echo Measurements
Supports all standard and customized call progress tones
Detect user-defined Dial Tone, Ring Back, Busy, Fast Busy, SIT
Send Digits during established call for two-stage dialing and IVR menu systems
Both USA and European standards supported (FCC and TBR-21 certified)
Remote Access for starting/stopping the tests along with retrieving results
GL VQT Automatic Mode supports automatic execution of the VQT algorithms (PESQ, POLQA)
Additional measurements include Clipping, Jitter, Latency, Noise and Signal Levels
Results available in real-time or post-processing
Each analog port may be controlled independently for traffic and call control
Fax Testing using the Dual UTA HD 2-wire FXO or 4-wire analog interfaces. Supports up to 4 simultaneous T.30 faxes
---
2-Wire Analog WB FXO Testing
Wide Band (WB) and Narrow Band (NB) support
Supports Call Progress tones, Loopcurrent drop and Call ID
Supports Flash hook and all supplementary services
Global support – can connect to any 2-wire interface anywhere
Connect to any PSTN, ATA, Gateway
---
4-wire WB Analog Testing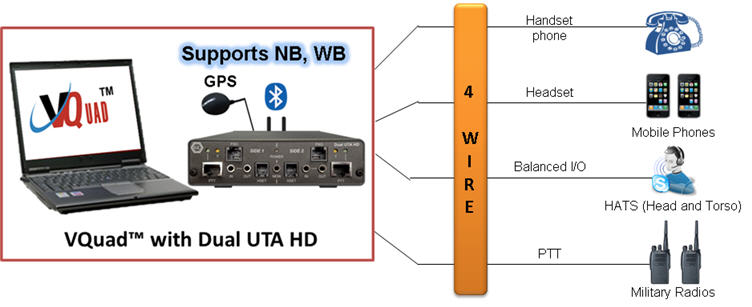 Balanced – replaces headset (mic/speaker) anywhere
RJ22 – replaces the phone Handset on any phone at the Curly Cord
PTT (Push to Talk) – connect to any mobile radio (DoD, Emergency Services, Government) and supports voice and keying the radio
Mobile – connect to any mobile phone, the phone will recognize the Dual UTA HD as a headset.
---
24-Port VQuad™ HD Analog Phone Simulator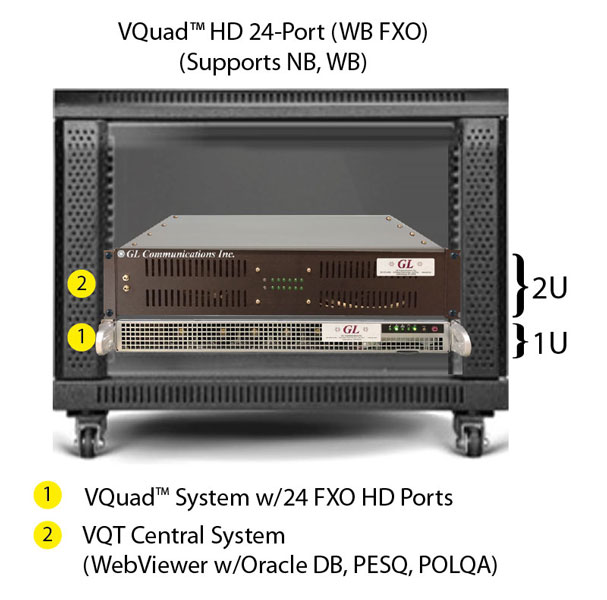 VQuad™ 24-port HD FXO solution is an all-in-one 2U rack supporting both Wide Band (WB) and Narrow Band (NB) Audio. The 2U VQuad™ HD FXO system incorporates two embedded SBCs (Single Board Computer), each running latest VQuad™ software, along with 12 Dual UTA HD units supporting a total 24 FXO Analog ports. All 24 FXO ports are independent and can be fully automated or remote controlled for a fully autonomous test solution. Access to the 24 Analog ports is via an Amphenol connector on the back of the system which can be broken out to 24 RJ11 connections. Each embedded SBC includes two Gigabit Ethernet connections, two USB connections, and a VGA monitor connection. LED lights on the front of the 2U Rack display status of each SBC along with each Dual UTA HD.
Multiple VQuad 24-Port FXO Racks can be connected together for virtually unlimited FXO ports. When combined with the WebViewer Central System all results and events can be saved directly to a Central Database and accessed using the WebViewer (direct access to the database tables is also available). Analysis is provided using GL Voice Quality Analysis (both POLQA and PESQ supported), Echo Measurement Utility (EMU), Fax Analysis, and Voice Band Analyzer (VBA).
Supports 24 independent HD FXO ports per VQuad™ system (2U)
Scalable solution for unlimited number of FXO ports
Wide Band (WB) and Narrow Band (NB) support (for HD and SD Audio)
Multiple Users and Tests per system
Run tests between systems
Fully automated and remote accessible via CLI
Remote accessible via Central Database
Full FXO Functionality and Analysis via flexible Scripts
---
Voice Quality Testing (VQT)
GL's VQT may be executed automatically (real-time and/or post-processing) or manually by entering a Reference File and Degraded File. Regardless of how GL's VQT is initiated, algorithms for POLQA, PESQ MOS and PESQ LQ are executed simultaneously for the two voice files and results are shown in graphically as well as in tabular format. GL's VQT supports POLQA WB Analysis (ITU-P.863). GL's VQT also displays cumulative statistics for large scale testing over long periods of time.
---