Push-to-Talk (PTT) Radio Testing
Overview
PTT radios have evolved from analog radios to digital 2-way radios. Even more recently Push-to-Talk over Cellular services offers end users a more affordable and efficient two-way radio solution.
Rigorous testing is critical for all communications equipment serving public safety, military, aerospace, and other industries such as manufacturing, construction, transportation and logistics, and hospitality.
Test tools must provide reliable measurements on user experience for those who rely on critical voice communications over PTT and LMRs.
The Dual Universal Telephony Adapter (UTA) HD can interface with a mobile radio for voice quality testing, control of the Push-to-Talk (PTT) feature is available with the Dual UTA HD and the VQuad™ software. Directly before the audio file is transmitted the VQuad™ software will command the Dual UTA HD to enable the PTT on the radio. This feature makes the testing completely automated and hands free.
4 wire WB analog PTT testing – supports voice and keying the radio Connect directly to Mobile Radios
DoD, Emergency Services, Government
Call Control with PTT feature
PTT Network One Way Delay, PTT Audio Connection Delay time, PTT Grant Tone Delay time measurement feature
Completely automated and hands-free testing
Received Signal Strength Indicator (RSSI)
Delivered Audio Quality (DAQ)
---
Test Setup for PTT operation

The figure illustrates the PTT operation over an established call when each side is geographically separated using two Dual UTA HD devices.
---
Audio Analyzer (Dual UTA HD) in Delay Measurements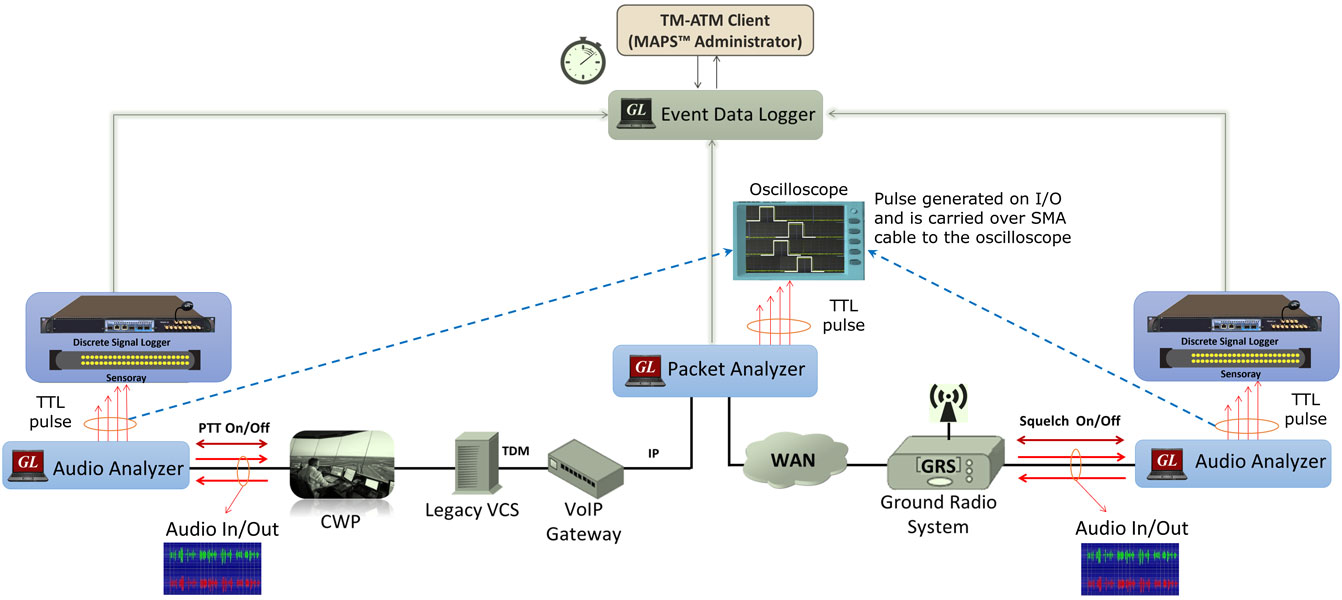 GL's Timing Measurements in Air Traffic Management (TM-ATM) test suite to accurately simulate end points in Air Traffic Management (ATM) network and provide critical timing measurements for various types of delay occurrences in signaling and voice transmission through the network. It includes all necessary hardware and software to identify, capture, timestamp, and correlate events at Analog, TDM and IP interfaces.
The TM-ATM solution includes various GL test tools such as Audio Analyzer (which uses GL's VQuad™), Packet Analyzer, Discrete Signal Logger (all these three components use GL's PacketExpert™ platform) and Software based Event Data Logger.
Refer to Critical Delay Measurements section for detailed information about the GL Test Tools used in the solution.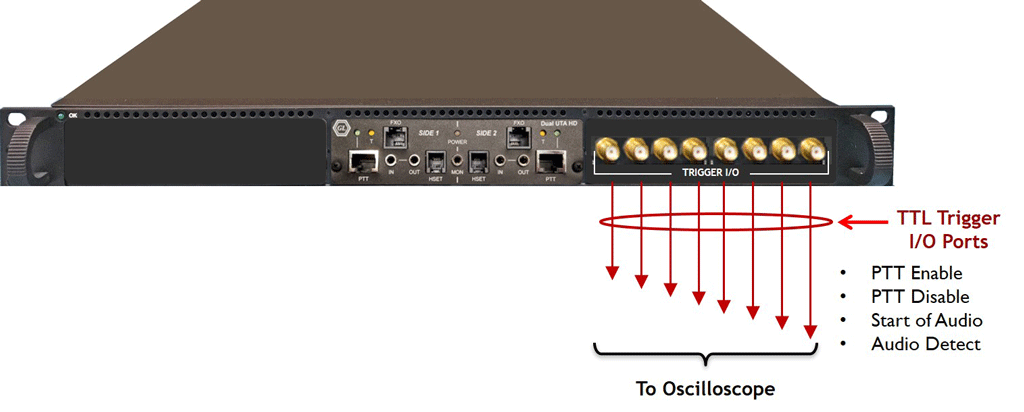 Audio Analyzer is a VQuad™ Dual UTA hardware-based rack appliance includes two audio channels/ports and 8 ports TTL triggers, which is used for Timing/Delay Measurement simulating radio calls from CWP in Air Traffic Management (ATM) network.
The Audio Analyzer is a 4-wire audio device that can connect to a CWP and emulate a controller by transmitting audio. It supports PTT interfaces to connect to CWP Dual Jack Module and other 4-wire interfaces. It can send a PTT signal through 4-Wire interface exactly as though a real user is holding PTT on the headset. It can also inject and record analog signals at CWP, Radio and VoIP gateway interfaces. The analyzer can generate TTL for different actions (PTT ON, PTT OFF, Send Audio, Detect Audio). The Audio Analyzer can also be utilized in other areas of the network where analog audio signals are present.
---
Land Mobile Radio System (LMRS) Evaluation for Transit Agency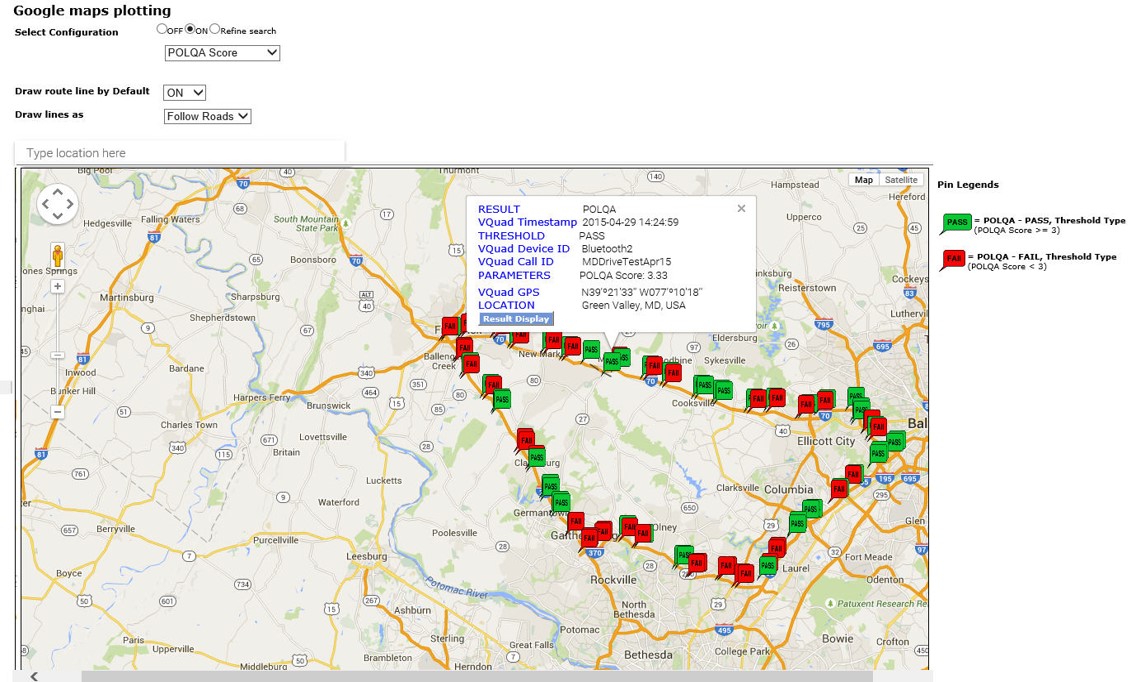 GL provides testing and GIS mapping services to its customers. A large transit agency in the eastern United States tasked GL to perform Received Signal Strength (RSSI) and Voice Quality Testing (VQT) by taking measurements along the agency's service routes. The objective was to evaluate the radio network used by maintenance workers, contractors and Emergency services.
GL collected the data and generated a report showing RSSI levels and VQT scores along the routes. GL used automated data collection tools for the field testing. The RSSI measurement tools included Anritsu Spectrum Analyzer, Drive Test Utility Software and GPS receivers. The VQT measurements were generated using GL provided test equipment. This included GL's VQuad™solution with Dual UTA HD hardware and the GL VQT software supporting PESQ (ITU-P.862) and POLQA (ITU-P.863) algorithms.
---
Measurements

GL's WebViewer™ system can view the quality of voice files being probed and captured from various network nodes in real-time and the generated reports can be sent via email or text message. Various Audio and Delay analysis metrics displayed includes RTD (ms), OWD (ms), PDD (ms), SNR (dB), Double-Talk, Speech Analysis, Drop-out, PTT Setup Time (ms), PTT Grant Tone Delay time, PTT Audio Connection Delay time, and PTT Network One Way Delay measurements from the VQuad™ nodes.