Critical Delay Measurements in
Air Traffic Management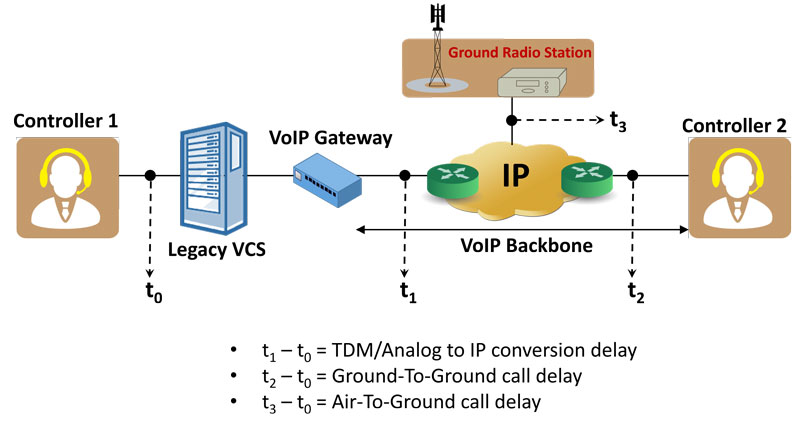 Overview
The latest EUROCAE (European Organization for Civil Aviation Equipment) ED-137 inter-operability standards, address migration and implementation of IP technology for voice services for air traffic control. The familiar industry standard SIP protocol is specified to establish, modify, and terminate voice sessions with endpoint equipment within an Air Traffic Services Ground Voice Network (AGVN).
As shown above, the endpoint equipment can be a SIP based Controller Working Position (CWPs), Next Generation Voice Communication Systems (VCS) and Radios, or VCS/Radio Gateways allowing interworking with older legacy equipment and protocols. The legacy TDM VCS system will initially connect to an IP WAN network backbone using VoIP gateways.
Though migrating to an IP network provides convergence advantages for traffic and interoperable network elements from various vendors, it also poses challenges – of variability of different implementations by equipment vendors. Some of these are: implementation of technologies with varied jitter buffer, packetization, digital signal processing algorithms, VOX operations, and switching from idle to active state. These implementation differences impact end-to-end delay requirements imposed by various industry standard bodies. Characterizing and limiting these impairments is critical to the performance of the system as a whole. Rigorous methods are needed to precisely measure the delay introduced by each network element as events propagate end-to-end. Recognizing, capturing, timestamping, and correlating events at analog, TDM and IP interfaces are necessary. Delay measurements should be conducted repeatedly to ensure that the device and network under test is performing as expected consistently over time.
GL has developed MAPS™ TM-ATM (Timing Measurements in Air Traffic Management) test suite to accurately simulate end points in ATM network and provide critical timing measurements for various types of delay occurrences in signalling and voice transmission through the network. It includes all necessary hardware and software to identify, capture, timestamp, and correlate events at Analog, TDM and IP interfaces.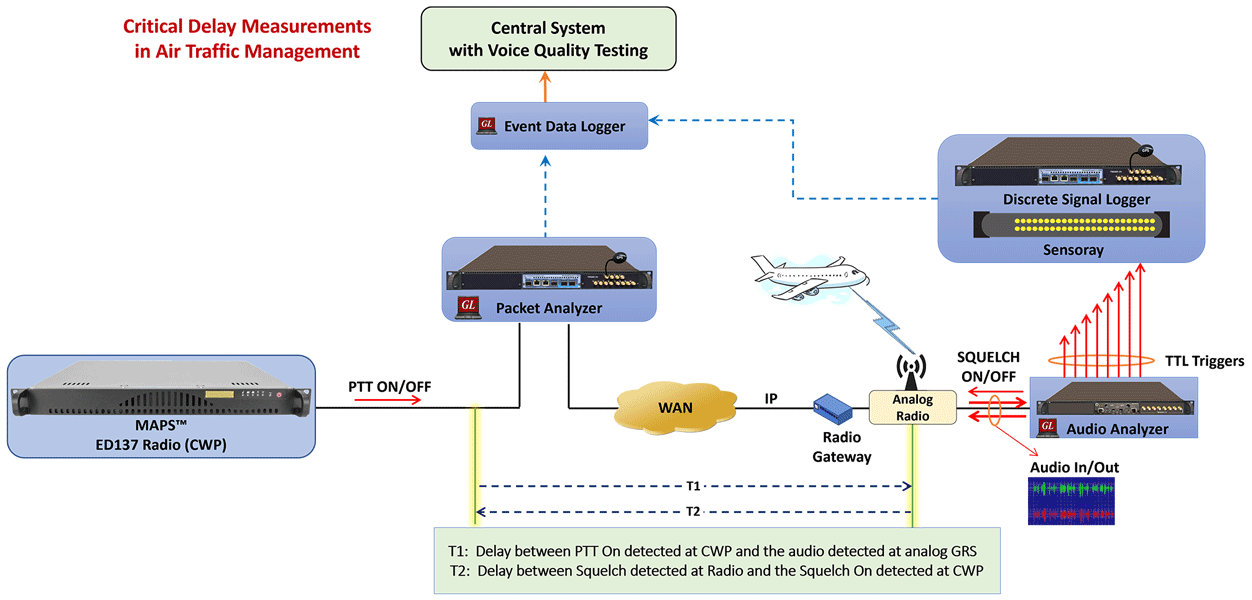 GL's TM-ATM Solution for Timing Measurements
The above TM-ATM solution includes various GL test tools such as Audio Analyzer (which uses GL's VQuad™) and Packet Analyzer, TTL Signal Packetizer, Event Data Logger (all these three components use GL's PacketExpert™- platform). All these components are controlled by a centralised component called MAPS™ Master Test Controller (MAPS™ MTC). All the components support a client server model, with the MAPS™ MTC acting as a client and controlling all the other components which act as servers, from a centralised location.
Refer to Delay Measurements section for detailed information about the GL Test Tools used in the solution.
Critical Events and Measurements of Interest
Events of Interest within Network as they propagate within Network:
PTT Activation and Deactivation
Squelch Enable and Disable
Voice to/from CWP
Voice to/from Radio
Various SIP Signaling
Transition in RTP Payload
Transition in RTP Headers
Network Delay measurements of interest:
Transmitter activation delay
Aircraft call indication delay
Ground transmission voice delay
Transmitter activation and aircraft call indication loopback delay
Ground reception voice delay
Ground transmission and reception voice loopback delay
Frequency key activation response time and more
Some of the standards bodies like the Federal Aviation Administration (FAA) in the USA has published specification for NVS system defining timing requirements in detail. The below TABLE extracted (from the FAA-E-NVS1_NVS-Specification_v1_1_2012-01-10 document: refer Table 3-9) depicts Setup/Teardown Throughput Timing Requirements during Peak Busy Hour (PBH) and Peak Busy Minute (PBM).
Type of Event

Max. Response Time, msec1,2 Percent of
Event Completions

95%

99.9%

99.99%

A/G Functions within the AVN

System-Generated A/G PTT Transmit (radio cross coupling)

40

45

Frequency Select

125

175

Frequency Deselect

125

175

Frequency cross couple Selection

125

175

Frequency cross couple Deselection

125

175

Frequency Preemption Activation

25

30

PTT Lockout (Preemption) Busy Tone

60

85

Frequency Site Selection

125

175

Frequency Site Confirmation

125

175

Local Receive Mute

50

75

Local Receive Mute Indicator

75

100

Local Receive Unmute

50

75

Local Receive Unmute Indicator

75

100
Also shown below, are timing requirements extracted from Eurocae standards document: (ED-136 - VoIP ATM System Operational and Technical Requirements Final Draft 2.0_Oct2008 refer Fig:10 and Fig:11)
To perform these timing measurements, one can setup MAPS™ TM-ATM (Timing Measurements in Air Traffic Management) tools at appropriate strategic interfaces. GL's MAPS™ TM-ATM is a custom suite of test tools, designed to accurately measure various types of delay occurrence in signalling and voice transmission. It includes all necessary hardware and software to identify, capture, timestamp, and correlate events at Analog, TDM and IP interfaces.
PacketExpert™ SA (PXE104)
The Packet Analyzer, Packetizer and Event Data Logger products are all 1U rack platforms based on the same GL's PacketExpert™ Ethernet/IP hardware; their functionalities differ through scripts that cater to different needs of test cycle. These tools are equipped with optional TTL I/O ports to trigger events of interest occurrence during tests.

PacketExpert™ – 1U Rack Unit
Packet Analyzer
Packetizer
Event Data Logger

4-Port PacketExpert™ w/ Embedded Single Board Computer (SBC).
SBC Specs: Intel Atom CPU, 4GB RAM, Windows 7, MSATA SSD, 2 USB Ports.
19" 1U Rackmount Enclosure.

Interface:

4 Total Ethernet ports
2 10/100/1000 Base-T Electrical only
2 1000 Base-X Optical OR 10/100/1000 Base-T Electrical
Single Mode or Multi Mode Fiber SFP support with LC connector

Dimension:

Length: 16 Inches
Width: 19 Inches

Power Source:

120-230 AC Power Supply

Connectivity:

2 x USB 2.0 (or 10/100 Mbps Management Ethernet)
1 x Serial COM port
1 x Display VGA (Video Graphics Array) port
2 x Ethernet (2 GBit) LAN ports
Optional 4-Port SMA Jack Trigger Board (TTL Input/Output)
Audio Analyzer (1U Rack)
GL's Audio Analyzer is a 1U rack platform that uses VQuad™ Dual UTA as the base hardware combined with SBC for PC interfaces. The Dual UTA includes PTT/Audio interface, required for radio interface simulation. With VQuad™, it is capable of automatically keying PTT from the CWP, then transmit and receive audio signals, and generate TTL triggers based on PTT activation.

Audio Analyzer – 1U Rack Unit
Audio Analyzer – Dual UTA

Dual UTA w/ Embedded Single Board Computer (SBC).
SBC Specs: Intel Atom CPU, 4GB RAM, Windows 7, MSATA SSD, 2 USB Ports.
19" 1U Rackmount Enclosure.

Interfaces

PTT Power LED
Trigger LED
Dual UTA LED
3.5mm (Monitor)
RJ-45 PTT/Audio Jack
PTT - Input/ Output Impedance - 600ohms, 1000 ohms and User-Definable

Features

4-Wire Balanced Audio and PTT Contact Closure Interface for connecting to the CWP Dual Jack Module as well as other 4-wire interfaces within the network
Provides 4 types of TTL output - PTT Enable, PTT Disable, Audio Trigger - Start of Audio, & Audio Detect
Precise One-Way Delay (OWD) measurements as well as event-based TTL or CMOS trigger outputs that can be fed to an oscilloscope
Voice Quality Assessment using industry-standard ITU algorithms (PESQ & POLQA)
4-Wire "Bridge" Mode – To monitor existing TMG's and provide event-based trigger outputs (for latency testing)
Test Automation Capabilities - GUI-based or SDK and CLI versions

Dimension

Length: 16 Inches
Width: 19 Inches

Power Source

120-230 AC Power Supply

Connectivity

2 x USB 2.0 (or 10/100 Mbps Management Ethernet)
1 x Serial COM port
1 x Display VGA (Video Graphics Array) port
2 x Ethernet (2 GBit) LAN ports
Optional 4-Port SMA Jack Trigger Board (TTL Input/Output)