PacketExpert™- Multi-Functional Ethernet/IP Test Solution
Next-Generation High-speed 10G Ethernet/IP testing tool for local area networks, industrial devices and applications, metropolitan area networks, wide area networks, and mission critical networks.
Request a Quote
Brochure
Platform Brochure
Overview
PacketExpert™ 10GX is a comprehensive Next-Generation 10G Ethernet/IP Tester supporting industry standard functionalities including wirespeed bit error rate testing (BERT), RFC 2544 / Y.1564 / RFC 6349 tests, packet capture, event-driven triggers and actions, traffic playback, impairment generation, stacked VLAN/MPLS tests, and many others.
The PacketExpert™ 10GX includes two 10/1 Gbps optical ports, and two 10/100/1000 Mbps electrical/optical capable ports. The 10/1 Gbps optical ports can be down-shifted to support 1 Gbps electrical ports, thus offering 4 electrical / 4 optical 1 Gbps ports for Ethernet testing. The same two 10 Gbps ports can be converted to 2.5 Gbps ports with an appropriate SFP and a simple software upgrade.
GL has recently introduced the PacketExpert™ 100G Ethernet/IP tester enabling the testing of 100G networks. This solution provides comprehensive testing capabilities at blazing speeds of up to 100Gbps for wire-speed Ethernet/IP networks. The newly developed PacketExpert™ 100G ensures a seamless user experience with its user-friendly web interface. By accessing the hardware through any standard web browser, you can conveniently control and manage the equipment from multiple locations using a variety of devices such as personal computers, laptops, and tablets
Detailed Features
10/100/1000 Mbps Electrical - 4 ports (2 RJ45 and 2 Copper SFP)
100 Mbps / 1 Gbps Optical - 4 ports (SFP)
2.5 Gbps Optical / Electrical - 2 ports (SFP)
10 Gbps Optical - 2 ports (SFP+)
Support for frame lengths from 64 bytes to Jumbo frames (up to 16000 bytes)
Portable form factor - software runs on a PC/laptop connected to the hardware via USB
Field testing form factor - software and hardware combined into a windows based box with WiFi support and Web based access. Access software from mobile or tablet connected via WiFi
Rack mount form factor - available in 1U rack unit with hardware and software running on a windows box with LAN management port
High density form factor - 1U/2U rack based units with 12 or 24 ports and an embedded Windows PC
Wirespeed Bit Error Rate Testing, optionally complemented by Remote Smart Loopback
ITU-T Y.1564, in conjunction with remote Smart Loopback
RFC 2544 - Throughput, Latency, Frame Loss, and Back-to-Back performance tests
RFC 6349 based TCP Throughput Testing - test with multiple TCP streams
Emulate impairments such as congestion, latency, loss, jitter and packet reordering
APIs provided in Python, and C# for easy automation and integration into tools such as Labview
PacketBroker - Aggregated Ethernet network tap and filter. Can include 12 transistor-transistor logic (TTL) triggers based on user defined packet detection
Multi stream traffic generation and analysis - send and receive multiple UDP streams and measure throughput, packet loss, delay, jitter and packet reordering at full wirespeed
Non intrusive packet filter/capture at wirespeed - capture and store the traffic for later analysis in GL propreitary or Wireshark formats
Smart Loopback - automatically swap MAC/IP Addresses or UDP Ports and loop back incoming traffic. Complements BERT, RFC 2544, Y.1564 and Multi stream UDP testing by acting as a remote responder
Playback previously recorded traffic to emulate real world traffic. Hardware based playback ensures highly precise timing reproduction
IPv4 and IPv6 compatibility
Stacked VLAN (QinQ) - up to 3 stacked VLAN supported
Stacked MPLS - up to 3 stacked MPLS support
Specifications
Stand alone Unit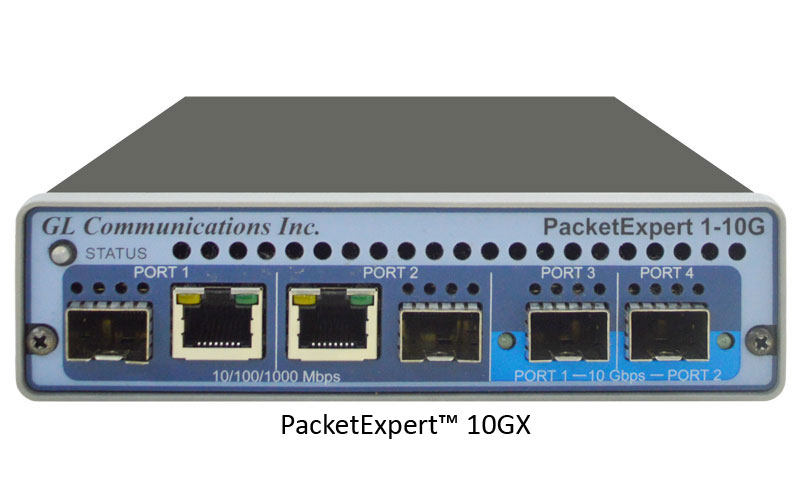 Physical Specification

Length: 8.45 in. (214.63 mm)
Width: 5.55 in. (140.97 mm)
Height: 1.60 in (40.64 mm)
Weight: 1.713 lbs
External Power Supply

+12 Volts, 3 Amps
(For portable units having serial number ≥ 188400)

+9 Volts, 2 Amps
(For portable units having serial number < 188400)

Temperature

Operating Temperature:

0° C to +50° C (only up to operating altitude of 5000 feet, and for Optical SFPs only i.e. Non Electrical SFPs)

+5° to +40° C (for operating altitude up to 10,000 feet, and for both Electrical and Optical SFPs)

Non-Operating Temperature: -30° to +60° C

Humidity

Operating Humidity: 0% to 80% RH
Non-Operating Humidity: 0% to 95% RH

Altitude

Operating Altitude: up to 10,000 feet
Non-Operating Altitude: up to 50,000 feet

Protocols

IEEE 802.3ae LAN PHY compliance
RFC 2544 compliance
Bus Interface - USB 3.0

Optional 4-Port SMA Jack Trigger Board
(TTL Input/Output)
mTOP™ Rack Units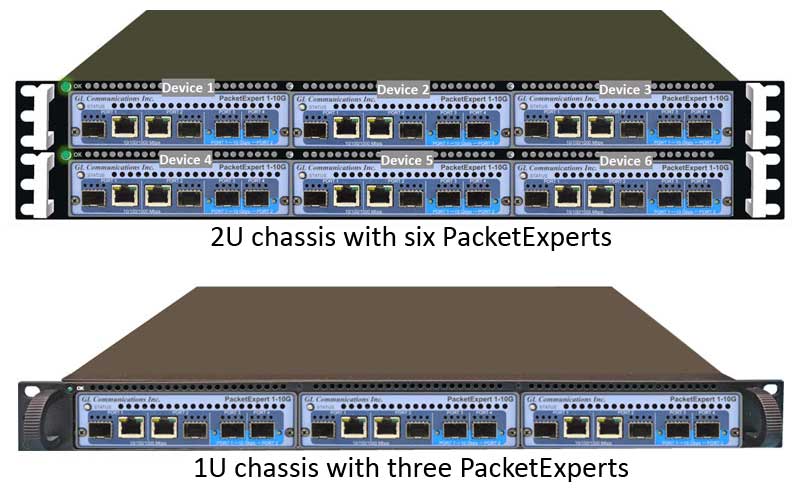 Physical Specification

Length: 16 in (406.4)
Width: 19 in (482.6)
Height: 1U / 2U
Weight: (not including the rails)

1U with 3x PXN100 : 11 lbs
2U with 6x PXN100 : 22 lbs
Power Supply : ATX Power Supply

Temperature

Operating Temperature:

0° C to +50° C (only up to operating altitude of 5000 feet, and for Optical SFPs only i.e. Non Electrical SFPs)

+5° to +40° C (for operating altitude up to 10,000 feet, and for both Electrical and Optical SFPs)

Non-Operating Temperature: -30° to +60° C

Humidity

Operating Humidity: 0% to 80% RH
Non-Operating Humidity: 0% to 95% RH

Altitude

Operating Altitude: up to 10,000 feet
Non-Operating Altitude: up to 50,000 feet

Rack Enclosures

1U mTOP™ (MT001 + 3x PXN100)
Rackmount Enclosure can support up to 3 PXN100s

2U (6x PXN100)
Rackmount Enclosure can support up to 6 PXN100s

Optional 4 to 12 Port SMA Jack Trigger Board
(TTL Input/Output)
Embedded PC Specifications

Intel Core i3, Win10 Pro 64-bit OS

USB 3.0 Hub, ATX Power Supply

Min 128GB Hard drive, 8G Memory
mTOP™ probe Unit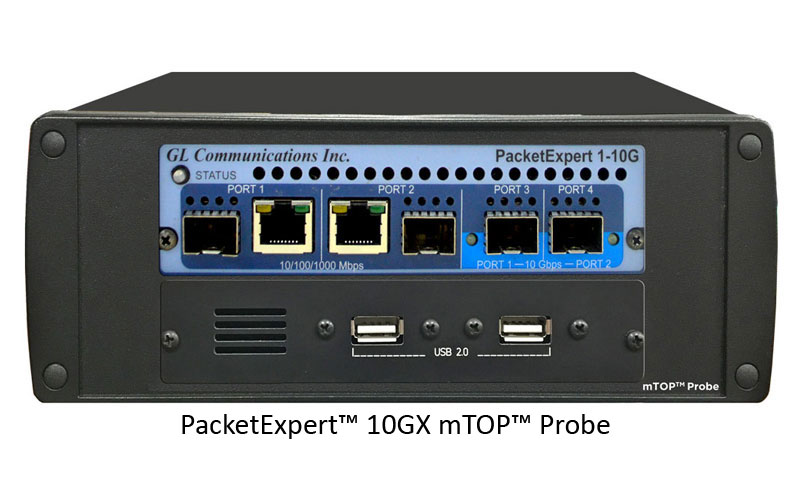 Physical Specification

Length: 10.4 in. (264.16 mm)
Width: 8.4 in. (213.36 mm)
Height: 3.0 in. (76.2 mm)

Optional 4-Port SMA Jack Trigger Board
(TTL Input/Output)

External USB based Wi-Fi adaptor
External Power Supply: +12 Volts, 3 Amps

Temperature

Operating Temperature:

0° C to +50° C (only up to operating altitude of 5000 feet, and for Optical SFPs only i.e. Non Electrical SFPs)

+5° to +40° C (for operating altitude up to 10,000 feet, and for both Electrical and Optical SFPs)

Non-Operating Temperature: -30° to +60° C

Humidity

Operating Humidity: 0% to 80% RH
Non-Operating Humidity: 0% to 95% RH

Altitude

Operating Altitude: up to 10,000 feet
Non-Operating Altitude: up to 50,000 feet

SBC Specifications

Intel Core i3 or optional i7 NUC Equivalent,

Windows® 10 64-bit Pro Operating System

USB 2.0 or 3.0 Ports, ATX Power Supply

256 GB Hard drive, 8G Memory (Min)

Two HDMI ports (Optional VGA to HDMI interface)
Ethernet Testers
PacketExpert™ 100G
Both Port 1 and Port 2 supports Optical QSFP+ with 100Gbps/50Gbpg/40Gbps
Provides options to downshift to 1Gbps/10Gbps/25Gbps rates using the SFP modules and adapters
PacketExpert™ 10GX
2x Optical 10 Gbps ports (10 Gbps BASE-SR, -LR -ER full-duplex SFP)

2x 100 Mbps Base-FX optical interface

2x 2.5 Gbps Electrical ports

4x Electrical 10/100/1000 Mbps ports (Base-T Electrical) OR 4x 1 Gbps Optical (Base-X Optical SFP)



Includes 10 Gbps ports downshift to 1 Gbps
In 10GX platform 1G mode, each port can be either Electrical or Optical

Switch between electrical and optical

PacketExpert™ 1G
All 4 ports can be electrical supporting 10/100/1000 Mbps Full Duplex mode
2 of the 4 ports can be optical supporting 1000 Mbps line rate Full Duplex mode
A complete comparison of all PacketExpert™ platforms is available
Ethernet Testers - Comparison
Buyer's Guide
| Item | Product Description |
| --- | --- |
| PXX100 | PacketExpert™ 100G Platform (1G, 10G, 25G) |
| PXX101 | Basic Software (Required for PXX100) |
| PXX103 | Basic Software per additional Card |
| PXX105 | 40G, 50G, 100G Optional Software |
| PXX107 | PacketExpert™ 100G - Two Card / 4 Port Platform |
| PXX109 | Optional Software for CLI Support |
Resources
PacketExpert™ 10GX - Brochures
PacketExpert™ 10GX - Presentations
PacketExpert™ 10GX - Sample Reports - PDF
All PacketExpert Platforms - PDF
Webinar
Comprehensive Ethernet Testing Solutions
Comprehensive Ethernet Test Solutions
WAN Impairment Simulation for Packet and TDM/Analog Networks
Wide Area Network Emulators IPNetSim™ 10G & 1G
ExpertTCP™ - TCP Throughput Testing Methodology
All Webinars
Product Videos
PacketExpert™ - Multi-Stream Traffic
PacketExpert™ - IPNetSim
PacketExpert™ - BERT With Loopback Testing
More Videos