PacketExpert™- Multi-Functional Ethernet Test Solution
High-speed Ethernet test solutions for local area networks, industrial devices and applications, metropolitan area networks, wide area networks, and mission critical networks.
Brochure
Test Solutions
Description
PacketExpert™ 10GX, a multi-functional ethernet tester supporting both Electrical and Optical interfaces, various functionalities and 1G/2.5G/10G capable ports within a single pod for comprehensive testing of wirespeed Ethernet/IP networks. Supported Industry standard functionalities include wirespeed BERT, capture-packets-of-interest and decode, generate events-driven triggers and actions, multi-stream playback, impairment generation, perform RFC2544 / Y.1564 / RFC6349 tests, Stacked VLAN/MPLS tests, and many others.
The PacketExpert™ 10GX includes two 10/1 Gbps Optical ports, and two 10/100/1000 Mbps Electrical/Optical capable ports. The 10/1 Gbps Optical ports can be down-shifted to support 1Gbps Electrical ports, thus offering 4 Electrical / 4 Optical 1 Gbps ports for ethernet testing. The same two 10 Gbps ports can now be converted to 2.5 Gbps ports with an appropriate SFP and a simple software upgrade.
The PacketExpert™ 10GX hardware is more compact with reduced power requirements for high performance and adds 12-port user-configurable TTL trigger option as an important enhancement.
Webinar
Detailed Features
10/100/1000M Electrical - 4 ports (2 RJ45 and 2 Copper SFP)
100M/1G Optical - 4 ports (SFP)
2.5G Electrical - 2 ports (Copper SFP)
10G Optical - 2 ports (SFP+)
Portable form factor - software runs on a PC/laptop connected to the hardware via USB
Field testing form factor - software and hardware combined into a windows based box with WiFi support and Web based access. Access software from mobile or tablet connected via WiFi
Rack mount form factor - available in 1U rack unit with hardware and software running on a windows box with LAN management port
High density form factor - 1U/2U rack based units with 12 or 24 ports, with Windows box
Wirespeed Bit Error Rate Testing, optionally complemented by Remote Smart Loopback
ITU-T Y.1564, in conjunction with remote Smart Loopback
RFC 2544 - Throughput, Latency, Frame Loss, and Back-to-Back performance tests
RFC 6349 based TCP Throughput Testing - test with multiple TCP streams
Network Emulation - emulate WAN conditions like Bandwidth, congestion and impairments like Latency, Loss and Jitter, Packet Reordering
APIs provided in multiple languages - Python and C# for easy automation and integration into automation tools like Labview
PacketBroker - non intrusively tap into Ethernet traffic and capture selective traffic at full bidirectional wirespeed. Optional 12 TTL triggers allow to generate TTL trigger on user defined packet detection
Multi Stream traffic Generation and Analysis - Send and Receive multiple UDP streams (in conjunction with remote Smart Loopback), and measure Throughput, Packet Loss, Delay, Jitter and Packet Reordering, All from a single port at full wirespeed
Non intrusive packet filter/capture at wirespeed - capture and store the traffic for later analysis in GL propreitary or Wireshark formats
Smart Loopback - automatically swap MAC/IP Addresses or UDP Ports and loop back incoming traffic. Complements BERT, RFC 2544, Y.1564 and Multi stream UDP testing by acting as a remote responder
Playback of canned traffic - playback GL proreitary or Wireshark canned traffic files to emulate real world traffic. Hardware based playback ensures highly precise timing reproduction
IPv4, IPv6 testing - test results include IP checksum Errors, IPv4 Packets, IPv6 Packets, IP Non-Test Packet, IP, UDP, TCP, ICMP, IGMP, IGRP, and Other Protocols in IP Packet.
Stacked VLAN (QinQ) - upto 3 stacked VLAN supported
Stacked MPLS - upto 3 stacked MPLS support
Specifications
Stand alone Unit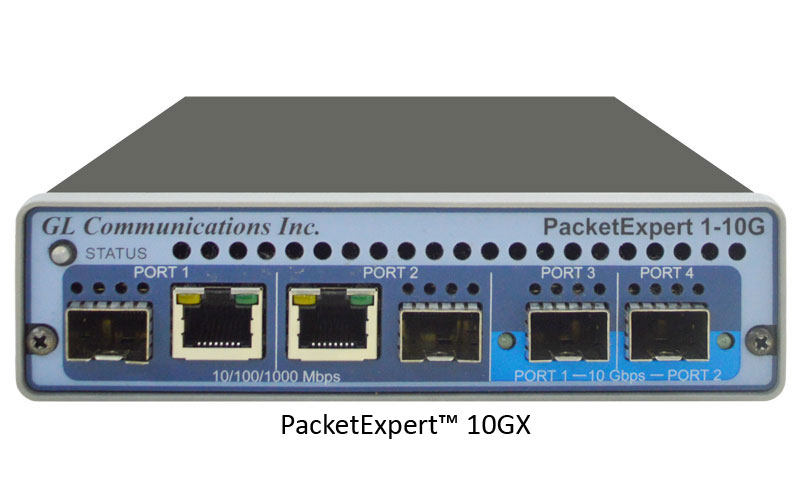 Physical Specification
Length: 8.45 in. (214.63 mm)
Width: 5.55 in. (140.97 mm)
Height: 1.60 in (40.64 mm)


External Power Supply - +9 volts, 2.0 Amps


Protocols
IEEE 802.3ae LAN PHY compliance
RFC 2544 compliance


Bus Interface - USB 3.0
Optional 4-Port SMA Jack Trigger Board
(TTL Input/Output)
mTOP™ Rack Units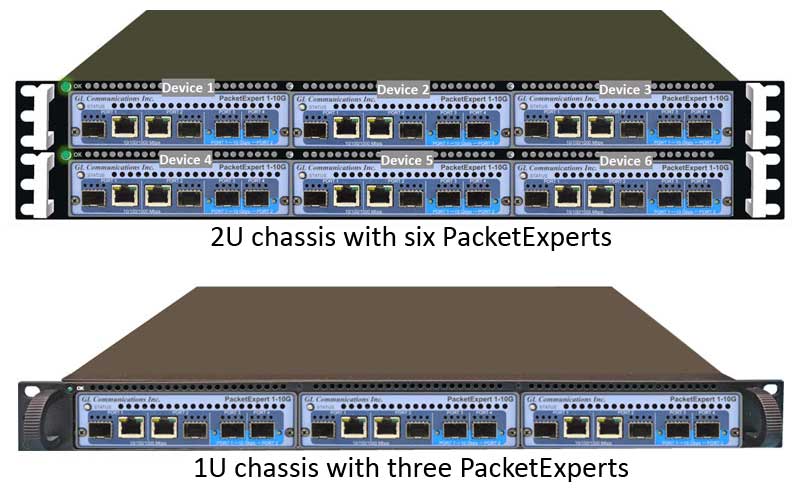 Dimension
1U/2U mTOP™ - 19" W x 16" L


Rack Enclosures
1U mTOP™ (MT001 + 3x PXN100)
Rackmount Enclosure can support up to 3 PXN100s
2U mTOP™ (MT003 + 6x PXN100)
Rackmount Enclosure can support up to 6 PXN100s
Optional 4 to 12 Port SMA Jack Trigger Board
(TTL Input/Output)


Embedded PC Specifications
Intel Core i3, Win10 Pro 64-bit OS
USB 3.0 Hub, ATX Power Supply
Min 128GB Hard drive, 8G Memory
mTOP™ probe Units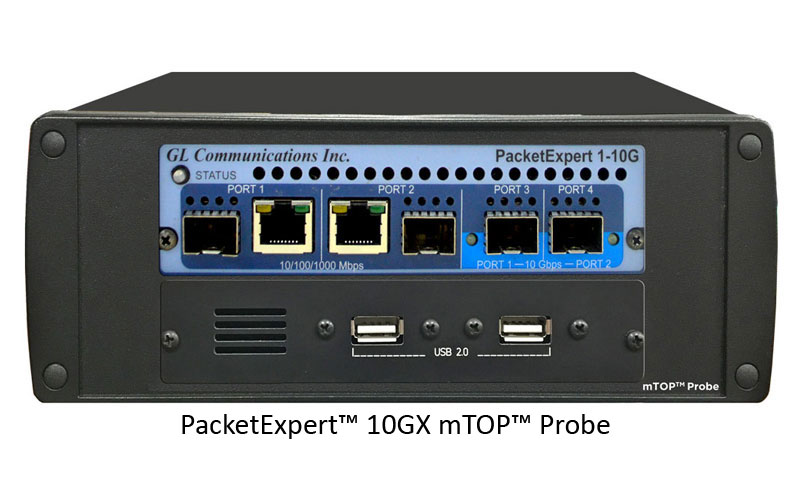 Physical Specification
Length: 10.4 in. (264.16 mm)
Width: 8.4 in. (213.36 mm)
Height: 3.0 in. (76.2 mm)


Optional 4-Port SMA Jack Trigger Board
(TTL Input/Output)
External USB based Wi-Fi adaptor


SBC Specifications
Intel Core i3 or optional i7 NUC Equivalent,
Windows® 10 64-bit Pro Operating System
USB 2.0 or 3.0 Ports, ATX Power Supply
256 GB Hard drive, 8G Memory (Min)
Two HDMI ports (Optional VGA to HDMI interface)
Ethernet Testers
PacketExpert™ 10GX
2x Optical 10 Gbps ports (10 Gbps BASE-SR, -LR -ER full-duplex SFP)

2x 100 Mbps Base-FX optical interface

2x 2.5 Gbps Electrical ports

4x Electrical 10/100/1000 Mbps ports (Base-T Electrical) OR 4x 1 Gbps Optical (Base-X Optical SFP)



Includes 10 Gbps ports downshift to 1 Gbps

In 10GX platform 1G mode, each port can be either Electrical or Optical


Switch between Electrical to Optical anytime

PacketExpert™ 1G
All 4 ports can be electrical supporting 10/100/1000 Mbps Full Duplex mode
2 of the 4 ports can be optical supporting 1000 Mbps line rate Full Duplex mode
A complete comparison of all PacketExpert™ platforms is available
Ethernet Testers - Comparison
Resources
PacketExpert™ 10GX - Brochures
PacketExpert™ 10GX - Presentations