Test Solutions for Wire-speed 10 GigE Networks
The High-speed 10 Gbps links are widely found in the local area, the metropolitan area, and the wide area networks, as it provides a cost-effective and less complex Ethernet solution to aggregate and manage data between diffrent networks. The 10 Gbps Ethernet offers data speeds up to 10 billion bits per second, generally over single mode or multimode fibre optic lines. It is also referred to as 10 GE, 10 GigE, or 10 GbE. 10 Gbps is compatible with existing Ethernet protocols and can be easily integrated into existing networks.
Testing the voice, video, and data performance over the high-speed 10 Gbps links is extremely challenging and requires specialized test tools. GL test tools for high speed networks allows you to monitor, test, and troubleshoot performance issues. These test tools are outlined below –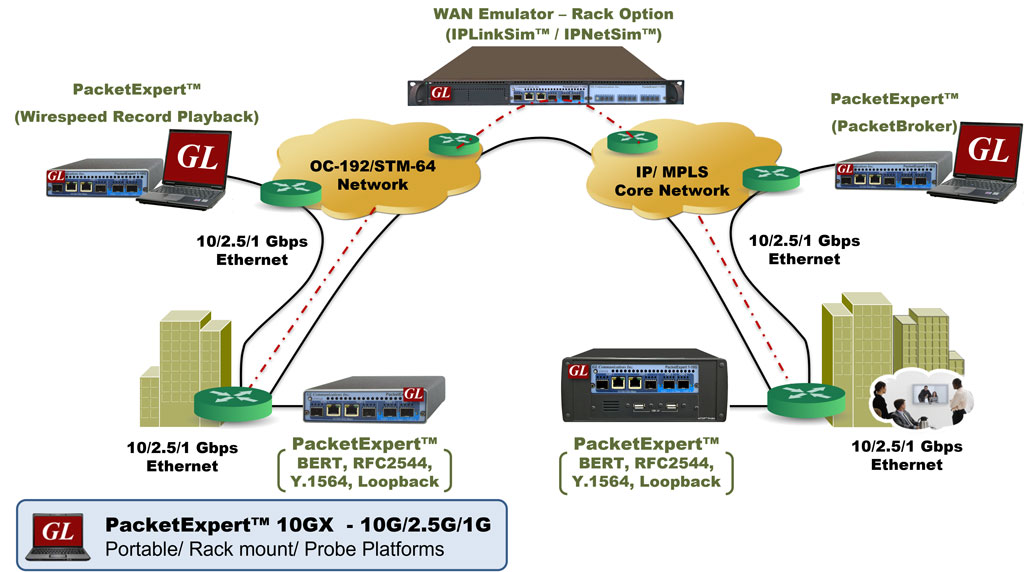 GL's PacketExpert™ 10G with two 10 Gbps Optical Ports and two 10/100/1000 Mbps Electrical/Optical Ports provides comprehensive testing of 10 Gbps/1 Gbps Ethernet/IP networks. With the capability to generate/receive traffic with stacked VLAN (Q-in-Q) and stacked MPLS, PacketExpert™ 10G finds use in testing a wide range of networks - from testing individual links/switches, testing local Ethernet/IP networks (LAN), end to end testing of Wide Area Networks (WAN), testing Core/MPLS networks, and much more.
Varieties of testing on 10 Gbps networks can be performed with a single tool - PacketExpert™ 10G. Optional functionalities (WAN Link Emulation, Y.1564 Testing, Record-Playback, PacketBroker™) can be easily added to the basic application to meet all the testing requirements on a high-speed Ethernet network.

IPNetSimô 1U Rack
GL's IPLinkSim™ and IPNetSim™ products support WAN emulation. These products are capable of emulating a WAN link, and introducing typical WAN impairments like Bandwidth Throttling, Latency, Jitter, Packet Loss, Packet Reordering, Packet Duplication, Packet Corruption, Congestion emulation etc. Both the products act as a transparent Ethernet bridge and can be connected between two LANs easily emulating a WAN link in the lab.

IPNetSim™ supports user defined streams to classify the traffic into upto 4 streams, and applying separate impairments for each stream independently, thus emulating multiple WAN links within a single device. It also supports bi-directional full wirespeed emulation i.e. approximately 30 million packets/sec in each direction aggregating to a total 60 million packets/sec.

IPLinkSim™ supports single stream only, and applies the same impairments to all the traffic without segregating the traffic. In addition to the above impairments, IPLinkSim™ supports congestion emulation by allowing background traffic emulation.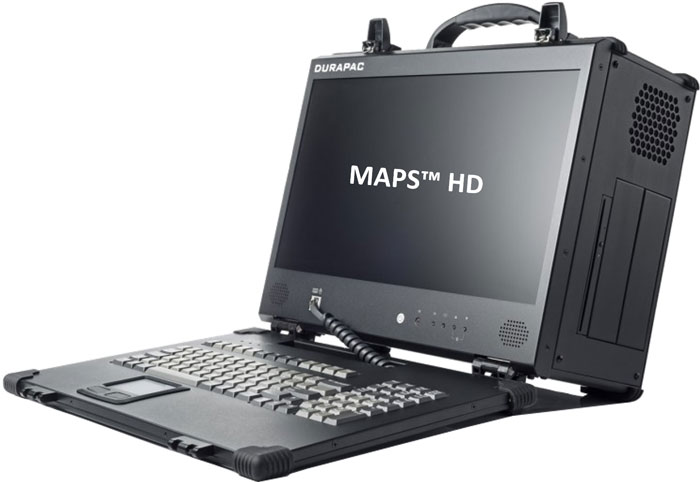 MAPS™ (Message Automation and Protocol Simulation) HD is an advanced bulk call generator used to simulate high volume calls with traffic at 1 Gbps to 10 Gbps. It is available as special purpose rackmount network appliance that is capable of high call intensity (hundreds of calls/sec) and high volume of sustained calls (tens of thousands of simultaneous calls/platform). The network appliance performs signalling and traffic generation for a vast array of communication protocols covering IP and Wireless networks.
MAPS™ HD network appliance is designed to easily achieve up to 20,000 endpoints per appliance (5000 per port). Using a stack of multiple servers, a larger test system with 100K-200K calls (all controlled from a single Master Controller) is achievable for enterprise to carrier grade testing.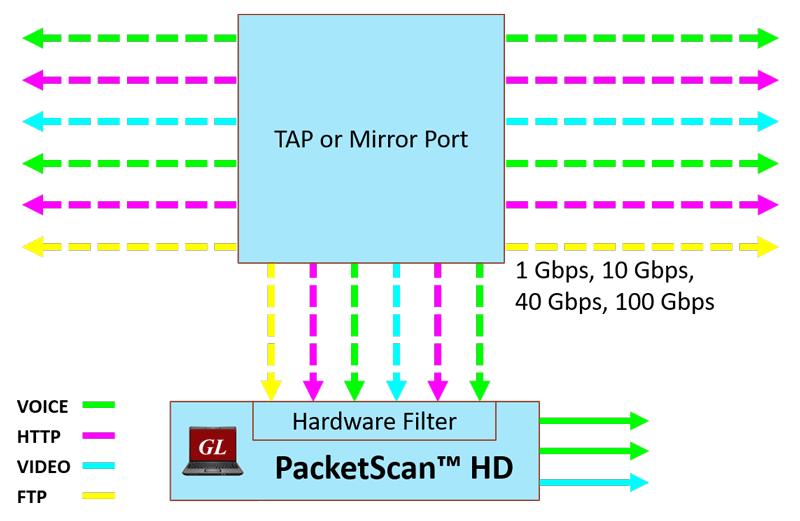 10Gbps Network Traffic Monitoring Appliance
GL's also offers PacketScan™ HD, a 2U rack mounted Network Monitoring Appliance which supports simultaneous capture and processing of up to 5000 Calls with duplex traffic at 1 Gbps to 10 Gbps.
GL's also offers PacketScan™ HD an advanced network monitoring appliance which can capture and analyze high volume calls with traffic. PacketScan™ HD is a high density multi-protocol 2U rack mounted Network Monitoring Appliance w/ 4x1GigE (PKV120) and w/2x10GigE (PKV122) that can capture and process high volumes of communication protocols over IP and Wireless networks.
PacketScan™ HD supports simultaneous capture and processing of up to 5000 Calls with duplex traffic at 1 Gbps to 10 Gbps. Almost all VoIP and Wireless protocols over IP transport layer, as listed below, can be captured and decoded for troubleshooting network problems.

Back to Latest News Page