vMobile™ - Ultra-Portable Equipment for Voice & Data Testing
Simple to setup and conduct simultaneous voice and data quality tests to benchmark performance of any type of telephony devices
Request a Quote
Brochure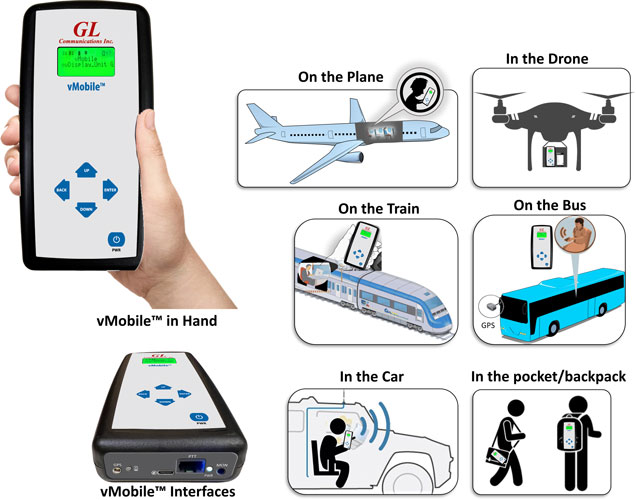 Overview
vMobile™ is GL's new offering under its wide variety of Voice and Data Quality testing tools. The vMobile™ is a handheld ultra-portable device that brings true mobility to voice and data quality testing for any mobile phone and any mobile radio, changing the way automated drive and walk testing is performed. The vMobile™ is simple to setup and operate for running these tests in order to benchmark both mobile phone networks and mobile radio networks.
The vMobile™ handheld device supports fully automated audio testing for mobile phones (any phone, any carrier, any network) including Voice Quality using POLQA, Delay measurements, Audio Dropout analysis, and full call control with Call Fail and Call Drop metrics. All tests include GPS location for plotting results and events within Google Maps using the GL WebViewer™.
In addition, the vMobile™ device supports fully automated audio testing for mobile radios (including connectivity to any 4-wire analog device). This allows remote testing of mobile radios with automated PTT (Push to Talk) along with Voice Quality and Delay measurements.
The vMobile™ can be hand-carried for walk and drive testing (includes GPS) as well as left in labs and can work directly with GL's VQuad™ solution for very flexible end-to-end testing. All functionality and configuration of the vMobile™ is provided using the remote web-based Console and Console App which is installed on any Android or iOS device. In essence, the vMobile™ is an expansion of GL's current VQuad™ Voice and Data testing solution.
The vMobile™ handheld portable hardware includes two Bluetooth® modules (connecting to two mobile phones simultaneously), a 4-wire analog port with PTT for connecting to any mobile radio or any analog headset interface, an embedded Wi-Fi module for communicating to the Central System, and an onboard GPS receiver. The user can easily select either Bluetooth or Analog mode. The embedded Wi-Fi supports remote operation along with remote audio analysis and sends all results/events to a Central Database, accessed through GL WebViewer™ (web browser).
Indoor Tracking System (ITS) functionality provides plotting of the VQT results to the indoor location where GPS is not available. Indoor locations could include underground train stations, inside buildings, tunnels, or any location where you wish to plot Voice Quality and GPS is not available. The ITS results include the VQT measurements (based on user-defined ratings) plotted against the user-provided graphical location map. ITS is an optional application available within the VQuad™ and vMobile™ for both online and offline viewing of the results associated with the ITS.
GL's Voice Analysis Tool (VAT™) application is used to analyze the audio content within any PCM audio files and generates a variety of audio metrics. VAT™ has a user-friendly interface to perform manual and automated analysis of multiple tests using a single PCM audio file received from the VQuad™, vMobile™, or any other applications.
GL's Voice Quality Testing (VQT) software utilizes various ITU standard algorithms, including Perceptual Objective Listening Quality Assessment (POLQA) version 2.4 and optional upgrade version 3 (ITU-T P.863), Perceptual Evaluation of Speech Quality (PESQ ITU-T P.862), PESQ LQ/LQO (P.862.1), and PESQ WB (P.862.2) to support next-generation voice quality testing standards for fixed, mobile, and IP-based networks. The software evaluates voice quality across multiple parameters by analyzing received (degraded) files and comparing them with sent (reference) files using both manual and automated methods.
GL also offers an advanced, automated solution VQT POLQA Auto™ that evaluates thousands of voice files in mere minutes, utilizing the industry benchmark algorithm POLQA (ITU-T P.863 version 2.4) to evaluate voice quality across various applications, including VoIP, Mobile, and PSTN networks.
Both VQT and VQT POLQA Auto™ applications work in conjunction with GL's VQuad™, vMobile™, Voice Analysis Tool (VAT™), Message Automation and Protocol Simulation (MAPS™), or T1/E1 Analysis platforms, increasing efficiency and reducing analysis time. Users can access all associated results through the GL WebViewer™ central database via any web browser providing a comprehensive solution for measuring, analyzing, and optimizing voice quality across a range of networks and applications.
---
Main Features
Fully automated voice and data testing in any mobile network
Automation includes remote operation of far-end vMobile™ or GL VQuad™ system
Connect to any radio via wired headset
Can operate either in Bluetooth mode or Analog mode (connect to any 4-wire Analog device including Mobile Radio with PTT)
Automated mobile Voice Quality Testing using embedded Wi-Fi for connecting to Central system and supporting full remote configuration and operation
Onboard battery with availability of small portable external battery providing up to 12 hours operation
Hand Portable including several remote options for operation and configuration
Operation and Configuration supported via web-browser Console or Android/IOS Console app
Drive and Walk Testing fully supported using any Mobile Phone (any carrier) or Mobile Radio
Supports GPS along with GL's ITS for automated drive and walk testing
Supports Voice Quality Testing using POLQA (ITU-P.863) and PESQ (ITU-P.862) algorithms
Supports several audio metrics including Signal and Noise levels, power, frequency, and Audio Dropout analysis
vMobile™ scripting supports all operations including conditional statements
Bluetooth supports both Narrowband (NB, 8000 sampling) and Wideband (WB, 16000 sampling)
Supports fully automated operation including voice and enabling PTT
Analog PTT supports Narrowband (NB, 8000 sampling), Wideband (WB, 16000 sampling), and Super-Wideband (SWB, 48000 sampling)
Measure One Way Delay, PTT Audio Connection Delay time, PTT Grant Tone Delay time on Radio networks
Fully automated tests while sending events/results to Central System for analysis and Access (WebViewer™)
Full Audio Analysis using GL VAT™ supports One Way and Round-Trip Delay measurements, Signal and Noise Levels, Speech Activity, Audio Dropout Analysis along with additional analytical functions
Access all results via a web browser (GL WebViewer™) and view results on Google Maps. Generate custom reports
Working Principle
vMobile™ Configuration and Operation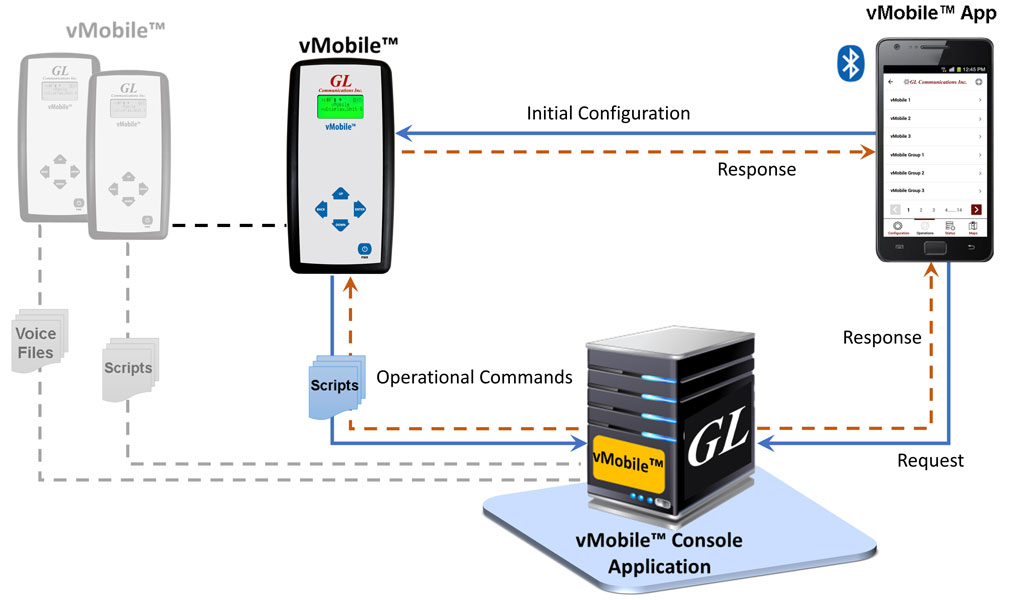 The vMobile™ Console application for Android/IOS devices can be used to monitor, configure, and operate vMobile™ units. In addition, the app can be used to write vMobile™ scripts and upgrade vMobile™ units when necessary. Multiple vMobile™ units can be controlled from one vMobile™ app.
The vMobile™ Console, running on the central system, has the same functionality as the vMobile™ app. In addition, the Console and Console app can access Bluetooth and Error logs from the individual vMobile™ units. Configuration settings include connections to the Central System and Console, Wi-Fi Network connection, Bluetooth connection for the mobile test phones, sample rate, mode of operation (Bluetooth or Analog PTT), all configured from the Console and Console app.
vMobile™ can also work with VQuad™ solution (vMobile™ in the field and VQuad™ with Dual UTA HD or VQuad™ Probe in the lab or static location). Both the systems connect to Central System and WebViewer™. Central Database with WebViewer™ allows access to all events and results while also plotting results on Google Maps.
Automated Call Control via Bluetooth®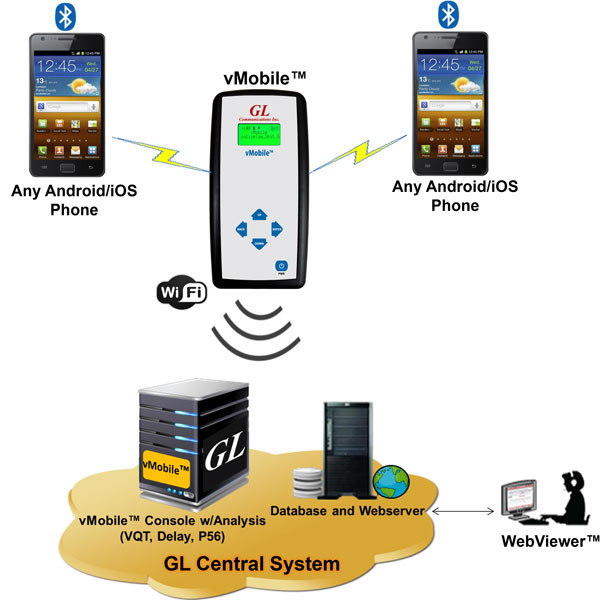 The Bluetooth® modules on vMobile™ connect to two independent mobile phones to perform automated voice quality analysis along with delay measurements on Bluetooth® enabled mobile devices.
Supports Mobile (5G, VoLTE, VoWi-Fi, VoFemto, 3G) network with both NB and WB voice
Supports Bluetooth connection to any Mobile phone, any Carrier and any Network
Voice Quality Analysis using POLQA algorithm of recorded voice files, supporting legacy as well as 5G and VoLTE networks
Bluetooth® connectivity also supports RSSI, Battery level functions, and Network identity
---
Automated Analog (4-Wire) Testing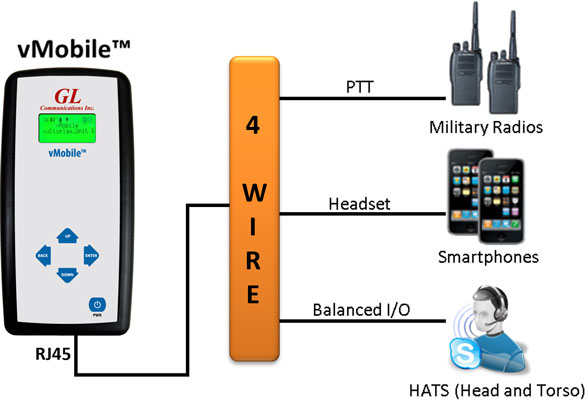 The vMobile™ can interface with mobile phones via wireless Bluetooth or mobile radios via wired headset for voice quality testing. When connected to a mobile radio, fully automated PTT operation is available within the vMobile™ automated scripting. In addition, the vMobile™ 4-wire analog interface replaces any analog headset for any device.
Connect to any mobile radio as an analog headset or replace an analog headset to the device
Connect to any mobile phone via wireless Bluetooth headset
Fully automated testing including control of device and performing voice quality analysis
Automated Voice Quality Testing

Network-independent VQT – Supports legacy, as well as Next Generation networks
POLQA (ITU-T P.863), PESQ (ITU-T P.862), PESQ LQ, LQO (P.862.1), PESQ WB (P.862.2)
Call control analysis (Failed Calls, Dropped Calls, and Call ID)
Includes Text-to-Speech technology for automatically creating the necessary voice prompt for placing call over Siri or Google Voice
Supports POLQA v2.4 and POLQA v3 (NB, WB, and SWB) measurements
Supports both Narrow band (NB) and Wideband (WB) audio codecs (both 8k and 16k samples/sec) for Bluetooth interface
Supports Narrow band (NB), Wideband (WB) and Super Wide-Band (SWB) for PTT interface
For more details, refer to Voice Quality Testing (VQT) Software and Automated POLQA Voice Quality Testing Software webpages.
Voice Analysis Tool (VAT™)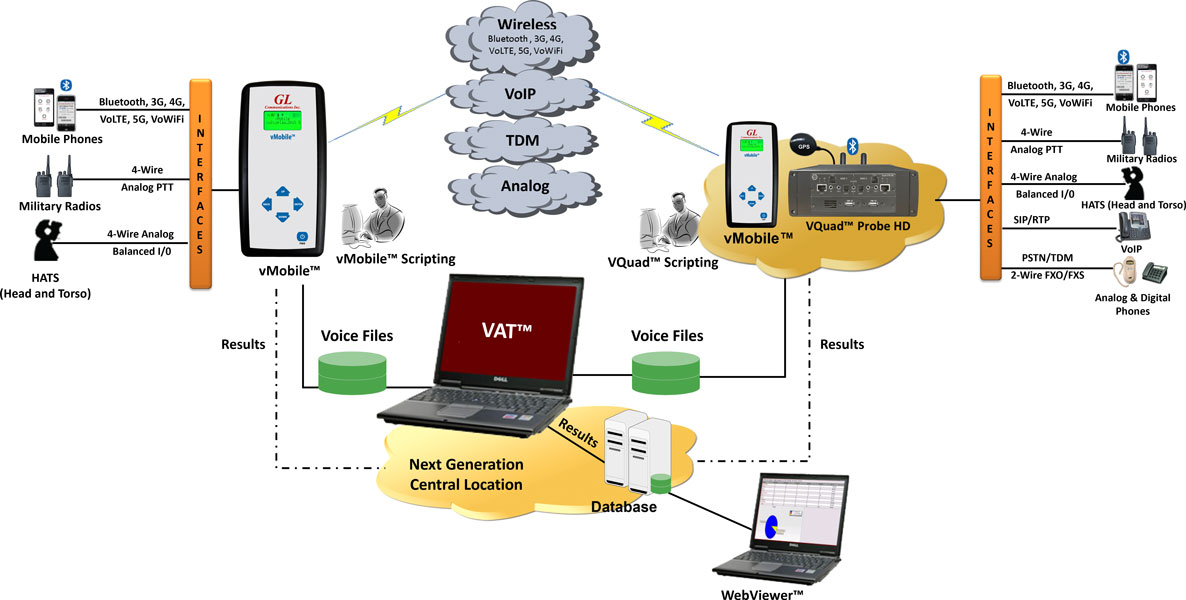 GL VAT™ supports analyzing any Raw PCM voice file including NB, WB and SWB. Audio files can be generated from any application including GL VQuad™ and vMobile™
Fully automated operation with all results provide in log file and sent to the GL Central Database, and accessed using the GL WebViewer™ (web browser)
Remote operation supported using the VAT™ CLI
Audio analysis includes, Round Trip and One Way Delay, Dropout Audio analysis, Double-Talk, Power Level and Frequency Analysis, Speech Activity, Active Speech Level and Noise Level, DC Offset
Supports VQT™ analysis when coupled with the GL VQT™ software
Supports multiple analytical tests per individual voice file
For more details, visit Voice Analysis tool (VAT™) Software webpage.
Delay Measurements
Both sides of the established call may be co-located on same vMobile™ or geographically separated
One Way Delay (OWD) - vMobile™ includes an advanced method for performing One Way Delay (OWD) measurements using a Correlator algorithm using Voice Analysis Tool (VAT™)
Round Trip Delay (RTD) – the enhanced correlator algorithm method for accurate RTD measurements supported on vMobile™ using VAT™ application
The measurements require GPS only for OWD and if the two sides of the call are geographically separated (not on same vMobile™)
Post Dial Delay (PDD)
Audio analysis of any recorded voice file for both Power and Frequency. RMS power and frequency response outputs are necessary for testing the network for full WB voice support
For more details, visit Network Delay Measurements webpage.
Automated Data Quality Testing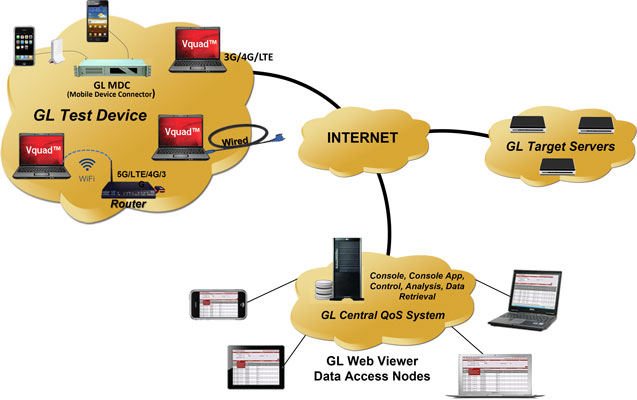 vMobile™ support Data Testing including TCP, UDP, VoIP, Route, HTTP, FTP, DNS, SMS, Email, PhoneInfo, SimInfo, and UEInfo. The Data Tests are configured via the vMobile™ scripting and supports Wireless devices as well as PC Ethernet connections (wired, WiFi, Broadband 5G/4G LTE/3G).
Network independent, supports 5G, 4G LTE, 3G, WiMax, and Wired Internet connections
Supports Mobile devices (i.e. iPhone, Android)
Supports PC Ethernet connection (Wired, Wi-Fi, Broadband (5G or 4G or 3G))
Different type of tests supported - TCP, UDP, HTTP, FTP, DNS, VoIP, Route, SMS, Email, PhoneInfo, SimInfo, and UEInfo
End-to-End SMS Testing over wireless network directly and remotely
Remotely perform Data tests from GLNetTestApp on mobile devices (iPhone, Android); this requires connection with Mobile Device Controller server. Mobile device communicates with Mobile Device Controller from anywhere in the world
Fully automated and remote testing with all results accessible via WebViewer™
Drive and Walk Testing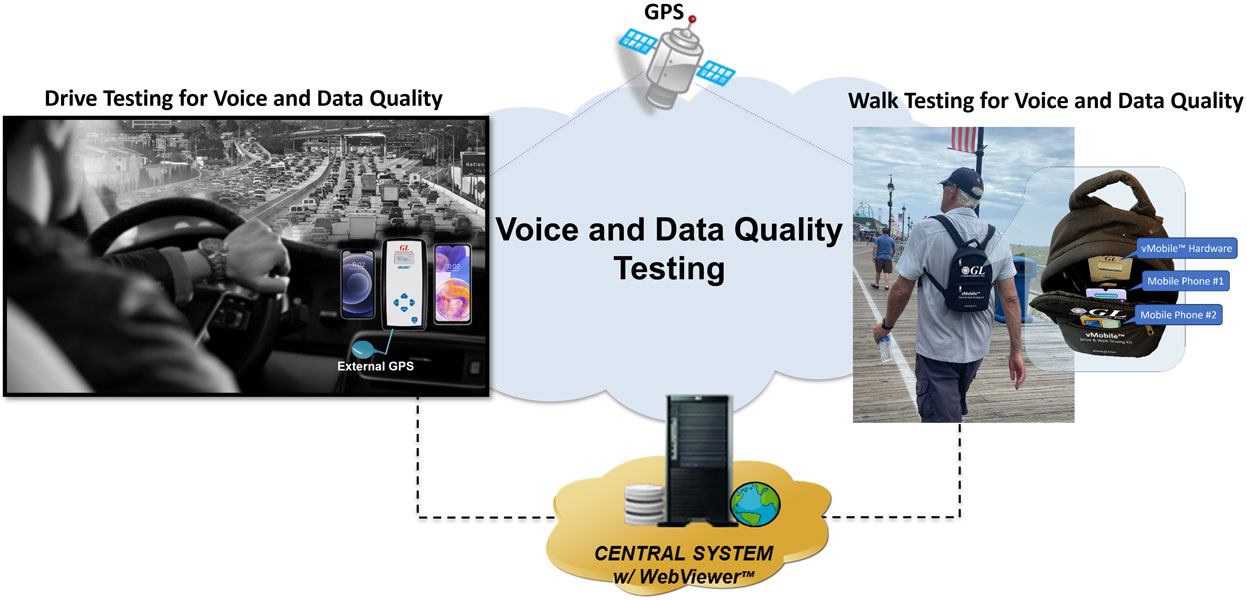 The GL vMobile™ makes drive and walk testing simple and convenient. Using the vMobile™ internal Bluetooth interfaces one can connect to two mobile phones or connect to one mobile radio with PTT analog interface. Automated testing is achieved using the vMobile™ scripting for placing and receiving calls as well as sending/recording audio during the established calls. Audio analytical metrics include Voice Quality MOS using the POLQA algorithm (ITU-P.863) or using the PESQ algorithm (ITU-P.862), with automated DAQ conversion if required. In addition to audio MOS, other metrics include one way and round-trip delay, signal and noise levels, audio dropout, frequency, and power analysis. In addition, call metrics such as failed or dropped calls are also provided.
Main Features
Network independent Drive/Walk Testing solution (supports any Network and any Carrier)
Supports Narrowband, Wideband and Super Wideband audio
Voice and Data testing can be run simultaneously (if the network allows) using the GL vMobile™ scripting and installation of the GL NetTest apps on the mobile devices
Plot results using GPS coordinates or ITS (Indoor Tracking System) when GPS is not available
vMobile™ supports two Bluetooth® phones or one PTT Mobile Radio, GPS receiver, WiFi for connecting to Central System, and Bluetooth™ for control/configuration/status along with operation
Full-featured remote capability that permits loading configurations, starting/stopping tests, and retrieving test results
The vMobile™ runs independent of Network connection and can be controlled directly from the onboard menu or via Bluetooth connection. All network drops (both data and voice) are recorded to the vMobile™ logs and can be retrieved through the vMobile™ Console
Test measurements along with GPS and ITS information are sent to a central database. Results can be queried/filtered, plotted on Google Maps or ITS Viewer, and exported to a customizable report
---
Drive and Walk Tests Using Two Mobile Phones with vMobile™
The graphics below show Drive and Walk tests using two mobile phones connected to the vMobile™. The vMobile™ is running a simple script for placing and answering calls, and during the call sending and recording voice files within an embedded loop. The voice files are analyzed using the POLQA algorithm while also providing Signal/Noise levels, Speech Activity, and Audio Dropout analysis. The vMobile™ is connected via WiFi to the mobile phone tethered interface and control of the vMobile™ is done using the Console app.
The Drive test was from Gaithersburg MD to Ocean City, NJ USA and lasted approximately three and a half hours. The walk test was on the boardwalk of Ocean City, NJ during one summer morning and lasted approximately 40 minutes. During both tests the vMobile™ along with both mobile phones were placed in a small lightweight backpack (total weight 2lbs), easy for travel and easy to carry during the walk test. The onboard vMobile™ battery was sufficient for these drive and walk tests, however if extended tests are required an external Power bank (lightweight and inexpensive) can be connected to the vMobile™.
---
Data Throughput Test
Using vMobile™ or VQuad™, data throughput can be tested on the mobile phones independent of the Voice Quality testing. Using an app installed on the mobile device (both Android and IOS supported), the vMobile™ can automate the GL NetTest™ testing solution with all results being sent to the Central Database and accessed using the WebViewer™. Below test results were run at same time as vMobile™ Voice Quality Drive test, essentially running one TCP speed test per VQT call.
For more details, visit Drive Testing webpage.
How long does the vMobile™ onboard battery support?

vMobile™ onboard battery can support up to 3-4 hours. If external battery is used, it can extend battery life up to 12 hours or more.

Does the vMobile™ include the external battery and can the vMobile™ use any external battery?

GL can provide a small rectangle external battery at an additional cost, or any external battery can be used which support USB-C connection to the vMobile™ (normally any external battery made for mobile phones).

Does the vMobile™ support USB-C charging?

Yes, the vMobile™ support USB-C charging. The USB-C cable is included with the vMobile™.

During testing, if the vMobile™ WiFi is unavailable what happens to the results and recoded audio files?

All results and audio files are saved locally to the vMobile™ until WiFi is available and the results and audio files can be sent to the Central system for inclusion to the database and analysis. The vMobile™ can support over a month of normal testing without offloading the audio files.

Can the user edit the script in Console or Console App?

Yes, the vMobile™ script can be edited using the script editor available in the Console and Console App.

Can vMobile™ support any voice file for testing Voice Quality?

Yes, vMobile™ comes with several voice files in both male and female and multiple languages. However, the user can also upload voice files to the vMobile™ for testing as long as these voice files are supported by the Voice Quality algorithms.

To upload voice quality files to the vMobile™ follow the below steps.



From the Console, select vMobile Operations.
Click on vMobile List drop down, select the required vMobile™ device.
Under Upload to vMobile Please Select Script File or PCM File option, check the PCM File radio button.
Click on Browse from Local PC button, navigate and select the required *.pcm file which needs to be uploaded to the selected vMobile™.
Click on Upload.

Does the Voice Analysis Tool (VAT™) supports CLI? Does the VAT™ also support API allowing customers to automate testing for VAT™ and VQT simultaneously in Python?

Yes, VAT™ application supports CLI. The VAT™ is mostly used with the vMobile™ for automatic audio analysis (analyze voice files automatically) while sending results to the WebViewer™.

How many phones can vMobile™ support at the same time?

While in the Bluetooth mode, the vMobile™ connect up to 2 Bluetooth phones using both Side 1 and Side 2. While in PTT mode a single analog device or radio can be connected to the vMobile™.

Can both the Bluetooth and Analog PTT ports be used at the same time?

No, the user needs to select either Bluetooth (supports two mobile phones) or PTT (supports one 4-wire analog port with PTT).

Can user connect a wired headset to the phone

Yes, while vMobile is in PTT mode the user can connect a wired headset to the phone using the GL ACC cable.

Does vMobile™ support all analog interfaces?

vMobile™ supports all 4-wire analog devices. Note, specialized cabling may be required.

Can the vMobile™ and VQuad™ work together?

Yes, vMobile™ and VQuad™ can work together during testing.

What if I already have a VQuad™ solution, how will vMobile™ benefit me?

vMobile™ is an ultra-portable handheld testing device which is used for both Drive and walk testing.

What if there is no WiFi where user wants to begin the test, can the user still Start/Stop the test?

Yes, vMobile™ hardware provides the ability to Start/Stop the test script through the vMobile menu structure.

I turned on the vMobile™ unit and could not connect to WiFi, what do I do?

Make sure that WiFi is available with internet access, and the WiFi should be within the vMobile™ range. If the problem persists user can update/edit/resend the WiFi details to the vMobile™ device through vMobile™ initialization method. If the vMobile™ is still not able to connect to WiFi after performing all the methods, then, the last resort for the user should be reimaging the vMobile™.