Automated Data Testing over Wired & Wireless Networks
Bluetooth®, WiFi, 3G, 4G, LTE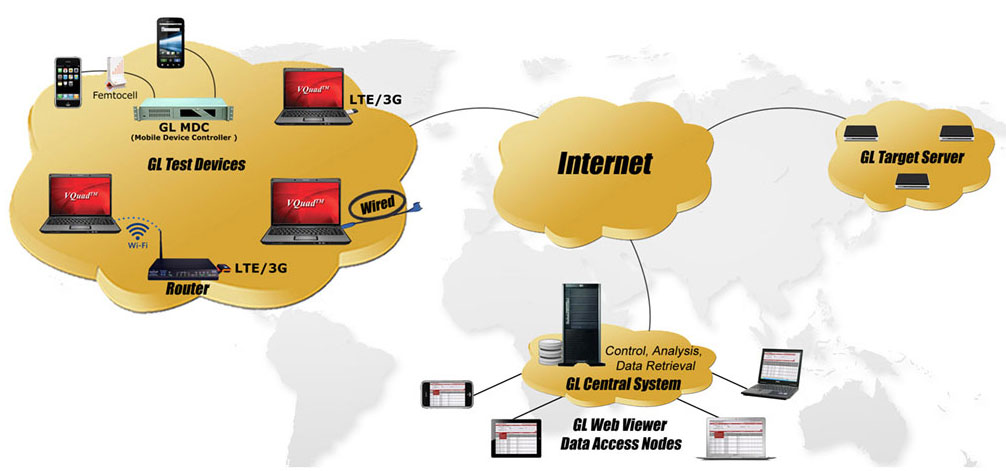 Overview
Communications is dramatically changing as mobility and IP technologies such as LTE, Advanced LTE, WiMax, 3G, and Broadband Internet lead this transformation. As these technologies are rolled out, basic voice/data quality will ultimately determine the fate of carriers and end equipment manufacturers.
Using GL's VQuad™, voice, data, as well as video quality can be tested simultaneously on a wireless or wired network. Since the GL VQuad™ solution is network independent, all networks are supported including 3G, 4G, WiMax, LTE, and Advanced LTE. GL's VQuad™ NetTest solution provides automated data testing on Mobile Devices (Android and Apple) and a PC internet connection.
In addition, all PC based internet connections are supported including WiFi, Broadband Card (3G/4G/LTE), and Wired Ethernet.

Using GL's VQuad™ with Mobile device Controller (MDC) application along with a standard PC internet connection, automated tests including TCP, UDP, HTTP, VoIP, Route, FTP, DNS, Video Simulation, SMS, UE Info, SIM Info, and Phone Info are supported. The PC internet connection can be wired Ethernet, WiFi, or even Broadband card (both LTE and 3G fully supported).
Also, available is the GL NetTest package for Data Testing on any supported Mobile Device. Supported tests can be fully automated using the VQuad™ scripting. While testing mobile devices, the VQuad™ remotely accesses the Android/Apple phone/tablet for initiating the test and retrieving the results. Both automated remote access along with manual testing is available on the mobile device using the Android/Apple downloadable apps. The Data tests can be performed while also running Voice Quality Testing. In other words, if the network supports both Voice and Data simultaneously, GL's solution can support and provide valuable information with regard to data and voice network quality.
GL's solution also provides Video Quality Testing supported on Android, PC and Linux based clients (end points). Video Tests can be configured between any two active agents with flexibility of specifying the characteristics for Video test. Tests can be run directly from the VQuad™ interface, or from the Android phones using the GLNetTest app. Both manual and automated tests are supported using the flexible and versatile VQuad™ scripts.
In fact, using VQuad™ scripts, a complete test can be performed including Call Control, Voice Quality, Delay Measurements, NetTest (Data Testing), and Video Conference. All results and events are automatically sent to the VQuad™ Central Database and accessed using the GL WebViewer™ (web browser).
VQuad™ - Dual UTA HD, or the all-in-one VQuad™ Probe HD forms the central point of control for performing automated tests for voice, data, and video to and from Wireless devices (WiFi, Bluetooth®, 3G, 4G, LTE), Broadband Internet (3G, 4G), VoIP devices, PSTN, and TDM circuits assessing performance, quality and reliability of practically any network. Various associated applications (Voice Quality, Video Quality, Data tests, Echo and Delay tests, Fax tests, VBA) works with VQuad™ to provide "end-to-end assessment" with additional test and measuring capabilities. All the applications work in conjunction with the VQuad™ for automatically and remotely analysing the captured data and sending the test results to the central database. You can query results remotely or control the tests using web-based WebViewer™.
The vMobile™ - Portable VQT Test Solution is a handheld device which can support full audio testing for mobile phones and mobile radios, as well as providing data testing for mobile phones. The vMobile™ can be hand-carried for walk and drive testing (includes GPS) as well as left in labs and can work directly with GL's VQuad™ solution for very flexible end-to-end testing. All functionality and configuration of the vMobile™ is accessed using the remote web-based Console or Console App which is installed on any Android or iOS device.
GL's Voice Analysis Tool (VAT™) application is used to analyze the audio content within any PCM audio files and generates a variety of audio metrics. VAT™ has a user-friendly interface to perform manual and automated analysis of multiple tests using a single PCM audio file received from the VQuad™, vMobile™, or any other applications.
Additional Information
Main Features
Supports testing on Android & Apple devices and is network-independent including support for 3G, 4G, WiMax, LTE, and Advanced LTE.
PC Based data test solution includes support for WiFi, Broadband Card (3G/4G/LTE), and wired Ethernet.
VQuad™ scripting provides for automation, mobility, remote accessibility,
Supports variety of tests includes TCP, UDP, HTTP, VoIP, FTP, DNS, Video Simulation, SMS, UEInfo, SimInfo, and PhoneInfo.
End-to-End SMS Testing over wireless network directly and remotely
Downloadable GLNetTest mobile application available for both Android and Apple IOS devices (iPhone/iPad) supporting manual and automated operation
Mobile devices communicate with Mobile Device Controller from anywhere in the world
Data Testing supports remotely deployed GL Target Server for end-to-end testing.
Multiple interfaces connected to same VQuad™ providing simultaneous testing
Flexibility to manage the mobile device connection with the MDC server
All results and devices information is sent to the Central Database and displayed in WebViewer™ Network Status and Google Maps
Setup Email Alert to automatically generate the Phone Info and Geographical location of the mobile device
Mobile Device Controller (MDC)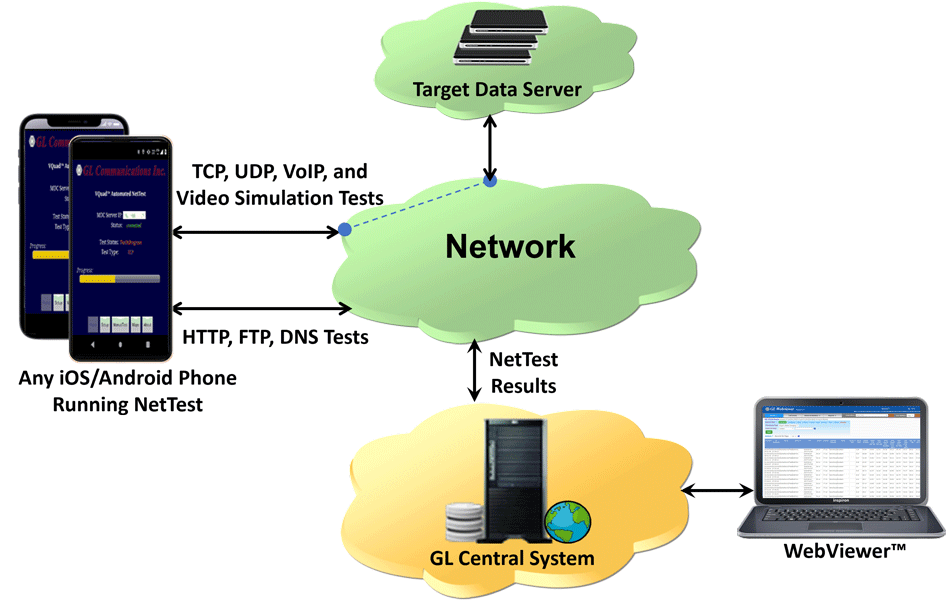 GL's Mobile Device Controller (MDC) provides a liaison to all supported Apple/Android based mobile devices for conducting data tests. The MDC communicates to the mobile devices while accepting commands from VQuad™ and sending test results back to VQuad™. The Data Tests can be remotely started irrespective of the mobile device located in close proximity of the VQuad™ or not.
It is also possible to automate the data testing directly from the Mobile Device without VQuad™ intervention. The automated tests can also be iterated or run continuously and the results with CallID and GPS co-ordinates are sent to the WebViewer™ used for mapping.
Specifically for smart phones, the VQuad™ can fully automate the data tests to any GL app equipped phone irrespective of whether the device is on a voice call or not. Configuration settings are embedded within the *.ini file. The testing is fully automated and can be controlled from a central system or via a WEB Browser. All results are sent to the WebViewer™ Central Database via DataImport.
Manage Devices
Manage Devices option gives the flexibility to manage the NetTest supporting devices (with MDC app installed) connected to MDC server. Device details such as PhoneID, UUID, Device Name, Phone Number, Model type, Device settings, Device Status and the last device updates can be verified. It provides option to Delete/Accept/Reject the device connection with the MDC.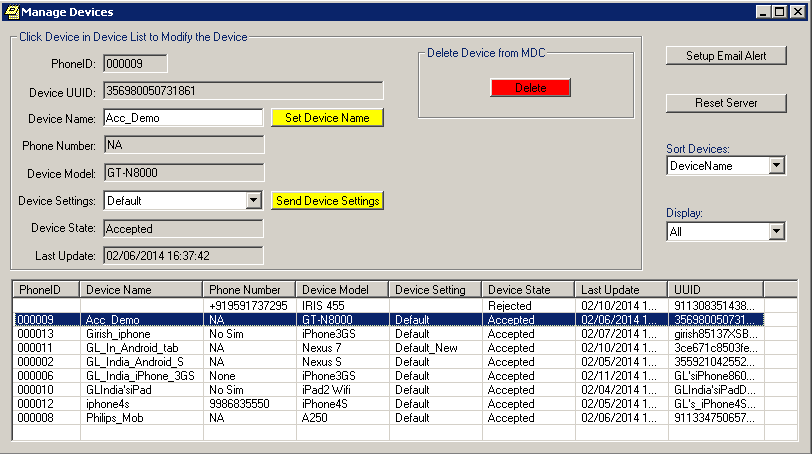 VQuad™ NetTest
The PC based NetTests using VQuad™ scripting supports any internet connection currently configured on the PC including WiFi, Broadband Card (3G/4G/LTE), or wired Ethernet. The GLNetTest app for mobile devices work with the MDC (Mobile Device Controller) application to conduct tests on mobile devices. VQuad™ sends commands directly to the MDC for initiating the NetTest on any connected mobile device. The mobile device will run the specified data test irrespective of whether the phone is on an active voice call or not.
Available tests include TCP, UDP (capacity), VoIP, Route, HTTP (web lookup), FTP, DNS, SMS, UEInfo, SimInfo, and PhoneInfo.
NetTest Video test can simulate the real time streaming protocol (RTP) by utilizing both the GL NetTest VoIP and UDP tests running in parallel. User parameters include Video Codec and Video Resolution with the corresponding Compressed Frame size, Bytes and Packets/sec automatically determined. This test provides video based metrics including Jitter, Packet loss, QOS and Packet rate.
Statistics and complete results are available through the WebViewer™ for both Mobile Device NetTests and PC based NetTests.
Note that the NetTest requires a GL Data Server at each target location, and the mobile device requires a GL deployed app (Apple or Android based) for operation.
VQuad™ Scripting
GL's VQuad™ Scripting, portability for mobile drive testing, remote accessibility, analysis and centralized data retrieval are just a few attributes of GL's next generation Voice and Data Testing solution.
VQuad™ scripting can send commands to the MDC for initiating NetTest on any connected Mobile Device.
Supports conditional statements along with user-defined variables.
Near-end VQuad™ device can control the far-end VQuad™ device via a TCP/IP connection.
Easily transfer scripts from one VQuad™ device to another.

Data Tests Results in WebViewer™
Automated NetTest results performed on wireless and wired networks supporting Mobile Devices (Android & Apple) and a PC internet connection are returned to VQuad™. The testing along with the result generation is fully automated and can be controlled from a central system or via a WEB Browser. Net Test results including TCP, UDP, Route, VoIP, HTTP, FTP, DNS, Video Simulation, SMS and Mobile Device Info results such as UEInfo, SimInfo, and PhoneInfo are automatically relayed to a Central Database where they are accessed via a simple WEB Browser/Viewer. The GPS co-ordinates of Mobile Devices such as Device PhoneID, Device Name and the location sent to WebViewer™ are plotted in the Google map.
Resources
* Specifications are subject to change without notice.

Back to Complete Voice Quality Testing Solutions Index Page