VoIP/Digital/Analog Handset Phone Testing

Overview
Testing on the extreme end-point of a network has become a priority for many people. This method of testing represents what an end user is actually experiencing.
Voice quality testing within VoIP and PSTN networks is growing, a major concern is testing the VoIP phones and the analog Telephone Adaptors (ATA) that will be used within the VoIP/PSTN networks. The VoIP phones and ATA's must be free noise and other hindrances that may cause a degraded voice quality when using this equipment. The GL VQuad™ software combined with GL's Voice Quality Testing (VQT) software permits this desired VQT testing, of the VoIP equipment, yielding results that include PESQ/POLQA Mean Opinion Scores (MOS). These results provide an excellent overall measure of voice quality of the equipment under test.
The Dual UTA HD contains 2 Handset testing interfaces (RJ22). This allows a user the ability to replace the handset with the Dual UTA HD but continue to include the "Telephone Base Unit" in the testing network. Basically, the Dual UTA HD replaces the handset of any telephone that contains a handset. This includes POTS, Digital PSTN and VoIP telephones that contain a handset.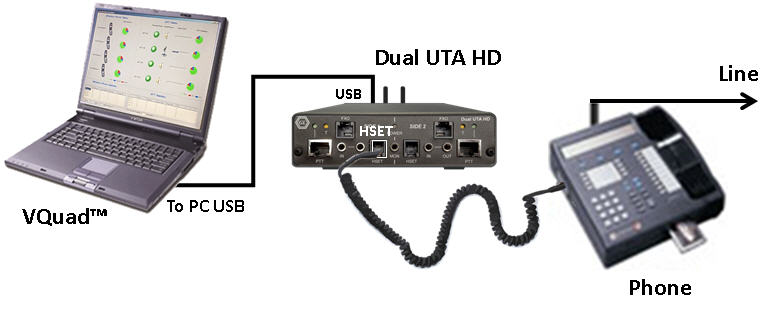 The Dual UTA HD is a comprehensive hardware device designed to interface and test the voice quality of telecommunication networks. The Dual UTA HD features all the circuitry necessary to universally adapt to any telephony instrumentation, such as standard Plain Old Telephone Systems (POTS), digital hybrid interfaces, Voice over Internet Protocol (VoIP) networks, wireless cellular phones and mobile radios including devices that utilize Bluetooth® technology.
As the name implies the Dual UTA HD contains a Side 1 and a Side 2. These sides are completely independent of each other so interfacing with endpoints of a single network or interfacing with two completely separate networks are plausible scenarios.
Used in conjunction with GL's VQuad™ software application, the Dual UTA HD simplifies end-to-end testing of voice quality, echo, noise, and other impairments of TDM, VoIP, and Wireless networks. A GPS sync port permits precise synchronization of sending and receiving audio functions, one-way delay (OWD), and round trip delay (RTD). The Dual UTA HD can be directed to automatically send and record sample voice files between nodes of a telephony network. These files can then be submitted to GL's Voice Quality Testing (VQT) software application for analysis according to widely accepted International Telecommunications Union (ITU) voice comparison algorithms such as POLQA (ITU-T P.863) and PESQ (ITU-T P.862).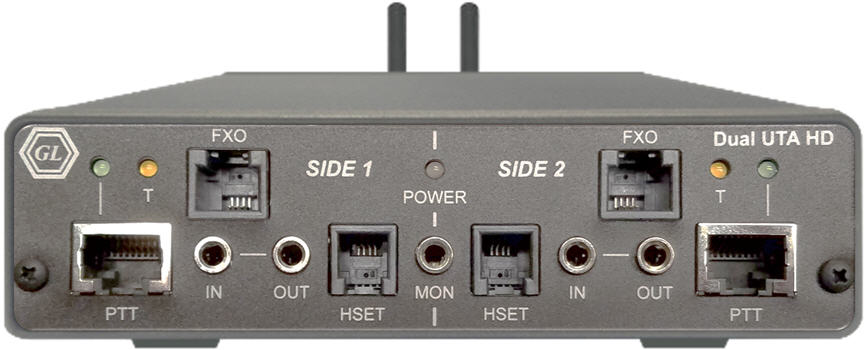 ---
Main Features
Connect to any phone with a handset
Test VoIP, Analog and Digital Phones, thus allowing VoIP ATA testing
Up to six Dual UTA HD units (12 devices) connected and running tests simultaneously.
Round Trip Delay and One Way Delay Measurements as well as Echo Measurements
Automatic send/receive of voice files over already established calls
Time/Digit/Tone triggering of send/receive voice files
Compact and portable solution for testing end-to-end voice quality
Synchronized software for sending/recording of voice files at multiple locations
Flexible architecture and features for recording locations, parameters, and time
GL VQT Automatic Mode allows automatic execution of the VQT algorithms(POLQA NB,WB, SWB/PESQ LQ/LQO/WB)
Additional measurements include Clipping, Jitter, Latency, Noise and Signal Levels
Results available in real-time or post-processing
---
Voice Quality Testing (VQT) Results
GL's VQT may be executed automatically (real-time and/or post-processing) or manually by entering a Reference File and Degraded File. Regardless of how GL's VQT is initiated, algorithms for POLQA NB, WB, SWB, PESQ MOS and PESQ LQ are executed simultaneously for the two voice files and results are shown graphically as well as in a tabular format. GL's VQT also displays cumulative statistics for large scale testing over long periods of time.
---
Resources
* Specifications are subject to change without notice.

Back to Complete Voice Quality Testing Solutions Index Page