Testing LTE, and VoLTE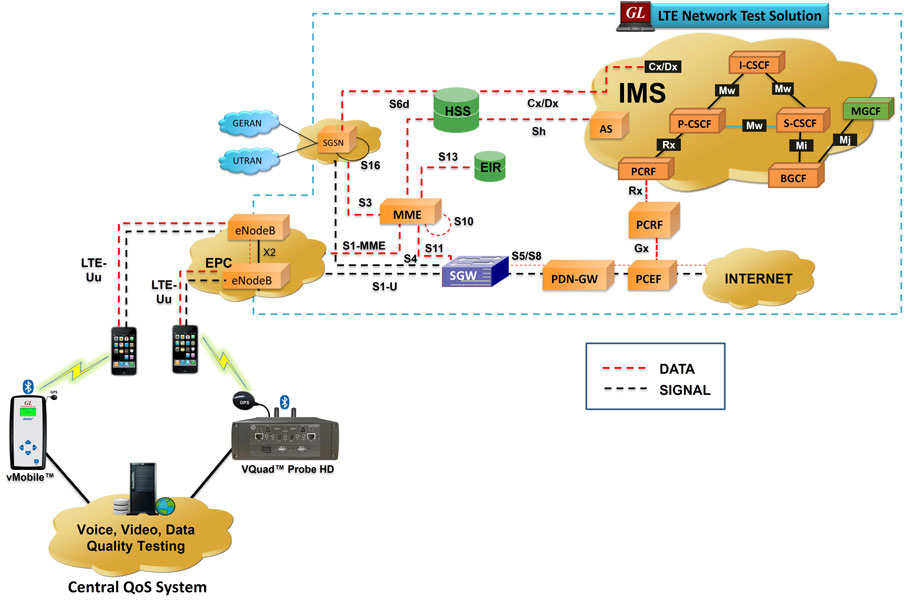 LTE-IMS Network (VoLTE) Test Solution
---
Overview
Long Term Evolution (LTE) is the so called 4th Generation (4G) mobile standard in the rapidly evolving mobile technologies. Its distinguishing feature is an all IP infrastructure and significantly greater air interface bandwidth to the mobile handset. It was developed as an enhancement to the existing 3G UMTS System (Universal Mobile Telecommunications System) to provide users enhanced mobile radio and internet access.
The LTE air interface is a completely new system based on orthogonal frequency-division multiple access (OFDMA) in the downlink and single-carrier frequency-division multiple access (SC-FDMA) in the uplink. The system efficiently supports multi-antenna technologies (MIMO).
Another significant feature of LTE is its high bandwidth—up to 20 MHz. The LTE can also operate in the existing 5-MHz UMTS frequency bands, or in even smaller bands, as the usable bandwidth is scalable.
However, deploying high-quality voice, video, and data services over LTE has posed significant challenges for service providers, due to backward-compatibility, inter-operability, and high quality requirements – all of which requires rigorous testing.
GL's LTE Test Solutions
GL's provides fully automated testing solutions for LTE, VoLTE, and IMS network as discussed in greater detail below.
The representation of LTE–IMS network above indicates the support of most of the interfaces by GL's test tools. In summary,
All elements within LTE-IMS wireless infrastructure can be tested with GL's general-purpose protocol simulation tool - MAPS™, which supports simulation of various interfaces of LTE (S1-u, S1-MME, X2, S3, S4, S5/S8, S6a, S10, S11, S13, S16) and IMS (Cx/Dx, Rx, Gx, Gm, SGi, Mw, Mi, Mj) interfaces using MAPS™ LTE, Diameter, and IMS simulators. With these, one can simulate VoLTE calls in lab, and study the network behaviour.


GL's PacketScan™ - an All-IP monitoring and analysis probe, along with NetSurveyorWeb™ allow centralized monitoring of entire LTE-IMS network. Wide range of codec support, including AMR WB, and extensive per-call reports
Monitoring LTE,VoLTE, IMS Networks
Capable of capture, decode and perform various test measurements between any two nodes across various interfaces of the LTE-IMS network
Support for wide-range of codec, including AMR and AMR WB – visit Voice Codec webpage for more details.
Supports QoS parameters such as E-model (G.107) based MOS/R-Factor scores, Media Delivery Index (Delay Factor: Media Loss Rate) for video calls, Jitter, Delay, and Gap for Audio and Video traffic
Segregates, captures, and collects statistics on VoIP and Wireless calls
Live monitoring of traffic statistics - digits, tones, voice, video, and T.38 fax over IPv4 and IPv6 (version 4 and version 6) networks
Monitors QoS (quality of service) on voice and video calls
Supports both real-time and offline analysis
Trace files for analysis can be loaded through simple command-line arguments.
As an example, the screenshot below illustrates how VoLTE call is easily decoded in GL's Packetscan™ All-IP analyser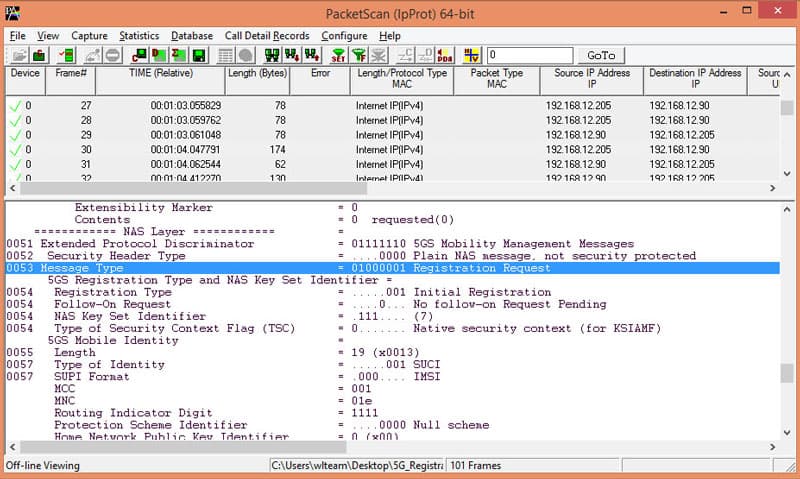 Typical VoLTE Call Captured LTE-IMS Network
Visit PacketScan™ for Wireless Networks or LTE Analyzer webpage for more details. For centralized web-based monitoring LTE Network, visit NetSurveyorWeb™ page.
Measure Voice, Video and Data Quality on LTE, VoLTE Networks

Using GL's VQuad™ with the Dual UTA HD, or all-in-one VQuad™ Probe, along with centralized analytical tools, voice, data, as well as video quality can be tested simultaneously on a wireless or wired network.
Since the GL's VQuad™ solution is network independent, all Voice and Data networks are supported including 3G, WiMax, 4G LTE, Advanced LTE and the upcoming 5G. And since the GL VQuad™ solution supports both Narrowband and Wideband traffic, VoLTE testing is fully supported.
GL's VQuad™ NetTestsolution provides automated data testing on Mobile Devices (Android and Apple) as well as PC based internet connections. The Data Testing includes TCP, UDP, HTTP, FTP, DNS, VoIP, SMS, and Email tests. GL's Video Application Part (VAC) supports Video Conference testing between any two VAC Agents. GL's VAC Agents can be installed on any Android device, WinPCs or Linux box. GL's Voice Quality Testing (VQT) supports automated voice quality between any two nodes within the network using latest ITU based algorithms including Perceptual Objective Listening Quality - POLQA (ITU-P.863) and PESQ (ITU-P.862). The POLQA algorithm is specifically used for testing Wideband voice over VoLTE networks.
Complete end to end voice, data, video quality testing of LTE network-visit Automated Network Wide Testing
Automated test statistics and results across next generation LTE network can be accessed via web interface
Connect to Mobile Phones, Smart Phones, and Broadband Devices using GL's portable VQuad™ - Dual UTA HD system
Test LTE devices for Voice, Data, Video quality metrics with complete automation and centrally controlled system
Use GL's VQuad™ - Dual UTA HD to confirm quality of service during the network upgrade process
VQuad™ can remotely perform Automated Data Testing on any Android or IOS mobile devices (running the GL NetTest app), irrespective of where the phone is located, and whether the phone is on a voice call or not.
Perform automated data testing on PC-based Broadband Internet (Broadband 3G/4G/LTE, WiFi, Wired) and on Apple/Android Mobile Devices – tests includes TCP, UDP, HTTP, VoIP, FTP, DNS, SMS, UEInfo, SimInfo, and PhoneInfo
Supported devices - Mobile Radio (PTT) & Mobile Phones (VoLTE, 4G, 3G, Wi-Fi, WiMax)
Supports both Narrowband (8k sampling rate) as well as Wideband (16k sampling rate) connections for use in VoLTE networks utilizing the AMR-WB codec
Visit Complete Voice and Data Quality webpage for more details.
As an example, the screenshot below illustrates the HD voice quality measurement of VoLTE call using POLQA–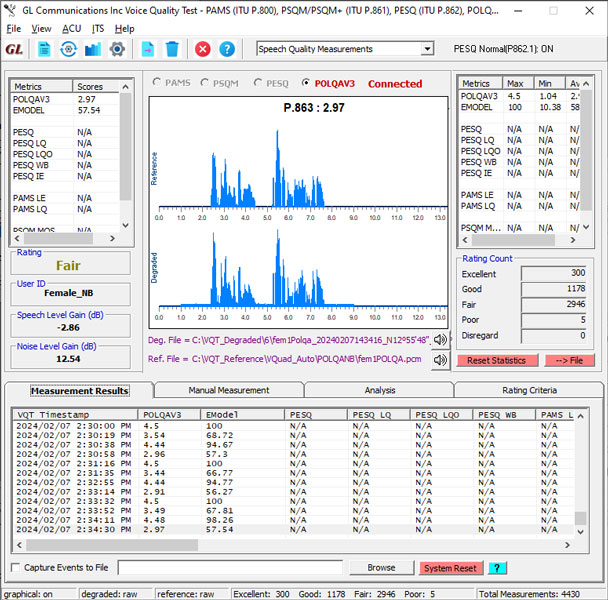 HD Voice Quality Testing for VoLTE Networks
VQT software includes industry standard voice quality analysis algorithms – POLQA and PESQ
POLQA testing is available for VQuad™ interfaces
VQT can be configured for fully Automated analysis of recorded voice files
Full Reference algorithm (FR) measurements with high accuracy for dedicated tests in live networks
POLQA analysis results include POLQA MOS, E-Model, Signal Level, Noise Level, and Jitter
Real-time mapping of results with GPS option used in conjunction with VQuad™. Results mapped in WebViewer™ using Google Maps
The results can be accessed remotely from a database using the WebViewer™, displayed in both tabular and graphic formats
Visit voice quality testing webpage for more details.
Signalling and Traffic Simulation over LTE - IMS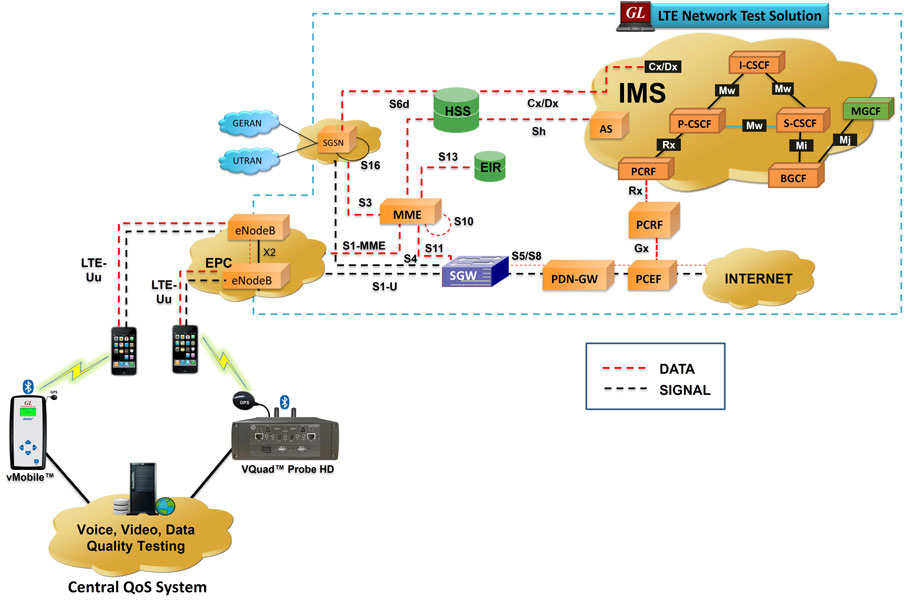 MAPS™ SIP IMS test suite is capable of simulating multiple UEs and IMS core elements such as P-CSCF, I-CSCF, S-CSCF, PCRF, MGCF which provides the IMS core network. With the help of mobile phones, and other simulated wireless networks, the VoLTE Lab setup can be operated in real-time for making VoLTE calls and also for interworking with PSTN and VoIP networks. It includes ready-to-use scripts, as per IETF specification. Test scripts include general messaging and call flow scenarios for multimedia call session setup and control over IP networks.
GL's "MAPS™ 4G Wireless Lab Suite" supports simulation of S1-MME, S11, S5/S8, and other eGTP interfaces along with Diameter interfaces.
Supports emulation of several LTE interfaces. (S1, X2-AP, S3, S4, S5, S8, S10, S11 and S16), and IMS interfaces (Cx/Dx, Rx, Gx, Gm, SGi, Mw, Mi, Mj)Supports generation and verification of traffic over LTE, including VoLTE (Voice), Email, FTP, Web (HTTP), Video, and more with additional licenses - Mobile traffic core – GTP (ETH101) and Mobile Traffic Core – Gateway (ETH102)
Supports IMS-based technologies such as VoLTE
Simulate up to 500 Smartphones (UEs) powering up and down
Integrate IMS core network easily with any other networks (wired or wireless) to test any call scenario It can simulate various nodes across LTE network –
Authenticate and confirm security procedures
QoS requests for greater or lesser bandwidth
Temporary addressing management for mobility and security
Buyer's Guide
Please Note: The XX in the Item No. refers to the hardware platform, listed at the bottom of the Buyer's Guide, which the software will be running on. Therefore, XX can either be ETA or EEA (Octal/Quad Boards), PTA or PEA (tProbe Units), UTA or UEA (USB Units), HUT or HUE (Universal Cards), and HDT or HDE (HD cards) depending upon the hardware.