MAPS™ LTE SGs Emulator
Emulation of SGs interface between Mobility Management Entity (MME) and Mobile Service Center (MSC) handling Voice and Short Message Service (SMS) to travel over Long Term Evolution (LTE) supporting Circuit Switched Fall Back technology (CSFB).
Brochure
Request a Quote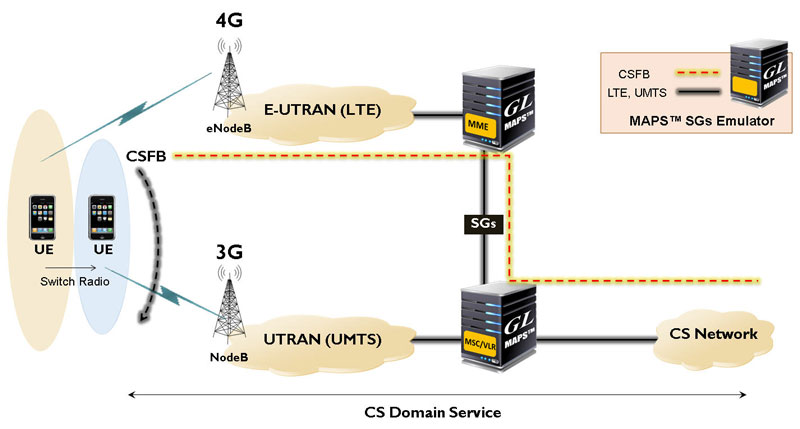 Background
CSFB is a technology devised to allow Voice and SMS services to travel over LTE (packet-based all-IP) networks, which cannot normally handle circuit switched services. So, when a LTE device is used to place a voice call or send SMS, the device "falls back" to the 3G or 2G network to complete the call or to deliver the SMS. During such a call scenario, the UE changes its radio access technology from LTE to a 2G/3G technology that supports circuit-switched services. A new interface (called SGs) between the MME and the MSC is required.
The SGs Application Part (SGsAP) protocol messages are used on the SGs interface between the Mobility Management Entity (MME) in the Evolved Packet System (EPS) and the Visitor Location Register (VLR), to allow location management co-ordination and to relay certain messages related to GSM circuit switched services over the EPS system. The basis for the interworking between a VLR and an MME is the existence of a SGs association between the entities per UE. The SGs association is only applicable to UEs with CS Fallback capability activated. CSFB is an interim solution for LTE operators until we have full support for voice over LTE.