PacketExpert™ 10G
(Next-Generation 10G Ethernet/IP Tester)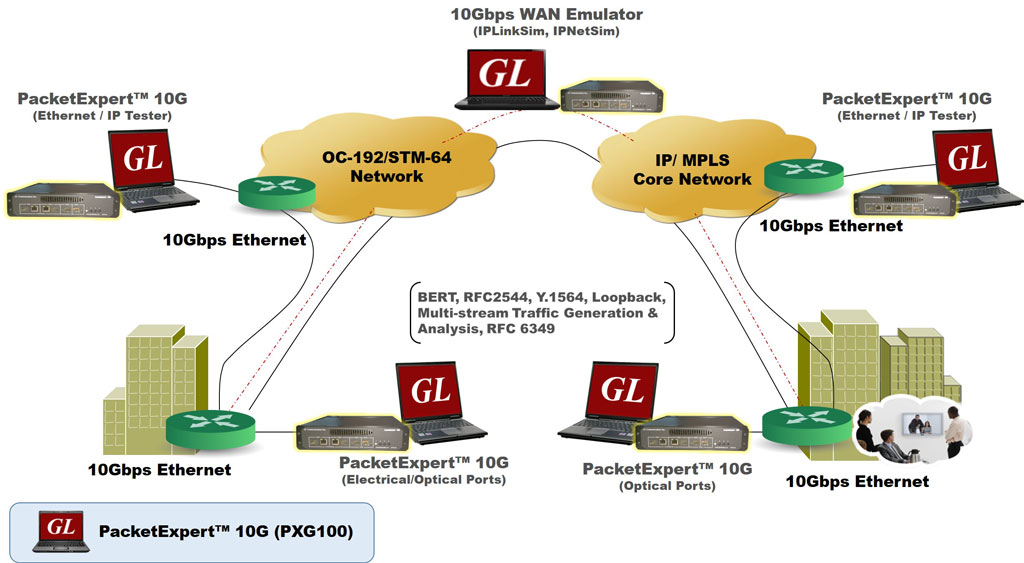 | | | |
| --- | --- | --- |
| | | |
| | | |
| | | |
| PacketExpert™ 40/100G | PacketExpert™ 10G Unit | PacketExpert™ 10G - Tablet Inspired |
Overview
GL's PacketExpert™ 10G provides comprehensive testing of 10 Gbps wirespeed Ethernet/IP networks. It has two 10 Gbps Optical ports, and two 10/100/1000 Mbps Electrical/Optical ports capable of BERT, Smart Loopback, RFC 2544, ExpertSAM, Record and Playback, PacketBroker, Expert Analyzer, and ExpertTCP֭™ functionalities.
Each GigE port provides independent Ethernet/VLAN/MPLS/IP/UDP layer-wise testing at wirespeed. BERT is implemented for all layers. RFC 2544 is applicable for Layers 2, 2.5, and 3, and Loopback is applicable for Layers 2, 3, and 4.
GL also offers Touchscreen Handheld PacketExpert™ 10G version of 10G Ethernet/IP Tester (PXG101), with a Tablet PC mounted on PacketExpert™ 10G, which makes this tester suitable for field testing.
Currently, PacketExpert™ 10G supports the following important functionalities –
With the capability to generate/receive traffic with stacked VLAN (Q-in-Q) and stacked MPLS, PacketExpert™ 10G finds use in testing a wide range of networks – from testing individual links/switches, testing local Ethernet/IP networks (LAN), end to end testing of Wide Area Networks (WAN), testing Core/MPLS networks, and much more.
The Command line Interface (CLI) feature allows the users to access all the aforementioned functionalities remotely via TCL or Python clients using MAPS™ CLI Server.
GL also offers other Ethernet/IP tester variants such as - HD-PacketExpert™ -a higher density 12/24 GigE ports form factor solution, and PacketExpert 1G™ - quad port portable device with 1G electrical and optical ports. GL also offers WAN Emulators - IPLinkSim™ and IPNetSim™ to test the performance of WAN network-dependent applications by emulating the WAN conditions in a local setup easily and cost effectively.
Main Features
Hardware

USB based Quad Ports Ethernet / IP Tester
Comprehensive testing of Wirespeed Ethernet/IP networks up to 10 Gbps
Two Optical 10 Gbps ports (10G BASE-SR, -LR -ER full-duplex SFP)
Two Electrical/Optical 10/100/1000 Mbps ports (10/100/1000M Base-T Electrical OR 1G Base-X Optical SFP)
Touchscreen Handheld PacketExpert™ 10G available for field testing

Ethernet / IP Testing

Capable of simultaneous generation /reception of Ethernet to IP traffic at 100% 10G wire speed
Control multiple hardware units from a single GUI, multiplying the number of ports available per system
Traffic options lets technicians generate Ethernet to IP frames with user-configurable frame length, and frame size with varying traffic rates
User selectable Electrical and/or Optical interface for ports allows mixed technology testing.
Wire-speed BERT, RFC 2544, RFC 2544 (single Port), Loopback, Record/Playback, ExpertSAM, and PacketBroker.
BERT, RFC 2544 Testing over Framed Ethernet (Layer2), Stacked MPLS (Layer2.5), IP and UDP. BERT testing is also supported on Layer1.
Field upgradable technology allows tester to stay current with industry trend.
Support for ARP, Ping, IPv6 etc.
Testing with stacked VLAN (Q-in-Q) – up to 3 levels
Testing with stacked MPLS, up to 3 levels
IP and UDP header checksum validation
Ability to define Ethernet, IP and UDP header fields
Multi-board support for all the applications

Capable of handling full wire speed BERT, in both directions, on both 10G optical ports and 1000Mbps Electrical/Optical ports.
Supports industry standards PRBS patterns 29-1, 211-1, 215-1, 220-1, 223-1, 229-1, and 231-1, constant patterns like all ones, all zeroes, alt ones-zeroes and user-defined test patterns ranging between 1 to 32 bits.
Single as well as constant rate Bit Error and FCS Error Insertion.
Optional sequence number insertion allows detecting out-of-sequence packets and packet loss.
Support for frame lengths from 64 bytes to Jumbo frames (up to 16000 bytes).
User-defined header parameters for MAC, VLAN, MPLS, IP and UDP layers.
Multi-board support for wire-speed BERT and BERT/Loopback applications

Both smart loopback (auto layer detection) and selected user-defined layers loopback capabilities for incoming traffic.
Multi-board support for all port loopback application

Throughput, back-to-back, latency and frame loss testing supporting uni-directional and bi-directional traffic between ports
Supports RFC 2544 on single or dual electrical / optical ports
User-defined configuration parameters such as frame size, trial duration, number of trials, etc.
Multi-board support for single and dual ports RFC 2544 application

Real-time results are presented in both tabular as well as graphical format.
Detailed test result reports in PDF and CSV file formats.
Detailed frame statistics in tabular format for all the ports.
Provides various vital measurements such as Bit Error Rate, Bit Error Count, Sync Loss Count, Sync Loss Seconds, and Error Free Seconds.
Real time graphical representation of the combined Throughput and Bit Error rate, plotted over time for BERT testing.
Graphs and Statistics for all the RFC 2544 tests.
Link (P1-P2/P2-P1) statistics and Port (P1, P2) statistics.
Supports pause frame transmission with user defined quanta on each port independently.
Hardware Interface


PacketExpert™ 10G Hardware Unit
| | |
| --- | --- |
| Back Panel | Front Panel |
Standalone
Tablet Inspired

Interfaces:

2 x 1G Base-X Optical OR 10/100/1000 Base-T Electrical
2 x 10G Base-SR, -LR -ER Optical only
Single Mode or Multi Mode Fiber SFP support with LC connector

Protocols:

Bus Interface:

External Power Supply:

Meanwell p/n GS18A09-P1J, External Power Supply
Input 90 ~ 264 VAC @ 47 ~ 63Hz -or- 135 ~ 370VDC
Output 9vDC, 2.0A, 18W, Power plug 2.1mm ID x 5.5mm OD x 11mm L

Meanwell p/n GS60A18-P1J, External Power Supply
Input 90 ~ 264 VAC @ 47 ~ 63Hz -or- 135 ~ 370VDC
Output 18vDC, 3.33A, 60W, Power plug 2.1mm ID x 5.5mm OD x 11mm L

Physical Specification:

Length: 6.39 in. (162.33 mm)
Width: 9.96 in. (252.93 mm)
Height: 2.10 in (53.34 mm)
Weight: 3.75 lbs. (1.7 kg)

Length: 6.39 in. (162.22 mm)
Width: 9.96 in. (252.93 mm)
Height: 2.59 in (65.96 mm)
Weight: 4.75 lbs. (2.15 kg)

Operations:

Environmental requirements
PXG100:

Operating Temperature: +5°C to +40°C
Non-Operating Temperature:-30°C to +60°C
Operating Humidity:  0% to 80% RH non-condensing
Non-Operating Humidity:  0% to 95% RH non-condensing
Operating Altitude:  Up to 10,000 feet
Non-Operating Altitude: Up to 50,000 feet

Environmental requirements
Tablet Series (Dell Venue 8 Pro 5000 series):

Operating 0°C to 35 °C
Non-operating -40°C to 65 °C
Operating humidity 10% to 90% (non-condensing)
Non-operating humidity 5% to 95% (non-condensing)
Operating Altitude -50 ft to 10,000 ft
Storage Altitude -50 ft to 35,000 ft
Port-wise Frame Statistics
Detailed statistics per port are provided. In addition to statistics like Frame Count, Frame Rate, Link Utilization (Layer 1 line rate in %), Data Rate (Layer 2 data rate in Mbps), etc., statistics are provided based on various categories like Frame Type (Broadcast, Multicast, VLAN), Frame Lengths (64, 65-127, 1024-1518, Oversized, Undersized), Protocol Type (IPv4, IPv6, UDP, TCP, ICMP, IGRP etc.)
| | |
| --- | --- |
| Statistics for Stacked VLAN and Stacked MPLS are provided for detailed analysis. Statistics based on the Packet Count per VLAN/MPLS stack position are provided. | 'All Ports' result screen for BERT displays consolidated Frame Statistics for Tx / Rx, Bert Status, and Bert Statistics results for all the 4 ports. |
| Tx and Rx Frame Statistics | All Port BERT Statistics |
Generate Report
PacketExpert™ 10G includes report generation option to generate consolidated reports in CSV and PDF file formats. The following sample CSV and PDF reports generated for 'All Ports BERT' test includes Interface, BERT Statistics, Tx/Rx Statistics, Tx/Rx Configuration details for each of the 10G ports.
| | |
| --- | --- |
| BERT Report Generated in PDF file formats | BERT Report Generated in CSV file formats |
Command Line Interface (CLI)
PacketExpert™ also supports Command line Interface (CLI) to access all the functionalities remotely such as Bert, Loopback, RFC 2544, Record Playback, PacketBroker, and ExpertSAM™ using TCL (Tool Command Language) and MAPS™ CLI Client/Server architecture.
PacketExpert™ 10G can be configured as server-side application and on the client side, the standard TCL shell (tclsh85.exe) with PacketExpert™ 10G specific functionalities can be used to communicate with the MAPS™ CLI Server, execute scripts, read back responses etc.
Capability of remote operation, automation and multi-site connectivity using TCL client and MAPS™ CLI server.
Scripts for MAC, VLAN, MPLS, IP and UDP layers testing
Multiple PacketExpert™ 10G can be controlled remotely from single client application via MAPS™ CLI server.
Scripts for Bert, Loopback, RFC 2544, Record Playback, PacketBroker, and ExpertSAM™ testing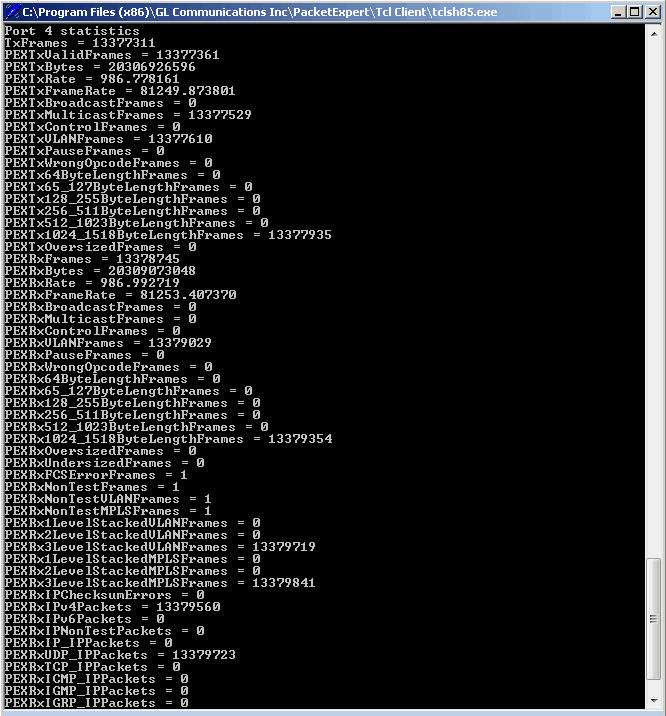 Command line based TCL client
Buyer's Guide
Please Note: The XX in the Item No. refers to the hardware platform, listed at the bottom of the Buyer's Guide, which the software will be running on. Therefore, XX can either be ETA or EEA (Octal/Quad Boards), PTA or PEA (tProbe Units), UTA or UEA (USB Units), HUT or HUE (Universal Cards), and HDT or HDE (HD cards) depending upon the hardware.
Item No.
Item Description

PXG100

PacketExpert™ 10G/1G

PXG101

PacketExpert™ 10G with Tablet

PXE100
PXE104
PXE112
PXE124

PacketExpert™ 1G
PacketExpert™ - SA (4 ports)
PacketExpert™ - SA (12 Ports)
PacketExpert™ - SA (24 Ports)

PXE105
PXG105

PacketExpert™ Wire speed Record /Playback - 1G
PacketExpert™ Wirespeed Record / Playback 10G/1G

PXX105
PacketExpert™ Wirespeed Record / Playback 40/100G

PXE107
PXG107

PXX107
PacketExpert™ - PacketBroker™ - 40G/100G

PXE108
PXG108
PXX108

Multi-Stream UDP/TCP Traffic Generator and Analyzer - 1G (on PXE100) (up to 12 users)
Multi-Stream UDP/TCP Traffic Generator and Analyzer - 10G (on PXG100, PXG101) (up to 16 users)
Multi-Stream UDP/TCP Traffic Generator and Analyzer 40G/100G

PXE106
PXG106

PXX106
ExpertSAM™ - 40G/100G
Related Software

ETH100

PKS100

PacketGen™ (includes PacketScan™)

PKV100

PacketScan™ (Online and Offline)

PKB100

PKV201

PKV202

PacketShark™ GbE Filtering & Aggregation Tap

PacketShark™ Remote Option

IPN511

IPLinkSim™ WAN Link Emulator
(1G/ 10G, 2 active ports)

IPN504

IPN701
IPN702

IPNetSim™ Handheld Network Impairment Generator
IPNetSim™ Handheld Remote Option

PKS120
PKS121
PKS122
PKS123
PKS124
PKS130

MAPS™ SIP Emulator
MAPS™ SIP Conformance Test Suite (Test Scripts)
MAPS™ MEGACO Emulator
MAPS™ MEGACO Conformance Test Suite (Test Scripts)
MAPS™ MGCP Protocol Emulation with Conformance Test Suite
MAPS™ SIGTRAN Emulator

Related Accessories and Cables

IPN1310

SFP Transceiver for 1 Gbps Optical, Duplex LC, Single-Mode, 1310nm, 15km typical maximum range

IPN850

SFP Transceiver for 1 Gbps Optical, Duplex LC, Multi-Mode, 850nm, 550m typical maximum range

IPN1310p

SFP+ Transceiver for 10 Gbps Optical, Duplex LC, Single-Mode, 1310nm, 10km typical maximum range

IPN850p

SFP+ Transceiver for 10 Gbps Optical, Duplex LC, Multi-Mode, 850nm, 300m typical maximum range

IPN100m
IPN100s
IPN040m
IPN040s

QSFP28 Transceiver Multi-Mode 100G
QSFP28 Transceiver Single-Mode 100G
QSFP+ Transceiver Multi-Mode 40G
QSFP+ Transceiver Single-Mode 40G

SA019a
SA019b
SA019c
SA019d
SA019e
SA019f

1 Gbps / 10 Gbps Fiber Optic Cable, Single-Mode, Duplex LC to Duplex LC
1 Gbps / 10 Gbps Fiber Optic Cable, Single-Mode, Duplex LC to Duplex SC
1 Gbps / 10 Gbps Fiber Optic Cable, Multi-Mode, Duplex LC to Duplex LC
1 Gbps / 10 Gbps Fiber Optic Cable, Multi-Mode, Duplex LC to Duplex SC
40G / 100G Fiber Optic Cable, Multi-Mode
40G / 100G Fiber Optic Cable, Single-Mode

SA019st

1 Gbps / 10 Gbps Fiber Optic Non-Intrusive T-tap, Duplex LC, Single-Mode

SA019sc

Fiber Optic Analyzer Cable, (Special 'Y' Cable), Single-Mode, Duplex LC to Dual Duplex LC, 3m

SA019mt

1 Gbps / 10 Gbps Fiber Optic Non-Intrusive T-tap, Duplex LC, Multi-Mode

SA019mc

Fiber Optic Analyzer Cable (Special 'Y' Cable), Multi-Mode, Duplex LC to Dual Duplex LC, 3m

SA019rt

Electrical Regeneration Tap for 10/100/1000Base-T

SA019sk2

1 Gbps Fiber Optic Single-Mode T-tap Kit with Required Cables and SFP Transceivers

SA019mk2

1 Gbps Fiber Optic Multi-Mode T-tap Kit with Required Cables and SFP Transceivers

SA019skp2

10 Gbps Fiber Optic Single-Mode T-tap Kit with Required Cables and SFP+ Transceivers

SA019mkp2

10 Gbps Fiber Optic Multi-Mode T-tap Kit with Required Cables and SFP+ Transceivers