MAPS™ N1N2 Interface Emulator
(5G NGAP Interface Emulation)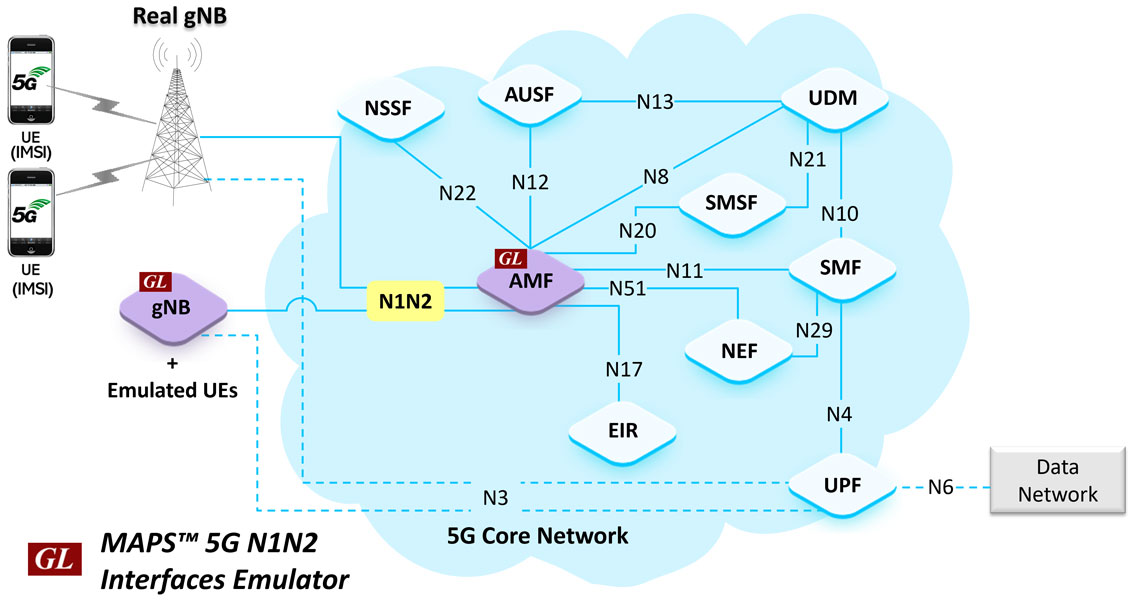 ---
Background
The above diagram depicts N1N2 interface in the 5G network. NGAP is found on the N1N2 reference point between the gNB (gNodeB) and the AMF (Core Access and Mobility and Management Function) in order to support UE and non-UE related services. This includes operations such as configuration updates, UE context transfer, PDU Session resource management and support for mobility procedures. The user (UE) has very high-speed RF connection to the nearest local tower. This high-speed connection is always ON, as long as the mobile is powered up. 5G is designed for compatibility with older 2G, 3G and 4G (LTE) mobile systems.

gNodeB (gNB) is the base station in the 5G/NGAP interface and also includes AMF (to handle signaling of control plane) as shown in the network diagram above.
GL's Message Automation & Protocol Simulation (MAPS™) is designed for testing 5G–N1N2 interfaces can simulate gNodeB (gNB), and AMF (Access and Mobility Management Function) according to 3GPP Release 15 standards.
The application is available as
MAPS™ 5G-N1N2 (PKS500 licenses)
MAPS™ N1N2 Emulator supported Procedures are - NG Reset, NG Setup, Initial Context Setup, UE Context Release, Registration, De-registration, Primary authentication and key agreement procedure, Security mode control, Identification. The application gives the users an unlimited ability to edit NGAP/NAS messages and call scenarios (message sequences). "Message sequences" are generated through scripts. "Messages" are created using message templates.
Possible applications include:
NGAP and NAS procedure and protocol compliance testing
Simulate multiple gNodeBs/AMFs and millions of subscribers using CSV configurations
5G System wide features such as SMS, Location Services, Emergency Services
Authenticate and confirm security procedures
QoS requests for greater or lesser bandwidth
Temporary addressing management for mobility and security
GL has enhanced its MAPS™ protocol emulation tool to simulate multi-protocol and multi-interface offering a complete range of test solutions, covering the entire 2G, 3G, 4G and 5G network.

By mimicking real-world customer behavior in lab environments, our solutions allow mobile operators and equipment manufacturers to verify their 5G networks before deployment.

The product supports Mobile traffic core – GTP (ETH101) simulation for user-plane packet transmission and reception services between any two nodes in 5G network. Mobile Traffic Core – Gateway (ETH102) module allows simulation of Gateway Traffic to test media gateway telephony interfaces over IP. These modules also support generation and verification of data traffic such as Email, FTP, Web (HTTP), Video, and more.

GL also provides a GUI based Multi-Protocol Analyzer for on-line capture and decode of the signaling in real-time both during tests and as a stand-alone tracer for live systems.
Main Features
Setup a virtual real-time scenario simulating 5G interoperability with 4G-LTE network elements
Simulates UE+gNodeB and AMF nodes.
Supports Control plane signaling and User plane traffic
Supported Procedures in N1 and N2 interfaces includes-

NG Reset
NG Setup
Initial Context Setup
UE Context Release
Registration
De-registration
Primary authentication
key agreement procedure
Security mode control
Identification

Generate hundreds of UE Signaling (Load Testing).
Generate and process NGAP/NAS (valid and invalid) messages.
Insertion of impairments to create invalid messages
Supports customization of call flow and message templates using Script and Message Editor.
Ready-to-use scripts for quick testing
Supports scripted call generation and automated call reception.
Provides Call Statistics and Events Status.
Automation, Remote access, and Schedulers to run tests 24/7
Supported Protocols Standards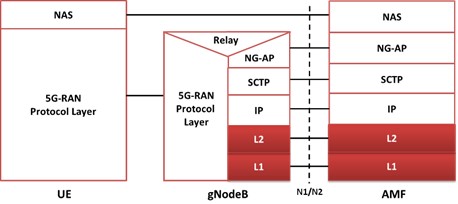 Control Plane for N1/N2 Interface
Supported Protocols

Standard / Specification Used

N1N2 Interface

System Architecture for the 5G

3GPP TS 23.501 V2.0.1 (2017-12)

NG Application Protocol (NGAP)

3GPP TS 38.413 V0.7.0 (2018-03)

Non-Access-Stratum (NAS)

3GPP TS 24.501 V1.0.0 (2018-3)

GPRS Tunneling Protocol for Control Plane (GTPv2-C)

3GPP TS 29.274 V15.2.0 (2017-12)

NR and NG-RAN Overall Description

3GPP TS 28.300 V2.0.0 (2017-12)

SCTP

RFC 2960
NG Application Protocol (NGAP): Application Layer Protocol between the gNodeB and the AMF.
SCTP for the control plane (SCTP): This protocol guarantees delivery of signaling messages between AMF and gNodeB (N1N2). SCTP is defined in RFC 2960.
Use Cases
| | |
| --- | --- |
| | |
| MAPS™ N1N2 configured as AMF to test gNB (DUT) | MAPS™ N1N2 configured as gNB to test AMF (DUT) |
5G N1N2 Interface Procedure
In 5G N1N2 interface, MAPS™ acts as either gNodeB to test AMF or AMF to test gNodeB simulating the following call control procedure.
MAPS™ N1N2 Emulator supported Procedures are - NG Reset, NG Setup, Initial Context Setup, UE Context Release, Registration, De-registration, Primary authentication and key agreement procedure, Security mode control, Identification.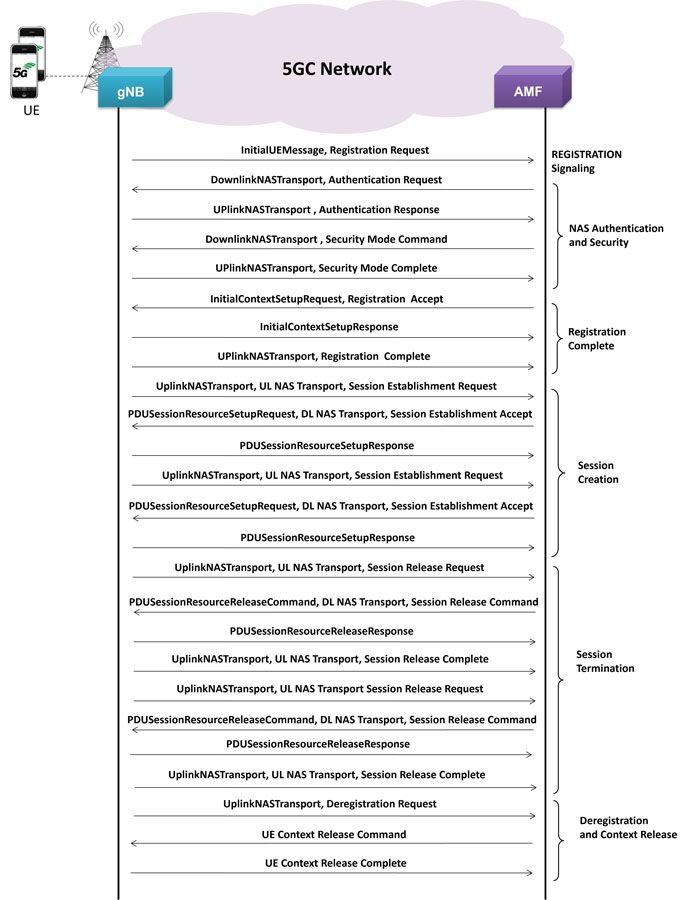 5G NGAP signaling scenario (messages between gNodeB and AMF)
The below figures depict the Call Control Procedure simulation across 5G N1N2 interface between gNB and AMF.
5G N1N2 interface Call Control Procedure at gNodeB Node
(Call Generation)
5G N1N2 interface Call Control Procedure at AMF Node
(Call Reception)
| | | |
| --- | --- | --- |
| | | |
| Load Generation Parameters | Testbed Setup configurations | Script Editor |
| | | |
| Profile Editor | Message Editor | SCTP Link Status |
| | | |
| Event Log | | |
Buyer's Guide
Please Note: The XX in the Item No. refers to the hardware platform, listed at the bottom of the Buyer's Guide, which the software will be running on. Therefore, XX can either be ETA or EEA (Octal/Quad Boards), PTA or PEA (tProbe Units), UTA or UEA (USB Units), HUT or HUE (Universal Cards), and HDT or HDE (HD cards) depending upon the hardware.
| | |
| --- | --- |
| Item No. | Item Description |
| PKS500 | MAPS™ 5G N1N2 Interface Emulator |
| | GTP Mobile Traffic Options |
| ETH100 | |
| ETH101 | |
| ETH102 | |