Overview
Voice communications for air traffic management, whether it is Air-Ground (A-G) or Ground-Ground (G-G) were predominantly over TDM based Air Traffic Management (ATM) networks. With the latest developments in EUROCAE (European Organization for Civil Aviation Equipment) ED-137 inter-operability standard, it is now possible to implement VoIP technology for voice services for air traffic control. This implementation uses familiar SIP protocol to establish, modify, and terminate sessions within an Air Traffic Services Ground Voice Network (AGVN) with endpoint equipment. The endpoint equipment can be SIP based CWPs, Next Generation VCS, Radios, Recorders, and VCS/Radio Gateways allowing interworking with older legacy equipment and protocols as shown in the diagram above. Existing Voice Communication systems (VCS) systems can access an IP WAN network as the connection backbone using VoIP gateways.
Before such a system is deployed live, it is imperative that thorough testing for voice quality, performance, reliability, and functionality be conducted. GL tools for signalling emulation and voice quality testing offer an end-to-end test solution for testing connections from the radio interfaces to the Controller Working Position (CWP).
The following products are included in GL's End-To-End Signalling Emulation and Voice Quality Test Suite:
Critical Delay Measurements using Audio Analyzer & Packet Analyzer
Measuring delay, jitter and packet loss through these networks is critical and network testers will need to precisely time events. Delay testing and verification is going to be particularly important with the transition to IP, which will introduce packetization delays as well as jitter buffer delays and other uncertainties. Understanding the time from which the Air Traffic Controller keys PTT until the IP stream indicates that the PTT bit is set is a relevant testing scenario. This delay measurement is possible using GL's Audio Analyzer as well as GL's Packet Analyzer.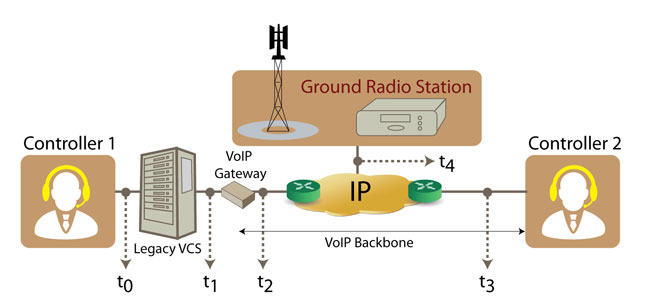 Test for voice quality as well as latency of the Analog / TDM and VoIP systems can be done using GL's Audio Analyzer product - by injecting and recording analog signals at the CWP, Radio and VoIP gateway interfaces. Audio Analyzer can automatically key PTT from the CWP, then transmit and receive audio signals for precise delay testing. The Audio Analyzer is capable of generating triggers based on PTT activation. Below is a list of the key features associated with the Audio Analyzer:
4-Wire Balanced Audio and PTT Contact Closure Interface for connecting to the CWP Dual Jack Module as well as other 4-wire interfaces within the network
Precise One-Way Delay (OWD) measurements as well as event-based TTL or CMOS trigger outputs that can feed an oscilloscope or other discrete signal loggers
Voice Quality Assessment using industry-standard ITU algorithms (PESQ & POLQA)
4-Wire "Bridge" Mode – To monitor existing TMG's and provide event-based trigger outputs (for latency testing)
Test Automation Capabilities - GUI-based or SDK and CLI versions
The Packet Analyzer is capable of generating triggers based on packet filters. Packet Analyzer also includes a powerful "Wirespeed filter" that allows a user to filter out unwanted traffic, and continuously capture the traffic of interest. Features of the wirespeed packet filter are listed below:
Filter packets and records only packets of interest
Capture simultaneously on 2 ports with 40 bytes deep filter per port (for record Only module) or on 3 ports with 16 bytes deep filter (for Record and Playback module) and set filter on any one of the ports or all ports
Packet filtering can be based on all Layer 2 (Ethernet), Layer 3 (IP) Layer 4 (UDP/TCP) Headers
Generates a trigger (1 Microsecond pulse) for each packet that satisfies filter criteria
For more details, please visit Critical Delay Measurements in Air Traffic Management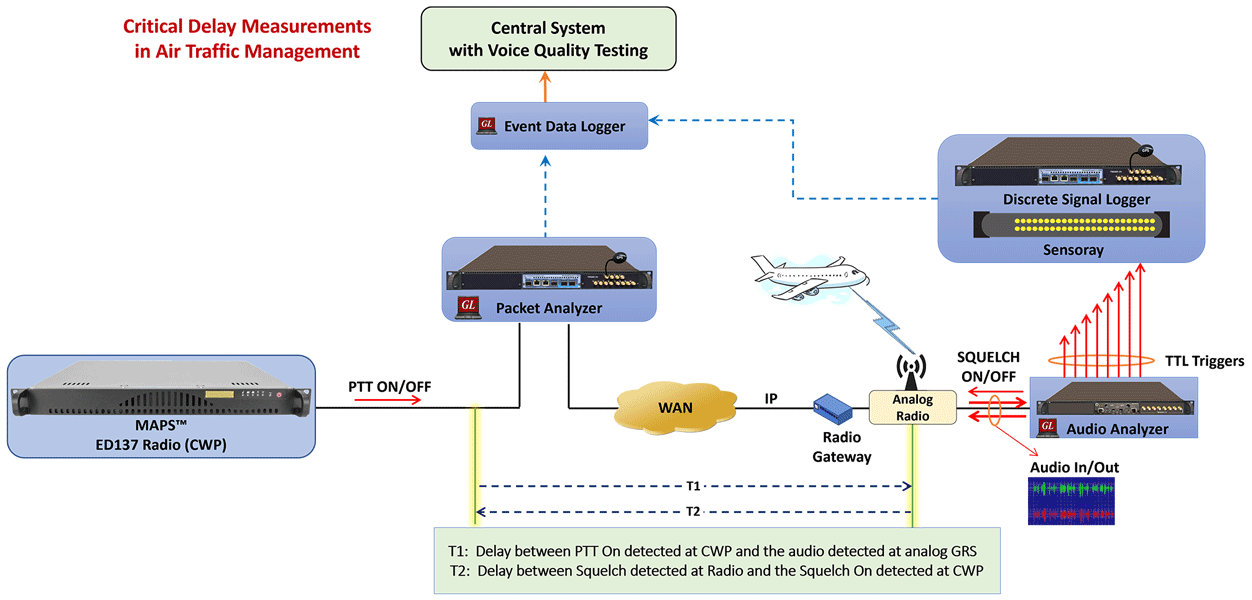 GL's TM-ATM Solution for Timing Measurements
The above TM-ATM solution includes various GL test tools such as Audio Analyzer (which uses GL's VQuad™) and Packet Analyzer, TTL Signal Packetizer, Event Data Logger (all these three components use GL's PacketExpert™- platform). All these components are controlled by a centralised component called MAPS™ Administrator (MA). MAPS™ Administrator calculates the time difference between posted events, i.e., Discrete Events (from the Packetizer) and Timed Events (from Packet Analyzer) and reports precise measured delay at different points in the network. All the components support client server model, with the MAPS™ Administrator acting as a client and controlling all the other components which act as servers, from a centralised location.
Refer to Delay Measurements section for detailed information about the GL Test Tools used in the solution.
ED-137 Test Solutions
GL's MAPS™ ED-137 address the need for additional testing needs that may include simulating many endpoints and generating bulk calls (load testing) on the network. GL offers (Message Automation & Protocol Simulation) MAPS™, a software platform, which can simulate both Air-Ground calls (as per ED137_1B and ED137_1C: Radio) and Ground-Ground (as per ED137_2B: Telephone) calls as per EUROCAE (European Organization for Civil Aviation Equipment) ED137 standards. MAPS™ ED-137 support can emulate many user agents (end points) without requiring analog interfaces.
The software also supports simulation of Recorder interface for both Air-to-Ground and Ground-to-Ground calls at CWP, GRS and Recorder endpoints as per ED-137/4B standards. Air Traffic Recorder is the next generation VoIP recorder implemented as per ED-137/4B inter-operability standards. Specially designed for all traffic control towers and centers to simplify the recording, archiving, and playback voice communications. It can simulate AG/GG call recording towards Recorder and testing Recorder interface of CWP/VCS and GRS in ATM network.
MAPS™ ED-137 VoIP ATM Telephone can simulate hundreds of Ground-to-Ground calls, supporting all Telephone call types and scenarios such as Call Hold and Call Transfer.
MAPS™ ED137 VoIP ATM Radio can be configured as CWP and GRS to simulate outgoing and incoming messages in Air-to-Ground call.
MAPS™ ED-137 Air Traffic Recorder can emulate call recording functionality at CWP, GRS and Recorder interfaces, generating more than hundreds of recording sessions to verify performance and load testing.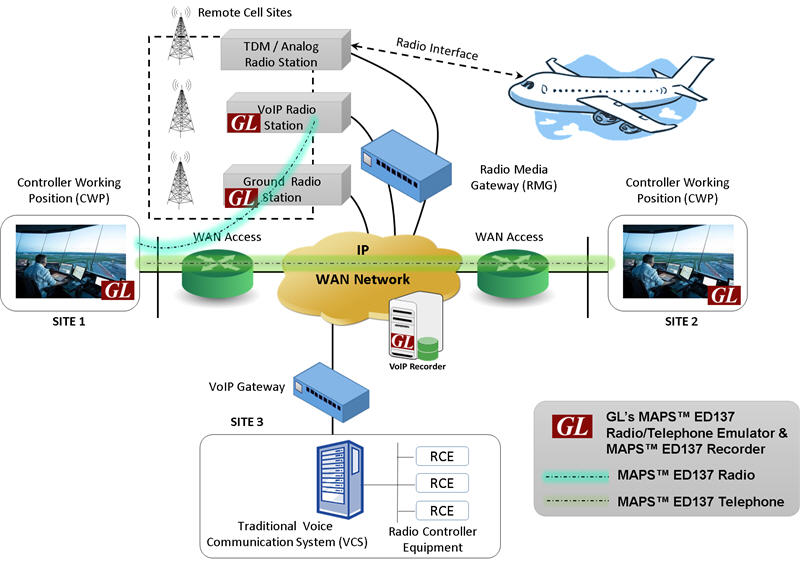 MAPS™ ED137 can be used to set up voice sessions over a network, then send and record test voice signals for assessing voice quality and performance. It simulates both Controller Working Position and Radio Media Gateway System, with following important features required to maintain reliable communication over air traffic network.
RTP Extended Header

Supports RTP header extension format as per extended header type 0x167 (WG67). Both audio RTP and R2S packet will carry this 8 byte extended header. PTT and Squelch fields are set properly to signal voice activity in uplink or downlink. PTT-id assigned by remote end will be reflected in extended header.
R2S-KeepAlive packets

Supports generation of R2S-KeepAlive packets while there is no active voice being transmitted or received to keep the SIP session maintained. Push-To-Talk (PTT) and Squelch fields are reset properly to signal silence (idle period) in uplink and downlink respectively.
Supports additional SDP parameters
R2S-Keep Alive Period: Maximum time (or frame interval) between each R2S-keep Alive packet. integer, in milliseconds.
R2S-Keep Alive Multiplier: Number of Keep Alive packets in error or not received by endpoint before Time Out of the session
PTT ID: PTT identity (value from 000001 to max. number of possible RTP streams, e.g.111111=63) assigned to each user agent by GRS endpoint in 200OK response to INVITE.
Version of the used RTP HE (Header Extension).
Frequency Identity.
Supports Additional SIP headers 'Priority' and 'Subject'.
Every INVITE contains these two headers.
Priority: normal (Indicates SIP call priority)
Subject: radio (Indicates SIP call type)
IP Spoofing

Supports IP address spoofing to generate each SIP call using different IP address from a single system.
For more details on MAPS™ ED-137, please visit MAPS™ ED-137 Telephone , MAPS™ ED137 Radio, MAPS™ ED-137 Recorder webpages.
WAN IP Link Simulation using GL's IPNetSim™
GL provides various types of WAN Link simulation platforms such as IPNetSim™. This appliance is connected to the two end points of a WAN link, allowing it to act either as a transparent bidirectional Ethernet link or a simple Ethernet bridge between two end points. The different WAN link speeds that can be emulated are - RS232/DSL/Modem/T1 E1/T3 E3 and more. IPNetSim™ also supports simulation of various impairments as listed below :
Bandwidth emulation from 100 Kbps up to 10 Gbps in increments of 1 Kbps emulating various WAN technologies like Modem, DSL, T1/E1/T3/E3/OC3/OC12 etc
Latency/Delay emulation from 0 milliseconds to 8 seconds, with single, uniform and random distributed delay emulation capabilities
Packet Loss emulation, from 0 to 100%
Packet Reordering emulation, from 0 to 100% with random reinsertion delay
Packet Duplication emulation, as a percentage of total packets, from 0 to 100%
Logic Error Insertion - inserts error anywhere within the frame, from 10-1 to 10-9 rate
As discussed above, GL's Testing Suites provides all the necessary flexibility and enhancements to meet the challenge of ED-137.
Contact us to know more.
Voice Quality Testing (VQT)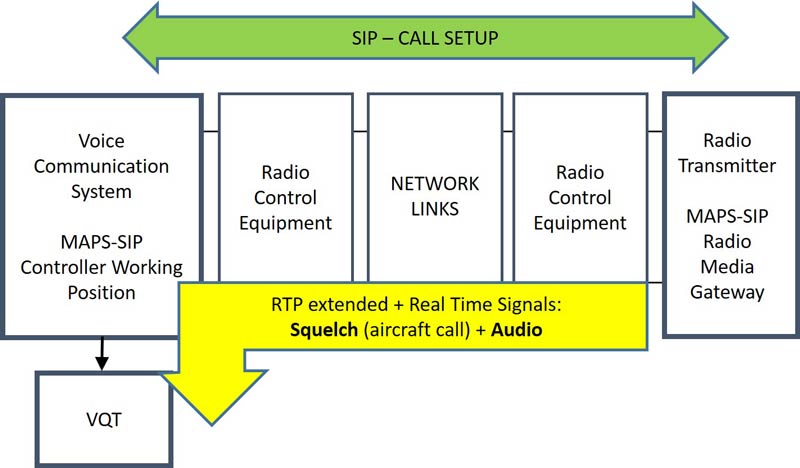 Testing Radio/Network Links – Answer and Send Voice with Squelch
The figure above shows MAPS™ ED137 simulating a call from an aircraft, by sending a voice file over the radio network to an air traffic controller. When there is no voice transmission from the aircraft, only keep-alive packets are sent from radio towards the VCS/CWP endpoint. The PTT keying by a pilot triggers voice transmission towards the ground and keep-alive packets are replaced by audio packets from radio towards the VCS/CWP. The voice traffic is received at the controller side and recorded. With GL's Voice Quality Testing application, the received file is compared against the original and a standard ITU-based voice quality score is derived. The RTP traffic can also be converted to analog and output to a PC speaker.

For more details on GL's VQT, please visit Voice Quality Testing - PESQ-POLQA
ATM Network Quality Monitoring Tools per ED-138
GL's PacketScan™ - an All-IP Network Monitoring software offers powerful features to capture and monitor live signaling and traffic over IP. It captures, decodes, segregates, monitors and collects statistics on all IP calls, as per EUROCAE ED-138. †Ease of viewing Ground-to-Ground calls and Air-to-Ground sessions is possible.
All traffic supported Ė Digits, Tones, Voice, Video, Fax Live monitoring Ipv4 and IPv6 (version 4 and version 6) networks
Segregates, captures, and collects statistics
Monitors QoS (quality of service) on voice calls
Permits analysis of adherence to protocol standards for the system under test or observation
Provides graphical presentation of analysis including protocol ladder diagrams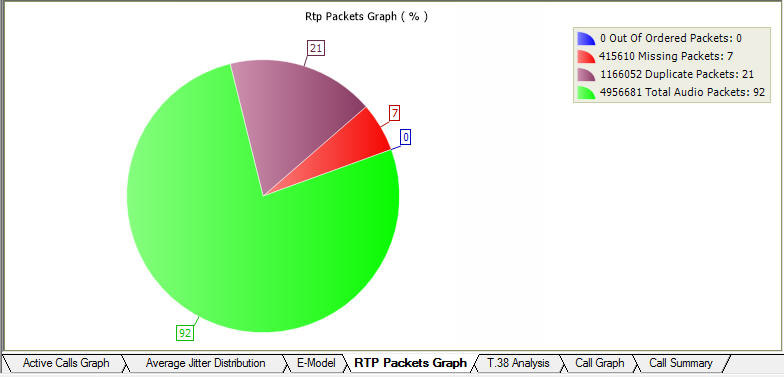 GL's NetSurveyorWeb™ is a centralized web-based network surveillance system that connects to PacketScan™ probes for displaying Call Details Records (CDRs), measurement results, and network performance statistics.

GL offers NetSurveyorWeb™ Lite version, which is a simple web-based client and works at the probe level, as an addon tool to enhance the features of protocol analyzers enhancing the capability to handle larger volume of data, filter for specific calls, build custom statistics and KPIs, automate and graphical analysis features to analyze the call detail records (CDRs) in depth. †It is an easy plug-and-play system that collects data, segregates, and provides comprehensive analysis of network health, detailed protocol monitoring with historical data retention up to 9 GB.

Possible session measurements include Ė
Voice Quality (MOS, R-Factor)
Signal level, Nosie Level, and Echo
Delay Measurements (RTD, OWD)
Signalling Messages and Traffic Types
Call Duration and Call Volume
Call Status (Completed, Busy, Success, Failure)
Physical Layer Alarms (Link Status, Carries Loss, Sync Loss, ...)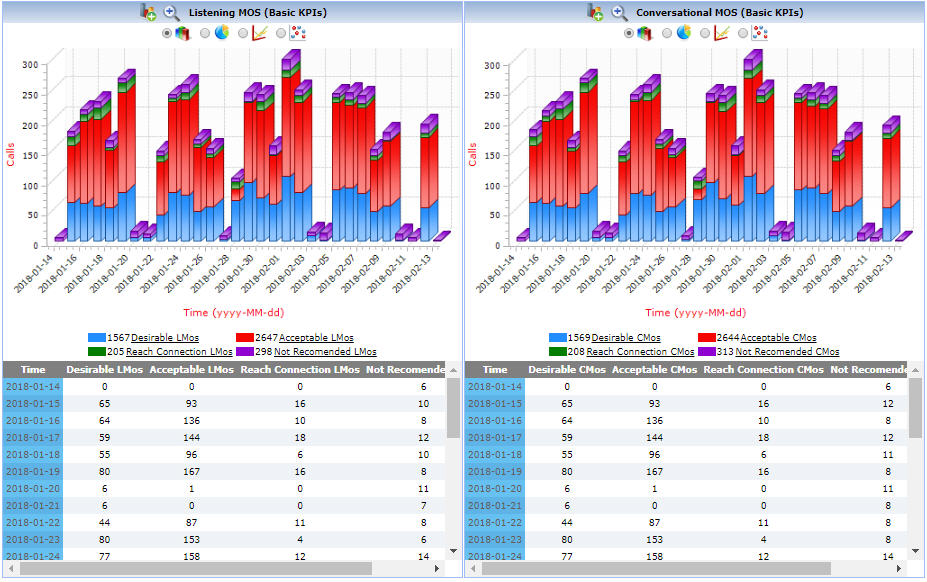 Quick Links
---
Webinars




Workshop 1 : MAPS™ ED137 Radio Emulator




Workshop 2 : MAPS™ ED137 Telephone Emulator


MAPS™ ED137 Radio Emulator

ED-137B Test Solutions

Testing VoIP Air-to-Ground Calls
per ED-137C Radio

Enhanced Test Tools for ED-137B
VoIP Air Traffic Control

ED-137 VoIP Emulation and Analysis
for Air Traffic Management