MAPS™ ED137 Telephone Emulator
Ground-to-Ground Calls Simulation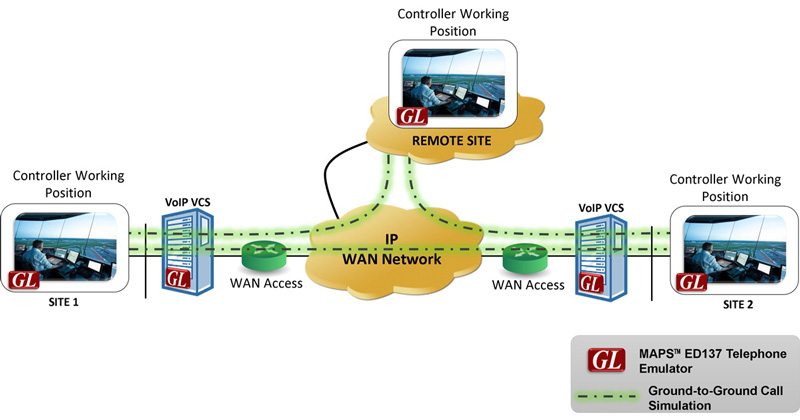 MAPS™ ED-137 Telephone Software Ver 8.3.19 (64-bit Only) | Download Now!
Overview
Recent advances in Air Traffic Management over IP network has opened up both opportunities for providing better services, and challenges to ensure reliability, and performance. Among many other solutions for testing Air Traffic Control network, GL offers MAPS™ ED137 Telephone (PKS119) which can simulate Ground-Ground (as per EUROCAE ED137_2B: Telephone) calls.

MAPS™ ED137 Telephone simulates the functions of Controller Working Position (CWP) in Ground-to-Ground telephone calls. The product supports transmission and detection of various RTP audio traffic such as real-time audio, voice file, digits, single tone and dual tones. The MAPS™ profile editor feature allows users to easily configure multiple CWPs profiles, allowing to simulate multiple CWP entities.
GL tools for signalling emulation and voice quality testing offer an end-to-end test solution for testing connections from the radio interfaces to the Controller Working Position (CWP) and recording voice communications in the ATM network. GL's Air Traffic Management Solution also includes MAPS™ ED-137 Recorder Emulators and MAPS™ ED-137 Radio Emulators.
GL also provides a GUI based PacketScan - All IP Traffic Analyzer for online capture and decode of the signaling in real time both during tests and as a stand-alone tracer for live systems.
Main Features
Signalling and Traffic Simulation

Emulates ED-137/2B Telephone interface at CWP endpoints.
Enhanced to support multiple CWP endpoints simulation
Portable, easy to configure and use during in-the-field installation, system configuration/ test and commissioning
Supported call types include Instantaneous Access, Priority Direct/Indirect Access, Routine Tactical Direct/Indirect Access, Routine Strategic Direct/Indirect Access, Routine General Purpose Direct/Indirect Access, and Position Monitoring (Combined A/G and G/G, A/G only, and G/G only) Call
Supports SIP Headers defined in ED-137/2B.
Depicts easy to understand Call Flow Graphs of SIP message exchanges and Displays Message contents (SIP headers and SDP attributes).
Allows call rejection through use of SIP response codes (4xx, 5xx, 6xx)
Supports multiple Profiles (Users/End points) from single node.
Supports hundreds of simultaneous calls and load generation can be automated completely along with traffic.
Allows to define DSCP (Differentiated Service Code Point) values for signaling and voice traffic.
Supports complete customization of SDP and SIP headers, call flow, and messages.
Supports both UDP and TCP (IPv4 and IPv6).
Handles Re-transmissions of messages with specific interval.
Supports User authentication with Proxy, Registrar servers
Supports IP address spoofing for each endpoint to generate call using different IP address from a single system.
Supports OPTIONS PING feature used to check the connection status

Traffic

Supports various traffic actions on the call such as Playback to Speaker, Send & Record audio file, Generate and detect inband digits, single tone and dual tone.
Supports ED137 defined codecs - G.711 (mu-Law and A-Law) and G.729
Supports User-defined and automated traffic actions on the call.
Applies impairments to the traffic such as Packet Loss, Latency, Duplicate and Out of sequence.
Provides aggregated voice quality statistics such as MOS/R-Factor, Packet Loss, Duplicate and out of sequence packets.

GUI Features

Call Generation and Call Reception Window includes button options to apply Events on an ongoing call.
Provides call statistics such as Active, Completed, Passed, Failed and Calls per second
Provides Event logs, Captured errors and Error events.
Automation, Remote access, and Schedulers to run tests 24/7
Supported on Windows® 7, 8 or higher version operating systems.
Supports 64-bit version to enhance signaling performance.

CLI

Supports Client-Server functionality requires additional license; clients supported are TCL, Python, VBScript, Java, and .Net.

Applications

Fully integrated, complete test environment for Air Traffic Management.
Supports testing CWP, VCS, GRS (or RMG), and VRS.
Handles strict routing & loose routing, when requests are routed through proxies.
MAPS™ ED137 Telephone Simulation
Typical SIP Procedure
A typical ED137 Telephone call between CWP entities in the Ground-to-Ground call using MAPS™ ED137 at one of the peer-end is as shown.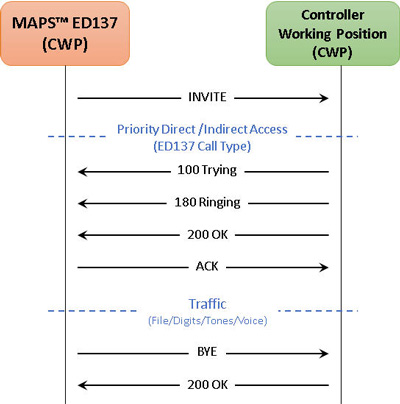 Ground-Ground Call Simulation (as per ED137_2B: Telephone)
MAPS™ ED137 Telephone can be configured as CWP for placing and receiving calls, thus generating telephone calls.
Once call is established between the two terminals, transmission and detection of various RTP audio traffic such as real-time audio, voice file, digits, single tone and dual tones are also supported with additional licenses.
User-friendly GUI features allows users to manually start/stop traffic, impair the traffic (latency, packetloss, and packeteffect), transfer call, put active call on hold, and playback the call using Speaker On option.

Supported call types includes the following -
Instantaneous Access
Priority Direct/Indirect Access
Routine Tactical Direct/Indirect Access
Routine Strategic Direct/Indirect Access
Routine General Purpose Direct/Indirect Access
Position Monitoring (Combined A/G and G/G, A/G only, and G/G only) Call



MAPS™ ED137 Telephone (CWP)
– Routine Strategic Access Call Generation




MAPS™ ED137 Telephone (CWP)
– Routine Strategic Access Call Reception
Comparison
MAPS™ ED137 Radio Simulation
MAPS™ ED137 Telephone Simulation

Emulates Radio interfaces at Controller Working Position (CWP) or Ground Radio Station (GRS) endpoints as per ED-137/1B Compliance
Emulates Air to Ground Calls
Supports generation of Real-time Session Supervision (R2S)-KeepAlive Packets and RTP Header Extensions to carry Radio signalling information as per ED-137/1B standard
Supports Normal/emergency radio sessions, all PTT Types and Radio call types

PTT Call types- Normal PTT On, Coupling PTT On, Priority PTT On, and Emergency PTT On
Radio Call types – Radio Idle, Rx Only, Radio Tx Rx, and Coupling

Supported events - PTT on/off, Transmit CLIMAX Time Delay, send Re-Invite, receive traffic, impair traffic, and Play back the call on speaker
Option to define radio frequency, radio maintenance mode and permitted users list
Call graphs notifying all the above listed events with timestamp
Supports optional Climax Time Delay, RSSI Signal Quality Index and Radio Remote Control header extension types
CWP and GRS support WG67 KEY-IN event package (i.e. Subscribe/Notify of established Radio sessions at GRS)

Emulates Telephone interface at CWP endpoints as per ED-137/2B Compliance
Emulates Ground to Ground Calls
Supports all SIP Methods, Headers and Mandatory /Optional SDP attributes as per ED-137/1B
Supported call types include –

Instantaneous Access (IA)
Priority Direct/Indirect Access (DA/IDA)
Routine Tactical Direct/Indirect Access
Routine Strategic Direct/Indirect Access
Routine General Purpose Direct/Indirect Access
Position Monitoring Call (Combined A/G and G/G, A/G only, and G/G only)
Supported events -send Re-Invite, send traffic, receive traffic, put active call on Hold, transfer call, impair traffic, and Play back the call on speaker
Screenshots
| | | | |
| --- | --- | --- | --- |
| Testbed Setup MAPS™ ED137 – Telephone | Radio CWP Profiles | Radio GRS profiles | Telephone CWP Profiles |
| Call Statistics | Call Graph | Call Events Log | User defined Statistics |
Quick Links
Product Webinars



Workshop 1 : MAPS™ ED137 Radio Emulator




Workshop 2 : MAPS™ ED137 Telephone Emulator


Enhanced Test Tools for ED-137B
VoIP Air Traffic Control

ED-137 VoIP Emulation and Analysis
for Air Traffic Management

ED-137B Test Solutions

Testing VoIP Air-to-Ground Calls
per ED-137C Radio