UMTS Protocol Test Suite
Overview
GL's UMTS Test Suite provides a complete solution to monitor, simulate, and troubleshoot problems over UMTS networks. GL's UMTS Analyzer and Emulator applications covers all interfaces and network elements in the UMTS network. The Protocol Analyzer not only provides capturing and decoding capabilities across various interfaces, but also helps to capture, store and troubleshoot CDRs. The MAPS™ UMTS emulators are capable of simulating Circuit-Switched (CS) as well as Packet-Switched (PS) interfaces in the UTRAN network. The suite provides wide-ranging capabilities to perform load testing, functional testing, and inter-operability testing.
What makes GL tools unique?
Script-controlled simulation of wireless networks
Unlimited ability to edit signaling messages, protocol fields, and call flows
Flexible architecture independent of any protocol or under-lying network - makes cross-domain testing and transition testing to new networks developments easier
Complete test automation with the help of APIs (Python, Java, TCL,..)
A snapshot of UMTS Protocol Test Suite and its features is provided below.
End-to-End 3G/UMTS Wireless Network In-Your-Lab
GL's MAPS™ Wireless Lab Suite (2G, 3G, 4G, IMS) along with radio access elements is used to provide an advanced full-fledged network environment that enables user to test their applications, devices, and services on simulated wireless infrastructure environment prior to deployment on a real-time network. The wireless lab test suite is an invaluable tool for protocol characterization and testing, performance measurement, and training.
Setup a virtual real-time 3G-UMTS network using MAPS™ 3G Wireless Lab Suite. The suite offers all features to perform functional unit tests at every integration point within the wireless infrastructure. The following scenarios can be realized with a MAPS™ 3G Wireless Lab Suite -
Mobile to Mobile Voice Call (CS)
Simulated UE to Mobile Voice Call (CS)
Mobile to Simulated UE Voice Call (CS)
Simulated UE to Simulated UE Voice Call (CS)
Mobile to Mobile SMS (CS)
Simulated UE To Mobile SMS (CS)
Mobile to Simulated UE SMS (CS)
Mobile Web Browsing (PS)
Simulated UE Web Browsing (PS)
Internetwork Calls and Roaming Calls
Related Software:
MAPS™ 3G Wireless Lab Suite
---
Massive UE and CS Traffic Simulation in UMTS Networks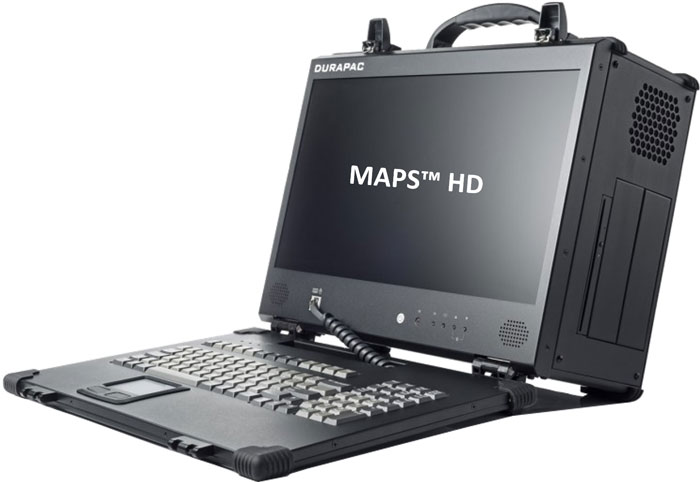 MAPS™ UMTS + HD RTP network appliance is an advanced bulk call generator used to simulate high volume calls with RTP traffic over CS UMTS network. It is available as special purpose rackmount network appliance with 2x 10GigE and 4x 1GigE NIC capable of high call intensity (hundreds of calls/sec) and high volume of sustained calls (tens of thousands of simultaneous calls/platform).
Easily achieve up to 20,000 endpoints per appliance (5000 per port). Using a stack of multiple servers, a larger test system with 100K-200K calls (all controlled from a single Master Controller) is achievable for enterprise to carrier grade testing. It can also provide non-reference-based voice quality using E-model (R-factor) and MOS with five mapping scales.
Related Software:
MAPS™ UMTS IuCS IP Emulator
MAPS™ UMTS IuH IP Emulator
MAPS™ HD RTP
PacketScan™ HD
---
Massive UE and PS Traffic Simulation in UMTS Networks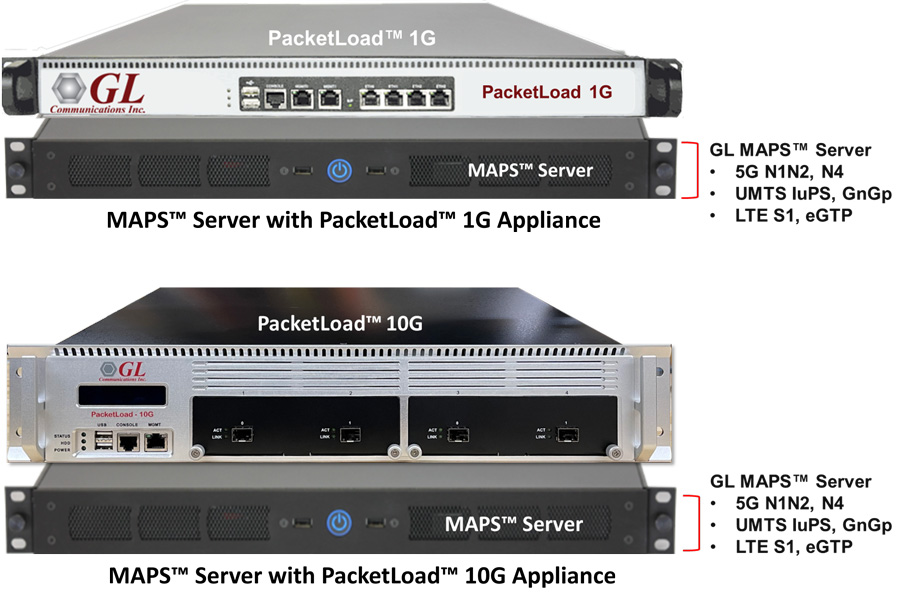 GL's MAPS™ Server with PacketLoad appliance supports massive simulation of UEs (up to 500000) with mobile data traffic (user plane GTP) at high line rates (up to 4 Gbps or 40 Gbps) for both UMTS, and LTE networks.
The solution allows to encapsulate the generated packet data within GTP headers and transmit through the gateway points such as SGSN & GGSN, or SGW & PGW. Currently, the solution offers stateful TCP/HTTP, and PCAP Replay traffic types.
At the generating end, MAPS™ automates the process of creating UEs with different mobile traffic parameters. At the receiving end, MAPS™ with PacketLoad verifies the received data and provides various measurements, which include, Total packets transmitted and received, Latency, Delay, Bandwidth, Total TCP connections, Successful connections, Packet loss, etc.
Related Software:
PacketLoad™ 4 x 1Gig, Data Traffic Generator
PacketLoad™ 4 x 10Gig, Data Traffic Generator
MAPS™ UMTS Gn Gp Emulator
MAPS™ UMTS IuPS IP Emulator
MAPS™ UMTS IuH IP Emulator
---
UMTS GnGp over IP Emulation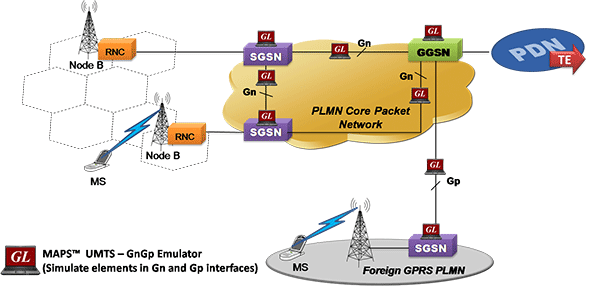 ---
UMTS IuCS, IuH over IP Emulation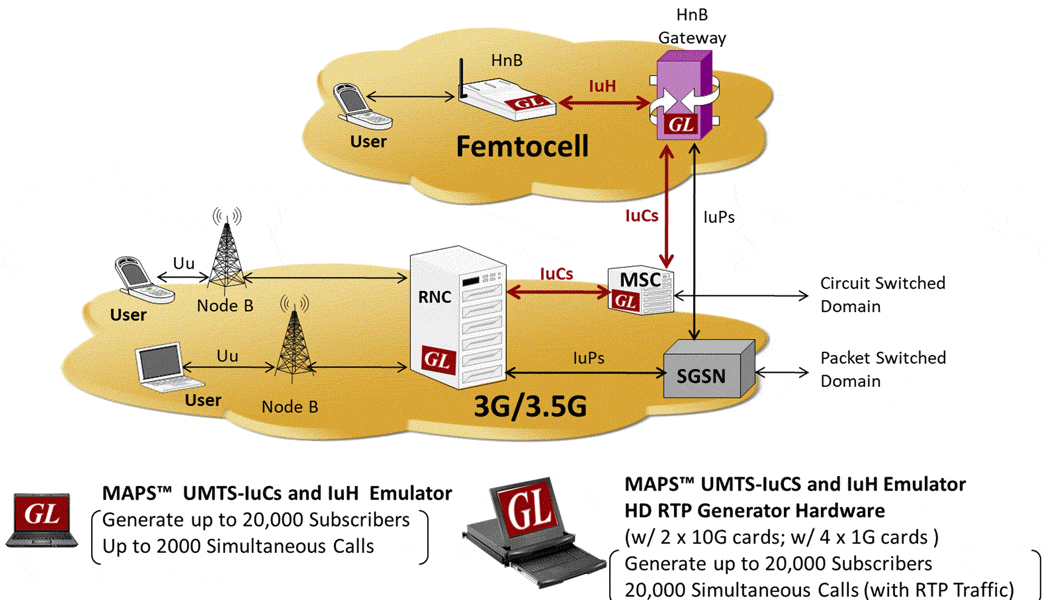 MAPS™ UMTS IuH interface can simulate Femto Home Node B (HnB), and a Femto Home Node Gateway (HnB-GW) by generating RANAP and DTAP signaling messages over SCTP Transport layer.
MAPS™ UMTS IuCS can emulate the RNC (Radio Network Controller) and the MSC (Mobile Switching Center) by generating RANAP and DTAP signaling messages over SCTP. It includes ready scripts to simulate Location Update, Call Control MO (Mobile Originating), Mobile Terminating (MT), Mobile-to-mobile Voice Call/ SMS, SMS over active voice call, and Handover (Relocation) procedures.
IuCS is also available in HD version, which is capable of performing high call intensity and high volume of sustained calls.
Related Software
MAPS™ UMTS IuCS IP Emulator
MAPS™ UMTS IuH IP Emulator
---
UMTS IuPS over IP Emulation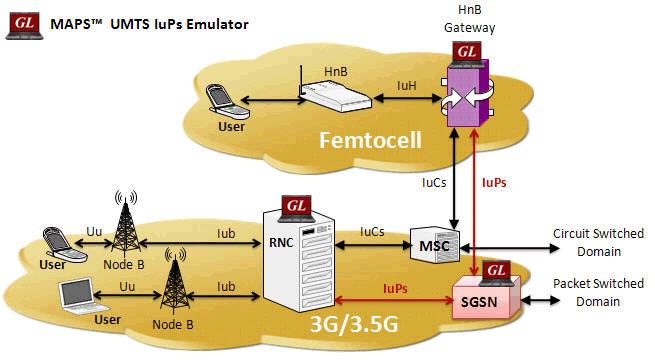 ---
Simulation of Circuit Switched Fallback (CSFB)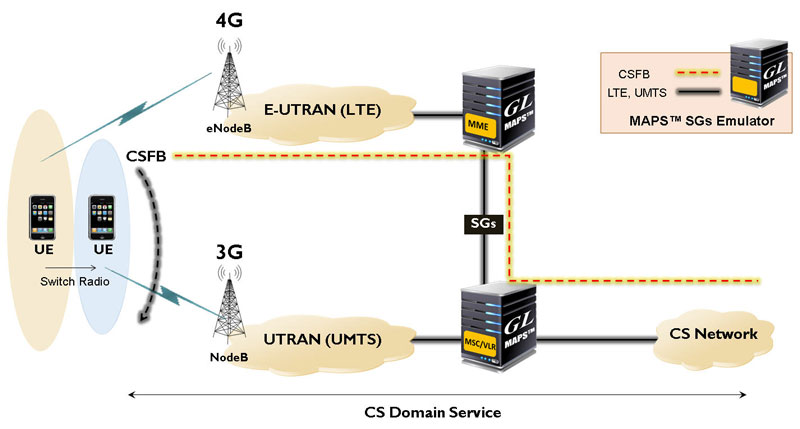 MAPS™ SGs Emulator is designed to emulate the CS fallback function for Voice and SMS delivery via the Circuit Switched (CS) core network using SGs interface between the Mobility Management Entity (MME) in the Evolved Packet System (EPS) and the Visitor Location Register (VLR) in CS network.
Circuit Switched Fall Back (CSFB) is a technology devised to allow Voice and SMS services to travel over LTE (packet-based all-IP) networks, which cannot normally handle circuit switched services. So, when an LTE device is used to place a voice call or send SMS, the device "falls back" to the 3G or 2G network to complete the call or to deliver the SMS. During such a call scenario, the UE changes its radio access technology from LTE to a 2G/3G technology that supports circuit-switched services. A new interface (called SGs) between the MME and the MSC is required.
The SGs association is only applicable to UEs with CS Fallback capability activated. CSFB is an interim solution for LTE operators until a full support for VoLTE is implemented.
Related Software:
MAPS™ SGs Emulator
MAPS™ UMTS IuCS IP Emulator
---
Testing Interworking Functions & Services (MAP, CAMEL, INAP, BICC)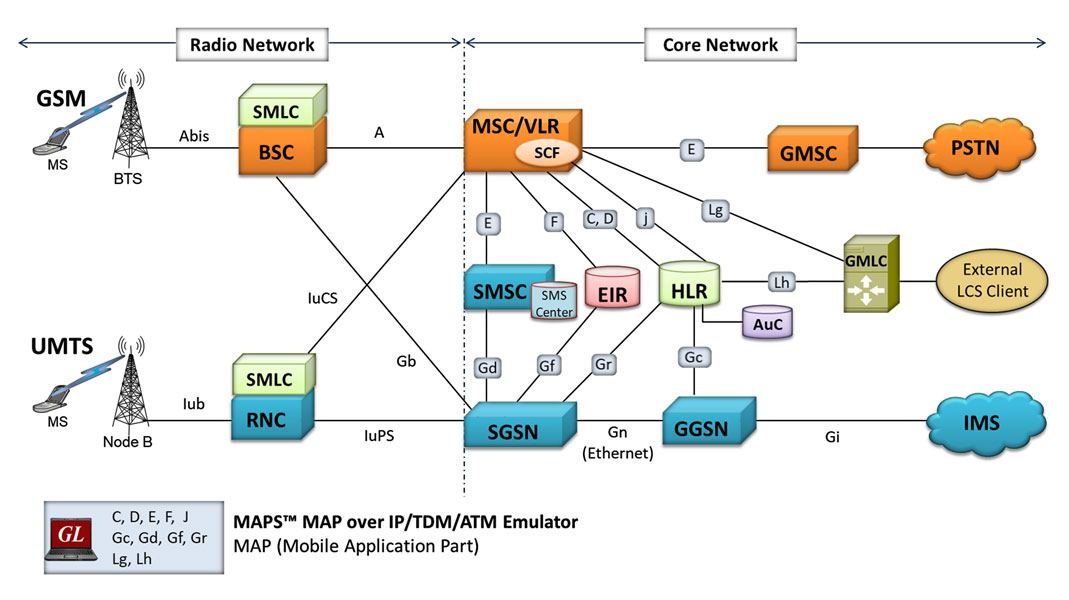 In 3G networks the GGSN (Gateway GPRS Support Node) handles the data charging, the SMSC handles the SMS charging, and the MSCs handle the voice charging, using CAMEL. When transitioning to newer 4G technologies,
DIAMETER protocol replaces MAP used for mobility management in GPRS; and DIAMETER's policy and charging (online and offline) control replaces CAP/INAP for handling pre-paid voice, SMS and other value-added services.
To handle roaming subscribers between 3G and 4G, testing protocol interworking implementation becomes crucial. GL's Multi-protocol software solution is designed to simulate complex signaling scenarios arising during roaming.
GL's MAPS™ MAP, MAPS™ CAP, MAPS™ INAP, MAPS™ BICC, MAPS™ Diameter products can fully test IWF (Inter-Working function) products and ensure full interoperability between vendors and network devices.
UMTS MAP interfaces. Common services provided by MAP are "Location Services", "Location Tracking", "Roaming", "Subscription Information", "Short Message Service", and many more
MAPS™ CAP Emulator can emulate CAP (CAMEL Application Part) supplementary services over GSM and UMTS networks such as unified messaging, prepaid, and toll-free (Freephone).
---
Locations Services in UMTS Networks
Location estimation in UMTS network uses Positioning Calculation Application Part (PCAP) protocol over IuPC interface between RNC and the Stand-Alone SMLC (SAS). PCAP consists of Elementary Procedures (EPs) initiating message and possibly a response message.
PCAP (Positioning Calculation Application Part) protocol is a functional part of SCCP handling the messaging between RNC and SAS. PCAP contains messages and parameters specific to support LCS over M3UA/SCTP and SCCP in IuPC interface of UTRAN.
MAPS™ IuPC Emulator supports emulation of IuPC interface between RNC and SAS network elements. The following functions of IuPC interface are supported -
Management of Position Calculation Functions
Management of SAS Centric Position Functions
Management of Information Exchange Functions
Related Software:
MAPS™ IuPC Emulator
MAPS™ Lg Lh Emulator
MAPS™ Lb Emulator
MAPS™ Diameter Emulator
MAPS™ SLs Emulator
---
UMTS Network Monitoring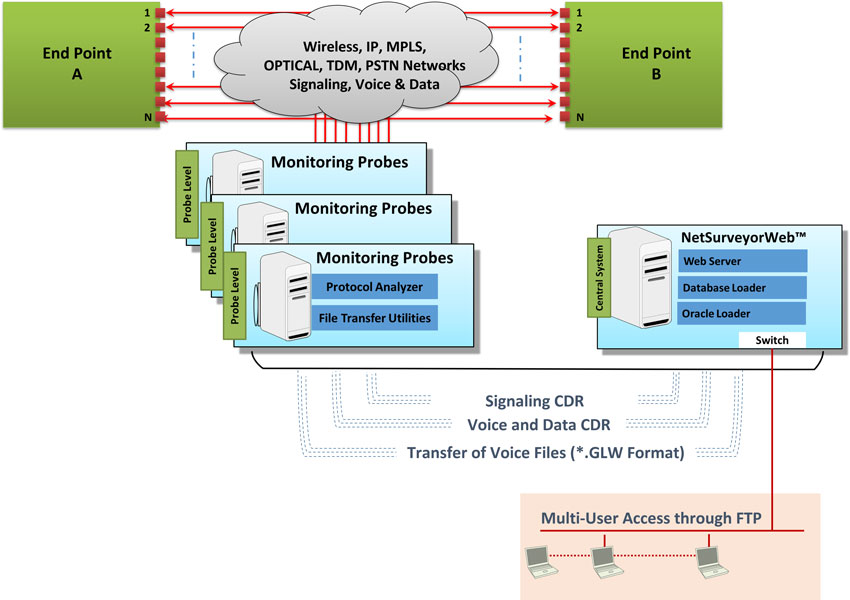 The network backbone contains a wealth of information that can be monitored and collected to support diagnostic, troubleshooting, and fraud prevention activities. Few important aspects of network surveillance include, Performance Monitoring, Security, Fraud Prevention, Physical Layer monitoring, Billing Verification, Remote Protocol Analysis, Failure Prediction, Traffic Engineering, Call Quality Monitoring and Troubleshooting.
GL's Passive Network Monitoring and Diagnostic Systems support operators, and service providers to perform all the above functions. Typically, this requires GL's UMTS protocol analysis probes for capturing physical layer, signaling call flows, and voice/data traffic, feed this captured data to central system comprised of a database engine, web server, and NetSurveyorWeb™ (PKV170), a web-based application, to facilitate data storage and retrieval through web browser clients. The web-based client facilitates real-time analysis, historical storage, retrieval, querying, and display of Call Detail Records (CDRs) with extensive KPIs.
NetSurveyorWeb™ Lite (PKV169) is an integrated and a cost-effective web-based client that works with all Protocol Analyzers to enhance the capabilities of protocol analyzer to process large volumes of real-time and historical data, filter for specific calls, build custom statistics and KPIs, automate, and graphical features to analyze the call detail records (CDRs).
Related Products:
NetSurveyorWeb™ Lite
NetSurveyorWeb™
---
UMTS over IP/ATM Analysis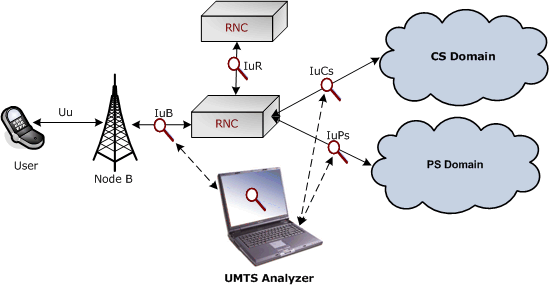 Over ATM, the UMTS Protocol Analyzer is capable of is capable of capturing, decoding, and performing various test measurements across various interfaces i.e. Iub, Iur, IuCS and IuPS interfaces. It also helps capturing, decoding, filtering, and & reassembling AAL-2 and AAL-5 frames that were transmitted with Inverse Multiplexing (IMA). With Inverse Multiplexing in ATM (IMA) feature, up to 8 T1/E1 links can be combined to form a high-speed connection, providing flexible bandwidth provisioning options. ATM cells are transmitted across multiple interfaces in a cyclical fashion and recombined to form the original stream.
Over IP transport layer, GL's PacketScan™ UMTS Protocol Analyzer is capable of capturing, decoding and analysing UMTS network protocols over IP transport network layer.
UMTS Analyzer can be used for
Call tracing (CDR) and recording capabilities over UMTS interfaces
Decode different control plane protocols i.e. NBAP, RNSAP, RANAP, ALCAP, SSCOP etc
Decode different user plane protocols i.e. Iu-UP, Iu-FP, AMR etc
Decode N AS protocols (i.e. CC/ MM/ SM/ SMS/ GMM) along with the UTRAN specific protocols
Any protocol field can be added to the summary view, filtering, and search features providing users more flexibility to monitor required protocol fields
Filtering and search capabilities add a powerful dimension to the analyser
Related Products:
Unchannelized OC3 / 12 and STM1 / 4
Channelized OC3 / 12 and STM1 / 4
Channelized/Uncahnnelized T1 E1 Platforms
PacketScan™ - All IP Protocol Analyzer
---
3G Network QoS Test Suite Voice, Video, & Data Quality Testing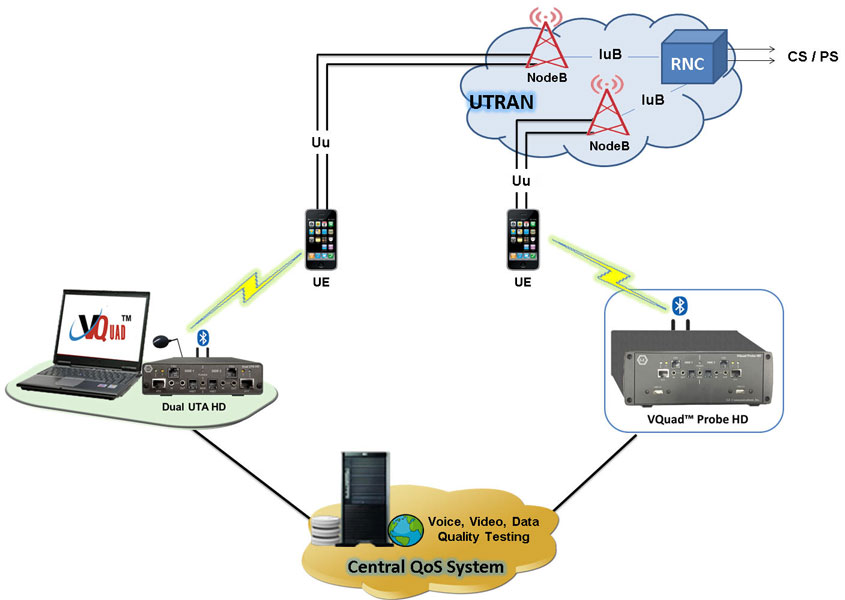 VQuad™ Probe HD is a self-contained unit used to objectively evaluate Signal Strength, Voice, Video, & Data Quality on Cellular networks (4G VoLTE, 3G, 2G), Land Mobile Radios, and Wired networks.
It includes VQuad™ software, Dual Universal Telephone Adapter (Dual UTA HD), and PC in a portable platform with a variety of power options suitable for field testing. VQuad™ Probe HD can connect to practically any end-point, wired or wireless devices, independent of underlying network type and perform automated voice, video and data testing.Network testing supported using either Bluetooth® or wired headset connection methods
GL's Voice Quality Testing (VQT) supports automated voice quality between using - POLQA (ITU-P.863) and PESQ (ITU-P.862). The POLQA algorithm is specifically used for testing networks.
The solution supports egress/ingress Data analysis along with Voice/Video Quality Testing and GPS timestamping on all wired internet connections including WiFi, Broadband Card (3G/4G/LTE), and Wired Ethernet.
The test equipment is widely used by Carriers, Data centers, Emergency Service Providers, Military, and Transport industries to measure Signal Strength (RSSI), Audio Quality (PESQ, POLQA), Video MOS, Data Testing, and Drive-Testing.
Related Software:
VQuad™ Software (Stand Alone)
Dual UTA HD
VQuad™ Probe HD
Voice Quality Testing (VQT)
WebViewer™