Traffic Generation Software for Analog, TDM, IP, & Wireless Networks
Welcome to another April 2013 issue of GL's Newsletter providing information and insight into our latest testing solution - Traffic Generation Software for Analog, TDM, IP and Wireless Networks.
As traffic intensity increases, network elements (including switches and transmission) can impart various impairments such as errors, excessive delay, congestion, blocking, loss, and degraded quality. Simulating traffic can be valuable to characterize the impairment as a function of traffic intensity and traffic type (e.g. Voice, Fax, Data, Video).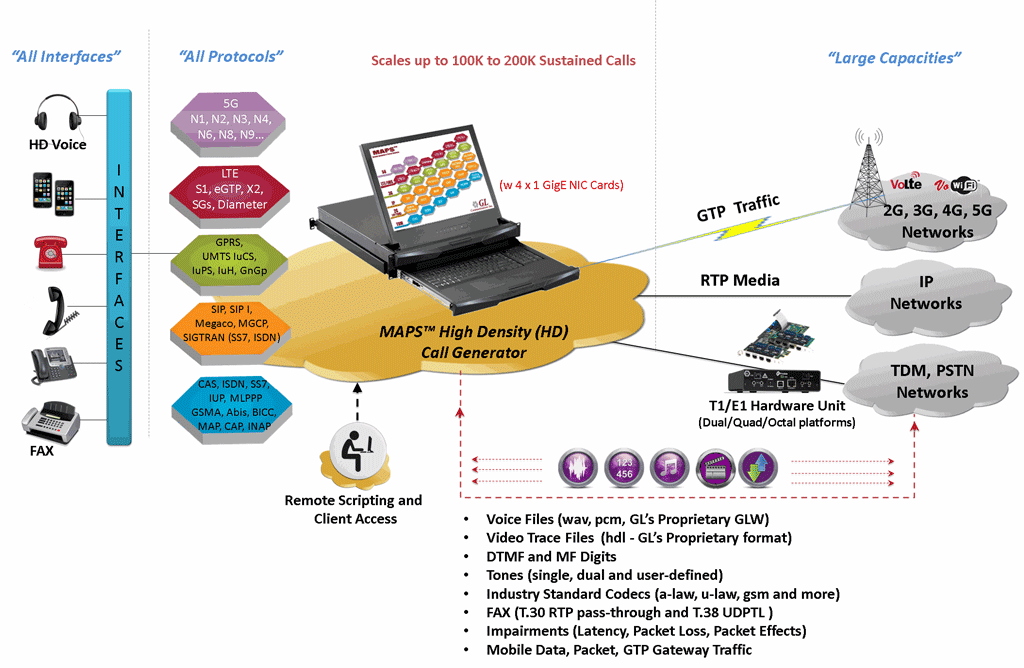 Overview
GL's Protocol Emulator platform MAPS™ (Message Automation and Protocol Simulation) performs signaling and traffic generation for a vast array of communication protocols covering IP, Analog, TDM, and Wireless Networks. Examples include testing legacy networks (which use conventional signaling such as CAS, SS7, ISDN..), newer generation IP Networks (using SIP, MGCP, MEGACO, SIGTRAN, Diameter..), and Wireless Networks (using GSM, GPRS, UMTS, and LTE).
---
Traffic Simulation for Analog and TDM Networks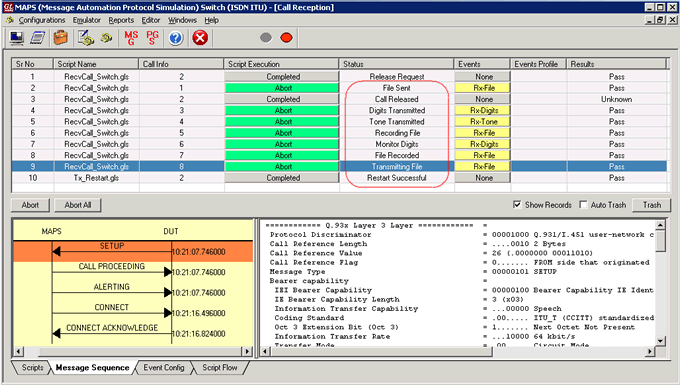 MAPS™ supports transmission, detection, and capture of various TDM and Analog traffic such as, digits, voice files, single tones, dual tones, and fax after call establishment. The volume of calls can vary from one to hundreds of calls depending on the T1 E1 or Analog platform of choice. MAPS™ series products for TDM are: MAPS™ ISDN, MAPS™ SS7, MAPS™ GSM A, and MAPS™ CAS.
MAPS™ CAS includes FXO FXS, R1, MFC-R2, and other variations for both analog 2wire and T1 E1 - for hundreds of channels. Fax traffic over 2wire analog and T1 E1 is supported for all variations of fax, such as page size, resolution, min & max data rate, and codec type - including high speed fax such as V.34.
For GSM, TRAU (Transcoder Rate Adapter Unit) traffic simulation is included with options to create, monitor, and terminate TRAU GSM traffic sessions supporting Tx / Rx of DTMF digits, files, and tones after session establishment.
---
Traffic Simulation for IP Networks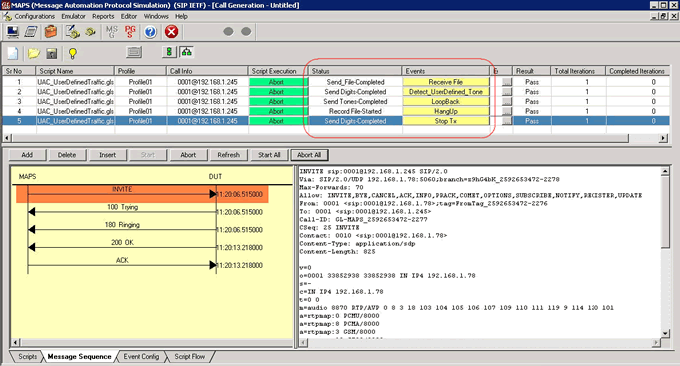 MAPS™ supports transmission and detection of various RTP traffic such as digits, voice files, single tone, and dual tones after call establishment. These features are applicable for GL's MAPS™ series products: MAPS™ UMTS IuCS, IuH,MAPS™ GSM AoIP, MAPS™ SIP, MAPS™ SIP I, MAPS™ MEGACO, and MAPS™ MGCP, among others. Traffic actions include:
Loopback real-time voice traffic (all received traffic is retransmitted as sent traffic)
"Play to Speaker" streams voice of a selected call to a speaker
Talk using Microphone - allows the user to generate real-time traffic
Transmit pre-recorded voice files on the specified RTP sessions
Support for almost all industry standard codec types - G711 (mu-Law and A-Law), GSM (Full Rate), G.729a and many more. For comprehensive information on supported codecs, visit Estimating Speech Quality of Packets page for more details
Generation and Detection of RTP Events such as Answering Tone, Calling Tone, Special Dial Tone and other Call Progress Tones
Generation of user-configurable impairments over established RTP calls such as

Latency - Fixed, Uniform, and Normal Distributed,
Packet Loss - periodic, random, and burst,
Packet Effects - Out-of-order and Duplicate packets
---
Traffic Simulation for Wireless Networks
Mobile Traffic Simulation module within MAPS™ supports user plane traffic simulation for LTE, UMTS, and GPRS networks. Mobile Traffic Simulation is supported in MAPS™ LTE S1, MAPS™ LTE eGTP-c, MAPS™ UMTS Gn Gp, MAPS™ IuPS, and MAPS™ GPRS Gb applications. It includes following modules:
Packet Traffic Simulation - GTP - This module is used to generate IP traffic and verify the same at the other end over GTP (GPRS Tunneling Protocol). The IP traffic can be generated as Sequence Number, Hex string, BER patterns, or playback captured Ethernet traffic (*.HDL) files.


Mobile Traffic Core - GTP - This module supports user plane packet transmission and reception services between any two nodes (GTP-U protocol entity) in UMTS (SGSN, GGSN, RNC), and LTE (SGW, PDNGW) networks. It allows simulation of multiple user sessions accessing the Web simultaneously. Currently, it supports HTTP traffic simulation with the base requirements such as port number, server IP address, and pre-canned HTTP traffic file. Each GTP traffic is identified by a Tunnel ID with multiple HTTP connections differentiated by Connection ID. The Mobile Traffic Core - GTP module can support generation and verification of data traffic such as Email, FTP, Web (HTTP), Video, and more.


Mobile Traffic Core - Gateway - This module allows simulation of Gateway traffic and transfer of user plane data from RNC to GGSN. It handles GTP tunnels in both directions of SGSN. It can also act as GGSN for user-plane traffic by encapsulating IP traffic over GTP.


Mobile Traffic Simulation - GPRS Gb - This module allows simulation of Mobile traffic over Gb interface between BSC and SGSN. Currently, this module transmits the pre-canned HTTP file (*.txt) between BSC and SGSN nodes. It multiplexes both signaling and traffic over Gb interface. Additionally, this module requires Mobile Traffic Core - GTP module.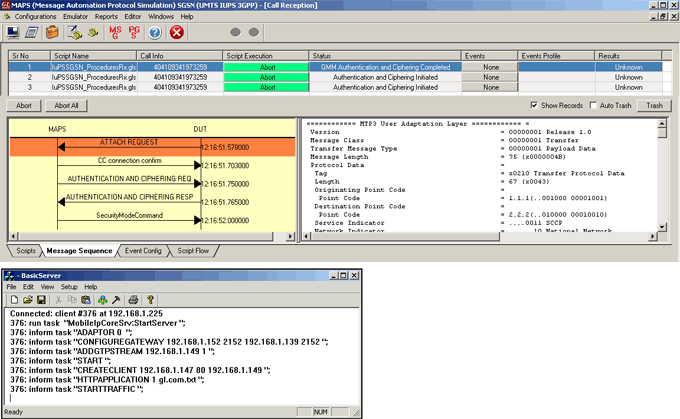 ---
Short Message Service (SMS) Test Solutions
MAPS™ supports sending and receiving SMS (Short Message Service) using the signaling channel simultaneous with other voice and data services over GSM or MAP interfaces. It has the ability to push / pull Short Messages over the network as if sent by thousands of mobile phones (Short Message Mobile Originated (SMS-MO)).
MAPS™ can transmit a Short Message to a mobile phone (Short Message Mobile Terminated (SMS-MT)). The short message service testing is available on GSM, UMTS, and MAP interfaces. The SMS feature is applicable for MAPS™ GSM A over IP, MAPS™ MAP, and MAPS™ MAP over IP applications.
---
Traffic Simulation - CLI and Traffic Events creation using Script Editor
In addition to GUI operation, MAPS™ can also be operated through a Command Line Interface (CLI). All the GUI based functionalities can be controlled remotely. Traffic simulation on a local network as well as from a remote location is possible with the client interface.
Scripting provides the ability to create ready-scripts for TDM and RTP traffic simulation. Various traffic events are applied during the course of a call. .
For comprehensive information on traffic generation, please refer to the MAPS™ web page.

Back to Latest News Page