Advanced Test Platforms for TDM Networks
07th, Jun 2019
Welcome to June 2019 newsletter issue providing information and insight into our advanced test platforms that includes a wide variety of Telecom Test solutions for TDM/ Analog Network.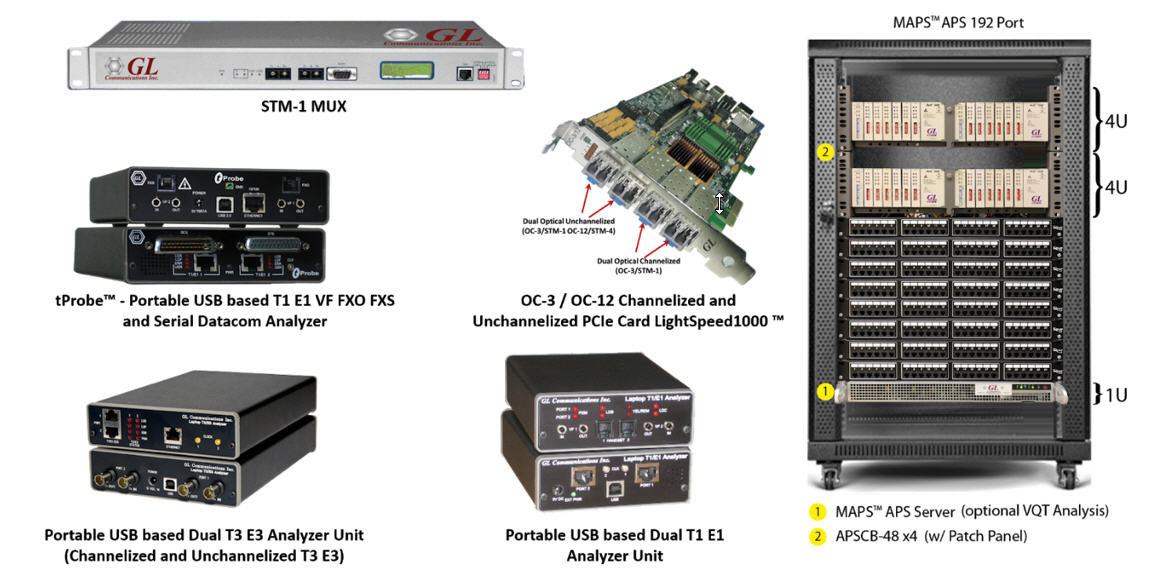 Overview
TDM carriers are used extensively throughout the world for carrying large call volumes containing both voice and data. GL's TDM Analysis & Emulation line of products include T1, E1, T3, E3, OC-3/12, STM-1/4, Datacom, Analogue 2-wire, 4-wire, external portable pods, and complete system solutions.

GL's versatile T1 E1/T3 E3/ OC3-12/STM1-4 test platforms provide a wide range of functionalities and testing capabilities regardless of the form-factor you choose. They are available in portable, handheld, and rack-based platforms. Regardless of the form-factor our TDM test tools provide the right solutions to meet every test requirement.

Capabilities include -
Protocol Emulation and Analysis application – MAPS™ (Message Automation and Protocol Simulation) that can simulate ISDN, SS7, CAS, GSM, MAP interfaces with capacity of n*24 /31 DS0 channels and can be scalable, where n refers to number of devices that can be scalable using different Hardware platforms. Other protocols such as HDLC, Frame Relay, PPP, MLPP can also be simulated using optional applications. MAPS™ can also be controlled Remotely.
Protocol Analyzers along with Packet Data Analyzers (PDA) (NetSurveyorWeb™ Lite) helps detailed analysis per call basis. It also facilitates Remote Monitoring using Centralized Database and web monitoring applications (NetSurveyorWeb™) for ISDN, SS7, CAS, GSM and MAP Protocols.
Call Capture Analysis (CCA), Voice Band Analyzer (VBA), Call Data Recorder (CDR) allows tap for non-intrusive monitoring, capture and replay, or perform load testing by simulating high volumes of callers for ISDN, SS7 and CAS Protocols. Voice band traffic analysis and emulation across all traffic types (voice, digits, tones, fax, modem).
End to End Voice, Data, Video and QoS Test Solutions:

Voice Quality Analyzer (VQT) application evaluates audio quality using POLQA/PESQ measurements providing various metrics such as MOS, E-Model, SNR, jitter, clipping, signal level, noise level, and delay measurements.

VQuad™ with Dual UTA HD or VQuad™ Probe HD provides the solution for testing a variety of networks, including Wireless (Bluetooth®, Wi-fi, 3G, 4G, LTE, PTT), VoIP, Analog (PSTN, ATA, Media Gateway), and TDM (CAS, ISDN, SS7), practically allowing any end-point interfaces to be tested for voice, data, and video quality.
GL's new Multiple TDM Optical and Packet (mTOP™) rack enclosure can house any combination of USB-based test equipment, including tProbe™ (T1 E1), USB T3 E3, Dual UTAs, PacketExpert™ & LightSpeed1000™. These can support the testing of multiple interfaces in a compact rack enclosure. mTOP™ systems provide space efficiency, but also account for easier scalability and reduced licensing cost per testing interface.

Each mTOP™ enclosure is a sleek 1U or 2U enclosure with the ability to support up to three GL USB based test hardware units. For scalability, a secondary mTOP™, also housing three GL USB based test equipment can be connected to the primary mTOP™, thus utilizing the same software and licenses.

---
Customized Test Setup:
The customized test setup allow users to intergarte any interface with TDM Test Solution to build a LAB setup. User can control and analyze test results remotely at mulitple location simultaenously. Below picture shows one such example.
---
Important TDM Test Solutions:
T1/E1 Analyzer
T1 E1 hardware platforms can capture, record, and monitor thousands of calls over T1 or E1. It includes a host of applications, with which you can perform comprehensive analysis and emulation of various signal types, voice, digits, tones, fax, modem, and raw data. Some of the main applications of T1 E1 Analyzer are Echo and Voice Quality testing, Call Recording and Analysis, Physical Layer Monitoring and Troubleshooting.

Using the T1/E1 Analyzer, the VQuad™ can generate and receive up to 12 simultaneous CAS or PRI ISDN or No Call Control (NOCC) calls on T1 or E1 trunks. Once the call is up, send/record voice via the VQuad™ to get VQT MOS results.
T3 E3 Analyzer
T3 E3 Analyzeris capable of processing signaling, voice, and data full T3 (DS3) or E3 data streams, dropping and inserting T1 (DS1) or E1, and analysis of HDLC, ATM, Frame Relay, and PPP Protocols. It includes various signal testing capabilities for Unchannelized (Unstructured) and Channelized (Structured) T3 E3 Traffic.
LightSpeed1000™ Channelized & Unchannelized Analyzer
LightSpeed1000™hardware platform (PCIe Card and USB Pod) is capable of OC-3/12 and STM-1/4 wire-speed processing on quad optical ports for functions such as wire-speed recording and wire-speed playback of Unchannelized and Channelized ATM, PoS, and RAW Traffic.

In an OC-3/STM-1, all 84 T1s or all 63 E1s can be identified and processed in transmit and receive modes. In an OC-12/STM-4, all 336 T1s or all 252 E1s can be identified and processed in transmit and receive modes.
Datacom Analyzer Emulator
Datacom Analyzer/Emulator available within GL's tProbe™ T1 E1 Analyzer USB Unit is designed for testing and verification of data communications equipment and circuits – specifically serial interfaces that provide clock, data, and control signals. These are commonly encountered in military links, satellite circuits, WAN, and data modem interfaces. Software selectable modes are provided to emulate DTE, DCE and non-intrusive monitoring for both synchronous (sync), and asynchronous (async) modes.
FXO FXS Analysis & Simulation
USB-based tProbe™ T1 E1 VF and Serial Data Analyzer unit includes ability to add optional FXO-FXS Simulation boards. The FXO port on tProbe™ allows to simulate a two-wire FXO FXS devices such as a telephone or a fax machine or telephone wall jack. This feature allows to capture and analyze data from a two-wire telephone line, as well as to generate and transmit analog data onto that two-wire line.

GL's VQuad™ with Dual UTA HD provides the solution for testing analog 2-wire interfaces (PSTN, ATA, Media Gateway). The Dual UTA HD supports 2 Analog FXO interfaces (RJ11) and provides Off/On- Hook, DTMF Dialing, Flash Hook, Tone Detection (Dialtone, Ringback, Busy, Fast Busy, SIT) and CallerID.
Network Surveillance System w/ Packet Data Analysis
Packet Data Analyzer (PDA) is a real-time IP, TDM, and VoIP analysis tool distributed with GL's IP/TDM Protocol Analyzers that non-intrusively captures and monitors live traffic. These probes then process the data to the centralized database, where records can be viewed remotely using a web client with graphical and historical reports.
NetSurveyorWeb™, a web-based application, facilitate data storage and historical data retrieval through web browser clients.

The latest version is NetSurveyorWeb™ Lite, a cost effective, Simple Plug & Play connection, which is an integrated and simplified web-based system that is distributed at probe level.
Please review the above and give us a call if you are interested in the above product/software or for any other applications listed in our website. We would be happy to discuss your testing needs and we look forward to hearing from you.

Warm Regards,
Shelley Sharma
Phone: 301-670-4784 x114
Email: info@gl.com

Back to Newsletter Index Page