3G Interfaces

Nodes

Products

Circuit Switched


IuCS, IuH



Packet-switched


Gc, Gr, Gf, Gd, IuPS,
Gn Gp, Gi



MAP Interfaces


B, C, D, E, F, H



Inter-network Interfaces


BICC, CAP, INAP



Location Services


Lg, Lh

NodeB

HNB

HNBGW

RNC

MSC

SGSN

GGSN
UMTS, or Universal Mobile Telecommunications System is a 3rd generation mobile technology that can support greater data rates for voice and video data to the wireless end users. It uses W-CDMA (Wideband Code Division Multiple Access) as radio access. With increased spectral efficiency and high bandwidth, UMTS can support broadband data, voice and video. The underlying transport for UMTS in the core network can be Asynchronous Transfer Mode (ATM), or Internet Protocol (IP).

UMTS supports integrated services such as multimedia and global roaming to mobile users. In essence, UMTS IuPs interface is the Gateway to the World Wide Web. More precisely, IuPs, is the interface between the RNC (Radio Network Controller) and the SGSN (Serving GPRS Support Node).

SGSN manages mobile location whether within the carrier's network or roaming outside. Once a user turns on the device, a new IP address gets assigned and IP connectivity is available with quality of service (bit rate allocation) based on subscription, and tunnels are created for mobile flows to/from that mobile. These data tunnels carry encapsulated traffic such as http, ftp, email, etc. SMS may also be carried by the signaling plane to/from the mobile. IuPs emulation and analysis can be very important in the design, verification, and troubleshooting of a carrier's mobile data network.

The IP based UMTS network consists of the following components -
NodeB - supporting broadband mobile users
Radio Network Controller (RNC) - manages radio resources (NodeBs) and routes traffic to circuit and packet switched elements
Mobile Switching Centre (MSC) - circuit switching element for voice
Serving GPRS Support Node (SGSN) - packet switching element for data and video
Femto Home NodeB (Femto Cell) - for enhanced coverage indoors and to offload the radio access network
Femto Home Node Gateway (HnB-GW) - provides wired broadband interface
GL's 3G UMTS Test Solutions

GL's provides fully automated testing solutions for 3G UMTS, and GPRS network as discussed in greater detail below.

The representation of 3G UMTS network above indicates the support of most of the interfaces by GL's test tools. In summary,
All elements within 3G UMTS wireless infrastructure can be tested with GL's general-purpose protocol simulation tool - MAPS™, which supports simulation of various interfaces of 3G UMTS (IuCS, IuPS, IuH, IuPC, GPRS Gb, Gn Gp) interfaces using MAPS™ UMTS IuCS/IuH, UMTS IuPS, GPRS Gb, Gn Gp simulators. With these, one can simulate 3G UMTS calls in lab, and study the network behaviour.


GL's PacketScan™ - an All-IP monitoring and analysis probe, along with NetSurveyorWeb™allow centralized monitoring of entire 3G UMTS GPRS network. Wide range of codec support, including AMR WB, and extensive per-call reports


End-to-end voice, video, and data quality testing with speech metrics such as PESQ, and POLQA. This solution combined with other metrics such as delay, packet loss, drops, and more, the true performance of 3G network can be realized.
Simulation
Functionalities
Functional testing of UMTS core network elements
Load testing of UMTS core network elements
Simulation of NodeB, HNB, HNBGW, RNC, MSC, SGSN, GGSN network elements
Mobile data (Email, Web-HTTP, and FTP), gateway traffic, and packet traffic simulation up to 40 Gbps
High volume of RTP traffic (Voice, Digits, Tones, IVR, Video, Fax, Impairments) simulation
All industry standard Voice Codecs supported
Simulate multiple NodeBs
Works with real NodeBs
Procedures
Circuit Switched

Mobile Originating Voice, SMS calls
Mobile Terminating Voice, SMS calls
On call SMS
Supplementary services

Packet Switched

Paging
Session to Internet
Tracking Area Update
Service Request
Update/Modify and Delete PDP sessions
Multiple PDP sessions

Inter-network Calls and Roaming Calls

3G user calling 2G user
3G user calling 4G user
3G user sending SMS to 2G user
3G user calling 2G roaming user
3G user calling 4G roaming user
CS Fallback simulation

Location Services
---
Standards
Test Conformance of UMTS elements to 3GPP standards

SCCP

Q.713, CCITT (ITU-T) Blue Book

MTP3

Q.703, ITU-T Blue Book

RANAP

3GPP TS 25.413 V9.1.0

MM / CC GMM / SM

3GPP TS 24.008 V5.16.0 (2006-06)

RR

3GPP TS 04.18 V8.13.0

SMS

3GPP TS 03.40 V7.5.0 & 3GPP TS 04.11 V7.1.0 GSM 03.38 version 7.2.0 Release 1998

Iu User Plane Interface

3GPP TS 25.415

RUA

3GPP TS 25468 V9.1.0

SSCOP

ITU-T Q.2110

MTP3b

ITU-T Recommendation Q.2210

AAL Type 2 (ALCAP)

ITU-T Recommendation Q.2630.1

RANAP

3GPP TS 25.413 V9.1.0

SCCP

Q.713, CCITT (ITU-T) Blue Book

M3UA

RFC 3332

GTP

TS 29.060 V9.2.0 (2010-03)

Positioning Calculation Application Part (PCAP)

3GPP TS 25.453
---
Why MAPS™?
Single framework for Multi-protocol, Multi-interface simulation
Script based and protocol independent software architecture
Affordable-pay only for what you need; simulate all or any network element within Wireless infrastructure
Unlimited ability to customize the protocol fields and call control scenarios
Unlimited ability to customize test configuration parameters
Negative testing using valid and invalid test cases
Automated Load Testing/Stress Testing with different statistical distribution patterns
Automated and remote testing with APIs (Java, Python, TCL, VB)
Support for multi-user testing
Remote licensing option available for controlling multiple MAPS™ users
Easy integration with GL's protocol analysers providing both simulation and analysis solutions
---
Use Cases
Analysis
Functionalities
Analyzing signaling across multiple technologies (Mobile, IMS, LTE, UMTS, SIGTRAN, VoIP)
Monitor calls progressing through advanced 3G or 4G networks from a central location
Powerful and customizable reporting tools
Packet Data Analysis (PDA) for live monitoring of signaling and traffic over IP
Capture IP packets over different transmission lines, including IP, T1, E1, T3, E3, OC-3 STM-1 / OC-12 STM-4
Identifies, and segregates calls based on signaling and traffic parameters
Advanced filtering and search option to filter calls-of-interest
Protocols /Standards
UMTS over IP

RANAP

3GPP TS 25.413 V6.3.0 (2004-09)

RNSAP

3GPP TS 25.423 V6.4.0 (2004-12)

NBAP

3GPP TS 25.433 V6.3.0 (2004-09)

M3UA

RFC 3332

SCCP ITU

ITU-T Q.711-Q.714

GMM (GPRS Mobility Management)

3GPP TS 24.008 V5.0.0

CC

3GPP TS 24.008 V5.0.0

MM

3GPP TS 24.008 V5.0.0

RR

3GPP TS 04.18 V8.13.0

GCC (Group Call Control)

3GPP TS 44.068 V9.0.0

BCC (Broadcast Call Control)

3GPP TS 44.069 V9.0.0

SMG (GPRS Session Management)

3GPP TS 24.008 V5.0.0

SMS

3GPP TS 03.40 V7.5.0 & 3GPP TS 04.11 V7.1.0 GSM 03.38 version 7.2.0
UMTS over ATM

ATM

ITU-T I.361

AAL

ITU-T I.363

AAL2

Class B (ITU-T I.363.2)

AAL5

Class C & D (ITU-T I.363.5)

SSCOP

ITU-T Q.2110

SSCF for UNI

ITU-T Q.2130 (07/94)

AAL Type 2 (ALCAP)

ITU-T Recommendation Q.2630.1

NBAP

3GPP TS 25.433 V6.3.0 (2004-09)

Iub FP

GPP TS 25.427 V6.1.0 (2004-12) and 3GPP TS 25.435 V6.1.0(2004-03)

RANAP

3GPP TS 25.413 V6.3.0 (2004-09)

Iu-UP

GPP TS 25.415 V6.1.0

MTP3-B

ITU-T Recommendation Q.2210

RNSAP

3GPP TS 25.423 V6.4.0 (2004-12)

SCCP ITU

ITU-T Q.711-Q.714

SCCP ANSI

ANSI T1.112-1996

SCTP

RFC 2960

IP

RFC 791

UDP

RFC 768

GMM (GPRS Mobility Management)

3GPP TS 04.08 V7.19.0

GSM CC

3GPP TS 04.08 V7.17.0

GSM MM

3GPP TS 04.08 V7.17.0

SMG (GPRS Session Management)

3GPP TS 04.08 V7.19.0

SMS

3GPP TS 03.40 V7.5.0 & 3GPP TS 04.11 V7.1.0 GSM 03.38 version 7.2.0

AMR

3GPP TS 26.101 V6.0.0

SSSAR

ITU-T I.366.1

UMTS MAC RLC

3GPP TS 25.321 V6.1.0 and 3GPP TS 25.322 V6.1.0

RRC

3GPP TS 25.331 V6.4.0

M3UA

RFC 3332
Why Protocol Analyzer (TDM, IP)?
Supports ATM as well as IP as the underlying transport layer
Over ATM, the analyzer is capable of capturing & reassembling frames that were transmitted with Inverse Multiplexing
Monitor, capture, analyze, and report signaling and user data in real-time
Call Trace capability over IuCS and IuPS interfaces
Decodes different control plane protocols i.e. NBAP, RNSAP, RANAP, ALCAP, SSCOP etc and user plane protocols i.e. Iu-UP, Iu-FP, AMR etc.
Decode NAS protocols (i.e. CC/MM/SM/SMS/GMM) along with the UTRAN specific protocols.
Streams can be captured on the selected time slots (contiguous or non-contiguous), sub-channels or full bandwidth. Frames may also be contained in either one, n x 64 kbps, or n x 56 kbps data channels.
Supports ATM mapping, scrambling, and inverse multiplexing (IMA) options
CRC verification for AAL5 carrying packet data
Ability to configure VPI/VCI values for PVCs carrying NBAP, RNSAP, RANAP and ALCAP messages
End-to-End Voice, Video and Data Quality Testing

Using GL's VQuad™ with the Dual UTA HD, or all-in-one VQuad™ Probe, along with centralized analytical tools, voice, data, as well as video quality can be tested simultaneously on a wireless or wired network.
Since the GL's VQuad™ solution is network independent, all Voice and Data networks are supported including 3G, WiMax, 4G LTE, Advanced LTE and the upcoming 5G. And since the GL VQuad™ solution supports both Narrowband and Wideband traffic, VoLTE testing is fully supported.

GL's VQuad™ NetTestsolution provides automated data testing on Mobile Devices (Android and Apple) as well as PC based internet connections. The Data Testing includes TCP, UDP, HTTP, FTP, DNS, VoIP, SMS, and Email tests. GL's Video Application Part (VAC) supports Video Conference testing between any two VAC Agents. GL's VAC Agents can be installed on any Android device, Win PCs or Linux box. GL's Voice Quality Testing (VQT) supports automated voice quality between any two nodes within the network using latest ITU based algorithms including Perceptual Objective Listening Quality - POLQA (ITU-P.863) and PESQ (ITU-P.862). The POLQA algorithm is specifically used for testing Wideband voice over networks.
Complete end to end voice, data, video quality testing of LTE network-visit Automated Network Wide Testing
Automated test statistics and results across next generation LTE network can be accessed via web interface
Connect to Mobile Phones, Smart Phones, and Broadband Devices using GL's portable VQuad™-Dual UTA HD system
Test LTE devices for Voice, Data, Video quality metrics with complete automation and centrally controlled system
Use GL's VQuad™-Dual UTA HD to confirm quality of service during the network upgrade process
VQuad™ can remotely perform Automated Data Testing on any Android or IOS mobile devices (running the GL NetTest app), irrespective of where the phone is located, and whether the phone is on a voice call or not.
Perform automated data testing on PC-based Broadband Internet (Broadband 3G/4G/LTE, WiFi, Wired) and on Apple/Android Mobile Devices – tests include TCP, UDP, HTTP, VoIP, FTP, DNS, SMS, UEInfo, SimInfo, and PhoneInfo
Supported devices - Mobile Radio (PTT) & Mobile Phones (VoLTE, 4G, 3G, Wi-Fi, WiMax)
Supports both Narrowband (8k sampling rate) as well as Wideband (16k sampling rate) connections for use in VoLTE networks utilizing the AMR-WB codec
Visit Complete Voice and Data Quality webpage for more details.
As an example, the screenshot below illustrates the HD voice quality measurement of calls using POLQA–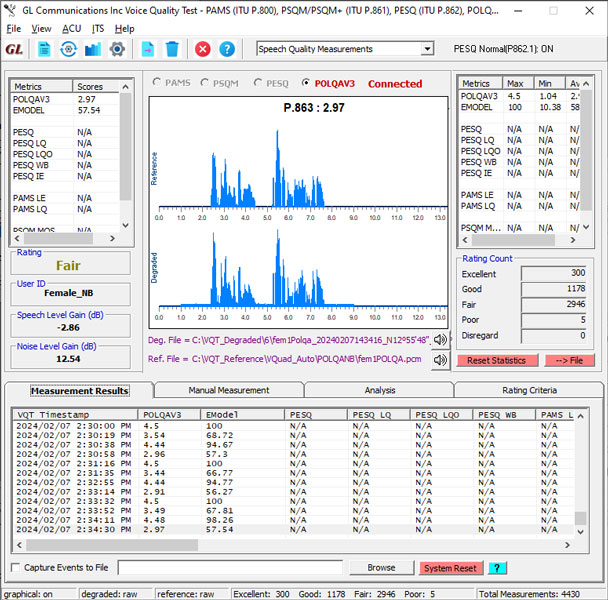 HD Voice Quality Testing for Wireless Networks
VQT software includes industry standard voice quality analysis algorithms – POLQA and PESQ
POLQA testing is available for VQuad™ interfaces
VQT can be configured for fully Automated analysis of recorded voice files
Full Reference algorithm (FR) measurements with high accuracy for dedicated tests in live networks
POLQA analysis results include POLQA MOS, E-Model, Signal Level, Noise Level, and Jitter
Real-time mapping of results with GPS option used in conjunction with VQuad™. Results mapped in WebViewer™ using Google Maps
The results can be accessed remotely from a database using the WebViewer™, displayed in both tabular and graphic formats
Visit voice quality testing webpage for more details.
Monitoring
Functionalities
Wireless Network Monitoring and Surveillance System (passive / non-intrusive) –UMTS, GPRS
Ability to identify and analyze CDR using Key Performance Indicators (KPI's)
Ability to listen to the Voice calls
Set alarm conditions and generate alerts of different types like email alert, visual alert, audible alert, or even log into tables for future analysis
Reports are displayed both in tabular and graphical formats; customize reports and graphs based on SQL queries
Graphs provided for Call Completion Ratio, Answer Call, Listening MOS, Conversational MOS, Failure Cause, and Call Duration
Real-time data displays information such as called number, calling number, source & destination IP address, RTP packet details, call flow graph, frame decodes and more
Apply single or multiple filters for data analysis; use logical operators between filters
Ability to export the call detail records displayed based on time filter or record index as PDF and CSV
Typical Applications
Comprehensive analysis from overall network health to detailed protocol monitoring
Call Detail Records, fraud detection and location, remote protocol analysis and troubleshooting, real-time signaling monitor, traffic optimization engineering, and statistics.
Determine actual call signaling routes to verify network functionality under all situations
Revenue and billing verification, alarm monitoring, intrusive testing.
Quality of service measurements call trace and recording.
KPIs
Voice Quality (Listening MOS, Conversational MOS, R-Factor)
Signalling Performance - Signal level, Nosie Level, and Echo
Delay Measurements (RTD, OWD)
Signalling Messages and Traffic Types
Call Duration and Call Volume (vs Time)
Call Status (Answered, Completed, Busy, Success, Failure with Failure Cause)
Call Completion Ratio
Link Name Message Counters
Time Duration Message Counters, and Disposition Count
Average Packet Loss
Session Request Delay (Successful Calls, Unsuccessful Calls), Session Disconnect Delay
Buyer's Guide
Please Note: The XX in the Item No. refers to the hardware platform, listed at the bottom of the Buyer's Guide, which the software will be running on. Therefore, XX can either be ETA or EEA (Octal/Quad Boards), PTA or PEA (tProbe Units), UTA or UEA (USB Units), HUT or HUE (Universal Cards), and HDT or HDE (HD cards) depending upon the hardware.
Quick Links
2G Networks Test Solutions Combined - Brochure
3G Networks Test Solutions Combined - Brochure
4G Networks Test Solutions Combined - Brochure

---

GL's suite of "Wireless Networks Lab Solutions" Brochure