LTE Analysis and Simulation
Overview

LTE (Long Term Evolution) protocol standard is the so called 4G (4th Generation) mobile standard in the rapidly evolving mobile technologies. Its distinguishing feature is an all IP infrastructure and significantly greater air interface bandwidth to the mobile handset. It was developed as an enhancement to the existing 3G UMTS System (Universal Mobile Telecommunications System) to provide users enhanced mobile radio and internet access.

The LTE air interface is a completely new system based on orthogonal frequency-division multiple access (OFDMA) in the downlink and single-carrier frequency-division multiple access (SC-FDMA) in the uplink. The system efficiently supports multi-antenna technologies (MIMO). OFDMA is considered much better at handling the varying propagation conditions seen in mobile radio. This is similar to WiMAX. In MIMO techniques, either multiple antennas can transmit the same data stream to improve data-transmission reliability or different antennas can transmit different data streams simultaneously to increase throughput.
Another significant feature of LTE is its high bandwidth—up to 20 MHz. Because the usable bandwidth is scalable, LTE can also operate in the existing 5-MHz UMTS frequency bands, or in even smaller bands.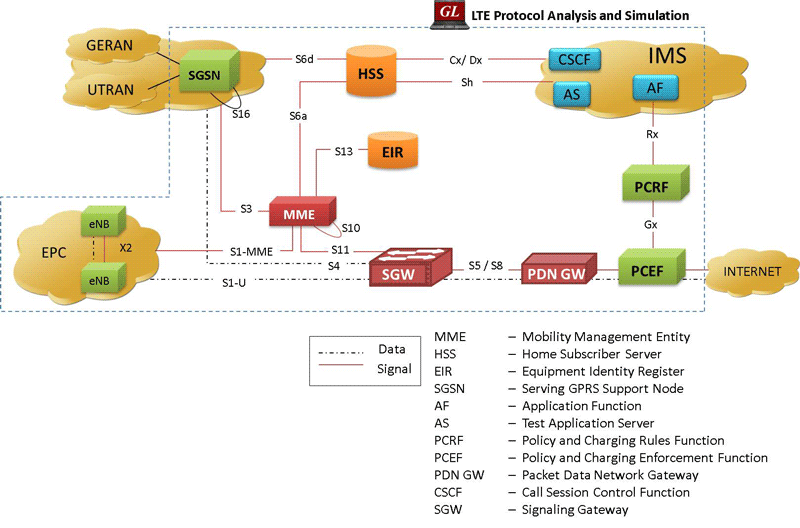 End-to-End Voice, Data and Video Quality Measurement Systems for all NextGen Networks
(LTE 4G, GSM, and UMTS Smartphones)
Connect to Mobile Phones, Smart Phones, and Broadband Devices using GL's portable VQuad™ - Dual UTA system.
Test LTE devices for Voice, Data, Video quality metrics with complete automation and centrally controlled system
VQuad™ can send commands to the Mobile Device Controller application residing on the smart phones to remotely perform Automated Data Testing irrespective of whether the phone is on a voice call or not.
---
LTE Analysis and Simulation
LTE analyzer is capable of capturing, decoding and performing various test measurements between any two nodes across various interfaces including S1, S3, S4, S5 (or S8), S6a, S10, S11, S13 and X2 interfaces of the LTE network
GL has released LTE Protocol Simulation for several interfaces – currently S1 – MME, and eGTP (S5/S8 and S11).
Simulate up to 500 Smartphones (UEs) powering up and down
It can simulate eNodeB (also called Evolved NodeB), and MME (Mobility Management Entity) and other interfaces
Authenticate and confirm security procedures
Supports both Real-time and Offline types of LTE Analyzer
QoS requests for greater or lesser bandwidth
Temporary addressing management for mobility and security
Trace files for analysis can be loaded through simple command-line arguments.


S1

S11, S5 (or S8)



Complete LTE Analysis Visit LTE Analyzer page.
Complete S11, S5 (or S8) Analysis - Visit Maps LTE-eGTP page.



S3, S4, S5 (or S8), S6a, S10, S11, S13 and X2



Network Monitoring System (NMS)

Testing End to End LTE Devices
---
Buyer's Guide:
Please Note: The XX in the Item No. refers to the hardware platform, listed at the bottom of the Buyer's Guide, which the software will be running on. Therefore, XX can either be ETA or EEA (Octal/Quad Boards), PTA or PEA (tProbe Units), UTA or UEA (USB Units), HUT or HUE (Universal Cards), and HDT or HDE (HD cards) depending upon the hardware.