PacketScan™ - All-IP Analyzer
All-IP or NGN Signaling and Traffic (RTP, RTCP, Fax, Video), Monitoring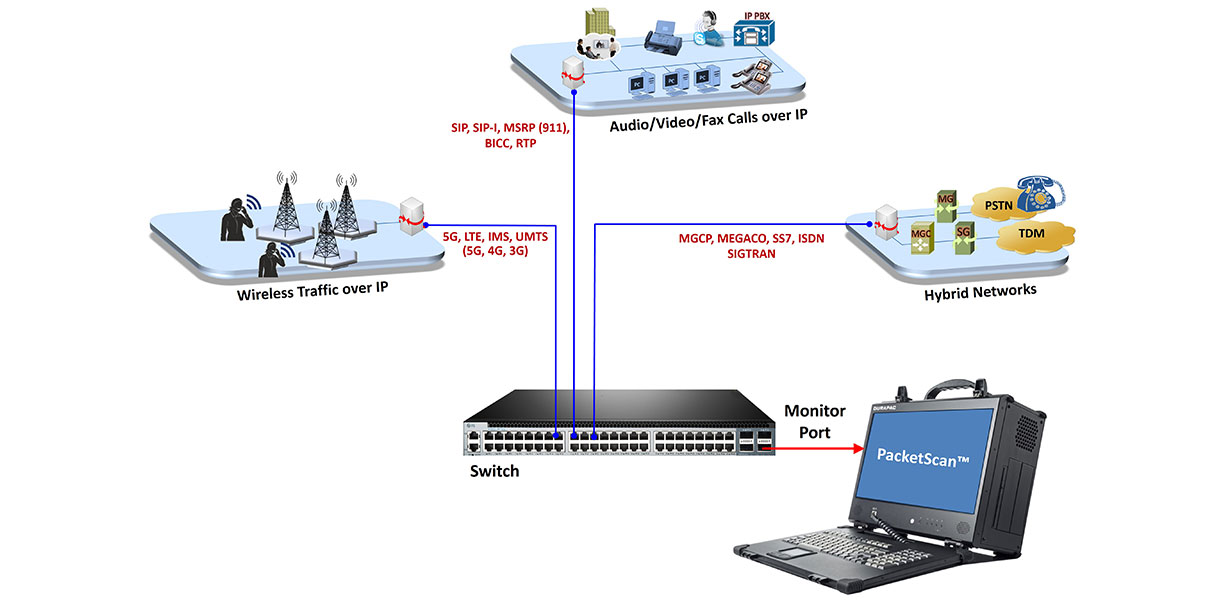 Overview | Main Features | Supported Codecs| Supported Protocols| Real-Time VoIP Traffic Analysis
Packet Data Analysis | Record Video and Video QoS | Speech Quality of Packets |
Other VoIP Products | Frequently Asked Questions | Application Notes | Buyer's Guide
Click here to get more information on "NetSurveyorWeb™ Live Demo"
---
Overview

With most carriers rolling out multi-services, including voice, video, fax, and data transported via packet networks, there is need for constant testing and monitoring of Quality of Service (QoS) and Network Performance of Next Generation Networks (NGN).

GL's PacketScan™ - an All-IP Network Monitoring software offers powerful features to capture and monitor live signaling and traffic over IP (version 4 and 6).

The PacketScan™ is available in the following two flavours -

Basic PacketScan™ (PKV100) software
PacketScan™ High Density (HD) Network Monitoring Appliance w/ 4x1GigE (PKV120)

It captures, segregates, monitors and collects statistics on all IP calls. Almost all VoIP and Wireless protocols over IP transport layer, as listed below, can be captured and decoded for troubleshooting network problems.

GL's PacketScan™ HD is a high density multi-protocol 1U rack mounted network monitoring appliance that can capture and process analysis of vast array of communication protocols covering IP and Wireless networks.

For more details, visit PacketScan™ HD – Network Monitoring Appliance.

Some of the important applications of PacketScan™ are:
Thousands of calls can be monitored in real-time including detailed analysis of selected voice band streams. Applications include testing of IP phones, Gateways, IP Routers and Switches, and Proxies.
Users can listen/record audio and video data of a session in real-time; perform power, frequency, spectral, tone and digit analysis, and video analysis with ease and precision; get an exact picture of QoS (quality of the service).
Its ability to monitor / record audio and video data of a session to files (in QuickTime *.qt format), allows user to perform powerful video analysis. The captured VoIP calls can play-back video using 3rd party VLC Viewer application. The application is capable of displaying Video Statistics such as Source/Destination Video Channels, Media Type, SSRC, Total Packet Counts, Missing Packets, Duplicate Packets and Out of sequence Packets, Average Delay/Gap, Video Frame Count, Frame rate, Media Delivery Index (MDI- (Delay Factor: Media Loss Rate)), and Average MDI for each video session.
PacketScan™ with Video QoS capability addresses customers long felt need of Video Call Quality in IP networks.
Detailed call statistics such as packet loss, gap, jitter, delay, RTP performance statistics, R-factor & MOS scores, and unparalleled voice band statistics can be monitored simultaneously. Sophisticated filters permit zooming and recording of specific calls of interest.
PacketScan™ supports Packet Data Analysis (PDA) module allowing users to report every call in detail. PDA processes the captured packets, identifies, and segregates calls based on signaling and traffic parameters. Supported protocols include SIP, MEGACO, MGCP, H.323, SCCP, RANAP (UMTS IuCS), and GSM A.
PacketScan™ further supports the following three views in Traffic Analysis or Packet Data Analysis (PDA) window:
Summary View (Call Quality Matrix) displays complete summary of call information in graphical format along with a summary of alerts.
Detail View (RTP Diagnostic View) displays packet by packet statistics for particular call information in tabular format
These interfaces allow users to define parameters such as E-Model based MOS and R-Factor score, VQMon settings, & Dynamic Payload Mapping. It also supports real-time digit capturing like DTMF, MF and user-defined digits/tones.
Registration Summary View displays statistics and status of the SIP registration process, an active registration graph, and registration trace graph of each SIP registration.
What sets apart PacketScan™ is its ability to collect vital statistics about calls for theoretically infinite time. The ability of PacketScan™ to capture data is limited only by the hard disk capacity of the PC. It can work with NetSurveyorWeb™, a central monitoring system for a comprehensive view of network performance. It features rich graphics, ladder diagrams and CDRs (Call Detail Records).
---
Main Features
Capacity

Monitor progress of up to 2000 simultaneous calls with bidirectional RTP traffic
Circular buffer with capture and view filters
Long-Term Activity Reporting

Supported Protocols

SIP (Session Initiation Protocol) RFC 3261- MAC, IP, IPv6, UDP, TCP, SMPP
SIP-I, SIP-T
Megaco- RFC 3525, RFC 3015
MGCP – RFC 3991
H.323/H.225
RTP - RFC 3550, RTCP, T.38 and Video
SS7 SIGTRAN – SS7 over IP (ISUP, MAP, CAP, TCAP, INAP, CNAM, CAMEL)
SIGTRAN ISDN over IP - Q.931, DASS2 and DPNSS over DUA (ISDN Q.921-User Adaptation Layer)
GSMA over IP - BSSAP+, BSSMAP, CC, MM, RR, GCC, BCC, SMS
GSM Abis over IP - BTSM, CC, MM, RR, GCC, BCC, SMS
GPRS - GPRS-Gb interface (BSSGP, LLC, SNDCP, GMM, SMG)
GPRS – GPRS-Gn interface (GTPv2, GTP-IP, GTP-TCP, GTP-UDP)
UMTS IuCS and IuPS over IP - RANAP, RNSAP, NBAP, CC, MM, RR
LTE - S1AP, X2AP, NAS, eGTP
Diameter – S6a, S6d, Cx, Dx, Zn, Zh, Wx, Gq, Gy, Sh, Dh, Gx, Rf, RO, Wg, Wm, Pr, Wa, Wd, Rx interfaces
Skinny Call Control Protocol (SCCP)

Click http://gl.com/packetscan-protocol-support.html to get a brief overview of the protocols supported by PacketScan™

Supported Codecs

Almost all industry standard codec supported. For more comprehensive information on these codecs visit

"Voice Codec"

link.

As a stand-alone tool

Capture calls in real-time for infinite time
Monitor adherence to protocol standards and report
Flexibility to add any protocol field to the summary view, filtering, and search features
Analyze with rich graphics, ladder diagrams, call trace
Complex Filtering and Search capabilities to record all or filtered traffic into a trace file
Consolidated interface allows access to all the important settings and auto-startup actions

As a Probe with Central Monitoring System - NetSurveyorWeb™
A central monitoring system for a comprehensive view of network performance. It features rich graphics, ladder diagrams, CDRs (Call Data Records), and user-defined Filter Views.
As a Single Point Analysis System
Packet Data Analysis

Supported for SIP, RTP, H.323, MEGACO, MGCP, GSMA, IuCS, and Skinny (SCCP) protocols
RTP packet statistics for each direction of a call
A host of counters gives the user an instantaneous snapshot of the VoIP traffic on the network
Pictorial representation of the statistics including ladder diagrams of protocols.
Ability to save a particular call in HDL, PCAP, or PCAPNG file format for further detail analysis.
Ability to export PDA summary and detail reports of selected or all calls in PDF file format.
Ability to export completed calls summary report of PDA in CSV file format, and analyze using custom Excel® addins.

Performance Metrics

Signaling, audio, and video QoS parameters for each call
Minimum, maximum, and average Round Trip Delay (RTD)
Inband (DTMF & MF) events, Outband events as per RFC 2833 or RFC 4733 events, RFC 2833 events, RTP/RTCP packet count and reports per direction

QOS Parameters

E-model (G.107) based MOS/R-Factor scores
Media Delivery Index (Delay Factor: Media Loss Rate) for video calls
H.263, H.264 codec support
Jitter, Delay, and Gap for Audio and Video traffic

Triggers and Actions

Filter captures based on any signaling parameters followed by a set of actions for the completed calls.

Traffic (Digits, Audio, Video, Fax) Handling

Segregation of IP traffic, VoIP, and Fax calls

SIP Registration Details

Registration statistics and trace messages depicted graphically

Utilities
---
Supported Codecs
Decode AMR in all packing formats, and G.726 RTP & AAL packing types. PacketScan™ supports standard codecs such as
G.711 (µ-Law and a-Law - 64 Kbps)
G.711 App II (a-Law and µ-Law with Voice Activity Detection)
G.726 (40/32/24/16 kbps)
G.726 (40/32/24/16 kbps) with Voice Active Detection
GSM (13.2kbps)
GSM EFR (12.2 kbit/s)
GSM HR
G729 (8kbps)
G729B (8kbps)
G.722
G.722.1 (24 kbps and 32 kbps Wideband)
AMR (Wideband codec - 6.60kbps, 8.85kbps, 12.65kbps, 14.25kbps, 15.85kbps, 18.25kbps, 19.85kbps, 23.05kbps, 23.85 kbps)
AMR (Narrow band codec - 4.75kbps, 5.15kbps, 5.9kbps, 6.7kbps, 7.4kbps, 7.95kbps, 10.2kbps, 12.2 kbps). (This is an optional codec, must be purchased as a separate dongle extension).
ILBC (15.2kbps and 13.33kbps)
SPEEX (Wideband)
SPEEX (Narrowband)
EVRC, EVRC0 (Rates - 1/8, ½ and 1). (This is an optional codec, must be purchased as a separate dongle extension)
EVRCB, EVRCB0 (Rates – 1/8, ½ and 1). (This is an optional codec, must be purchased as a separate dongle extension)
EVRC-C (This is an optional codec, must be purchased as a separate dongle extension)
SMV (Modes - 0, 1, 2 and 3 - Available if licenses are provided or owned, please call GL)
H.263+ providing video capture and videoconference monitoring capability.
H.264 is an industry standard for video compression, the codec offers better compression performance over previous standards
For more comprehensive information on these codecs visit "Voice Codec" link.
---
As a Stand-alone tool (Real-Time VoIP Traffic Analysis/Monitoring Tool)
The PacketScan™ main screen allows real-time as well as offline protocol analysis. The analyzer displays Summary, Detail, and Hex dump View in different panes. The Summary View displays various information such as Frame Number, Time, Length, Message Types, IP source and destination address and so on. Any field from the protocol headers can be added to Summary view, i.e, summary fields are completely user-configurable. User can select a frame in Summary View to analyze and decode each frame in the Detail View. The Hex dump view displays the frame information in HEX and ASCII octet dump format.
Summary View displays Frame number, Time, Frame Length, Error, Source TCP/IP/UDP Address, Destination TCP/IP/UDP address, Packet Type, and other SIP/RTP call details in a tabular format. Exports Summary View information to a comma delimited file for subsequent import into a database or spreadsheet.


Detail View displays decodes of user-selected frame from MAC, IP, UDP/TCP, SIP, RTP, RTCP, H323 etc in detail. Further details of an individual (RTP) session of a call can also be obtained using Traffic Analyzer (TA) or the Packet Data Analysis (PDA) interface. Capability to export detail decodes information to an ASCII file.


Hex Dump View displays raw frame data as hexadecimal.

Screen Shot of All-IP PacketScan™ Main Window
Call Detail Records & Statistics View
Call detail records (CDR) isolates call specific information i.e. status of each call (i.e. active/completed), duration of completed call, Source & Destination addresses, Call type, Release cause, Conference ID, Call identifier, and more. Calls and sessions are classified as active, completed or failed giving the user an idea about the calls and its status in the network. Additionally, users are provided with the option to search for a particular call detail record from the captured traces


Statistics View displays statistics based on frame count, byte count, frames/sec, bytes/sec etc for the entire capture data. Statistics can be obtained for any fields or parameters in the protocol to study the performance and trend in the VoIP network.
Real-time and Offline Analysis
Users can capture and analyze packets through real-time analysis or analyze the recorded data in offline mode. All captured or filtered traffic can be recorded into a trace file. The recorded trace file can be used for offline analysis or exported to a comma-delimited file, or ASCII file. The real-time analysis requires an Ethernet cards to be specified on which data is received.

Screen Shot of Real-time Analysis
Filtering and Search
Users can capture and analyze packets using real-time analyzer and record all or filtered traffic into a trace file. The recorded trace file can then be analyzed offline and exported to ASCII file, or printed. Filtering and search capabilities add a powerful dimension to the SIP analyzer. These features isolate required frames from original frames in real-time/offline. It allows real-time filtering based on parameters set in Data Link layer, MAC layer, IP, TCP/UDP and more. The offline filter allows filtering based on Frame Number, Time, Length, Message Types, and so on. Similarly, search capability helps user to search for a particular frame based on specific search criteria.

Screen Shot of Real-time Capture filter

Screen Shot of Offline View Filter
Enhanced Trace Saving Options
Users can control the captured trace files by saving the trace using different conventions such as trace files with user-defined prefixes, trace file with date-time prefixes, and slider control to indicate the total number of files, file size, frame count, or time limit. This feature also allows the captured frames to be saved into a trace file based on the filtering criteria set using display filter feature.
Configuring INI Files
PacketScan™ allows users to to customize protocol decoding options as per the requirements. Users can edit the PacketScanProt.ini files to customize the decoding options.
Save/Load All Configuration Settings
Protocol configuration window provides a consolidated interface for all GUI and protocol settings required in the analyzer.
For repeated testing, all the configuration settings done in any of these options can be saved to a file, loaded from a configuration file, or user may just revert to the default values using the default option.
This also includes automatically connecting to a remote database for NetSurveyorWeb™ applications. This can be useful in remote monitoring applications where a laptop can be setup and configured for plug-n-play testing.
---
As a Probe with Central Monitoring System - NetSurveyorWeb™
PacketScan™ can be deployed as a centralized monitoring system with associated relational or Oracle database. PacketScan™ can send Summary Fields, Frame Octets, and Call Detail Records to database along with Traffic Summary for the captured calls.
Click here to get more information on "NetSurveyorWeb™ Live Demo"
---
As a Single Point Packet over IP CDR Analysis System
To provide a more comprehensive method for analyzing pinpointing quality problems, PacketScan™ has been enhanced to work with GL's VoiceBand Analyzer (VBA) and Call Data Records (CDR) applications to trigger on all calls and generate comprehensive call detail reports along with audio files.
The audio files are processed using VBA to measure actual analog voice parameters such as Active Speech Level (ASL), Noise Level, Activity Factor (AF), and RMS power.


CDR application uses the per call data from PacketScan™ and VBA analytics to provide useful call detail records for further analysis using Excel®. The working is depicted in the below picture.


The generated CSV reports from CDR application are analyzed using built in tools included with Excel. The records can be filtered using Advanced Filter in Excel® tool based on signaling, or various measurements to generate reports of "calls of interest". The voice files of these calls can be either downloaded, or played back using Goldwave® or any audio program.

Click here to get more information on GL's Call Data Records application.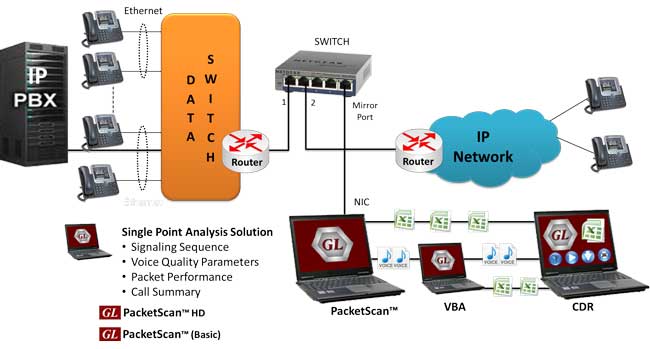 ---
*Packet Data Analysis (PDA) for Detail Packet Analysis
*Currently PDA feature is available only for SIP, H323, MEGACO, MGCP, GSMA, Skinny, and IuCS based calls. The PDA support for other protocols will be coming soon.
PacketScan™ provides in-depth real-time and post-process data investigation. The PDA view assists in any comparisons that are to be made between the two RTP sessions. Packet Data Analysis (PDA) view displays call information in graphical format (Traffic Analyzer Call Quality Matrix- Summary View) as well as in tabular format (RTP Diagnostic - Detail View).
For more details visit Packet Data Analysis
---
Frequently Asked Questions
---
Application Notes
---
Buyer's Guide
Specifications are subject to change without notice.

Back to VoIP Analysis and Simulation Index Page