Voice, Video, and Data Testing
in Wireless Network

VQuad™ Software Ver 9.0 | VQT Software Ver 7.0 | WebViewer™ Software Ver 5.1 | Download Now!
---
Overview
Wireless networks can impair voice, video, and data quality by various means including poor mobile phone quality, voice compression and decompression algorithms, video compression and decompression algorithms, delay, loss or gain in speech levels, noise, acoustic and landline echo, and other distortions. GL provides a compact and portable solution for Wireless Devices, and Mobile Radio testing.
Using the GL VQuad™ application with the Dual UTA HD, or all-in-one VQuad™ Probe HD, voice, video, and data QoS can be tested for practically any end-point (customer experience) interfaces. The Dual UTA HD is a compact and portable device which provides multiple interfaces for connecting to any communication device on a network. The VQuad™ with Dual UTA HD can work with variety of networks, including Wireless (Bluetooth®, Wi-fi, 3G, 4G, LTE, PTT), VoIP, Analog, and TDM. Various associated applications (Voice Quality, Video Quality, Data tests, Echo and Delay tests, Fax tests, VBA) works with VQuad™ Dual UTA HD to provide "end-to-end assessment" with additional test and measuring capabilities.
Additionally, the Dual UTA HD includes support for testing HD voice using Bluetooth® Wideband, FXO Wideband, and also includes PTT interface for wireless mobile device testing.
Enhanced VQuad™ with Dual UTA HD supports two methods of automated testing of mobile devices, Bluetooth and Wired Headset using GL's new cable, Smartphone with Automated Call Control (ACC).
Results provide an excellent overall measure of end-to-end voice, video, data, and signal quality. All the applications work in conjunction with the VQuad™ for automatically and remotely analyzing the captured data and sending the test results to the central database. You can query results remotely or control the tests using web-based WebViewer™.
---
Main Features
Supported devices - Mobile Radio (PTT) & Mobile devices (Wi-Fi, WiMax, Bluetooth®, Broadband (3G or 4G), LTE, iPhone, Android)
Control Smartphones on any wireless network (Bluetooth®, 5G, VoLTE, VoWiFi, VoFemto, 3G) - - both NB and WB voice supported
Compact and portable solution for testing mobile end-to-end voice, video, and data quality
Automated mobile phone testing using either Bluetooth or the Wired Headset Smartphone ACC methods
Mobile phone connects to the Dual UTA HD PTT interface using the GL Smartphone ACC cable
Wired Headset supports NB, WB, SWB.
Mobile Phone call control supports Bluetooth®, Dual PTT, 3.5mm Audio Jack, and Dual 3.5mm In/Out terminations for Smartphones (iPhone, Android)
Dual UTA HD Bluetooth® can connect to Bluetooth® headsets, Bluetooth® in the car, and any Bluetooth® device to perform Voice Quality Tests
Bluetooth® compatible. Performs RSSI, Battery level functions, Network verification.
Support for Bluetooth Wideband with 16000 Sampling Rate used in VoLTE network with AMR Wideband codec (requires latest Dual UTA HD firmware and hardware).
Control Mobile Radios with Push-to-Talk functionality; Supports radio keying and send/record audio
Results available in real-time or post-processing
Compatible with automated GPS location time-stamping
Additional functionalities supported with VQuad™ Wireless:
Voice Quality Testing (VQT)
GL's VQT may be executed automatically (real-time and/or post-processing) or manually by entering a Reference File and Degraded File. Regardless of how GL's VQT is initiated, algorithms for POLQA, PESQ MOS, and PESQ LQ are executed simultaneously for the two voice files and results are shown graphically as well as in a tabular format. GL's VQT also displays cumulative statistics for large scale testing over long periods of time.
VQT software supports both POLQA (ITU-T P.863) and PESQ (ITU-T P.862/862.1/862.2)
VQT supports analysis of PCM16 files consisting raw data as well as u-law/a-law encoded data.
VQT also support analysis of uncompressed wav files consisting of narrow band, wide band and super wide band signals.
POLQA ITU-T P.863 for next generation voice quality testing supporting NB (8000 sampling), WB (16000 sampling) and SWB (Super Wideband) (48000 sampling)
Evaluate audio quality with MOS, E-Model, SNR, jitter, clipping, signal level, noise level, and delay measurements
Supports latest PESQ ITU release including ITU-T P.862, 862.1 and 862.2 (supports PESQ, PESQ LQ, PESQ LQO, PESQ WB)
PESQ analysis results include PESQ, PESQ LQ, PESQ LQO, PESQ WB, PESQ Ie, and PESQ per Utterance
| | | |
| --- | --- | --- |
| PESQ Measurement Window | POLQA Measurement window | VQT Cumulative Statistics |
WB Voice Testing using Wireless Bluetooth Devices

The VQuad™ with Dual UTA HD system can connect to Bluetooth mobile phones or any end-equipment supporting HD (WB) audio on all interfaces.
The Bluetooth solution supports full Call Control with ability to confirm current status of call as well as sending commands to the phone, via Bluetooth, to retrieve Signal Level (RSSI), Battery Level, Current Network, to name a few.
While in the established call, traffic analysis and Voice Quality is fully supported for both NB and WB networks (VoLTE fully supported).
With the Dual UTA HD Bluetooth® option, the Dual UTA HD act as a Bluetooth® Headset and connects to the mobile phone to perform voice quality analysis along with accurate delay and level measurements on Bluetooth® enabled mobile devices.
The Dual UTA HD can act as the Mobile Device and connect to any Bluetooth® headset to perform 'Voice Quality Tests' on the Bluetooth® Headsets. In other words, isolate the Bluetooth® headset for voice quality analysis.
This is extremely important for testing Bluetooth® headsets, Bluetooth® in the car, and pretty much any Bluetooth® device which connects to a mobile phone for voice. Both narrowband and wideband codecs are supported.
GL's VQuad™ solution is network and device independent
Pair to any mobile phone (multiple phones simultaneously)
Connects to any previously paired phone and provides call control and voice
Supports several Bluetooth functions such as Signal Strength, Battery Level, SMS, Network
Wired Headset Method for Mobile Phone Testing

Automated Mobile Phone Testing using Wired Headset Smartphone ACC cable
The Wired headset method connects the mobile phone to the Dual UTA HD PTT interface using the GL Smartphone Automated Call Control (ACC) cable.
Through the VQuad™ script (or manual operation), the VQuad™ can activate the iPhone SIRI or Android Google Voice and send a predefined file to the mobile device in order to Place Call to a specified number (or simply Redial). In addition, VQuad™ includes Text-to-Speech technology for automatically creating the necessary voice prompt for placing call over Siri or Google Voice. In other words, the Smartphone ACC cable method includes a fully automated method for Placing Call. The Smartphone ACC cable can also detect incoming Ring (for automated Answer call), Answer Incoming Call (or Reject Incoming Call) and Disconnect Call.
The Smartphone ACC can perform all basic Call Control functions for fully automated bi-directional call control and the method also supports NB, WB, and SWB sampling.
Automated Data Quality Testing
Append
Automated Video Quality Testing
Append
Drive Testing for Wireless Networks
Append
SIP Call Generator and Call Analyzer to Mobile Phone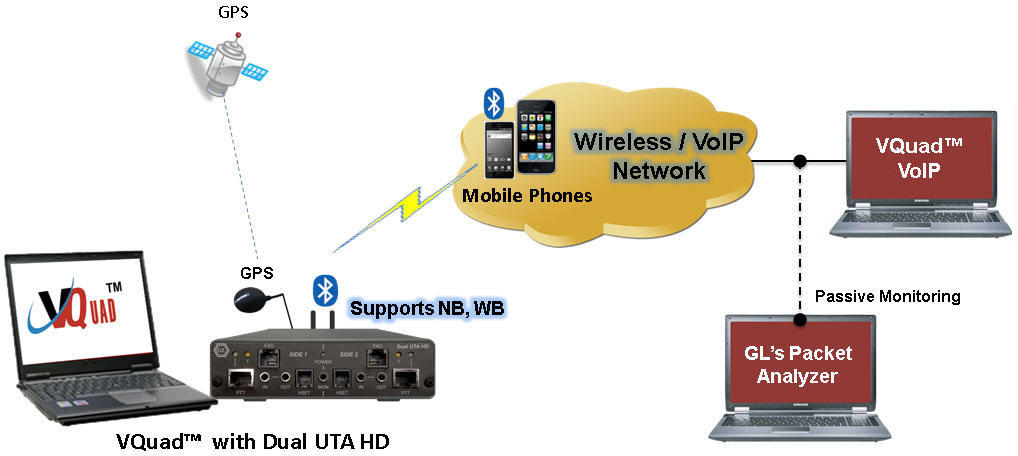 This system connects at the digital level (Ethernet 10/100) and at the analog level. It can perform call generation and analysis of VoIP Calls and VQT measurements to/from the mobile.
Mobile Radio Testing

The Dual Universal Telephony Adapter (UTA) HD has the ability to interface to a mobile radio, thus allowing for voice quality testing. Control of the Push-to-Talk (PTT) feature is available with the Dual UTA HD and the VQuad™ software. Directly before the audio file is transmitted the VQuad™ software will command the Dual UTA HD to enable the PTT on the radio. This feature makes the testing completely automated and hands free.
Buyer's Guide
Please Note: The XX in the Item No. refers to the hardware platform, listed at the bottom of the Buyer's Guide, which the software will be running on. Therefore, XX can either be ETA or EEA (Octal/Quad Boards), PTA or PEA (tProbe Units), UTA or UEA (USB Units), HUT or HUE (Universal Cards), and HDT or HDE (HD cards) depending upon the hardware.