tScan16™ - T1/E1 Analysis Hardware
(16 T1/E1 Rx Only Ports)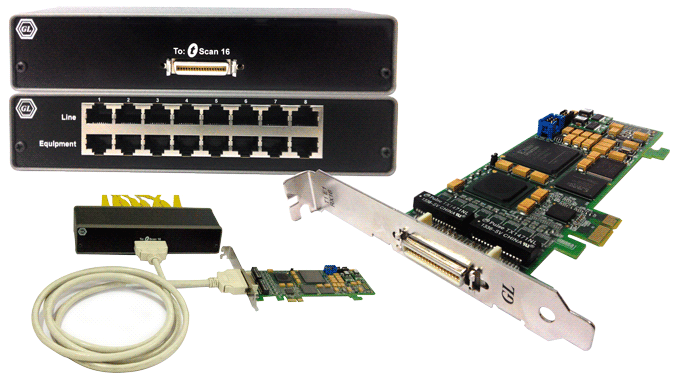 Latest T1 E1 Software Ver 11.1.17 is Now Available | Download Now!

Applicatin Development ToolKit for Windows® and Linux Available - click here to know more
---
Overview

GL's tScan16™ is a high-density T1/E1 board with 16 ports and the newer PCIe (x1) bus interface. The sixteen T1/E1 ports are Receive-only ports optimized for high performance voice and data capture, monitoring, and analysis requirements. tScan16™ extends the family of GL's T1/E1 platforms with greater density, increased ports, and reduced power.
Comparison and advantages of the new tScan16™ over Quad/Octal T1/E1 Boards is given in the following table.
Feature
Quad, Octal T1/E1 Boards
tScan16™ T1/E1 Boards

Number of Ports

4, 8

16 (Rx only)
31x16 = 496 timeslots for E1
24x16 = 384 timeslots for T1

Board Height:

Standard PCIe board

Standard PCIe board or 2U

PC Bus:

PCIe v1.1 x1

PCIe v1.1 x1

Adapter Board:

Quad: none; Octal: 4 port daughterboard

16 port RJ45 breakout board with MDR 36-Pin Connector (3M Mini D Ribbon cable) to interface with main board

T1/E1 Connectors:

RJ-45

RJ-45 with Inline Monitoring T1/E1

T1/E1 Termination modes:

Terminate, Bridge, Monitor

Terminate and Monitor
(on main board)

T1/E1 interface modes:

Normal Mode, Cross-port Through Mode

Receive Only into main board. Breakout adaptor board connects equipment side and line side using RJ45 connector.
---
Main Features
Software selectable 16 Rx Only T1 or E1 interfaces
PCI Express x1 Lane/Board
Convenient High Density Cabling
Monitor T1/E1 line conditions such as frame errors, bipolar violations, alarms, frequency, power level, and clock (or frame/bit) slips.
Comprehensive analysis of ISDN, SS7, Frame Relay, Multilink Frame Relay, PPP and Multilink PPP, HDLC, and many more protocols
Comprehensive analysis of Voice, Data, Fax, Protocols, and Digital signals, including Echo and Voice Quality testing
Call Recording, Analysis, and Monitoring for hundreds to thousands of calls in one platform
Most all "Rx Applications" are available with tScan16™.
Compatible with Windows 7 and 8 OS and GL's user friendly real-time software
GL offers other popular forms of T1/E1 analysis hardware such as
---
Use of tScan16™ Breakout Box in Monitor Mode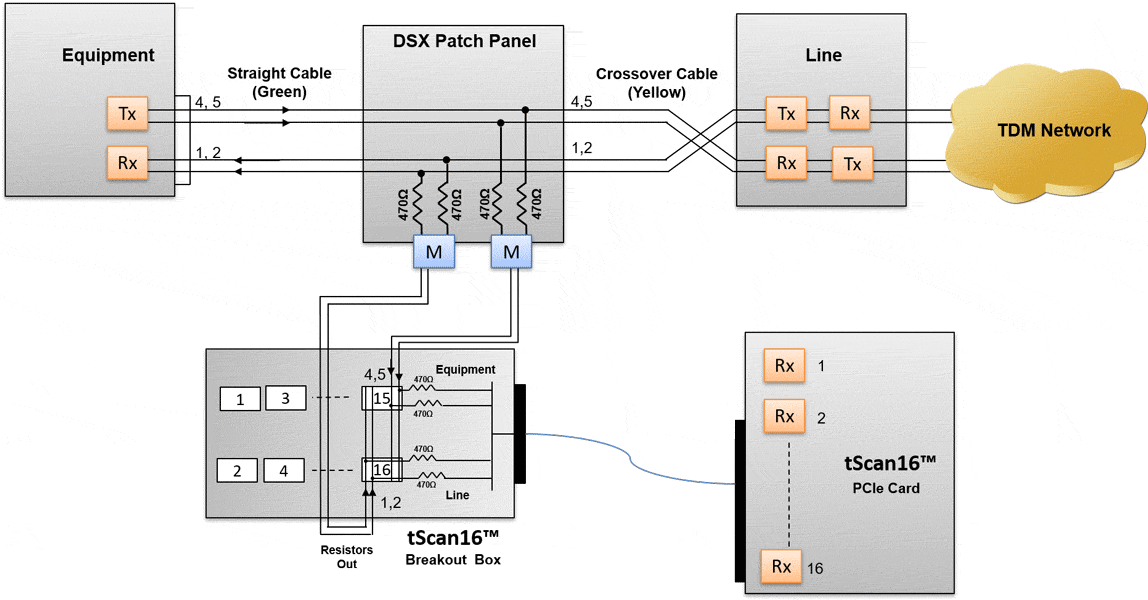 tScan™ with DSX1 Patch Panel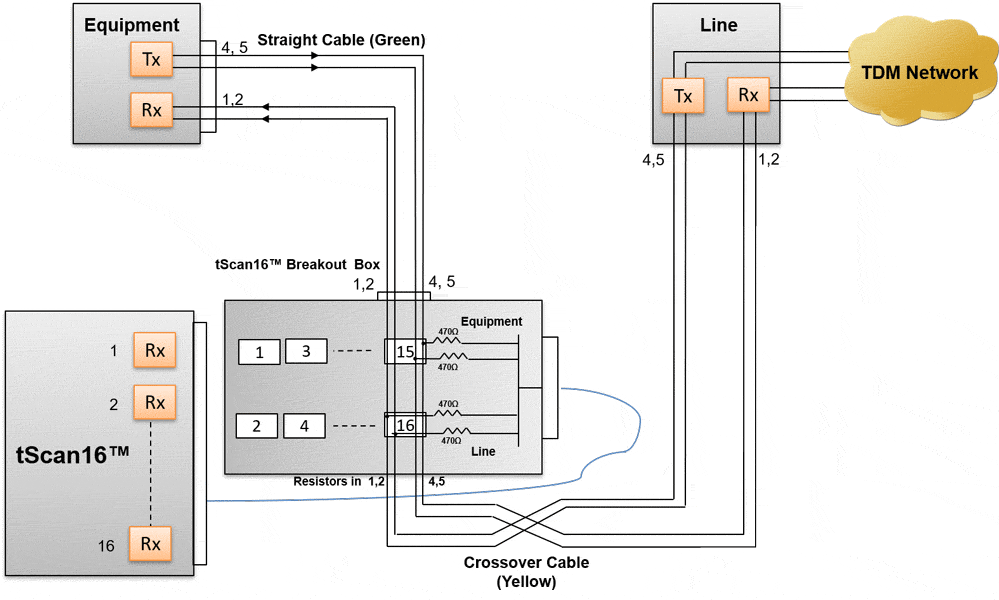 tScan™ without DSX1 Patch Panel
For more details on the usage of Breakout Box, please download
tScan16™ Breakout Box Reference Guide
---
Supported Rx Applications
tScan16™ supports almost all Rx Applications (monitoring applications) available with GL's regular T1/E1 analyzers.

Basic Applications
Byte Values & Binary Byte Values
Signaling bits, Power Level, DC Offset, & Frequency
Multi-frames, and Real-time Multi-frames
T1/E1 Data as Real-time Bitmap
Timeslot Window
ASCII Timeslot Display
Oscilloscope & Power Spectral
Audio Monitoring & Active Voice Level
BERT
Windows Client / Server
Manual, Automated Record Files
Protocol Analysis: ISDN, HDLC, SS7, GSM, GPRS, UMTS, Frame Relay, ATM, PPP, TRAU, T1 Facility Data Link , E1 Maintenance Data Link (Sa HDLC, and SSM), and more
WCS Modules: Rx files, digits, Multi-channel BERT, DSP operations, Dynamic DSP capability
Capture & Analysis : DTMF / MF / MFCR2, Digits, Tones, Voice, Modem, Raw Data
Call Data Records
Voice Band Analysis Software
Multi-Channel BERT
Protocol Identifier
Signaling Transitions Recording
Real-time Strip Chart
Real-time Multichannel Audio Bridge
Multiplex / Demultiplex Software
Network Surveillance, Voice Quality Testing
Echo and Delay Measurements
---
Specifications
Physical Interface

T1/E1

(16) Dual RJ45c Jacks on the Breakout Board

Connector

MDR 36-Pin Connector (3M Mini D Ribbon cable) to interface Breakout Board with Main Board
See image 3M (MDR) 36-Pin Connector

PC Interface

PCI Express x1 Lane
Compliant to PCI Express Base Specification v1.1
Environmental Specifications

Temperature

Operating: 0 to 50° C
Storage: -50 to 70° C

Relative Humidity

Operating: 10% to 90% (non-condensing)
Storage: 0% to 95% (non-condensing)

Altitude

Operating: -100 to 12,000 ft.
Storage: -100 to 40,000 ft.
T1/E1 Line Interface

Framing Formats

Unframed, D4 (T1) , ESF(T1), ESF(J1), CAS(E1), FAS(E1), CRC4
Hardware Compliant: SLC96, T1ESF ZBTSI

Line Code format

AMI, B8ZS (T1) or HDB3 (E1)

Altitude
Operating: -100 to 12,000 ft.
Storage: -100 to 40,000 ft.

Internal Clock Specification

Standard: +/- 3ppm Optional: +/- 1ppm
PCM Interface

Receive

Displays for All Channels: Signaling Bits, Power Level, Frequency, & Data.
Graphical displays: Oscilloscope, Spectral, Spectrogram, Signal-to-Noise
Signaling: DTMF/MF Dialed Digit Detection and Analysis, ISDN, MFC-R2
Recorder: Record Full/Fractional T1/E1 Timeslots to hard disk file.
Specification Compliance

T1/E1 Interface Hardware Compliance

ANSI: T1.403.1995, T1.231-1993, T1.408
AT&T: TR54016, TR62411
ITU: G.703, G.704, G.706, G.736, G.775, G.823, G.932, I.431, O.151, Q.161
ITU-T: Recommendation I.432-03/93 B-ISDN User-Network Interface-Physical Layer Spec
ETSI: ETS 300 011, ETS 300 166, ETS 300 233, CTR12, CRT4
Japanese: JTG.703, JTI.431

Facility Data Link

T1 ESF Mode: Transmit/Receive Messages, Bit-Oriented Messages, and Files.

Zero Suppression

B7 Stuffing, Transparent, & B8ZS (T1)

Signaling

Robbed-Bit or Clear Channel

Frequency Offset

E1: +/- 615Hz
Receive

Input Impedance

100 ohms for Terminate and Monitor (T1)
120 ohms for Terminate and Monitor (E1)

Terminations

Terminate and Monitor

T1 Input Frequency

1.544MHz +/- 20KHz

E1 Input Frequency

2.048Mhz +/- 20KHz

Frequency Measurement

+/- 1ppm

Error Detection

Frame Error, CRC Error, CAS Multiframe Error, BPV Error, Frame Alignment Error
* 10 or 24 bits for sync time
* 2/4, 2/5, or 2/6 frame bit in error frame select
* Frame error bit corruption for 1 or 3 frame bits


Alarm Detection

T1 - D4 Yellow Alarm, ESF Yellow Alarm
Yellow Alarm (B2 Suppressed-2nd MSB)
Yellow Alarm (S-Bit)
Yellow Alarm (00FF in FDL)
Blue Alarm (Framed or Unframed All Ones)
E1 - Remote Alarm
Distant Multiframe Alarm
Signaling All Ones
Unframed All Ones
Hardware Compliant: J1 Yellow Alarm

Input Range

T1:
Terminate: 0 to 36dB (Long Haul), 0 to 15dB (Limited Long Haul),
DSX Monitor: 20dB
E1: Terminate, 0 to 43dB (Long Haul), 0 to 13dB (Short Haul),
DSX Monitor: 20dB
| Display and Logging | |
| --- | --- |
| BERT | Bit Errors, Bit Error Rate, Error Seconds, Error Free Seconds, %EFS, Severely Error Seconds, % SES, Degraded Minutes, %Dmin, Loss Pattern Sync Count, Loss of Sync Seconds, Available Seconds, %Available Seconds, Unavailable Seconds, Bipolar Violations, BPV Rate, BPV Seconds, BPV Free Seconds, Frame Errors, FE Rate, FE Seconds, FE Free Seconds, with Detailed logging into disk file. |
| Alarms | Resync In Progress, Loss of Signal, Blue Alarm, Change of Frame Alignment, Bipolar Violation, Frame Error, Carrier Loss, Yellow Alarm, Out of Frame Events Counter, Error Super frame Counter, Bipolar Violations, Remote Alarm, Distant Multiframe Alarm, Signaling All Ones, CAS Multiframe Error, CRC4 Error. |
| Computer Requirement | |
| --- | --- |
| | Core i3 or higher with MS-Windows® 7 or 8 with PCIe expansion slots (3.3V or 5.0V) |
Physical Dimensions

Dimensions

6.60'' long, 2.71'' high (2U high) –from the top to the bottom of the PCIe tab, the lowest point on the board

tScan16 Full Height bracket (for normal standalone PCs): 4.725'' high

tScan16 Half Height bracket (for 2U rack PCs): 3.118'' high

tScan16 Breakout Box: 7.29'' wide, 1.52'' high, 2.5'' deep
---
Buyer's Guide
*Specifications are subjected to change