IP (Layer 3) Testing
PacketExpert™ provides independent Ethernet/VLAN/MPLS/IP/UDP testing at wire speed for applications such as BERT, RFC 2544, and Loopback, also supports optional applications for advanced testing such as Record and Playback, ExpertSAM™, PacketBroker, Multi Stream UDP/TCP Traffic Generator and Analyzer, and ExpertTCP.
Network Layer (Layer 3) uses routing technologies to connect various systems within a network or to connect multiple networks together through Gateways. In Layer 3 testing, packets are routed between the Source and Destination PCs based on both the IP address and MAC address. So, both the MAC address and the IP address must be configured for Layer 3 testing.
Testing at Layer 3 using GL's PacketExpert™ can be accomplished as shown in the figure below. Here, two PacketExpert™ applications operate in separate IP networks and are connected through routers, which route the frames based on the IP addresses in the test frames. Since IP networks encompass various types of physical networks consisting of LAN and WAN links, there is lot of scope for packet modification, packet loss and out of order packets. GL's PacketExpert™ helps measure these metrics of the IP network.
Two test scenarios at Layer 3 are as depicted in the diagram where the information in layer 3 is transmitted through the network in packets.
Scenario 1 - Source & Destination PC are located within the same IP network, and hence are directly reachable

IPv4 Configuration
An IPv4 packet consists of a header section and a data section.  The header consists of 13 fields, of which the following fields can be configured.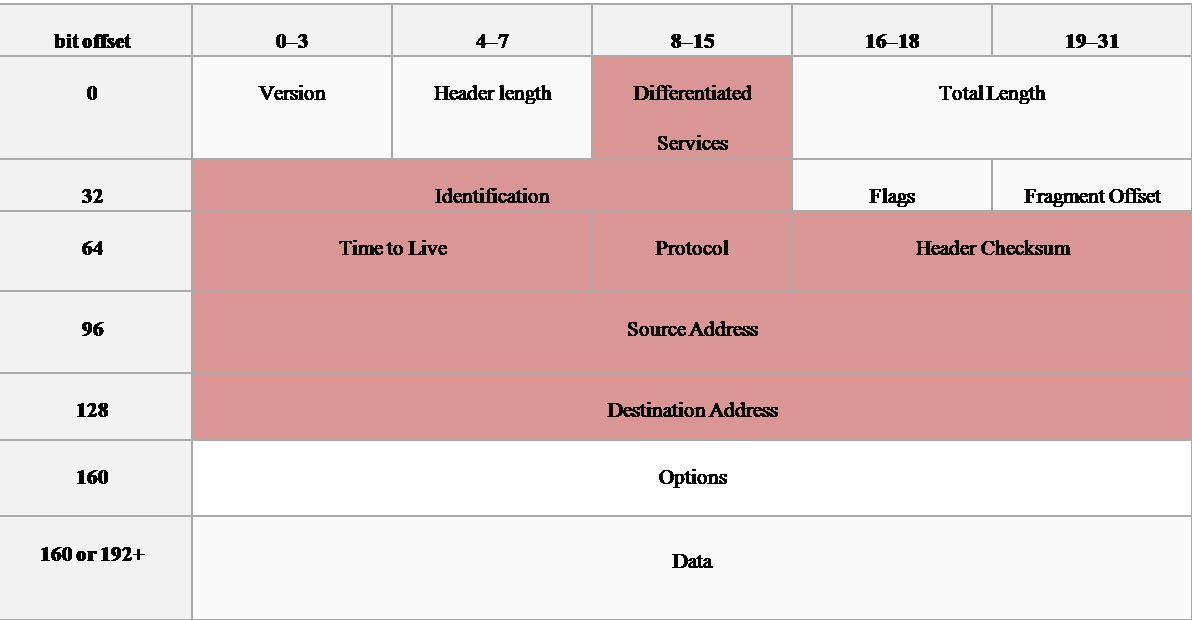 Layer3 configuration allows editing source and destination IP Addresses. In addition, users can configure various IP header fields like TOS, TTL, Protocol, Header Checksum, and Identification field. User can choose to allow hardware to calculate/verify checksum or provide a fixed value. IPv6 is also supported.
Source IP Address: During Tx, Source IP Address is fill-up in the outgoing packet and during Rx, these addresses are used to match with the received packet's Source and Destination address. If they do not match, the packet is rejected as Non-Test Packet.
Destination IP Address: IPv4 address of the receiving node
TOS/DS: Type of Services (ToS)/Differentiated Service an 8-bit field intended to instruct routers how to prioritize traffic. In practice, most routing equipment tends to ignore the TOS/DS field.
TTL: Time to Live (TTL) is an eight-bit field that determines how many hops a packet can make before it expires.
Protocol: This field in IP Header defines the protocol used in the data portion of the IP datagram. For Rx config, this is used to filter incoming packets.
Header Checksum: The 16-bit checksum field is used for error-checking of the header. At each hop, the checksum of the header must be compared to the value of this field. If a header checksum is found to be mismatched, then the packet is discarded.
Identification: ID fields are also used for adding packet-tracing information to datagrams to help trace spoofed source addresses.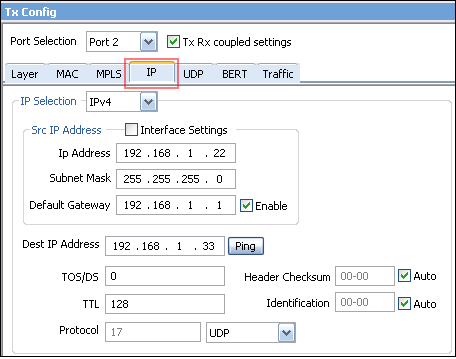 IPv6 Configuration
PacketExpert™ supports Layer 3 IPv6 testing. An IPv6 packet consists of a header section and a payload section. The header is in the first 40 octets (320 bits) of the packet, of which the following fields are allowed to be edited.
IPv6 uses 128-bit addresses but is otherwise very similar to IPv4.  
Traffic Class - packet priority (8 bits) – contains Internet traffic priority delivery value.
Flow Label - (20 bits) - used for specifying special router handling from source to destination(s) for a sequence of packets.
Next Header - (8 bits) - specifies the next encapsulated protocol. If incoming IPV6 packet's Next header filed value does not match the configured value, then the packet is rejected and flagged as Non-test packet.
HOP Limit - (8 bits) - For each router that forwards the packet, the hop limit is decremented by 1. When the hop limit field reaches zero, the packet is discarded.
Source / Destination Address – (128 bits each) - IPv6 address of the sending / receiving node.
PacketExpert™ provides IP Layer 3 port-wise test results which includes – IP checksum Errors, IPv4 Packets, IPv6 Packets, IP Non-Test Packet, IP, UDP, TCP, ICMP, IGMP, IGRP, and Other Protocols in IP Packet.
Resources
PacketExpert™ 10GX - Brochures
PacketExpert™ 10GX - Presentations