LTE, VoLTE, and IMS Network Automated Testing Solutions
Gaithersburg, Maryland, USA - October 4, 2023 - GL Communications Inc., a global leader in telecom test and measurement solutions, addressed the press regarding their comprehensive testing solutions for LTE, VoLTE, and IMS networks, enabling telecom providers to ensure the quality and reliability of their network services.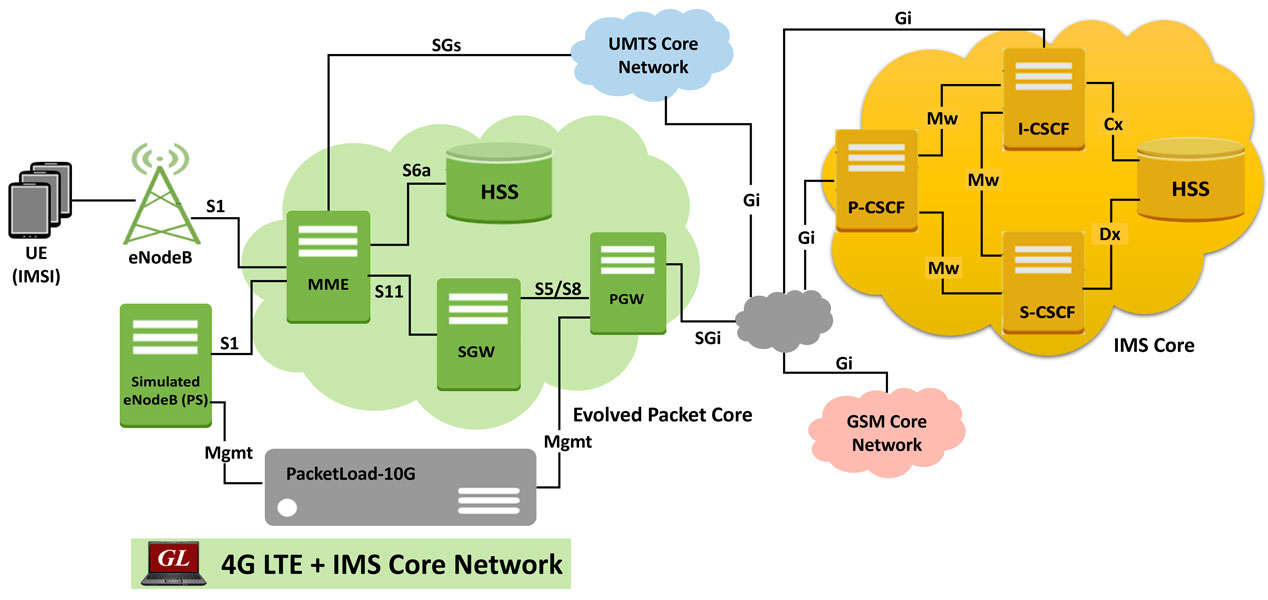 ---
Wireless networks are subject to electromagnetic interference, signal strength degradation, faulty or overloaded equipment and other harmful factors. These issues lead to the deterioration of voice and data quality. GL's automated testing solutions for LTE, VoLTE, and IMS networks offer a comprehensive solution for monitoring, emulating, and troubleshooting problems within LTE IMS wireless networks.
"GL's LTE IMS Test Tool captures, decodes and conducts measurements across various interfaces in LTE and IMS wireless networks. GL's Message Automation and Protocol Simulation (MAPS™) software can emulate all elements in wireless 5G, and 4G VoLTE networks. When used in conjunction with the High-Density LTE Network Emulator, it can generate up to 100,000 UEs along with a high volume of mobile GTP and packet traffic to perform load testing on LTE networks", said Vijay Kulkarni, CEO of GL Communications.
Users can establish a virtual real-time network with GL's End-to-End 4G LTE-IMS Network Emulation Test Suite that emulates components such as Evolved NodeB (eNodeB), Mobility Management Entity (MME), Serving Gateway, PDN Gateway, Home Subscriber Server (HSS), Serving GPRS (General Packet Radio Service) Support Node (SGSN), Policy and Charging Rules Function (PCRF), Policy and Charging Enforcement Function (PCEF), Application Function (AF) and others to emulate Evolved Packet Core (EPC), allowing complete testing of the LTE network.
All functionalities conform to industry standards. The End-to-End 4G LTE-IMS network emulation test suite offers reliable integrated solutions to vendors and service providers for emulating, monitoring, and troubleshooting wireless networks.
---
LTE IMS Network Test Solutions Comprise:
4G LTE Communications Network Lab
Emulate IMS Interfaces
Centralized Web-based LTE Monitoring System
LTE/5G Quality of Service (QoS) Test Suite for Voice, Video, and Data Quality Testing
Massive LTE UE and Traffic Emulation
Emulate LTE S1 Interface
Emulate LTE eGTP Interfaces (S3, S4, S5, S8, S10, S11 and S16)
Emulate LTE X2 AP Interface
Emulate SMS and CS Fallback
For more details, refer to LTE Network Test Solution.
End-to-end voice, video, and data quality testing includes speech metrics like PESQ and POLQA. When combined with other metrics such as delay, packet loss, drops, and more, it accurately assesses the performance of VoLTE.
MAPS™ can test all elements within the LTE IMS wireless infrastructure. It enables the emulation of various interfaces in LTE (S1-u, S1-MME, X2, S3, S4, S5/S8, S6a, S10, S11, S13, S16) and IMS (Cx/Dx, Rx, Gx, Gm, SGi, Mw, Mi, Mj) interfaces using LTE S1, LTE eGTP, Diameter, and IMS emulators. This capability allows for VoLTE call simulation in a controlled lab environment, enabling the study of network behavior.
GL's PacketScan™ protocol analysis software, in combination with the network surveillance system - NetSurveyorWeb™, enables centralized monitoring of the entire LTE IMS network. Used in conjunction with LTE Protocol Analyzer and IMS Protocol Analyzer probes, these systems feed data to a centralized database in real-time for further analysis. These probes capture, decode, and categorize traffic into calls and forward call detail records, signaling frame details, and other statistics to the centralized database server.

Back to Press Releases Index Page