GL Products, Platforms, News and Trends
Welcome to our January 2021 issue of GL's Newsletter providing information and insight into our telecom test and measurement solutions.
Overview
GL Communications Inc. is a leading test and measurement equipment manufacturer of Wireless, IP, Fiber Optics, Analog and TDM products. Our test platforms provide unprecedented visualization, capture, analysis, simulation, and other features without sacrificing portability, convenience, or cost-effectiveness.
We also offer consulting services to design, plan, implement and inspect communications systems including wireless, IP, satellite, fiber optic, digital, and microwave networks.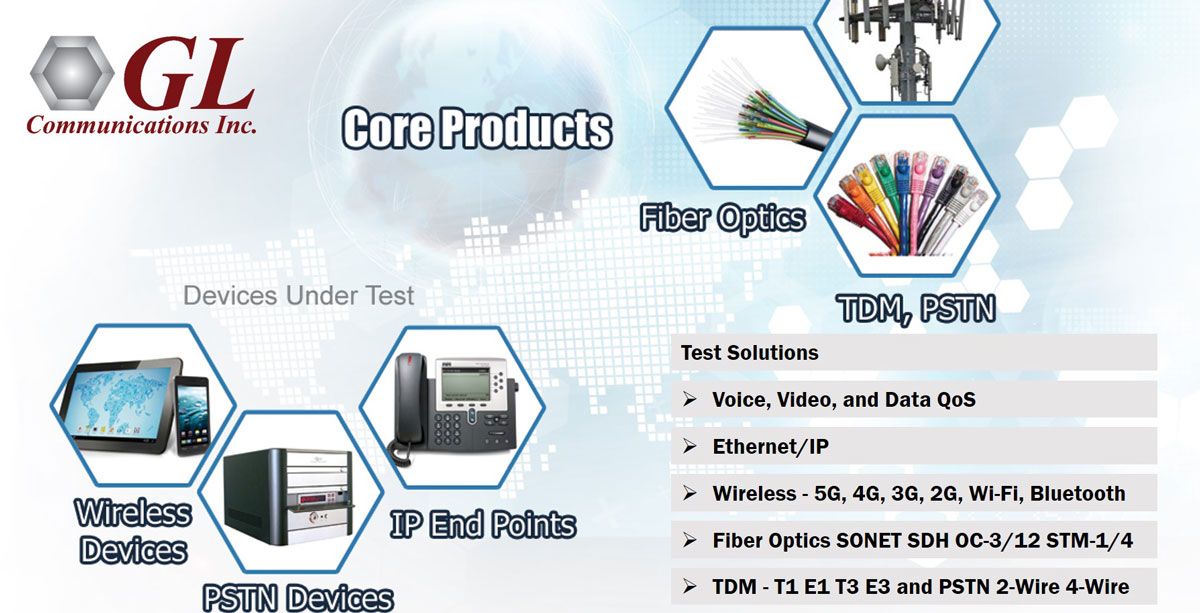 Voice, Video & Data Quality
GL offers products to measure voice, video, and data quality across a wide range of networks including wireless (3G, 4G, VoLTE, 5G, Wi-Fi), Analog PSTN, VoIP (including ATA), and mobile radios. Connections can be made to any wireless or wired phones and devices to perform automated call control, send and receive voice, video, and data, perform real-time signal measurements and GPS mapping. GL uses ITU-standard algorithms (POLQA and PESQ) to assess voice quality.
---
Ethernet/IP Test Solutions (1 Gbps, 2.5 Gbps, 10 Gbps)
The product line includes multi-functional Ethernet/IP Testers to test individual devices such as cables, switches, routers, and end-to-end testing of complex Ethernet/IP networks. The test tools perform active tests at wirespeed such as bit error rate testing, RFC 2544, ITU-T Y.1564, RFC 6349 based TCP testing, and reports statistics such as bit error rate, throughput, frame loss, latency, jitter and out of order frames.
GL's multi-functional Ethernet/IP testers can also act as intermediate nodes and emulate IP WAN link conditions such as reduced bandwidth, added latency, packet loss, jitter, and packet errors. Passive monitoring is also supported where packets can be filtered and captured at wirespeed, and either forwarded or recorded to a file. The recorded file can also be played back to emulate real world traffic in the lab. All these features are supported at wirespeed up to 10 Gbps.
---
Wireless Network & VoIP Test Solutions (5G, 4G, 3G, 2G)
With GL's Wireless Network Lab, you can test infrastructure for various functions such as calls between two UEs in the same network or different networks, inter-operability between 2G, 3G, 4G and 5G networks, Circuit-Switched fall-back and SMS while roaming, location services, and many more.
GL's test suite can be used to simulate all or specific elements within wireless networks infrastructure using simple ready-to-use scripts. It allows for functional testing, performance testing, and conformance testing compliant with ITU-T and 3GPP standards. Product capabilities cover all traffic types (Voice, Digits, Tones, Fax, GTP, HTTP, and PCAP).
These test solutions can be used in the lab or in the field with unlimited ability to edit wireless communication protocol messages and control call scenarios.
GL's VoIP and IP products generate / analyze thousands of calls and traffic simultaneously with traffic types such as frames, packets, voice files, digits, video, tones, noise, and fax. Almost all codecs are supported including AMR WB, EVS, GSM, iSAC, and many more. Additional features include visual analysis, real-time listening, and recording.
---
SONET / SDH Network Test Solutions
GL's SONET/SDH Network Test Solutions support bit error rate testing at full concatenated line rate up to OC-192 as well as at channelized T1/E1 rate. The test tools support capturing, monitoring, emulation, and protocol analysis over SONET-SDH links. It also supports Packet over SONET & ATM transport, wire-speed recording, and playback of unchannelized and channelized traffic.
In channelized mode, within an OC-3/STM-1, all 84 T1s or all 63 E1s and within OC-12/STM-4, all 336 T1s or all 252 E1s can be identified and processed in transmit and receive modes. The hardware can also be easily configured / programmed for delaying ATM Cells or PPP packets, and RAW BERT testing for OC-3, OC-12, OC-48 and OC-192 rates.
---
TDM/PSTN Network Test Solutions
GL's TDM/PSTN Analysis & Emulation line of products include T1 E1,T3 E3, Datacom, Analog 2-wire (Central Office (CO), PBX, ATA, Gateway), 4-wire (Headset, Push to Talk connecting to any mobile radio and to any mobile phone), external portable pods, and complete system solutions. Capabilities include voiceband traffic analysis and emulation across all traffic types (voice, digits, tones, fax, modem), all protocols (ISDN, SS7, GR-303, Frame Relay, HDLC, V5.X, ATM, GSM, GPRS, LTE, etc.), and with capacities up to thousands of channels. Tap for non-intrusive monitoring, capture and replay, or perform load testing by simulating high volumes of callers and capture capability up to and including gigabit speeds.
There are several customized products under this category designed to cater to industry-specific requirements. Examples include a complete 911 test solution to validate and test CAMA-type 911 networks, and an echo mitigation system designed to address the audio delay issues resulting from the different backhaul technologies and remote sites.

Back to Newsletter Index Page