2G & 2.5G Wireless Network Simulation
End-to-End Wireless (2G/3G/4G/5G) Network Simulation Test Suite to provide an advanced full-fledged "Live Network" at your company premises in any customized package to suit test requirements
Request a Quote
Brochure
TEST Solutions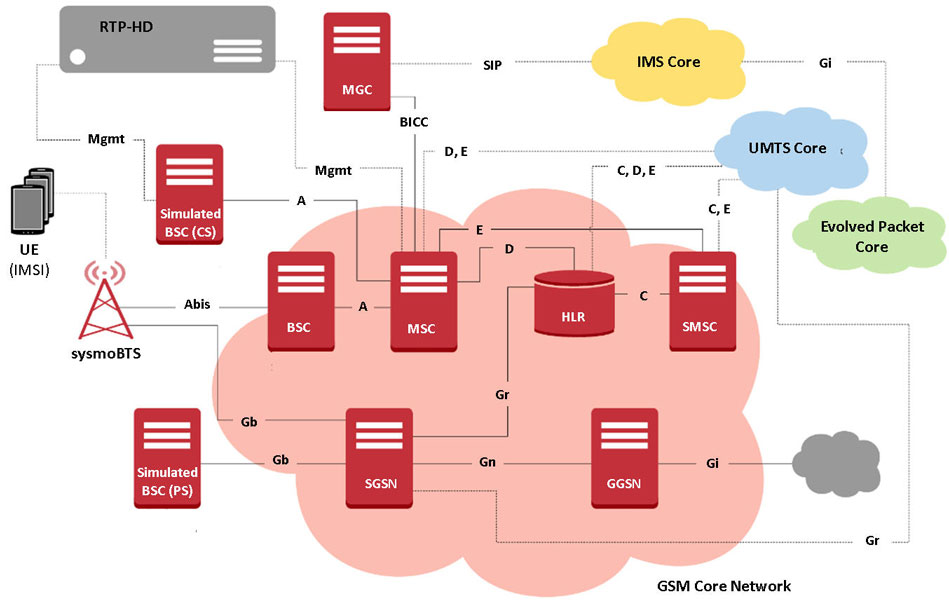 GL offers an End-to-End 2G and 2.5G GSM GPRS Wireless Network Simulation Test Suite with all components such as Base Station, RF channel, GSM core network elements such as BSC, MSC, HLR, and GPRS core elements such as SGSN, and GGSN to support mobile call and traffic emulation. The lab system can operate with real mobiles, or simulator user profiles.
One can setup a complete virtual real-time network simulating all the network elements, or any of the network elements in the above architecture can be replaced with user's DUT to perform single interface, multi-interface, or wrap-around testing. Complex scenarios such as handovers can be achieved easily.. Simulate multiple instances of nodes in network such as MSC, BSS, SGSN, and GGSN to perform functional and load/stress testing.
Verify your latest mobile features over the network with various types of traffic generators and receivers.
In addition, with MAPS™ HD RTP appliance you can generate high call intensity (hundreds of calls/sec) and high volume Voice and SMS calls (thousands of simultaneous calls/platform).
CSV database system is used for massive UE simulation. The CSV file is divided into three sections: GSM, UMTS, and LTE identified by Subscriber Type variable. And "n" number of UE configurations can be saved within a single file which can be shared across 4G/3G/2G networks simulating inter-networking calls, roaming calls, data sessions, and bulk GTP traffic generation.
---
Features
Call Scenarios
Nodes
Interfaces

Mobile-to-Mobile Procedures

Registration
Location update
Mobile Originated Voice Call (MOC)
Mobile Terminated Voice Call (MTC)
Mobile Terminated SMS Call
Mobile Originated SMS Call

Mobile-to-landline Procedures

Channel Request procedure
Signaling Channel Assign procedures
CM Service Request procedures
Authentication procedures
Traffic Channel Assign procedures
RTP Media procedures
Release procedures

Mobile Traffic and Web Access Procedures

Attach procedures
Identity procedures
Routing Area procedures
PDP Context Creation, Activation, Updation, Deactivation, and Deletion procedures
Web Browsing GPRS Session
Detach procedures

Traffic Types -

Voice/SMS calls using regular RTP core (low density)
High Volume Voice/SMS calls using MAPS™ HD RTP core (high density)
Supplementary IN Services
Internet connectivity (HTTP)
All Industry Standard Codecs

MS, BTS, BSC, MSC, HLR, EIR, VLR, SMSC, GMSC, gsmSCF, gsmSSF

2G Interfaces
Circuit Switched – A-bis, A,
Packet-switched – Gb, Gn Gp, GI

MAP Interfaces - C, D, E, F, H

Inter-network Interfaces – BICC, CAP, INAP

Location Services - Lg, Lh
What you need for setting up 2G Lab?
2G and 2.5G lab system requires the following equipment, and emulation tools:
Procedures
2G Users - Mobile-to-Mobile Voice Call Procedures (MOC, MTC)
2G Users - Mobile-to-Mobile SMS Call Procedures (MOC, MTC)
2G Users Calling Landline Users
2G Users Web Browsing Session
Portable 2G GSM Lab with Real BTS
---
Resources
Please Note: The XX in the Item No. refers to the hardware platform, listed at the bottom of the Buyer's Guide, which the software will be running on. Therefore, XX can either be ETA or EEA (Octal/Quad Boards), PTA or PEA (tProbe Units), XUT or XUE (Dual PCIe Express) depending upon the hardware.