Backhaul Network Testing Solutions
Overview
With rapid rise in mobile communications, as data and video penetrate the mobile market, wireless backhaul is gaining popularity. IP and Ethernet backhaul over fiber, microwave, and even TDM (T1 E1 T3 E3 OC3 and OC12) is gaining momentum. Operators have chosen alternate backhaul solutions such as leased T1 E1, Ethernet, IP, Satellite, Microwave, and Fiber to minimize expenses. Traditional T1 E1 circuits are not sufficient, operators must be equipped with optimum tools to monitor and troubleshoot various types of backhaul to ensure that the network is capable of reliable transmission to a growing number of cellular sites.
GL provides various testing solutions to monitor and test backhaul networks. Our test gear helps test backhaul no matter what the media and are portable, hand-held, or PC based equipments and are used successfully by customers world-wide to monitor and troubleshoot deployed networks. Specializing in both hardware and software design, GL offers a complete line of TDM, T1/E1, T3/E3, Ethernet, Microwave, Satellite, Fiber Test Solutions, which complies with the requirements for various network traffic, providing cellular operators with versatile test solutions.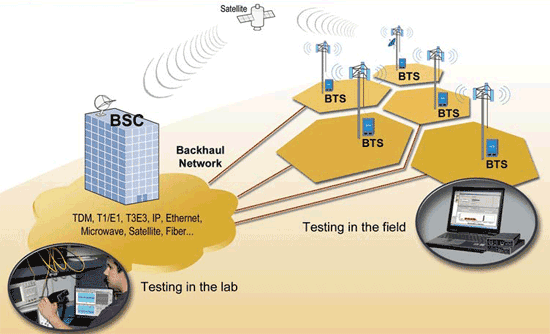 ---
Main Features
Test T1 E1 T3 E3 cellular backhaul (delay, throughput, error free transmission).
Test cellular IP backhaul, carrier Ethernet backhaul, etc.
Test point-to-point and multipoint circuits.
Simulate backhaul systems in the convenience of your Lab.
---
TDM Testing Solutions
T1/E1 Testing Solutions

T3/E3 Testing Solutions

T1 E1 T3 E3 Handheld Units
Ethernet Testing Solutions
Microwave Testing Solutions
Satellite Testing Solutions
Fiber Testing Solutions