PacketExpert™
Quad Port Ethernet / VLAN / MPLS / IP / UDP Tester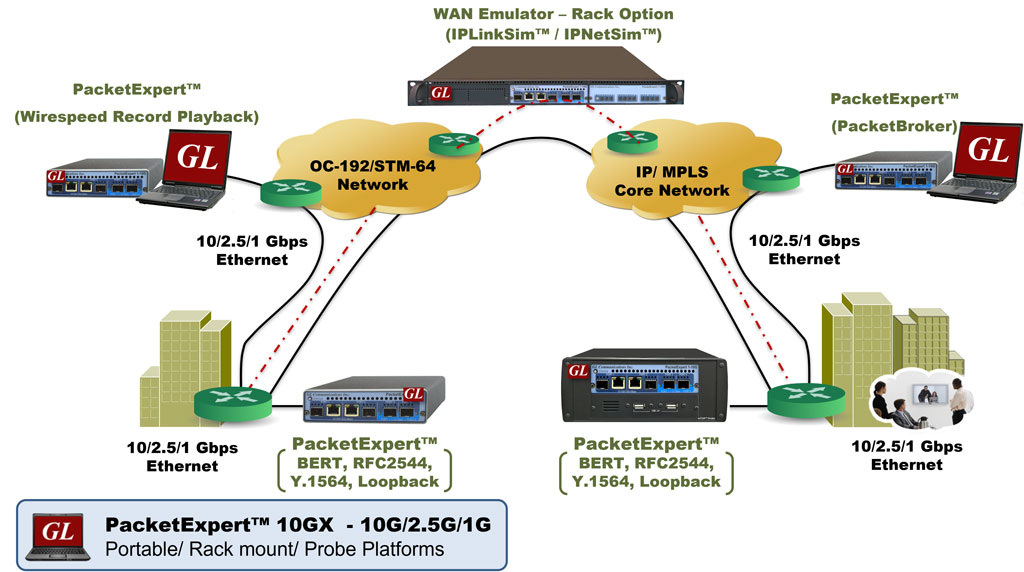 Overview
PacketExpert™ is a portable (USB based) Quad Port Ethernet / VLAN / MPLS / IP / UDP Tester with 4 Electrical Ethernet Ports (10/100/1000 Mbps) and 2 Optical Ports (1000 Mbps). Each GigE port provides independent Ethernet/VLAN/MPLS/IP/UDP testing at wire speed for applications such as BERT, RFC 2544, and Loopback. BERT is implemented for all layers (as depicted below). RFC 2544 is applicable for Layers 2, 2.5, and 3, and Loopback is applicable for Layers 2, 3, and 4.
GL's PacketExpert™ 10G provides comprehensive testing of 10 Gbps wirespeed Ethernet/IP networks. It has two 10 Gbps Optical ports, and two 10/100/1000 Mbps Electrical/Optical ports capable of BERT, Smart Loopback, RFC 2544, ExpertSAM, Record and Playback, IPLinkSim™ and PacketBroker functionalities.
It truly takes confusion out of Ethernet / IP testing at all protocol layers - from Layer1 frames to IP/UDP packets. It can be used as a general purpose Ethernet to IP performance analysis tool for 10 Mbps, 100 Mbps and 1 Gbps Ethernet local area networks and wide area networks (WAN).
Two of the 4 ports in the PacketExpert™ unit support both electrical and optical interfaces per unit, enabling testing on optical fiber links as well. The electrical ports support 10/100/1000 Mbps, and optical ports support 1000 Mbps using SFP. With IPLinkSim™ feature, the PacketExpert™ also emulates a bidirectional IP WAN link on these two ports.
| | |
| --- | --- |
| PacketExpert™ provides the following important functionalities – | |
GL's PacketCheck™ is a software-only Ethernet to IP Test tool, with BERT and throughput (up to 800 Mbps) testing ability that is comprehensive and very easy to use as a general purpose network performance analysis tool for 10Mbps, 100Mbps and 1Gbps LANs and WANs. Please visit PacketCheck™ page for more details.
Below is a depiction of the protocol stack that is supported with PacketExpert™.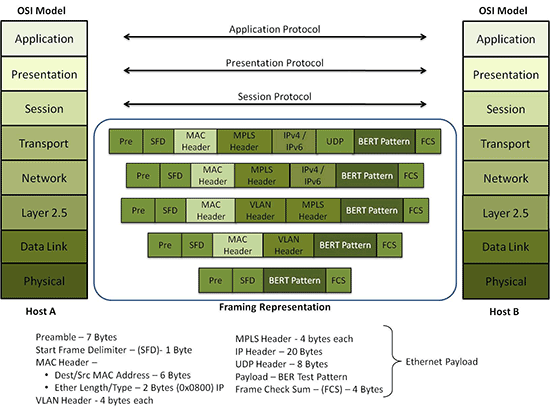 PacketExpert™ at Layer 1 (Physical), Layer 2 (Data Link) with stacked VLAN tag, Layer2.5 (MPLS),
Layer 3 (Network), and Layer 4 (Transport) of OSI model
Main Features
Hardware

USB based Quad Ports Ethernet / IP Tester
All 4 ports can be electrical supporting user-defined or auto-negotiated speed of 10/100/1000 Mbps Full Duplex mode
2 of the 4 ports can be optical supporting 1000 Mbps line rate Full Duplex mode

Ethernet / IP Testing

Capable of generating/receiving Ethernet to IP traffic at wire speed
Control multiple hardware units from a single GUI, multiplying the number of ports available per system
Traffic options lets technicians generate Ethernet to IP frames with user-configurable frame length, and frame size with varying traffic rates
User selectable Electrical and/or Optical interface for Port2 and Port3 allows mixed technology testing.
Wire-speed BERT, RFC 2544, RFC 2544 (single Port), Loopback, and WAN Link Emulation.
BERT, RFC 2544 Testing over Framed Ethernet (Layer2), Stacked MPLS (Layer2.5), IP and UDP. BERT testing is also supported on Layer1.
Field upgradable technology allows tester to stay current with industry trend.
Support for ARP, Ping, IPv6 etc.
Testing with stacked VLAN (Q-in-Q) – up to 3 levels
Testing with stacked MPLS, up to 3 levels
Multi-board support for All Port BERT, BERT/Loopback, RFC 2544, RFC 2544 (Single Port) and All Port Loopback applications

Capable of handling full wire speed BERT, in both directions, on all available ports.
Supports industry standards PRBS patterns 29-1, 211-1, 215-1, 220-1, 223-1, 229-1, and 231-1, constant patterns like all ones, all zeroes, alt ones-zeroes and user-defined test patterns ranging between 1 to 32 bits.
Single as well as constant rate Bit Error and FCS Error Insertion.
Optional sequence number insertion allows detecting out-of-sequence packets and packet loss.
Support for frame lengths from 64 bytes to Jumbo frames (up to 2048 bytes).
User-defined header parameters for MAC, VLAN, MPLS, IP and UDP layers.
Multi-board support for wire-speed BERT and BERT/Loopback applications

Both smart loopback (auto layer detection) and selected user-defined layers loopback capabilities for incoming traffic.
Multi-board support for all port loopback application

Throughput, back-to-back, latency and frame loss testing supporting uni-directional and bi-directional traffic between ports
Supports RFC 2544 on single or dual electrical / optical ports
User-defined configuration parameters such as frame size, trial duration, number of trials, etc.
Multi-board support for single and dual ports RFC 2544 application

Real-time results are presented in both tabular as well as graphical format.
Detailed test result reports in PDF and CSV file formats.
Detailed frame statistics in tabular format for all the ports.
Provides various vital measurements such as Bit Error Rate, Bit Error Count, Sync Loss Count, Sync Loss Seconds, and Error Free Seconds.
Real time graphical representation of the combined Throughput and Bit Error rate, plotted over time for BERT testing.
Graphs and Statistics for all the RFC 2544 tests.
Throughput graph from 10 seconds to 7 days (only for IPLinkSim™).
Link (P2-P3/P3-P2) statistics and Port (P2, P3) statistics.
Supports pause frame transmission with user defined quanta on each port independently.
Applications
Test and verify QoS Parameters of network devices like Switches/Routers etc.
End to end testing of network paths for QoS parameters
In-depth troubleshooting of the Carrier network in the event of network failures or impairments
QoS testing of Triple-play services to ensure that they fully qualify SLA parameters
Terrestrial wireless, satellite, and other WAN technologies network validations.
Test VoIP network in real-time conditions to verify if it meets the quality requirements before you deploy.
Testing video on IP networks by emulating the loss and congestion characteristics
Frame Statistics for BERT, RFC 2544, and Loopback Testing
Detailed statistics per port are provided. In addition to statistics like Frame Count, Frame Rate, Link Utilization (Layer 1 line rate in %), Data Rate (Layer 2 data rate in Mbps), etc., statistics are provided based on various categories like Frame Type (Broadcast, Multicast, VLAN), Frame Lengths (64, 65-127, 1024-1518, Oversized, Undersized), Protocol Type (IPv4, IPv6, UDP, TCP, ICMP, IGRP etc.)
| | |
| --- | --- |
| Statistics for Stacked VLAN and Stacked MPLS are provided for detailed analysis. Statistics based on the Packet Count per VLAN/MPLS stack position are provided. | 'All Ports' result screen for BERT displays consolidated Frame Statistics for Tx / Rx, Bert Status, and Bert Statistics results for all the 4 ports. |
| Tx and Rx Frame Statistics | All Port BERT Statistics |
Generate Report
The Report Generation option allows to create detailed test report in PDF and CSV formats.
| | |
| --- | --- |
| | |
| Screenshot of generate report | Screenshot of sample pdf report |
Command Line Interface (CLI)
PacketExpert™ also supports Command line Interface (CLI) to access all the functionalities remotely such as using TCL (Tool Command Language) and MAPS™ CLI Client/Server architecture.
PacketExpert™ can be configured as server-side application and on the client side, the standard TCL shell (tclsh85.exe) with PacketExpert™ specific functionalities can be used to communicate with the MAPS™ CLI Server, execute scripts, read back responses etc.
Capability of remote operation, automation and multi-site connectivity using TCL client and MAPS™ CLI server.
Scripts for MAC, VLAN, MPLS, IP and UDP layers testing
Multiple PacketExpert™ can be controlled remotely from single client application via MAPS™ CLI server.
Scripts for Bert, Loopback, RFC 2544, Record Playback, IPLinkSim™, PacketBroker, Multi Stream Traffic Generator and Analyzer, IPNetSim, ExpertTCP, and ExpertSAM™ testing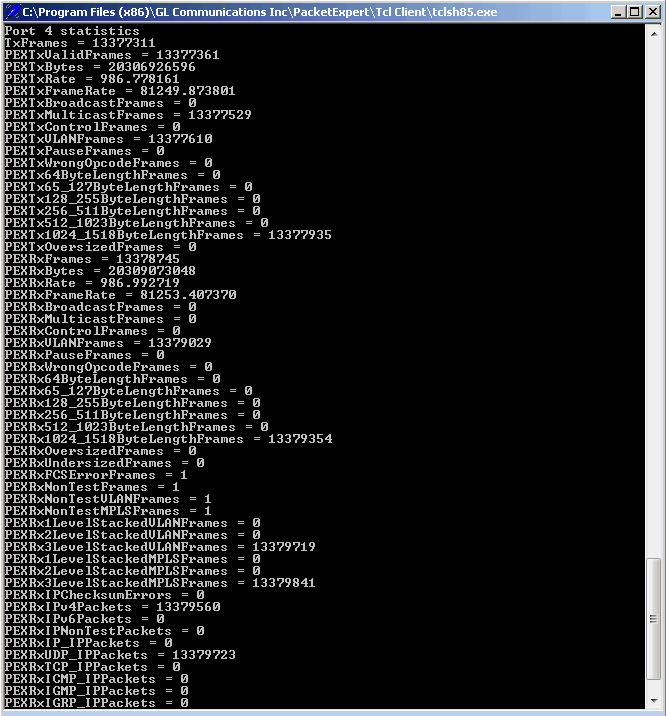 Command line based TCL client