T1 E1 Analyzer Client/Server Scripting for Linux / Windows
Welcome to another GL Communications' newsletter providing information on our latest T1 E1 Analyzer which supports Python Client/Server scripting for both Windows and Linux operating systems.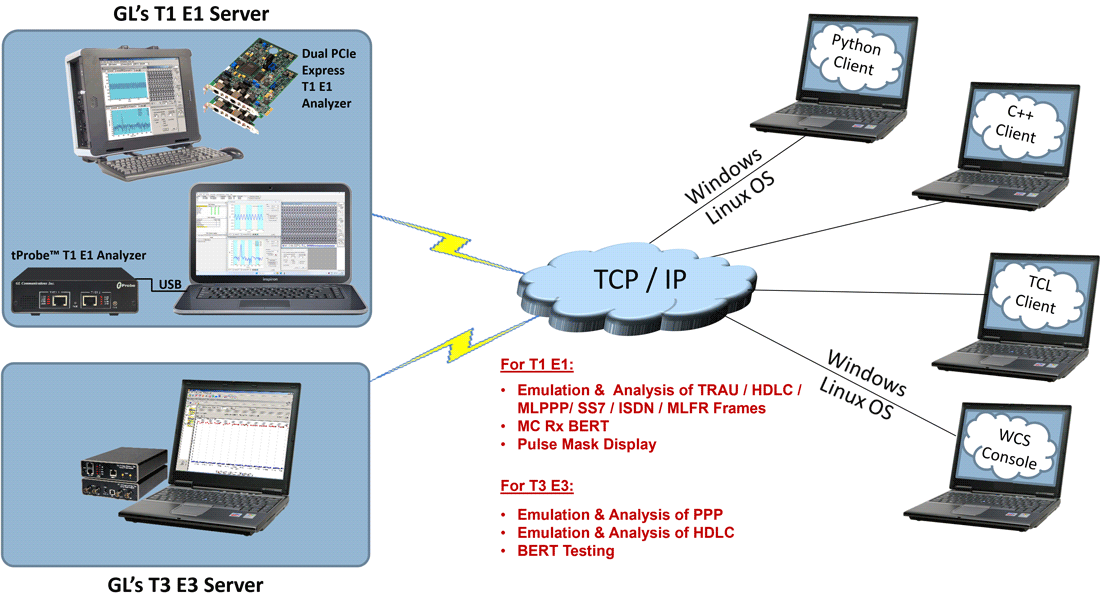 GL's Windows Client/Server (WCS) software allows the user of T1/E1 Analysis / Emulation cards (with portable, dual, quad, and octal interfaces), the capability of remote operation, automation, and multi-site connectivity. T1/E1 Cards in a Server are easily controlled through software Clients at remote or local sites via TCP/IP sockets. Connectivity can be via Dial-Up, LAN, WAN, or more typically the Internet. Server software can run multiple tasks simultaneously at the request of the Client software.
In the recent enhancement, WCS software is enhanced to support Python scripting on both Windows and Linux operating systems. The Windows Client Python Module (WCPM) wcli_t1_e1.pyd provides a client interface to the T1/E1 WCS servers. It allows a python program to connect to one or more GWSs and execute server commands, asynchronous tasks and receive replies from GWSs. WCPM enables connection to multiple GWSs allowing the python program to control T1/E1 equipment at multiple computers and geographical locations via TCP/IP. The supported Python versions are 3.6, 3.7, and 3.8.
All the complexity of TCP/IP communications is completely hidden from users and is reduced to invoking functions with string parameters and functions returning string responses.
WCPM complies with python naming convention standards and development practices. When WCPM functions are invoked incorrectly a proper exception is thrown making it easy to diagnose and correct the problem
Real world applications include:
Support for framed and unframed transmission / reception of signals
Intrusive / Non-Intrusive T1/E1 Testing
Performance monitoring and testing of multiple site locations from a single client
Shared use of T1/E1 test equipment from multiple client locations
Automated factory testing on production lines
Integration of T1/E1 testing into more complex testing systems
Example monitoring tasks
Intrusive Testing
Perform BERT on selected timeslots involving multiple paths simultaneously
Optional applications - (requires additional licenses)
DSP Operations (requires additional licenses)

Back to Newsletter Index Page