GL Announces TDM, Optical, and Packet Integrated Platform
for Test and Measurement
13th, Apr 2018
Welcome to April 2018 issue of GL's Newsletter providing information and insight into our latest mTOP™ - Rack based Test Solutions for TDM, Optical and Packet-IP Networks.
Overview
GL's new Multiple TDM Optical and Packet (mTOP™) rack enclosure can house any combination of USB based test equipment PacketExpert™, tProbe™ (T1 E1), USB T3 E3, Dual UTAs, & LightSpeed1000™ to support multiple interfaces in a compact rack space.  mTOP™ systems not only provide space efficiency, but also account for easier scalability and reduced licensing cost per port.
Each mTOP™ enclosure is a sleek 1U or 2U enclosure with the ability to support up to three GL USB based test hardware units. For scalability a secondary mTOP, also housing three GL USB based test units can be connected to the primary mTOP™ using same software and licenses.
The various mTOP™ platforms are discussed below. It should be noted, mixing different GL USB based test equipment (any TDM/Optical/Packet combinations) within same mTOP™ is also possible.
---
VQuad™ mTOP™ Solution
GL's VQuad™ mTOP™ solution is an all-in-one self-contained VQuad™ with Dual UTA HD test instrument designed for conveniently testing up to 12 independent telephony devices including Analog 2-wire FXO, Analog 4-wire, Phone Handset (RJ22), Mobile Radio with PTT, and Mobile Phone (Smartphone/Handset) for a variety of testing and analysis. The VQuad™ solution supports Wireless as well as 2-Wire and 4-wire analog calls using same hardware. User can perform simultaneous Voice, Video, Data, Fax, and Time Delay Measurements from a single VQuad™ mTOP™ test solution - greatly reducing the licensing costs per device.

Important features
Support up to 12 simultaneous and independent ports
Configure Dual UTA HD devices as Analog FXO, Analog 4-wire (Headset), Bluetooth (Mobile phone), Mobile Radio with PTT, or Phone Handset (RJ22)
Provides full Automation using VQuad™ scripting and Remote operation using CLI and API
Supports Call metrics such as Call Failure, Call Drop, and Call ID
Supports Audio analysis including VQT POLQA, Delay Measurements, Signal/Noise Level, RMS Power, Frequency Response, Audio Dropout Analysis
Dual UTA HD supports NB,  WB and SWB audio
Mobile Testing supports any mobile phone as well as all networks (including VoLTE and 5G)
All Results/Events sent to Central Database and accessed via WebViewer™
User can visit the VQuad™ mTOP™ Solution web page for detailed information.
---
mTOP™ T3 T1 E3 E1 Testers
Almost all of T1 E1 and T3 E3 Testers can be accommodated into rack-based units. Multiple rack units can be stacked together for greater scalability. Shown below is a rack based tProbe™ T1 E1 / T3 E3 Analyzer unit, and a Channelized T3 E3 Analyzer unit supporting 6 T3s (6 * 672 DS0s).
Such customized rack serves the purpose of handling multiple communications lines and test complex functionalities
Important features
Analysis/Emulation of T3 (44.736 Mbps) and E3 (34.368 Mbps)
Analysis/Emulation of ATM, PPP, HDLC, and Frame Relay signaling
Record / Playback of entire T3 or E3
Monitoring & generating alarms, and error insertion
Analysis of all 28 T1s (1.544 Mbps each) per T3 port, or 16 E1s (2.048 Mbps each) per E3 port in Channelized mode
Analysis of Fractional T1s and E1s, N x T1s or N x E1s
Analysis of any combination of DS0s (64 kbps each) within the T1s or E1s ( for example, each T3 port has 28 x 24 = 670 DS0s for T1 or 21 x 32 = 672 DS0s for E1) with additional applications, such as record-only, one can even record traffic at DS0 levels
Support for all T1 E1 "basic applications" and "special applications"
Monitor the T1 E1 line conditions such as frame errors, violations, alarms, frequency, power level, and clock (or frame/bit) slips
Comprehensive Analysis / Emulation of Voice, Data, Fax, Protocol, Analog, and Digital signals, including Echo and Voice Quality testing
User can visit the T3 E3 Highspeed WAN Analyzer web page for detailed information.
---
mTOP™ Ethernet Tester (1 to 10 Gbps Electrical and Optical Ports)
High Density PacketExpert™ of 12/24 GigE ports form factor solution are used for testing multi-port switches, routers and networks end-to-end. Each of the 12/24 GigE port supports auto‐negotiation and flow control. The chassis comprises of both electrical and optical (fiber) interfaces. The Electrical ports can operate up to 10/100/1000 Mbps line rates in Full Duplex mode, while Optical ports can operate up to 1000 Mbps line rate in Full Duplex mode. A single PacketExpert™ mTOP™ test solution with stacked rack units greatly reduces the licensing costs per device.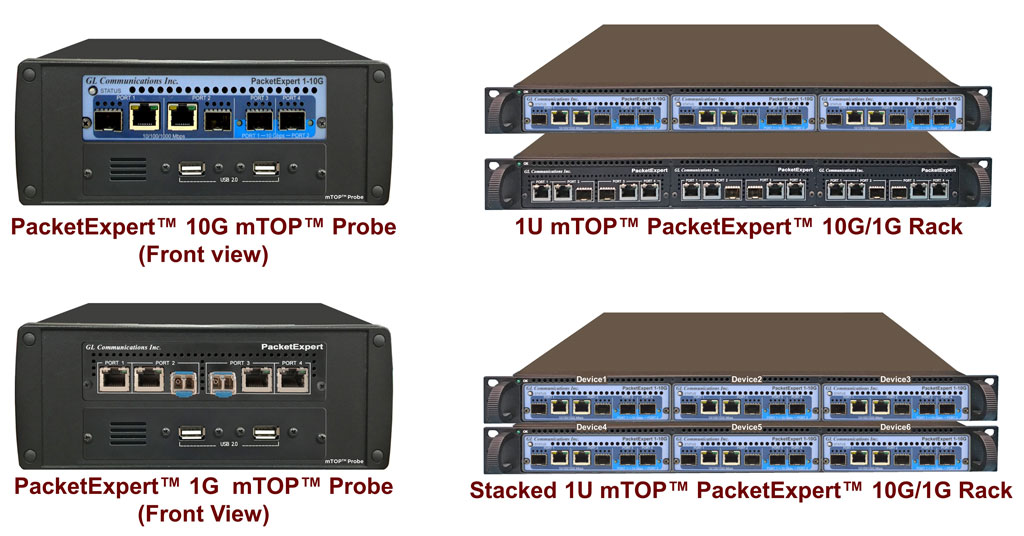 Important features
High density Ethernet Ports with 12 or 24 ports. Stack multiple HD-PacketExpert™ unit to handle large number of ports
Selective-Port Loopback and Wire speed BER Testing
Wire-speed BERT, RFC 2544, Loopback, and WAN Link Emulation
Layer 1, Framed Ethernet (Layer 2), Stacked MPLS (Layer 2.5), IP (Layer 3), and UDP Layer 4)
User selectable Electrical and/or Optical interface for Port2 and Port3 allows mixed technology testing
Generate and capture Ethernet traffic on Electrical (up to 10/100/1000 Mbps) and Optical (1 Gbps) interfaces
All interfaces can run simultaneously and independently
Detailed frame statistics in tabular format for all the ports
Command Line Interfaces - Console based CLI, Client-Server based CLI, WCS ( Windows Client/Server), or via TCL or Python clients using MAPS™ CLI Server, allowing remote control
Real-time results are presented per port and all-port basis in both tabular as well as graphical formats
Consolidated detailed test result reports for all the ports on all the devices in PDF and CSV file formats
User can visit the mTOP™ Ethernet Tester web page for more details.
---
mTOP™ TDM-Optical-Ethernet Testers
mTOP™ can combine any of the testers discussed above for unified testing experience of Ethernet /IP, TDM and Optical technologies. It can perform as an all-in-one performance analysis tool allowing tests to be performed at any end points.
LightSpeed1000™ hardware platform is capable of OC-3/12 and STM-1/4 wire-speed processing on quad optical ports for functions such as wire-speed recording and wire-speed playback of Unchannelized and Channelized ATM, PoS, and RAW Traffic.
T3 E3 Analyzer is capable of processing signaling, voice, and data full T3 (DS3) or E3 data streams, dropping and inserting T1 (DS1) or E1, and analysis of HDLC, ATM, Frame Relay, and PPP Protocols. It includes various signal testing capabilities for Unchannelized (Unstructured) and Channelized (Structured) T3 E3 Traffic.
VQuad™ Dual UTA HD hardware unit supports all the interfaces and telephony devices in a smaller (compact) design. Dual UTA HD supports testing HD voice using Bluetooth® Wideband, and FXO Wideband along with hardware loopback controlled through the VQuad™. Dual UTA HD hardware also includes a PTT interface, Self-Test LED, GPS connect LED, and other enhanced features.

Back to Newsletter Index Page