A Unique Platform for Protocols Simulation & Traffic Generation
GL's Product Showcase @ Super Mobility CITA - 2015
As a long-standing telecom test equipment vendor, we realized the need for a unique platform that addresses long felt customers' need of a complete Signaling and Traffic Simulation and Conformance Testing and the result is the development of Message Automation & Protocol Simulation, MAPS™, with a unique architecture to support any protocol, interface, and traffic.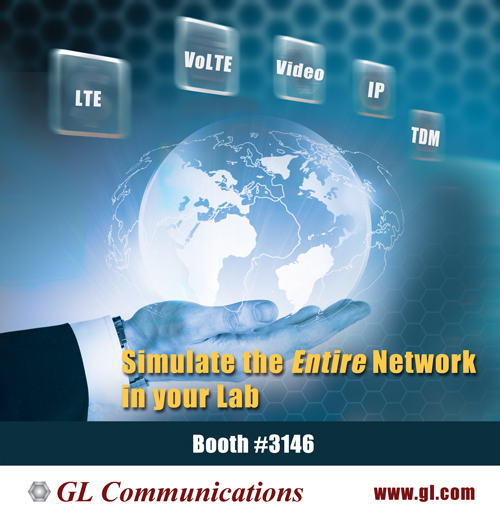 The MAPS™ Wireless infrastructure protocols/elements support for 4G includes LTE, VoLTE, and IMS. For 2G – supports GSM with BTS, BSC, MSC, SMSC, HLR/VLR emulation. For 3G - supports Node B, RNC, SGSN, GGSN are supported. For 4G - supports eNode B, MME, SGW, PDN GW, EIR, HSS, PCRF, and CSCF are supported. For VoIP protocols / elements SIP, RTP, Megaco, MGCP, SIGTRAN, H.323, and many others are supported. TDM protocols for CAS, ISDN, SS7, and GSM provide legacy support.
MAPS™ HD is an advanced network appliance used to simulate high volume calls with traffic. It is designed to easily achieve up to 20,000 endpoints per server. Using a stack of multiple servers, a larger test system with 100K-200K calls is achievable for enterprise to carrier grade testing (hundreds of calls/sec) and high volume of sustained calls (tens of thousands of simultaneous calls/2U platform).
MAPS™ tool covers solutions for both protocol simulation and protocol analysis. The application includes various test plans and test cases to support the testing of real-time entities. Along with automation capability, the application gives users the unlimited ability to edit messages and control scenarios (message sequences). "Message sequences" are generated through scripts.
Verify your latest mobile features over the network with various types of traffic generators and receivers. MAPS™ supports transmission and detection of various traffic types over IP (RTP, GTP), ATM, GSM (TRAU), & TDM - such as, digits, voice file, single tone, dual tones, fax, sms, email, http, ftp, and video. MAPS™ also includes support for wide range of codec rates – visit Traffic Simulation and voice codecs webpage for more details. In GPRS, packet data traffic can be generated and validated with GTP traffic modules. Circuit switched traffic can be generated and recorded using RTP core module.
GL's MAPS™ is designed to work on TDM interfaces as well as on the IP/Ethernet interfaces. TDM signaling protocols such as SS7, ISDN, MLPPP, CAS, MAP, CAP, GSM, INAP, and BICC operate over TDM networks, where as VoIP protocols SIP, SIP-I, MEGACO, MGCP, SIGTRAN, Diameter, INAP, MAP, CAP, and BICC operate over IP transport layer.
Typical Applications of GL's MAPS™
A virtual real-time network in you lab simulating all the network elements using 'MAPS™ 2G 3G 4G Wireless Lab Suite
SMS Testing, from within the Wireless Infrastructure using MAPS™
Fault insertion, and erroneous call flows testing capability - Test response of network against protocol message modification, or corruption
Functional testing, Regression testing and Conformance testing of network elements.
Performance testing, Load Testing, Function al testing, Regression testing and Conformance testing of network elements.
Inter-operability testing of networks
Wrap-around testing (WAT)
Ready scripts makes testing procedure simpler, less time consuming and hence time to market products.
Automated IVR testing - call establishment and traffic generation / detection process through scripts
Monitoring IVR System for voice and data quality
More Articles :

Back to Newsletter Index Page