MC-MLPPP Analyzer and Emulator

Overview
The Point-to-point protocol (PPP) is a link layer protocol, which encapsulates other network layer protocols like IP for transmission on synchronous (like T1/E1) and asynchronous communications lines. When transmitted over T1/E1 line, PPP frames are based on HDLC frame structure. Two major features of PPP protocol are:
Authentication
Encapsulation of higher layer protocols
MLPPP bundles multiple link-layer channels into a single network-layer channel. A bundle can consist of multiple physical links of the same type or physical links of different types. Data sent through this channel will be distributed among all the links. It is a technique used to derive larger bandwidth pipe by aggregating smaller bandwidth pipes e.g. from multiple T1s or E1s.
MLPPP has wide application for access lines to Internet Service Providers (ISPs) and enterprises that need "single pipes" greater than one T1 but less than 28 T1s. MLPPP is similar to IMA (Inverse Multiplexing over ATM), in the sense that larger bandwidth is derived by aggregating smaller physical channels. The protocol allows splitting, recombining, and sequencing datagrams across multiple data links into a single logical pipe or bundle.
The Multi-Class extension to Multi-Link PPP (MC-MLPPP) allows a sender to fragment the packets of various priorities into multiple classes of fragments, and allows high-priority packets to be sent between fragments of lower priorities.
GL's flexible and versatile applications in T1 E1 Analyzer allow complete PPP, MLPPP, & MC-MLPPP Analysis & Emulation. The T1E1 Analyzers are available as powerful HD PCI cards as well as portable USB based units. For more details, please visit the following links:
---
MC-MLPPP Emulator For Automated Testing of PPP, MLPPP, & MC-MLPPP using Client Server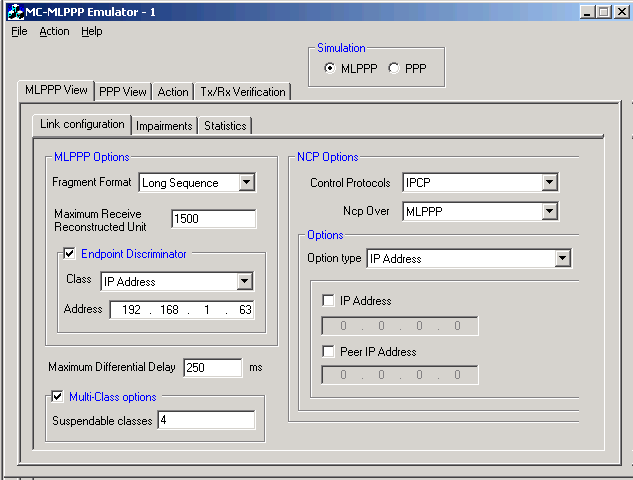 GL's Windows Client/Server software allows the user of T1/E1 analysis cards, the capability of remote operation, automation, and multi-site connectivity. Server software can run multiple tasks simultaneously at the request of the Client software.
Automated testing can be accomplished using client-server based PPP, MLPPP, & Multi-Channel (MC) MLPPP Emulation and Analysis (MLPPPTerr) module. The application permits traffic generation and verification over PPP links and may be accessed through a GUI or through command line scripts.
---
Scripted MLPPP Conformance Testing using MAPS™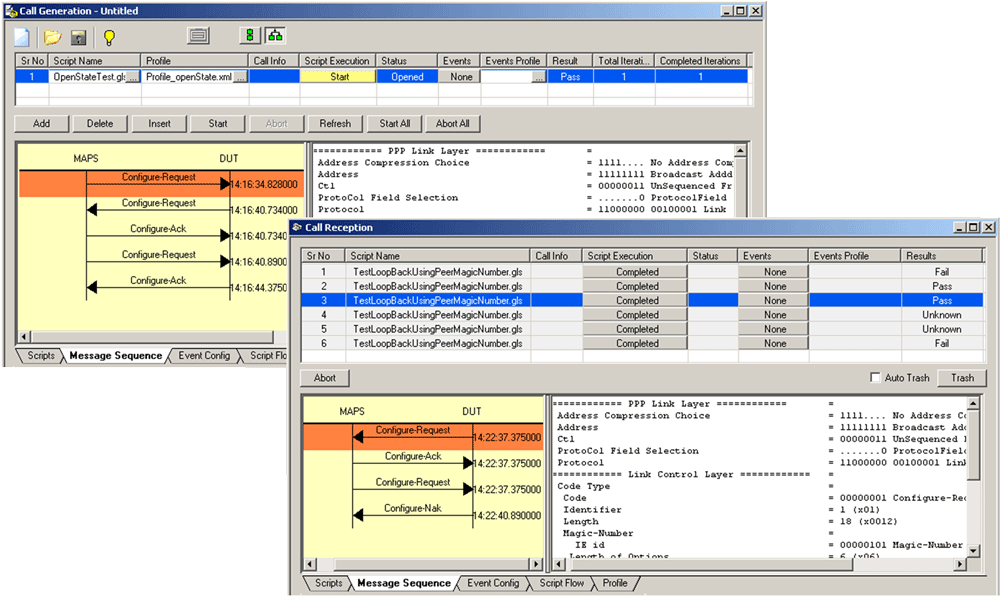 MAPS™ MLPPP is an advanced protocol simulator/tester for MC-MLPPP/MLPPP/PPP protocols over TDM (T1 E1). The tester can simulate a complete PPP/MLPPP link between two peers (Router or a Switch), with MLPPP signaling conforming to IETF specifications
Supports the following NCPs
IPCP - RFC 1332 (The PPP Internet Protocol Control Protocol) standard
PPPMuxCP - RFC 3153 (PPP Network Control Protocol for PPP Multiplexing) standard
The MAPS™ MLPPP supports testing network elements, error tracking, regression testing, conformance testing, and load testing/call generation. The test tool can run pre-defined test scenarios against MLPPP test objects in a controlled & deterministic manner. The test tool also incorporates the flexibility to modify call parameters & message contents (arbitrary manipulation of messages, information elements and message sequence on the different protocols).
---
MLPPP Analyzer (GUI Based)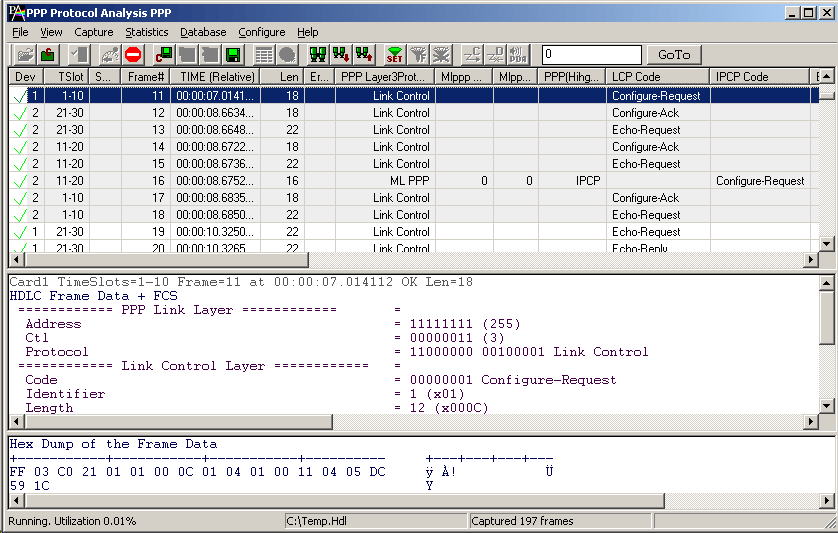 The MLPPP Analyzer provides useful analysis of the PPP protocols, which includes distribution of protocols, protocol fields, frame lengths and frame status. The MLPPP analyzer has the ability to decode PPP, MLPPP, and MC-MLPPP packets.
Today the PPP protocol standard finds wide use in synchronous connections between LANs, bridges, routers and other intermediate devices.
GL's MLPPP Analyzer can be used to capture a host of PPP protocols exchanged between the two nodes over T1/E1 link. User can obtain detailed analysis of the protocol and can perform various statistics measurements. GL Communications supports the following types of MLPPP analyzers:
Real-time MLPPP Analyzer (Pre-requisites: GL's field proven E1 or T1 internal cards or USB Laptop E1 or T1 external units, required licenses and Windows Operating System)
Offline MLPPP Analyzer(Pre-requisites: Hardware Dongle and Windows Operating System)
The Packet Data Analysis feature in Real-time MLPPP Analyzer is an outstanding tool for live monitoring of VoIP traffic. It can segregate IP traffic into SIP / H323 / Megaco / MGCP / GSMA / IuCS calls and collects statistics, CDRs, detailed protocol traces, ladder diagrams, and a host of other useful information about VoIP calls.
---
Bridge and Monitor Connections
---
Resources
Please Note: The XX in the Item No. refers to the hardware platform, listed at the bottom of the Buyer's Guide, which the software will be running on. Therefore, XX can either be ETA or EEA (Octal/Quad Boards), PTA or PEA (tProbe Units), UTA or UEA (USB Units), HUT or HUE (Universal Cards), and HDT or HDE (HD cards) depending upon the hardware.
* Specifications and features subject to change without notice.

Back to Protocol Analysis Index Page