LightSpeed1000™ - Packet Delay Emulation
(OC-3 / STM-1 and OC-12 / STM-4)
Overview

The Network Delay Emulator application provides full duplex delay simulation for PoS and ATM based traffic from 1 ms to 500 ms, with incremental delays of 1 ms. The application combines hardware and software based functions to achieve precision and flexibility. It can emulate packet delays that occur over SONET/SDH carrying ATM/PoS traffic.

With this application, the user can:

test the impact of delay and congestion under various real world conditions,
assess impact of delay on SLA (Service Level Agreements),
simulate satellite delay and long Fiber Loops
test WAN application performance under deteriorated but repeatable conditions

Working Principle
As shown in the above image, the payload received on Port 1 is delayed by the application with the applied delay in milliseconds and transmitted back on to Port 2. Similarly, the data received on Port 2 will be transmitted back on to Port 1 with applied delay. The applied delay duration is same for both the ports.
SONET/SDH overhead, scrambling, HDLC processing are removed on receive side and regenerated on the transmission side. PPP frames are terminated from the payload, time stamped, stored, and forwarded based on user delay settings. ATM cells are similarly store and forwarded. Flags and idle cells are inserted as appropriate in the output stream. The Network Delay Emulator application is transparent to all higher layer protocols above ATM and PoS.
---
Features
A simple GUI allows user modification of delay and port settings.
Ports
Allows to apply the delay simultaneously for the incoming packets on both ports.
Delay 1–500ms
User can introduce the delay from 1 ms to 500ms. Minimum delay is 1ms and minimum programmable incremental delay is 1ms.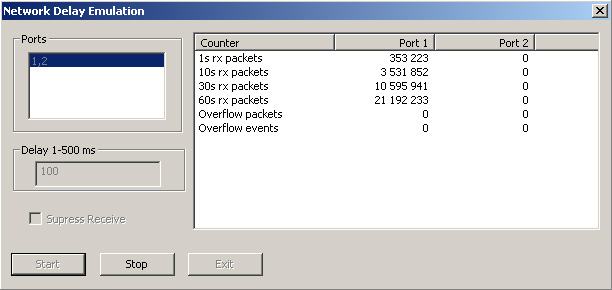 ---
Buyer's Guide
Item No
Item Description
LTS100
Lightspeed1000™ - Dual OC3/12 STM1/4 PCIe Card
LTS105
Lightspeed1000™ - Portable Dual OC3/12 STM1/4 USB Unit
OC-3 / STM-1 Related Software
LTS200
OC-3 / STM-1 ATM Monitor, BERT, Tx/Rx Test, RAW
LTS201
OC-3 / STM-1 PoS Monitor, BERT, Tx/Rx Test, RAW
LTS202
OC-3 / STM-1 ATM and RAW Record / Playback
LTS203
OC-3 / STM-1 PoS and RAW Record / Playback
LTS204
OC-3 / STM-1 ATM Protocol Analysis
LTS205
OC-3 / STM-1 PoS Protocol Analysis
LTS206
OC-3 / STM-1 UMTS Protocol Analysis
LTS207
Delay Emulaton for OC3 / STM1 PoS payloads
LTS208
Delay Emulation for OC3 / STM1 ATM payloads
OC-12 / STM-4 Related Software
LTS300
OC-12 / STM-4 ATM Monitor, BERT, Tx/Rx Test
LTS301
OC-12 / STM-4 PoS Monitor, BERT, Tx/Rx Test
LTS302
OC-12 / STM-4 ATM and RAW Record / Playback
LTS303
OC-12 / STM-4 PoS and RAW Record / Playback
LTS304
OC-12 / STM-4 ATM Protocol Analysis
LTS305
OC-12 / STM-4 PoS Protocol Analysis
LTS306
OC-12 / STM-4 UMTS Protocol Analysis
LTS307
Delay Emulaton for OC12 / STM4 PoS payloads
LTS308
Delay Emulation for OC12 / STM4 ATM payloads
Related Hardware
LTS400
LTS401
LTS402
DDR2 512 MB Memory
DDR2 1 GB Memory
DDR2 2 GB Memory
LTS404
LTS405
SFP, Single Mode
SFP, Multimode
SA019a
SA019b
SA019c
SA019d
Fiber Optic Cable, Single-Mode, Duplex LC to LC, 2m
Fiber Optic Cable, Single-Mode, Duplex LC to SC, 2m
Fiber Optic Cable, Multi-Mode, Duplex LC to LC, 2m
Fiber Optic Cable, Multi-Mode, Duplex LC to SC, 2m