High Density Multiport 1G/10G Ethernet Switch Testing Made Easy
Gaithersburg, Maryland, USA - December 04, 2018- GL Communications Inc. a global leader in telecom test and measurement solutions, announced today its insight into Testing High Density Multiport 1 Gigabit/ 10 Gigabit Ethernet Switches for Functionality, Throughput and related parameters using GL's Integrated multi interface Rackmount (mTOP™) Test Platform and HD PacketExpert™ 10GX a versatile Ethernet based Testing Tool.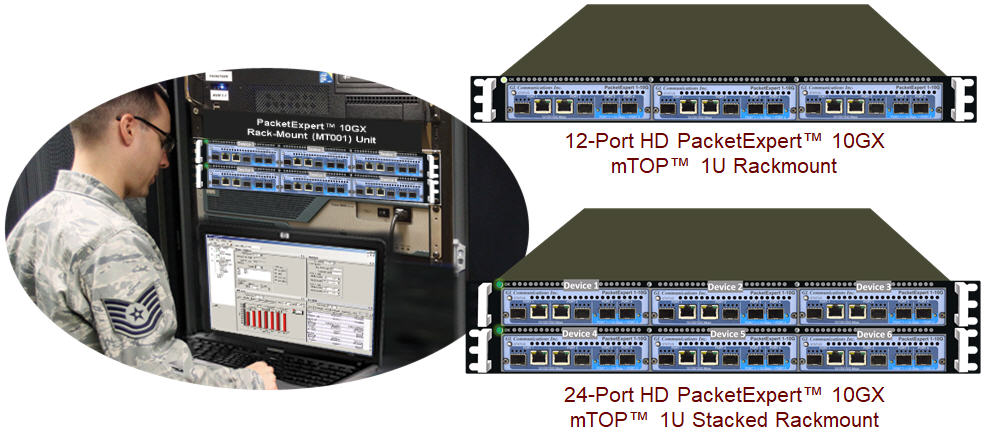 Speaking to the press, Mr. Vijay Kulkarni CEO of the GL Communications Inc said, "With the explosion of interconnected devices and the coming internet of things, the demand for higher density switching devices has been increasing. Vendors are coming out with switches with ever increasing number of Gigabit Ethernet ports. Ethernet switches with 12 or 24 Gigabit ports are getting common. Another trend is the demand for higher data capacity pipes. 10 Gigabit Ethernet links are getting common, as more users switch to 10G from 1G. High density Gigabit Ethernet switches now typically have 2 or 4 10G ports. Also, high density "All 10G" switches with 4/8/16/24 10G ports are also being deployed as end users switch to "All 10G" environment in their premises."
Testing of such high density 1G/10G switches requires a corresponding high-density test equipment, with a high density of ports. To properly test such high-density switches, the test equipment must be capable of generating and handling traffic at full 1 Gigabits/sec or 10 Gigabits/sec on all its 1G/10G ports, simultaneously. That means, to test a 12 or 24 port Gigabit ethernet switch, the test equipment must be capable of generating Gigabits/sec rate on all 12/24 ports, and simultaneously capable of handling the traffic returned from the switch, and analyze for errors, totalling to a capacity of 24 Gbps or 48 Gbps. Similarly, to test a switch with 3/6 10G ports, requires a traffic capacity of 60/120 Gbps in total.
He further added, "GL's High-Density versatile test equipment referred to as Integrated multi interface Rackmount (mTOP™) Test Platform and HD PacketExpert™ 10GX facilitates the testing of Multiport Ethernet Switches with ease and accuracy. The Important test procedures are Wire speed BERT, RFC 2544 Testing, Smart Loopback, ExpertSAM, Record and Playback, PacketBroker, WAN Link Emulation, Multi Stream Traffic Generator and Analyzer, and ExpertTCP.
The high-density testers are enclosed within GL's mTOP™ 1U/2U rack mount enclosures. It is compact with reduced power requirements appliance for high performance. It is a perfect ethernet test tool for customers who require multi-port testing but are constrained by lab space. An optional 12-port TTL interface, consisting of 12 users configurable TTL triggers, is also supported for both the units.
---
Other Features
User-friendly GUI to get started quickly
Python, TCL, C# APIs for automation. Eg: for integration with Lab view
Command line Interface (CLI) to access all the functionalities remotely such as using TCL, Python, C# APIs and MAPS™ CLI Client/Server architecture
Real-time results presented per Port and all-Port basis in both tabular as well as graphical formats
Detailed test result reports for each of the simultaneous tests in PDF and CSV file formats

Back to Press Releases Index Page