GL Enhances Datacom Analyzer with Client/Server Scripting
Gaithersburg, Maryland, USA - June 18, 2019 - GL Communications Inc., a global leader in telecom test and measurement solutions, addressed the press media regarding the latest enhancements to tProbe™ Datacom Analyzer/Emulator, an instrument that is designed to test and verify serial data communications circuits and equipment (using built in analysis and emulation applications). Our Datacom Analyzer/Emulator is now enhanced to support the Windows Client/ Server (WCS) scripting software that facilitates remote operation, automated testing using scripts, and multi-site connectivity.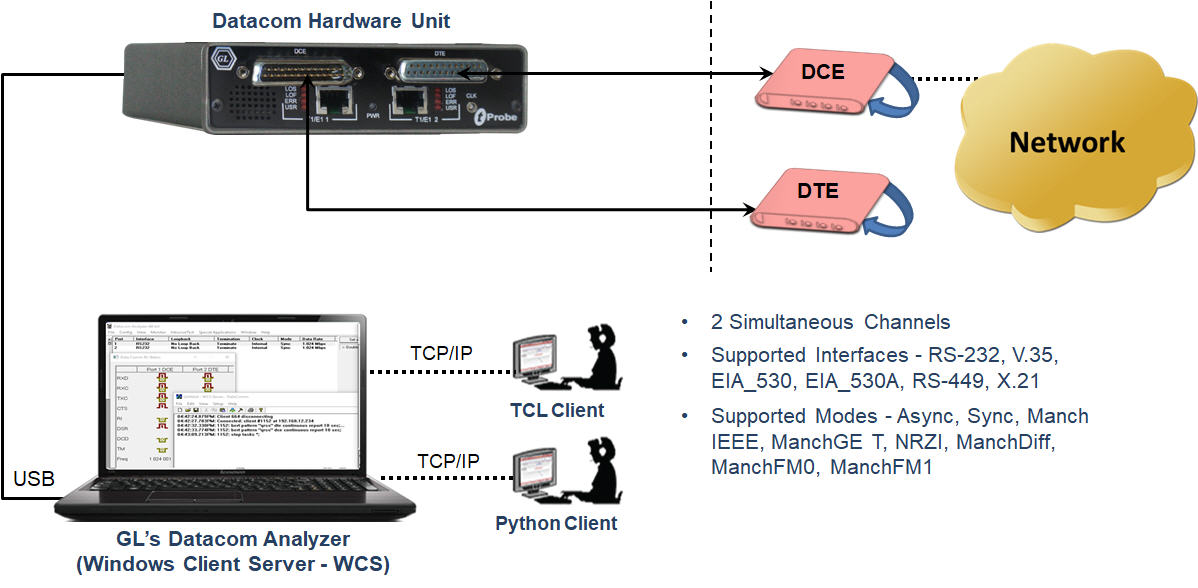 Overview
"Data Communications generally refers to legacy interfaces of the recent past before packet technology became popular. These interfaces and methods of communications are still out there", said Vijay Kulkarni, CEO of GL Communications.

He further added, GLs Datacom Analyzer/Emulator is an optional board available with GL's tProbe™ T1 E1 Analyzer or is also available as a standalone unit. It is designed for test and verification of data communications equipment and circuits - specifically serial interfaces that provide clock, data, and control signals. It provides software selectable modes to analyze and emulate DTE and DCE interfaces, non-intrusive monitoring for both synchronous (sync), and asynchronous (async) modes.
---
Main Features and Applications
Supported Line interfaces - V.24, V.35, X.21, RS-449, RS-485, EIA-530 and EIA-530A
Allows user to define custom frequency data rate for all encoding options.
Supports Frequency Measurement, PPP Analysis, HDLC Analysis, and Frame Relay Analysis.
Supports HDLC Tx/Rx Test and HDLC Impairment Utility
DTE or DCE emulation mode
SYNC clock source and sense selection
Sync BER from 300 b/s to 16.384Mbps and Async BER from 300 b/s to 115.2Kbps
Supports NRZ, FM0, FM1 and Differential Manchester encoding schemes
Supports handshaking signals control and monitoring
Precision Delay Measurement, Unframed/Framed, Tx/Rx loopback and Error Insertion applications are provided for intrusive testing
Supports Full/Fractional Bit Error Rate Testing with detailed logging
Client Server (WCS) module supports Enhanced BER testing
A variety "Basic Applications" and "Optional Applications" are available with Datacom cards

Back to Press Releases Index Page