T1/E1 Rx to Tx Loopback
Tx_Rx Loopback application is included with T1 E1 Basic Software
Rx to Tx Loopback
This application is for diagnostic purposes only. It loops all the receive data from all timeslots back to the transmitting port. This application is used in conjunction with a Bit Error Rate Test to verify the operation of Cards and Laptop units.
Transmit:

Transmits the data received on same card.

Stop Rx:

Clicking this will stop receiving the data coming from the other card. Clicking on this button will end the process of looping back the data.

Card Selection:

Selects the card on which, the loopback will be activated.

Close:

Will exit the application.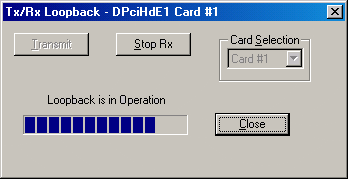 Example
Cross Connect card 1 to card 2 with a cross over cable. Set card1 to Rec Clock and Card 2 to Int Clk.
Go to Intrusive Test and click on Rx-to-Tx Loopback. Select the card #1. and click on transmit.
Using Card 2 open the Bit Error Rate (BER) application under Intrusive test. Click Restart on BERT and observe the following:

Pat Sync
No Errors
No Loss of Sync

On the BERT screen insert 4 to 5 errors. Observe the "Total Errors" count increase on BERT page as you insert errors. There is a 2 second delay due to the buffer, built into the software.
---

Back to List of T1E1 Basic and Optional Applications Index Page