GL Announces RTP Video Traffic Generation and Analysis
Welcome to a July 2015 issue of GL's Newsletter providing information and insight into our latest RTP Video Traffic Generation and Analysis software.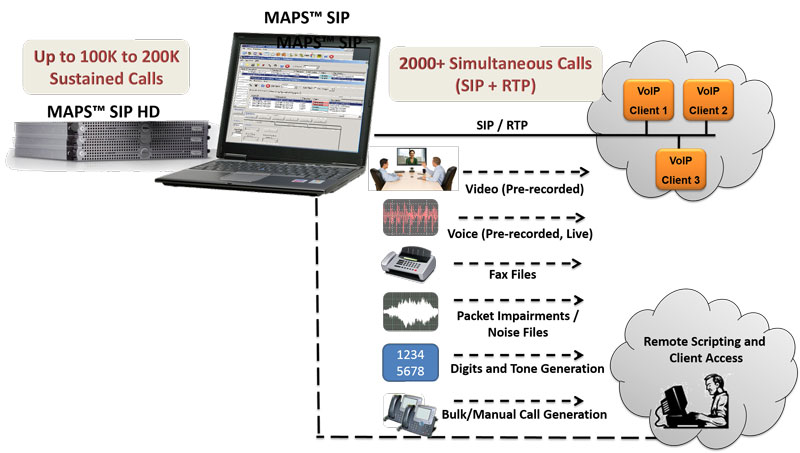 Overview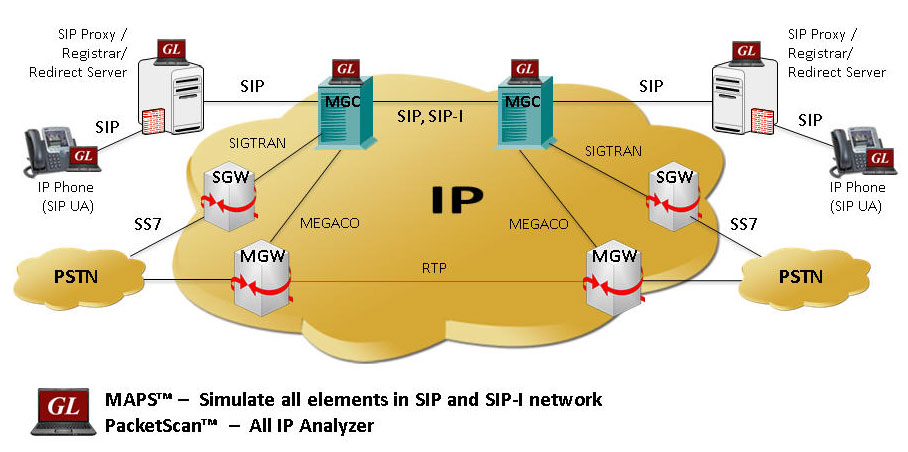 As traffic intensity increases, network elements (including switches and transmission) can impart various impairments such as errors, excessive delay, congestion, blocking, loss, and degraded quality. Simulating and monitoring traffic can be valuable to characterize the impairment as a function of traffic intensity and traffic types (e.g. Voice, Fax, Data, Video).
GL's Protocol Emulator platform MAPS™ (Message Automation and Protocol Simulation) performs signaling and traffic generation for a vast array of communication protocols covering IP, Analog, TDM, and Wireless Networks. As a new enhancement, the RTP Video Traffic Generation capability is now added to GL's MAPS™ SIP, which can be used in IP networks to evaluate the performance of the network with video traffic. MAPS™ alsosupports transmission and detection of various other RTP traffic types after call establishment, including Digits, Tones, Voice Files, Live Voice, and Pass-thru Fax. GL's MAPS™ SIP is also available as an High Density (MAPS™ HD) special purpose 1U network appliance analysis w/ 4x1GigE or 2x10GigE interfaces that is capable of high call intensity (hundreds of calls/sec) and high volume of sustained calls (tens of thousands of simultaneous calls/1U platform).
Similarly, GL's PacketScan™ (All IP Packet Analyzer) can capture and monitor live signaling, audio, and video traffic over IP networks, and perform various measurements. Almost all VoIP and Wireless protocols over IP transport layer can be captured and decoded for trouble-shooting network problems. GL also provides PacketScan™ HD for High Density IP Traffic Analysis w/ 4x1GigE or 2x10GigE interfaces along with a File Based IP Traffic Analyzer Server for near real-time processing of traces.
The network depicted below indicates how the aforementioned products can be used together in the SIP network to evaluate the elements within the network.
---
RTP Traffic Options
Transmit and receive pre-recorded video traces with video codecs like H.264, H.263 etc. **
Transmit and receive pre-recorded voice files, and live voice
Talk using Microphone - allows the user to generate live voice
"Play to Speaker" streams voice to a speaker
Support for almost all industry standard voice codec types - G711 (µ-Law and a-law), GSM (Full Rate), G.729a and many more. For comprehensive information on supported codecs, visit Estimating Speech Quality of Packets
Transmit and receive FAX files in pass-through mode **
Loopback real-time voice traffic (all received traffic is retransmitted as sent traffic)
Generation and Detection of RTP Events such as Answering Tone, Calling Tone, Special Dial Tone and other Call Progress Tones
Generation of user-configurable impairments over established RTP calls such as

Latency - Fixed, Uniform, and Normal Distributed
Packet Loss - periodic, random, and burst
Packet Effects - Out-of-order and Duplicate packets

Supports RTP traffic implementation over Iu-UP (Iu User Plane Interface) layer of the UMTS IuCs Network **
Supports RTP traffic as per ED-137B of EUROCAE standards used for voice communication in Air Traffic Control networks **
** Some of these features requires additional licenses – Contact GL for more information
---
Bulk Video Generation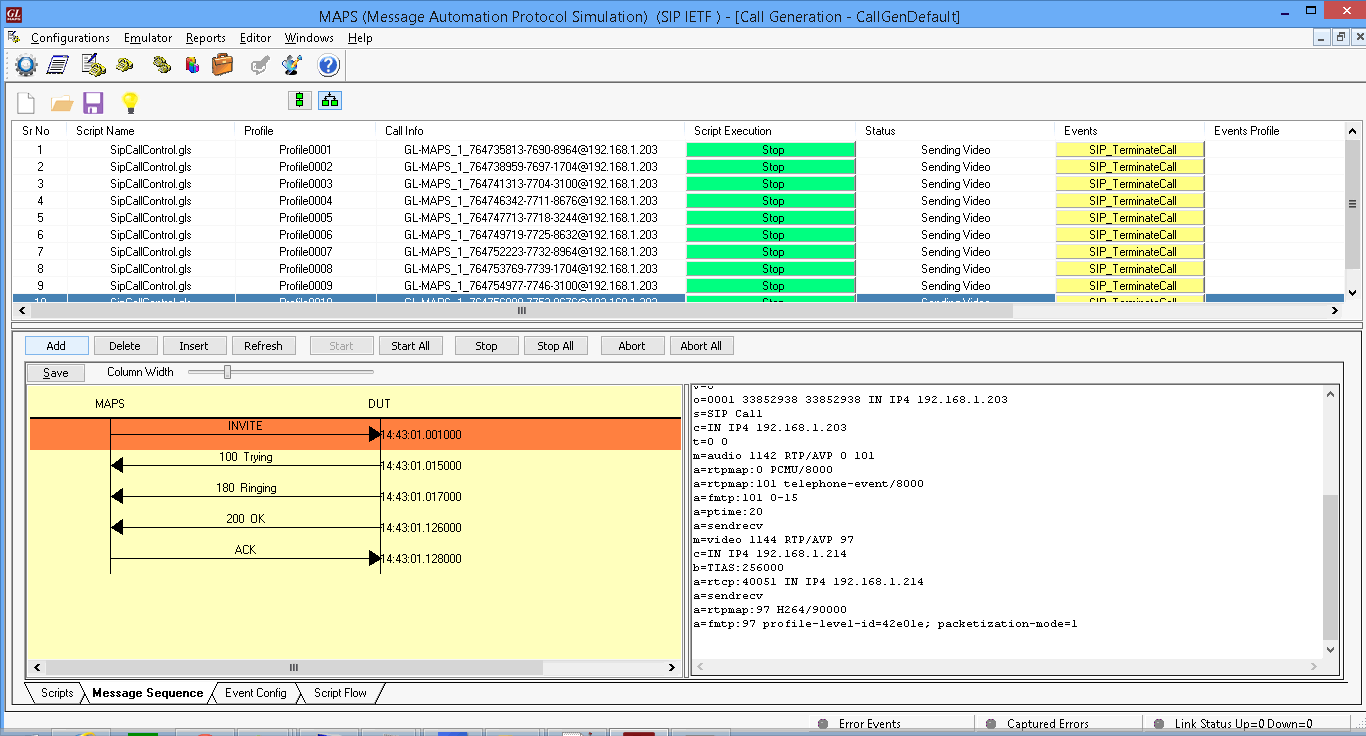 MAPS™ SIP provides the Bulk Video Call Simulation capability using its pre-recorded video traces supporting codecs like H.264, H.263 etc. On a high-performance computing platform (core-i7), it is possible to generate more than 500 simultaneous video calls. With a High Density (MAPS™ HD) platform, it is possible to achieve much more capacity. H.263 provides video capture and video conference monitoring capability, while H.264 is an industry standard codec for video compression. H.264 codec offers better compression performance over previous standards.
Below figure depicts the bulk video call simulation and RTP video transmission in MAPS™ SIP. Observe the decode part of the INVITE message showing the information about the audio and video codecs used in the request.
---
Bulk Video Calls – Monitoring and Analysis
GL's PacketScan™ provides the ability to monitor / record signaling, audio (wav files), and video (in QuickTime *.qt format) data of a session to files, allows user to perform powerful video analysis per call. Note that currently the video recording feature is supported only for H263+ codec. However, video QoS statistics are available for all codecs. In addition, PacketScan™ supports all most all industry standard protocols (visit Supported Protocols), and voice codecs (visitSupported Codecs).
Users can listen/record audio and video data of a session in real-time; perform power, frequency, spectral, tone and digit analysis, and video analysis with ease and precision; and get an exact picture of QoS (quality of the service).
The application is capable of displaying Video QoS Statistics such as Source/Destination Video Channels, Media Type, SSRC, Total Packet Counts, Missing Packets, Duplicate Packets and Out of sequence Packets, Average Delay/Gap, Video Frame Count, Frame rate, Media Delivery Index (MDI-(Delay Factor: Media Loss Rate)), and Average MDI for each video session.
PacketScan™ with Voice, Data, and Video QoS capability addresses customers long felt need of call quality analysis in IP networks. It also provides detailed call statistics such as packet loss, gap, jitter, delay, RTP performance statistics, R-factor & MOS scores, and unparalleled voice band statistics, which can be monitored simultaneously. Sophisticated filters permit zooming and recording of specific calls of interest.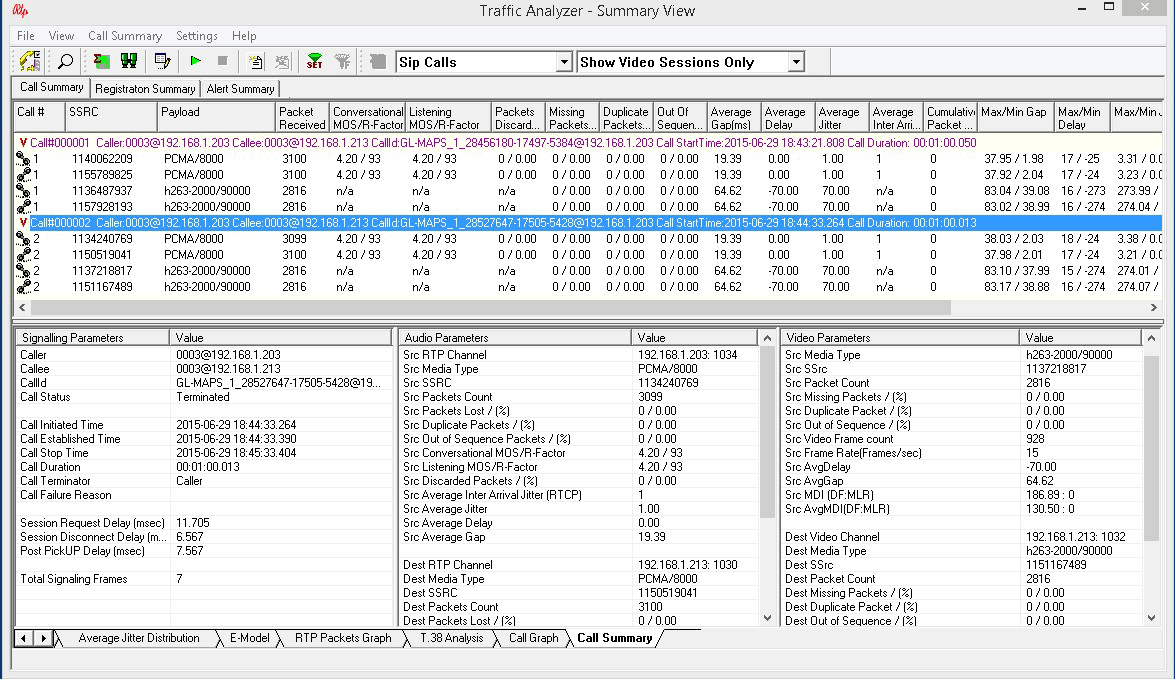 Both MAPS™ and PacketScan™ provide statistics on RTP traffic for voice quality such as Listening MOS, Conversational MOS, PacketLoss, Discarded Packets, Out of Sequence Packets, Duplicate Packets, Delay and Jitter.
All statistics are calculated and updated periodically on run time to provide a complete picture of call quality of captured calls.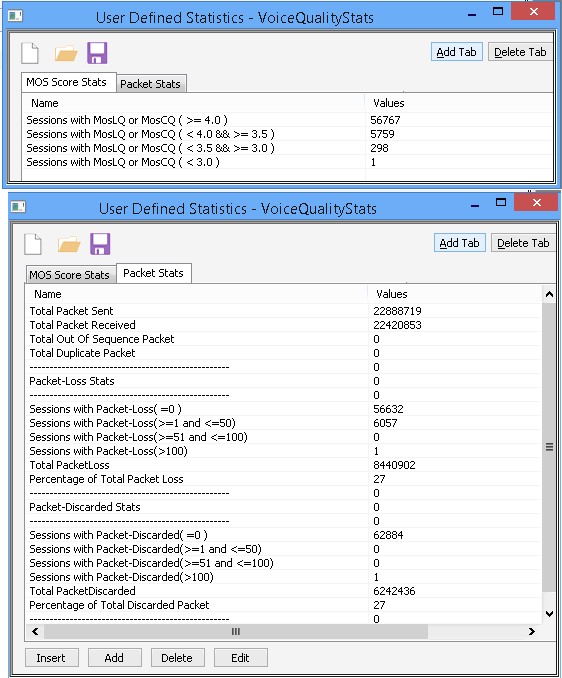 Back to Newsletter Index Page