Optimizing Voice Quality Testing with GL's Advanced Voice Analysis Tool
Welcome to GL's latest newsletter, where we discuss our comprehensive Audio Analysis solution – the Voice Analysis Tool (VAT™). This powerful tool can analyze audio content within Narrowband (NB), Wideband (WB), and Super Wideband (SWB) PCM audio file while generating a variety of audio metrics including Frequency Bandwidth, Speech and Noise Levels, Speech Activity, RMS Power, Audio Dropout and Delay measurements.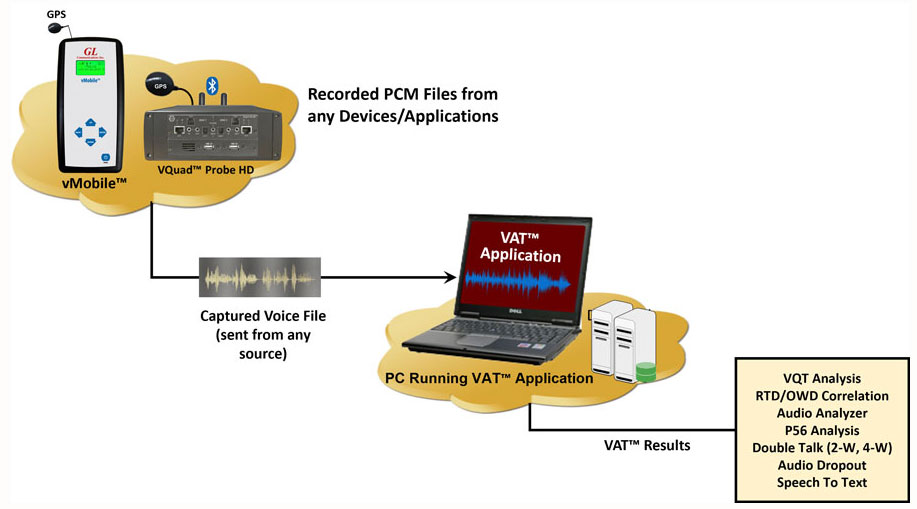 Overview
GL's VAT™ performs fully automated operations by detecting audio files within a directory specified by the user and analyzing the audio files as they are created. The VAT™ tool uses configuration settings that are linked to the degraded voice file name to specify which tests to run, set configurations for each test, and associate reference files for tests that require both degraded and reference files.
The GL VAT™ application can produce various audio metrics, such as Round Trip and One Way Delay measurements, Audio Dropout analysis, Double-Talk measurements, and Voice Quality Analysis (which requires coupling with the GL VQT POLQA solution). Furthermore, the GL VAT™ supports Speech to Text analysis with pass/fail when linked with the GL Speech to Text Analysis solution.
The VAT™ software sends all associated results to a centralized database - GL WebViewer™. Accessing these results is done using the WebViewer™ (web browser) which includes the ability to filter, query, and generate custom reports. In addition, if results included GPS coordinates the WebViewer™ can plot results directly within Google Maps.
If the network connectivity is lost between VAT™ and the database, the data is saved internally. When connectivity is re-established, the system will automatically transmit the stored data to the GL WebViewer™ database to ensure that no data is lost.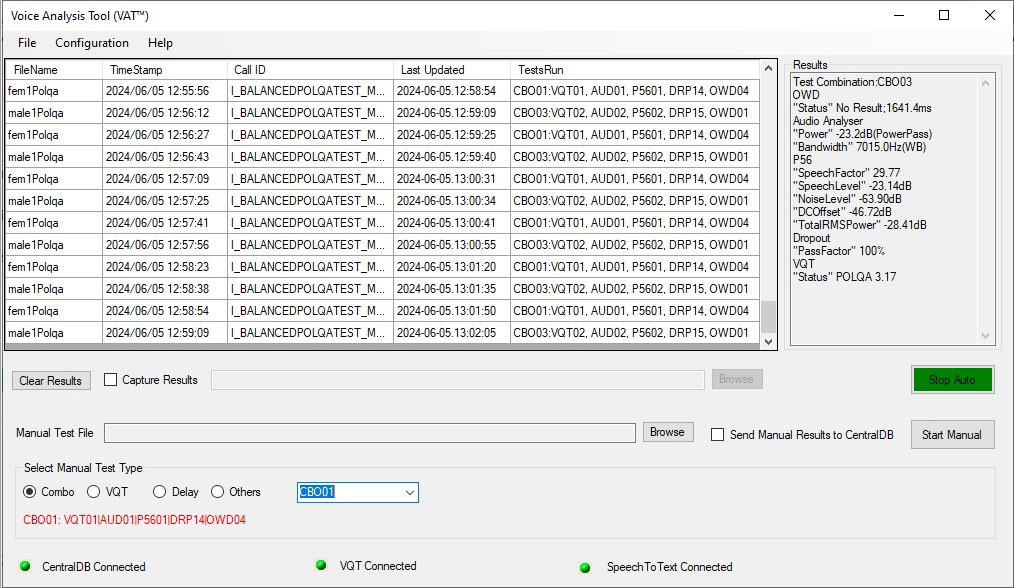 ---
Key Features
GL VAT™ supports the analysis of any Raw PCM voice file, including NB, WB, and SWB. Audio files can be generated from any application, including GL VQuad™ and vMobile™
The system is fully automated, with results logged and stored in the GL Central Database. This information can be easily accessed using the GL WebViewer™
VAT™ Command Line Interface supports remote operation
Audio analysis includes, Round Trip and One Way Delay, Dropout Audio analysis, Double-Talk, Power Level and Frequency Analysis, Speech Activity, Active Speech Level and Noise Level, and DC Offset
Supports Voice Quality Testing (VQT) analysis when used in conjunction with GL VQT software
Multiple analytical tests can be performed on each individual voice file
---
Real-Time Applications
GL's VAT™ is a versatile solution that can be used in a variety of real-time applications. Below are some instances that highlight its practical uses:
Quality Assurance for Network Providers and Equipment Manufacturers

Analyze the quality of the network or endpoint device

Interactive Voice Response or Voice Mail Quality Assurance

Analyze real-time quality of the voice through the Speech to Text feature

Call Center/Customer Service Quality Assurance

Analyze calls in the real-time environment

Healthcare

Monitor patients, detect specific keywords or phrases related to symptoms or conditions and provide feedback. This can help to improve patient outcomes and reduce medical errors

Media Monitoring

Monitor the voice quality of live broadcasts

Market Research/Sales

Analyze focus group discussions, detect certain keywords, and provide feedback to the moderator

Back to Newsletter Index Page