Multi-Interface Media Gateway Controller
2nd, Mar 2018
Welcome to March, 2018 issue of GL's Newsletter providing information and insight into our  Multi-Interface Media Gateway Controller that can be configured to simulate end-to-end call between the Signaling Gateway (SG) and Media Gateway (MG) by simulating SIGTRAN, MEGACO and MGCP interfaces in order to test a hybrid TDM-IP network.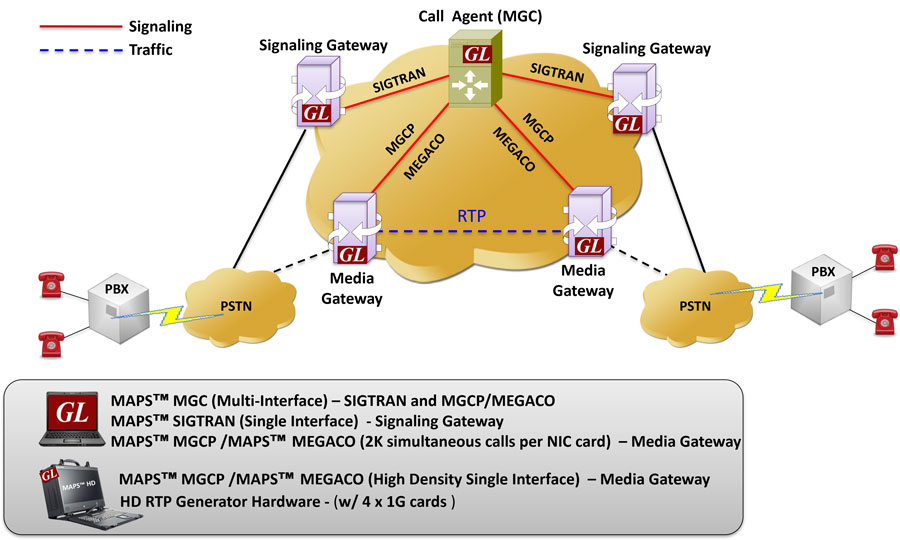 Overview
In a hybrid TDM-IP network, when a call is originating from PSTN, SS7 signaling in the PSTN is translated to SIGTRAN by the SG.  TDM traffic is repackaged into RTP packets by the MG to forward the call to IP network.  A Media Gateway Controller (MGC) controls the various elements within the IP Network using SIP, MEGACO, and MGCP protocols.  The reverse may happen if the call is destined to PSTN.
MAPS™ MGC is a multi-interface simulator configured to handle signaling and call control between the SG and MG across the network. MAPS™ MGC simulates SS7 signaling procedure between the SGs on both the ends of the network while handling bulk traffic (RTP Media) between the MG terminals using MEGACO/MGCP signaling.
GL's Message Automation & Protocol Simulation (MAPS™) supports MEGACO and MGCP protocols which can simulate MGC to test Media Gateways with various types of calls. With the purchase of MAPS™ SIGTRAN, MAPS™ MEGACO or MAPS™ MGCP and RTP Core License, one can simulate transmission and detection of various RTP traffic such as Digits, Voice File, Single Tone, Dual Tones, IVR, FAX and Video. With regular RTP Traffic, the maximum simultaneous calls up to 2500, and calls per second (cps) up to 250 is achievable.  Almost all industry standard voice/video codecs are supported.
GL's MAPS™ MEGACO and MAPS™MGCP are also available in High Density version (HD) (requires a special purpose network appliance and PKS109 RTP HD licenses). This HD version is capable of high call intensity (hundreds of calls/sec) and high volume of sustained calls (tens of thousands of simultaneous calls/platform).
---
Important Features
Simulates Media Gateway Controller
Both text based and binary based syntax supported in MEGACO
Can be integrated to end-to-end test environment for 2G, 3G and VoIP networks
Fully integrated, complete test environment for MEGACO/H.248 and MGCP
Supports commands such as Add, Subtract, Notify, Modify, Move, Service Change, Audit Value and more
Supports message templates for each MEGACO (H.248) and MGCP message and customization of the field values
Facilitates defining variables for the various protocol fields of the selected MEGACO (H.248) and MGCP message type
---
Call Simulation
The following diagram depicts the multi-interface lab test setup, where MAPS™ SIGTRAN (single interface application) is configured as SGs, and MAPS™ MEGACO/MGCP as MGs, both communicating with MAPS™ MGC creating multi-interface network at MGC.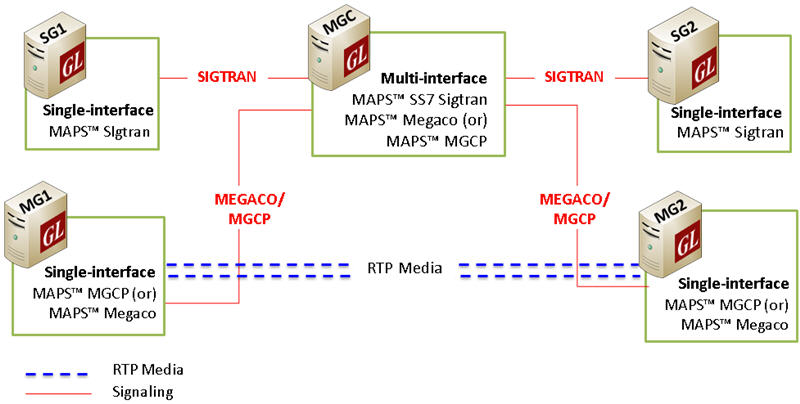 The procedure below depicts a typical end-to-end message flow between the SG and MG nodes via MGC, simulating multi-interface in the MEGACO network.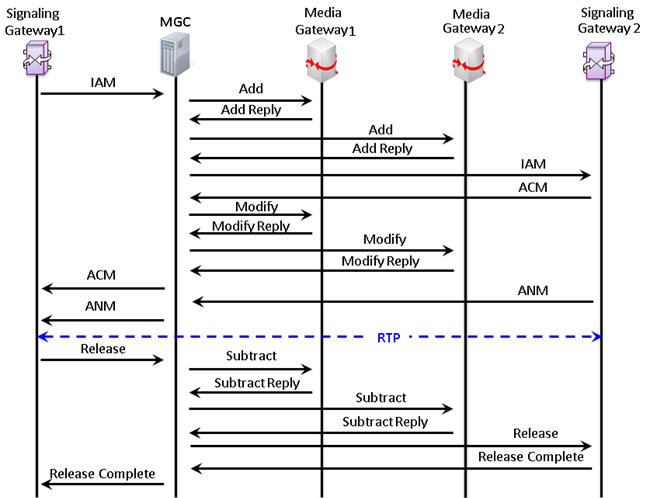 ---
Call Processing by Multi-Interface MAPS™ MGC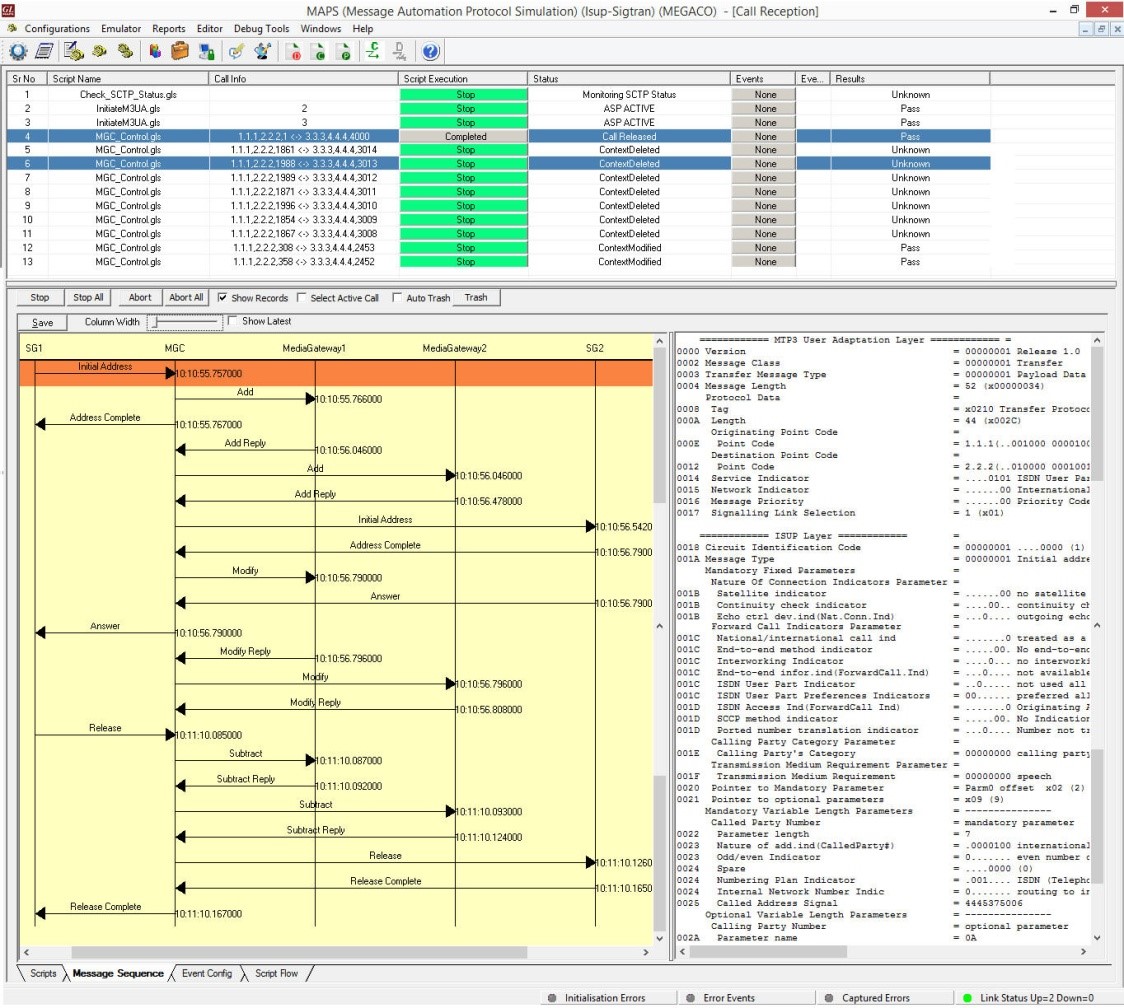 A typical MAPS™ MGC platform simulating a Signaling Gateway may consist of high density T1 E1 Cards, a Gigabit Ethernet Card, a multiprocessor CPU (such as an i7 PC) and MAPS™ SIGTRAN and MAPS™ SS7 software. Media Gateways can be similarly integrated within the same platform, with MAPS™ MEGACO or MAPS™ MGCP software. MAPS™ MGC sets up bearer channel in MG using MEGACO or MGCP signaling. Such a system allows you to test different scenarios – such as troubleshooting media gateways, test call flow and voice quality in hybrid networks.
The screenshot depicts the entire call flow at MAPS™ MGC (multi-interface).

Back to Newsletter Index Page