GL announces 5G Test Solutions
Welcome to another issue of GL's Newsletter providing information and insight into our 5G Core Network Test solutions, the solutions are broadly categorized into.
5G Core Network Testing: GL is ready with all versatile 5G testing needs from network operations, migration to 5G, network slicing, network performance, and quality of service.
5G Backhaul Testing: PacketExpert™ is a comprehensive hardware-based solution to test/emulate end-to-end mobile backhaul networks and can test up to 10 Gbps (40/100G coming soon).
5G Voice, Video, & Data Quality Testing: GLs all in one solution VQuad™ Probe HD is ready to tackle all the current challenges possessed by voice, video, and data communication in all versatile networks.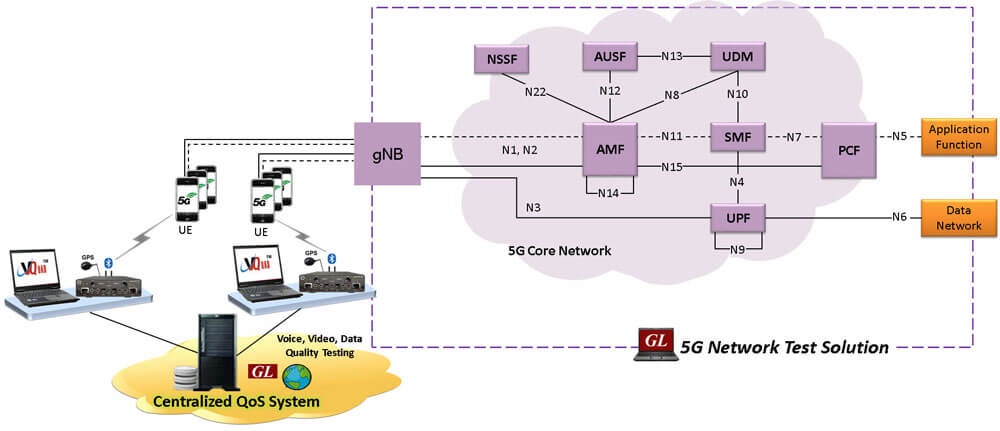 Overview
The emerging 5G technology poses a new challenge to the task of network testing, such as network operations, migration to 5G, network slicing, network performance, and quality of service. One of the biggest challenges is the 3GPP spec update which will constantly bring difficulty for operators and network equipment manufacturers to launch their product in the market on time.
Engineers at GL communications have developed the MAPS™ (Message Automation and Protocol Simulation) framework to support a flexible architecture which allows keeping developmental pace with the 3GPP spec. MAPS™ minimizes the efforts to develop new features and bring them to market quickly thus capitalizing on the 5G requirements.
The MAPS™ application provides fully configurable multiple base stations with tens of thousands of UEs (User Equipment) along with 5G core elements. This approach allows to replace any element in the network with the device under test and carry out wrap-around testing.
In addition to this, GL's PacketLoad™ application can generate 40Gbps of traffic to test the UPF functionality for QoS testing. The MAPS™ also could test the SA (Stand Alone) core network by putting high load using its load generation capability, and the application provides a complete solution to validate the 5G service-based interfaces along with interfaces such as N1/N2, N3, N4, and N6 by allowing the user to set up end to end communication 5G lab.
Key Features of 5G Network Testing
Supports Control plane signaling and User plane traffic
Emulation of all 5G interfaces (N1, N2, N3, N4, N6, N8, N9, N10, N11, N12, N13, N14, N17, N20, N22)
Supports HTTP2/ TLS and Rest APIs simulation in 5G Core
MAPS™ framework is flexible enough to create a conformance test suite
MAPS™ 5G LAB: End to End Testing using real and Simulated UE's
MAPS™ 5G Interworking LAB: Testing interworking calls between 5G, IMS, 4G, 3G, and 2G networks
Supports wrap-around testing to completely test any 5G node functionality
Traffic generation and verification over 5G, including VoNR (Voice), FTP, Web (HTTP), and more with additional licenses - Mobile traffic core - GTP (ETH101) and Mobile Traffic Core - Gateway (ETH102), and PacketLoad™
Generate tens of thousands of UE Signaling (Load Testing)
Generate and process NGAP/NAS (valid and invalid) messages
Fully automated with Scripting and CLI (Command Line Interface) with APIs support
Insertion of impairments to create invalid messages
Customization of call flow and message templates using Script and Message Editor
Ready-to-use scripts for quick testing
Scripted call generation and automated call reception
Framework Provides Call Statistics and Events Status, Automation, Remote access, and Schedulers to run tests 24/7
---
5G Backhaul Testing
GLs PacketExpert™ device monitors and tests end-to-end mobile backhaul networks. The comprehensive hardware-based solution is capable of testing up to 10 Gbps (40/100G coming soon). It can test or emulate backhaul network characteristics like bandwidth, delay, jitter, packet loss, duplication, reordering up to 10 Gbps line rate.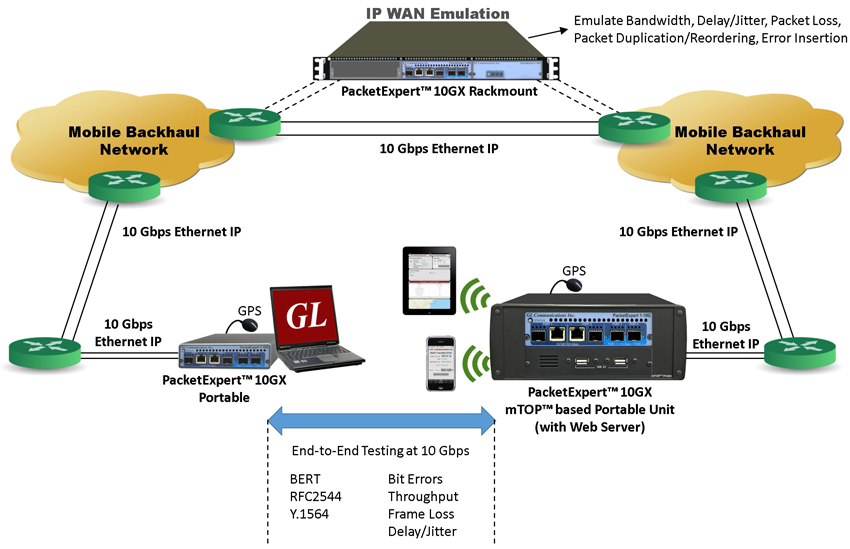 Key Features of 5G Backhaul Testing
Complete end-to-end Ethernet/IP testing with support for Bit Error Rate testing, RFC 2544, and Y.1564 based Ethernet Service activation tests
Emulation of multiple WAN links between 2 10G ports - emulates various WAN characteristics like Bandwidth throttling, Delay, Jitter, Packet Loss/Duplication/Reordering, Error Insertion per link
The same hardware works in both Traffic generation/analysis or WAN emulation mode
Single portable hardware device supports 2 10Gbps ports. Higher density rack-based form factors allow up to 12 10G ports in a single rack unit
The hardware-based solution allows traffic generation/analysis/emulation at full 10 Gbps wirespeed traffic
Hardware-based timestamping provides highly accurate timing measurements (in terms of nanoseconds)
With an additional GPS attached. can measure highly accurate end to end One Way Delay
PDF and CSV report generation
Automation friendly with client APIs for Python and .NET (C#)
---
5G Voice, Video, and Data Quality Testing
The world is relying on voice and data communications more than ever before, Voice and data traffic is carried on many diverse networks (Ethernet, Wireless, TDM, etc.) and the overloaded networks, interference, malfunctioning network equipment, etc. all impact user experience to tackle all these current challenges GL has an all-in-one solution named as VQuad™ Probe HD.
The solution is a centralized analytical tool for testing voice, data, as well as video quality which can be tested simultaneously on a wireless or wired network. VQuad™ NetTest solution provides automated data testing on Mobile Devices (Android and Apple) as well as PC based internet connections. The Data Testing includes TCP, UDP, HTTP, FTP, DNS, VoIP, SMS, and Email tests.
The Voice Quality Testing (VQT) supports automated voice quality between any two nodes within the network using the latest ITU-based algorithms including Perceptual Objective Listening Quality - POLQA (ITU-P.863) and PESQ (ITU-P.862). The POLQA algorithm is specifically used for testing Wideband voice networks.
Key Features of 5G Voice, Video, and Data Testing
Complete end to end voice, data, video quality testing of LTE 4G/5G network-visit Automated Network Wide Testing
Automated test statistics and results across next-generation LTE networks can be accessed via the web interface.
Connect to Mobile Phones, Smart Phones, and Broadband Devices using GL's portable VQuad™ - Dual UTA HD system
Test LTE 4G/ 5G devices for Voice, Data, Video quality metrics with complete automation and a centrally controlled system
Use GL's VQuad™ - Dual UTA HD to confirm the quality of service during the network upgrade process
VQuad™ can remotely perform Automated Data Testing on any Android or IOS mobile devices (running the GL NetTest app), irrespective of where the phone is located, and whether the phone is on a voice call or not.
Perform automated data testing on PC-based Broadband Internet (Broadband 3G/4G/LTE, WiFi, Wired) and on Apple/Android Mobile Devices – tests include TCP, UDP, HTTP, VoIP, FTP, DNS, SMS, UEInfo, SimInfo, and PhoneInfo
Supported devices - Mobile Radio (PTT) & Mobile Phones (VoLTE, 4G, 5G, 3G, Wi-Fi, WiMax)
Supports both Narrowband (8k sampling rate) as well as Wideband (16k sampling rate) connections for use in networks utilizing the AMR-WB
For comprehensive information on the application, please refer to the 5G Wireless Network Simulation using MAPS™ web page.

Back to Newsletter Index Page