Newsletter: GL's ED-137 Radio Emulator Connects to Live Radio to test VoIP ATM system at World ATM Congress
Welcome to another March 2016 issue of GL's Newsletter. This week we discuss on our MAPS™ ED-137 Radio Emulator successfully connecting to live Radios to test VoIP ATM system at World ATM Congress held recently at Madrid, Spain.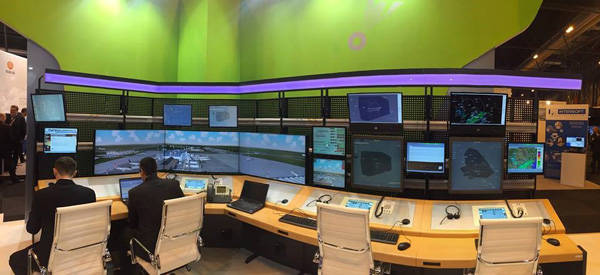 Overview
At the recently held World ATM Congress event in Madrid, Spain, the GL's MAPS™ Radio Emulator capability was showcased. It was connected to a Rohde & Schwarz Radio located in Romania with the help of the Romanian Air Traffic Services Administration Staff (Romatsa). This radio is responsible for a certain sector of the Romanian airspace. The ED-137B connection was made, with the GL's MAPS™ Radio emulator in "RX Only" mode. Any airplane communication (squelch break) from an airplane in that sector was heard by our tool. We were also monitoring this connection with GL's PacketScan™ which was able to show (in real-time) all of the voice and packet characteristics of this connection. Vistitors seemed particularly interested in the real time Waveform viewer and MOS/Jitter etc. value measurements.
Similarly GL's MAPS™ Radio Emulator can be connected and tested seamlessly with other Radio vendors like Jotron, Park Air, and more.
Visitors at the World Congress could see for themselves how easy it was to configure and run the application in order to establish SIP sessions to the radios, examine either the high level protocol exchanges or the in-depth protocol content as well as listen to the live controller voice on the Rx-only channels established to the radios. The emulator's Human Machine Interface (HMI) has been designed to allow users to easily configure profiles of the CWPs, observe the status of the session(s) during establishment as well as when active and also allows the change of RTP Extender settings on-the-fly during an established session.
---
ED-137B Radio Emulator Performance
---
GL's Solutions that provide various ED-137B critical test functionalities are briefly discussed below.
Simulation of Network Elements within Next Generation Air Traffic Management (NextGen ATM)
---
Critical Delay, Jitter, & Voice Quality Measurements
---
Monitoring Probes for NextGen VoIP ATM Network
---
Centralized ATM Network Surveillance
GL's Test Solutions provide the necessary flexibility and enhancements to meet the challenge of ED-137B. And as standards evolve, GL will track and provide updates.

Back to Newsletter Index Page