Newsletter: GL's ED-137 Radio Emulator Connects to Live Radio to test VoIP ATM system at World ATM Congress
Welcome to another March 2016 issue of GL's Newsletter. This week we discuss on our MAPS™ ED-137 Radio Emulator successfully connecting to live Radios to test VoIP ATM system at World ATM Congress held recently at Madrid, Spain.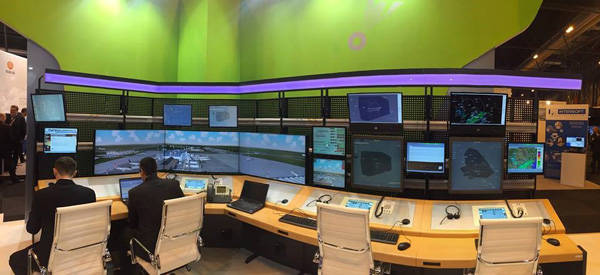 Overview
At the recently held World ATM Congress event in Madrid, Spain, the GL's
MAPS™ Radio Emulator
capability was showcased. It was connected to a Rohde & Schwarz Radio located in Romania with the help of the Romanian Air Traffic Services Administration Staff (Romatsa). This radio is responsible for a certain sector of the Romanian airspace. The ED-137B connection was made, with the GL's MAPS™ Radio emulator in "RX Only" mode. Any airplane communication (squelch break) from an airplane in that sector was heard by our tool. We were also monitoring this connection with GL's
PacketScan™
which was able to show (in real-time) all of the voice and packet characteristics of this connection. Vistitors seemed particularly interested in the real time Waveform viewer and MOS/Jitter etc. value measurements.
Similarly GL's MAPS™ Radio Emulator can be connected and tested seamlessly with other Radio vendors like Jotron, Park Air, and more.
Visitors at the World Congress could see for themselves how easy it was to configure and run the application in order to establish SIP sessions to the radios, examine either the high level protocol exchanges or the in-depth protocol content as well as listen to the live controller voice on the Rx-only channels established to the radios. The emulator's Human Machine Interface (HMI) has been designed to allow users to easily configure profiles of the CWPs, observe the status of the session(s) during establishment as well as when active and also allows the change of RTP Extender settings on-the-fly during an established session.
ED-137B Radio Emulator Performance
The GL's MAPS™ ED-137 Radio Emulator application running on a PC is able to emulate either a single/multiple Controller Working Positions within a Control Centre or a single/multiple Radios at different remote sites. Developed per EUROCAE WG67 ED-137B documents, the Emulator is set to become the benchmark emulator for Air Navigation Service Providers (ANSP) as well as Voice Communication System and Aeronautical Radio vendors operating in the field. The extra built-in functionality of an impairments generator was seen as an added advantage of the tool by ANSP network designers, wanting to verify the limits of their network with respect to packet loss, latency and jitter.

Besides the emulator products, ANSPs particularly liked the GL PacketScan™ application that is able to measure not only Voice Quality MOS values in real time over multiple established sessions, but also latency, jitter and packet loss values as well as raise alarms when measured values exceed the limits set by EUROCAE WG67 ED-138 document. Tools like these especially designed for ANSP specific requirements are essential as the World's Air Traffic Management voice networks migrate towards IP. But it is imperative that before such a system is deployed live, thorough testing for delay, noise, voice quality, performance, reliability, and other critical functionalities be performed.

GL's tools provide for testing of such critical functionalities like signaling and traffic simulation, monitoring, and voice quality testing over an end-to-end test solution for testing any point in ATM network, from the Radio interfaces to the Controller Working Position (CWP).


GL's Solutions that provide various ED-137B critical test functionalities are briefly discussed below.
Simulation of Network Elements within Next Generation Air Traffic Management (NextGen ATM)
Voice communications for air traffic management, whether it is Air-Ground (A-G) or Ground-Ground (G-G) were predominantly over TDM based ATM networks. With the definition of the European Organization for Civil Aviation Equipment (EUROCAE) Working Group 67 set of documents (i.e. ED-136, ED-137B and ED-138) , it is now possible to implement VoIP technology for voice services for air tra­ffic control.

Among many other solutions for testing Air Traffic Control network, GL offers Message Automation & Protocol Simulation (MAPS™) that can simulate both Air to Ground calls as per ED137B Volume 1: Radio and Ground to Ground calls as per ED137B Volume 2: Telephone EUROCAE WG67 standards.

MAPS™ ED137 Radio Emulator application simulates the functions of Controller Working Position (CWP), and Ground Radio Station (GRS), or Radio Media Gateway (RMG) entities.

MAPS™ ED137 Telephone Emulator application simulates the functions of Controller Working Position (CWP) in Ground-to-Ground telephone calls.
Critical Delay, Jitter, & Voice Quality Measurements
Measuring delay, jitter and packet loss through IP, VOIP and Radio networks is critical and network testers will need to precisely time events. Understanding the time from which the Air Traffic Controller keys PTT until the IP stream indicates that the PTT bit is set is a relevant testing scenario for an internal PTT delay measurement within a CWP or VCS. This delay measurement is possible using GL's VQuad™ Probe as well as GL's PacketExpert™. The VQuad™ is capable of generating triggers based on PTT activation. The PacketExpert™ is capable of generating triggers based on packet filters.

GL's Record to File feature in PacketExpert™ includes a powerful "Wirespeed filter" that allows a user to filter out unwanted traffi­c, and continuously capture the tra­ffic of interest.

GL's VQuad™ Probe has the ability to test Voice Quality and Latency of the Analog / TDM and VoIP systems by injecting and recording analog signals at the CWP, Radio and VoIP gateway interfaces. VQuad™ can automatically key PTT from the CWP, then transmit and receive audio signals for precise Delay, Noise, and Voice Quality Assessment as per ITU-T PESQ-LQO (i.e. MOS).
Monitoring Probes for NextGen VoIP ATM Network
GL's PacketScan™ - an All-IP Network Monitoring software offers powerful features to capture and monitor live signaling and tra­ffic over IP. It captures, segregates, monitors and collects statistics on all Ground-to-Ground calls and Air-to-Ground sessions.

All traffic supported - Digits, Tones, Voice, Video, Fax

Live monitoring IPv4 and IPv6 networks

Decodes signalling, traffi­c and extended RTP headers as per ED-137B Volume 1

Decoders for ITU-T G.711 PCM A/µ law and G.729

Measures Voice Quality statistics such as MOS/R-Factor, Packet Loss,
Jitter, Delay, and many more for each call

Permits analysis of adherence to protocol standards for the system under
test or observation

Provides graphical representation of signaling analysis including protocol
ladder diagrams , and ability to play recorded voice file
Centralized ATM Network Surveillance
GL's Centralized NetSurveyorWeb™ System is a web-based network surveillance system for air traffic monitoring. The application facilitates display of call detail records (CDRs) by connecting to TDM, Optical, or IP protocol analysis probes through a web server for monitoring physical layer, signaling and traffic.

NetSurveyorWeb™ is based on a scalable and flexible architecture and is widely used to non-intrusively monitor from one or many testing locations.


Provides database query methods in order to query captured results, and gather status, statistics, and events
Results are displayed both in tabular and graphical formats
Provides protocol signaling, tra­ffic, and CDRs
Perform filter and/or search for specific information
Generates reports & alarms
GL's Test Solutions provide the necessary flexibility and enhancements to meet the challenge of ED-137B. And as standards evolve, GL will track and provide updates.

Back to Latest News Page