Automated Network-Wide Voice Quality Monitoring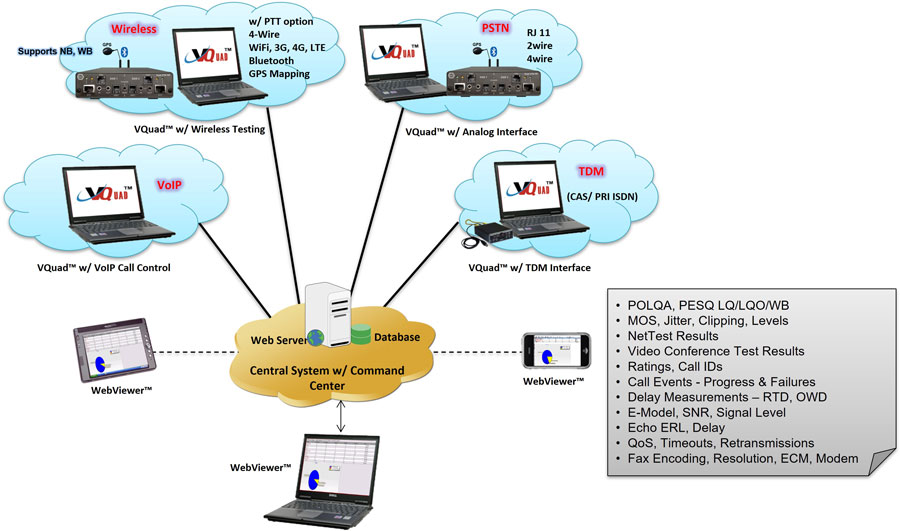 Overview
GL's Automated System Wide Network Testing solution provides the means to test all telecom networks, using a variety of interfaces, in an automated and unattended fashion. The solution includes support for both intrusive end-points and non-intrusive 'taps. The intrusive nodes, running GL's VQuad™ software with a USB based hardware component Dual UTA HD, which connects to any network interface, including Mobile Wireless, Smartphone Headset Connection, 2-Wire FXO, 4-Wire Analog, VoIP Softphone, PTT Radio, and T1/E1 PRI and performs automated testing of voice, data, and video quality on the associated network. Non-intrusive nodes are deployed at various points within the VoIP and TDM network for unmanned analytical operation.
GL's VQuad™ along with the Voice Quality Testing (VQT), Echo Measurement Utility (EMU), Voice Band Analyzer (VBA) & NetTest applications allows end-to-end intrusive testing for voice, data and video quality, echo, noise, call failure rates, and other impairments between and within different networks. Finally, Round Trip Delay and One Way Delay measurements are provided directly via the Dual UTA HD hardware.
All events (including call control), CDR's, data test results, Voice Quality Test results, VBA results, Echo measurements, Video Conferencing test results, NetTest results from PC and Mobile devices, errors, and user-defined messages can be automatically sent to a Central Location for storage within the database via simple TCP/IP connections. If the TCP/IP connection is unavailable, results are saved to the local system until the connection is re-established or until the user manually transfers the data to the Central location database.
At the Central location, the measurements are automatically analyzed using a variety of Analytical Tools such as VQT (Voice Quality Testing), EMU (Echo Measurement Utility), Automated Data Testing (NetTest) including TCP, UDP capacity, VoIP, Route, HTTP, FTP, and DNS, and VBA (Voice Band Analyzer) including E-model scores, Call Failure Rates, etc., with all results saved to the database. The Central location also includes a Command Center which can automatically schedule loading, starting and stopping of individual tests throughout the network. Included with the Command Center, an email alert can be generated automatically if certain tests fail, threshold are not met, or nodes become inaccessible within the network. The email alerts are user-defined and supports multiple email addresses.
The GL WebViewer™ browser connects to the Central database via the internet for access to all results and network status. Through the client browser it is possible to remotely access any node associated with the network. Transfer configuration files between the VQuad™ nodes and your local system for enhancements. Automatically send the updated configuration back to the VQuad system (or all VQuad™ systems). Rerun the test using the enhanced VQuad™ configuration, all from the WebViewer™ browser running on either Windows® based or Mac based systems (including iPhone and iPad devices). Results can be queried based on a variety of criteria including time, location, test name, phone number, analysis threshold limits, and user-defined events. The queried results are displayed both in tabular and graphical formats. Also available are statistics and Network wide real-time status. The WebViewer™ can also be used to remotely access individual nodes to create/modify test scripts, load and start/stop test scripts, and perform several other rudimentary operations.
The essential elements of this monitoring system are:
VQuad™ along with its associated hardware establishes calls or direct connections between varieties of physical interfaces. The degraded (recorded) voice files along with all events and measurements are automatically transferred from the individual VQuad™ nodes to the Central location database
VQT (Voice Quality Testing) , VBA (Voice band Analyzer), EMU (Echo Measurement Utility) and DataTest (NetTest from PC and Mobile Devices) are centrally located (no need for algorithms at every VQuad™ location) and automatically analyze the degraded voice files. Results are saved to the Central database for access via the GL WebViewer™
The Central database, either Oracle or MSAccess, is used to store all data collected by the individual probes
The WebViewer™ (using a web interface) facilitates the display of real-time and historic data. Also, included is the ability to filter the collected traffic summary and graphically analyze the call volume, MOS, call completion, failed calls, completed calls, PDD, and delay measurement through a simple web browser. The WebViewer™ supports real-time Network status as well as Remote functionality to all configured probes
Main Features
All results/measurements/events from VQuad™, VQT, VBA, EMU, Video Conference Testing, Mobile device Controller (NetTest) automatically sent to central database via TCP/IP Results are accessible remotely via browser based clients
Automated Data testing using NetTest packages is available for Mobile devices (i.e. iPhone, Android) along with Ethernet connection (wired, WiFi, 3G/4G Broadband card) associated with the PC
Manual and automated (scripted) Video Testing on end client devices
Multi-user support, and user-friendly interface
Remote Control all probes within network using WebViewer™
Provides database query methods in order to query VQT, Call Events (Call Failure, Call Dropped, Call ID), Echo Measurements, Data Testing (via Mobile device or PC Ethernet), Video Testing (Android, Windows, and Linux end clients), and Delay Measurement results.
Query results based on a variety of mechanisms including, but not limited to, time, device ID, location/test name, result threshold, result condition or value
Results are displayed both in tabular and graphical formats
Output results to text or Excel file
Supports Oracle or MSAccess Central Database for storing real-time and historic data
Network Monitor Components
VQuad™ Nodes (Termination Points):
Each VQuad™ device is utilized as an individual node supporting automated interfaces including -
Mobile Phones, Bluetooth®, Smartphones, Mobile Radio, WiMax, Wifi, Broadband 3G/4G, Bluetooth, LTE, 2-wire Analog (NB, WB FXO), T1/E1 (PRI/CAS), and VoIP (SIP). The 4-wire Analog interfaces (balanced, handset, mobile radio) can be used in a non-automated fashion or in an automated fashion with additional customer supplied call control functionality via external applications (batch files)
Each VQuad™ node can support up to 12 devices, each device fully independent allowing up to 12 simultaneous tests. Individual ports associated with the VQuad™ can call any other VQuad™ device as well as call multiple VQuad™ devices using the flexible script capabilities
Multiple Dual UTA HD devices can be connected to a single VQuad™ software/hardware node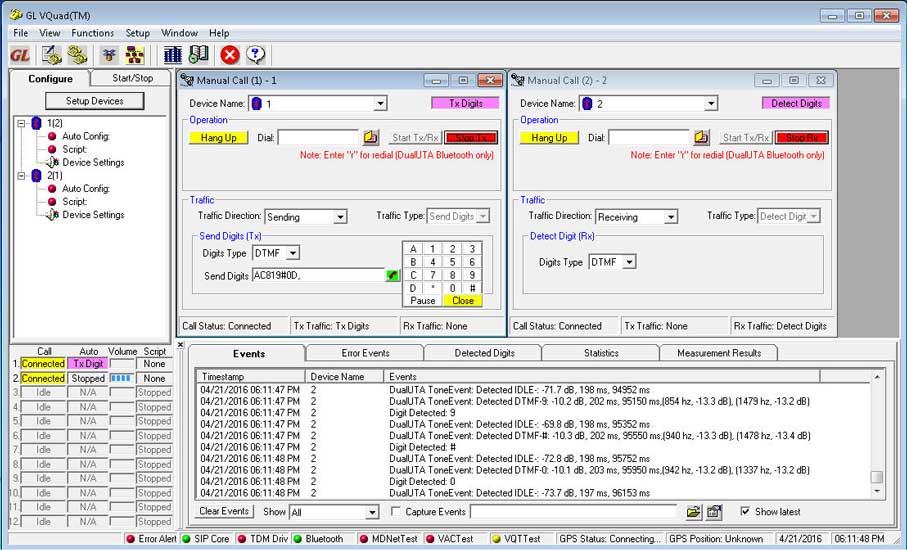 VQuad™ scripting supports -
Call control, traffic generation, remote access, data testing, and generating other variety of tests. Additional commands available for Bluetooth® enabled Mobile phones includes RSSI, Battery Level, and Network identity
Use of variables for many of the scripting functions. The variables are accessed via user-defined variable files
Extremely flexible and complex scripting routines that can effectively test the entire Network. Additional flexibility within the Vquad™ scripting includes Pause and Wait events based on time and call progress (wait for connect, busy, dropped, and failed calls)
Ability to connect to a remote VQuad™ locations to perform most of the functions
VQuad™ supports
Two-stage dialing is supported by the VQuad™ along with Call ID for most all interfaces and path confirmation once the call is established.
Additional analytical measurements supported by VQuad™ include Round Trip Delay (RTD), One Way Delay (OWD), Post Dial Delay (PDD), Signal to Noise Ratio (SNR)
Automation of Transmit and Receive voice with synchronous triggering for Voice Quality Analysis.
Testing includes Voice Quality and Data Analysis, Call Failure Rates, Dropped Calls, Testing of Data during voice calls. Additional algorithms including C-Message and SNR also available.
Data testing is available for Mobile devices (i.e. iPhone, Android) as well as the PC Ethernet connection (wired, WiFi, Broadband (3G or 4G), LTE).
Fully automated Video Conference testing and provides Audio and Video MOS QoS results along with several analytical metrics
Echo Measurement testing over TDM, VoIP, 2-Wire, 4-Wire and Wireless using Echo Measurement Utility (EMU)
Transmit/Receive Voice simultaneously on one side of the call or both ends of the call (requires GPS for accurate timing) for delay measurements as well as echo measurements
GPS is available for each VQuad™ node in order to provide both location and precise timing
Central Location (Database, Command Center, Analysis, Search Engines)
A centralized database stores all analytical measurements, call events, User Defined Events, Bluetooth® events, Data Test results, VQT results, VBA results and error events associated with the individual VQuad™ nodes. These results, along with the Voice Quality, Delay Measurements and Echo measurement results, are automatically transferred to the central location for processing and analysis. If the TCP/IP connection is unavailable, the transfer process can be handled post-processing in a manual method.
Additional information for each result is included within the database and includes timestamp of result or measurement.
Supports full remote access and several automated functions which prevent failure of testing operations.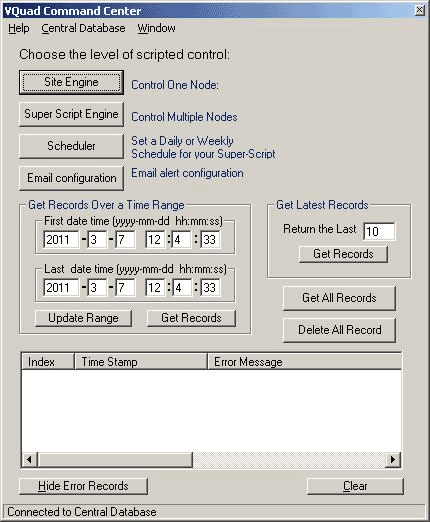 Analysis (VQT, Additional Algorithms)
Automated Voice Quality testing using PESQ (ITU-P.862.1/2), POLQA (ITU-T P.863) algorithm
Automated Voice Quality testing using Analog E-Model
Automated Analytical results of recorded voice file using Voice Band Analyzer (VBA)
VQuad™ with Dual UTA HD provides measurements for Round Trip Delay (RTD), One Way Delay (OWD), Signal-to-Noise Ratio (SNR), and Post Dial Delay (PDD)
Automated Echo Measurements for all interfaces
Automated Data testing for PC Internet connection (Broadband 3G/4G, WiFi, Wired) and Apple/Android Mobile Devices including TCP, UDP, HTTP, VoIP, Route, FTP and DNS
Support for Path Confirmation, and Call Failure Testing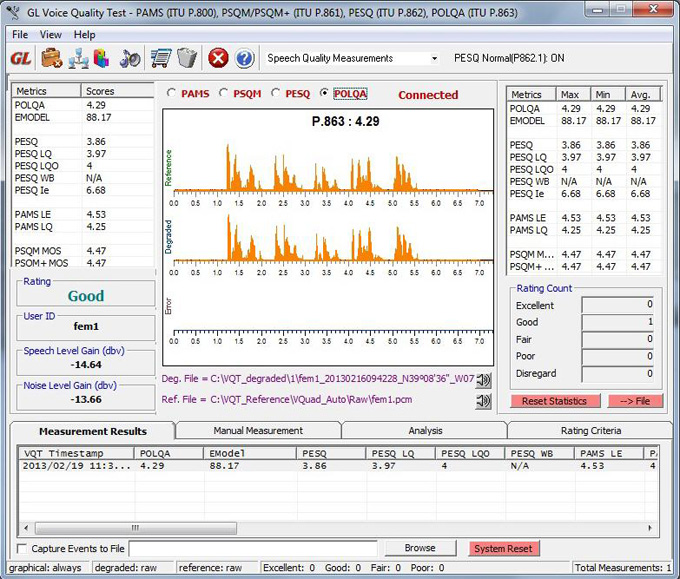 Database Results (WebViewer™ Search and Display of Results):
Centrally located database can be queried using WebViewer™ (using WebServer capability)
Search based on time/date range or based on last x-number of records in database
Supports user-defined Search Criteria associated with the WebViewer™, you can further define the query based on user-defined criteria such as error call progress events, Call ID, location and/or device ID (to name a few)
The WebViewer™ return a full array of results including the Call Events, Measurement Results, VQT or E-Model results along with full Statistics and graphical displays of the current search results
Remote operation of the Command Center as well as the individual VQuad™ nodes is supported within the WebViewer™ client. Network status of all nodes and the analysis tools running at the central location are also returned to the WebViewer™ client. Multiple WebViewer™ client can access the network and perform database queries simultaneously.
Buyer's Guide
* Specifications are subject to change without notice.

Back to Complete Voice Quality Testing Solutions Index Page