Press Release: GL Releases Improved Voice Quality Testing Solutions (VQT)
Gaithersburg, Maryland, USA - June 20, 2008 - GL Communications Inc. announced today the release of Improved Voice Quality Testing Solutions (VQT) Application. Speaking to the media, Mr. Rob Bichefsky, Senior Manager of Product Development at GL said, "VQuad™ with Voice Quality Testing (VQT) software provides a single box solution to automatically establish calls (PSTN, VoIP, Wireless, T1/E1), send/record voice over the established call, and perform voice quality analysis on the recorded voice files. Up to 8 fully independent tests using different interfaces can be executed simultaneously." He added, "The system utilizes three widely accepted algorithms in the measurements of voice quality over all types of networks including Wireless, ATM, VOIP, PSTN, and T1/E1. The algorithms supported by VQT include Perceptual Evaluation of Speech Quality (PESQ LQ/LQO/WB) per ITU-P.862.1/P.862.2, PAMS per ITU-P.800, and PSQM/PSQM+ per ITU- P.861."
Mr. Bichefsky further added, "Manual or fully automated measurements are easily conducted. Important features supported are automated call control, path confirmation, and call progress logging (failed calls, dropped calls...). The system works as follows: As each voice file is recorded at the destination, the VQT application automatically detects the completion, transfers the files to where the VQT application (over LAN or WAN) is located, and applies the required measurement algorithms against the degraded voice files. The measurement results are reported both locally and remotely through NetViewer™ and / or web based WebViewer™ applications."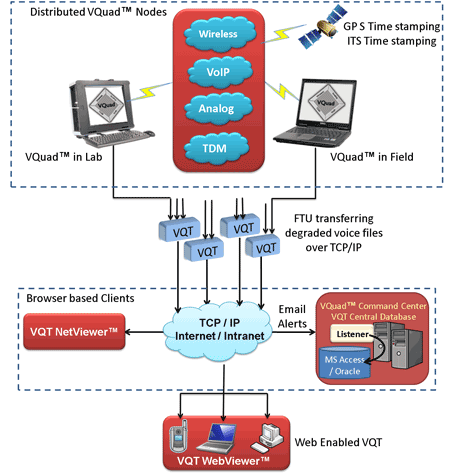 Other important applications of the VQT Product
For comprehensive understanding of the application, please visit: Voice Quality Testing Solutions (VQT) Application webpage.
For more information about GL's complete line of products,
Contact:

Shelley Sharma
Phone: 301-670-4784 ext. 114
E-mail: info@gl.com

Back to Press Releases Index Page